Tips From The Trade: Which Quartz Colors Come In Prefabricated Countertops?
May 23, 2018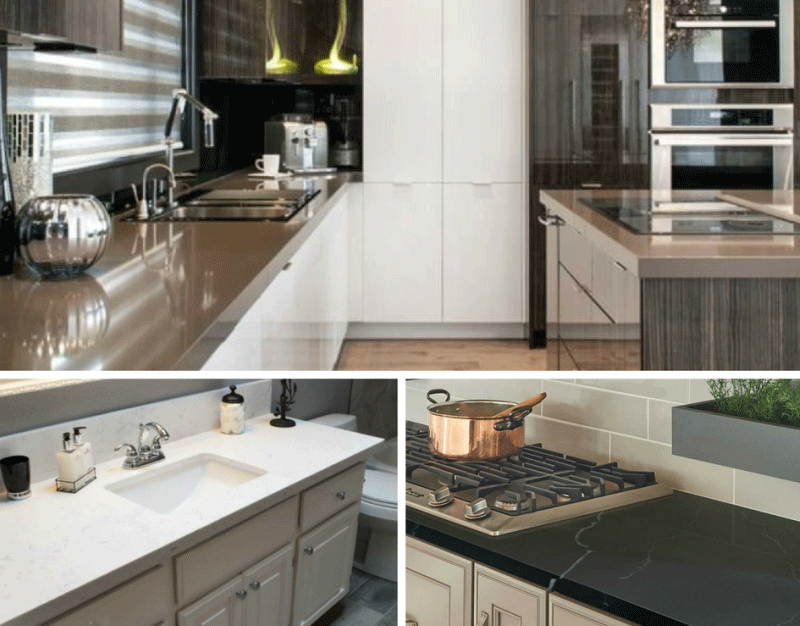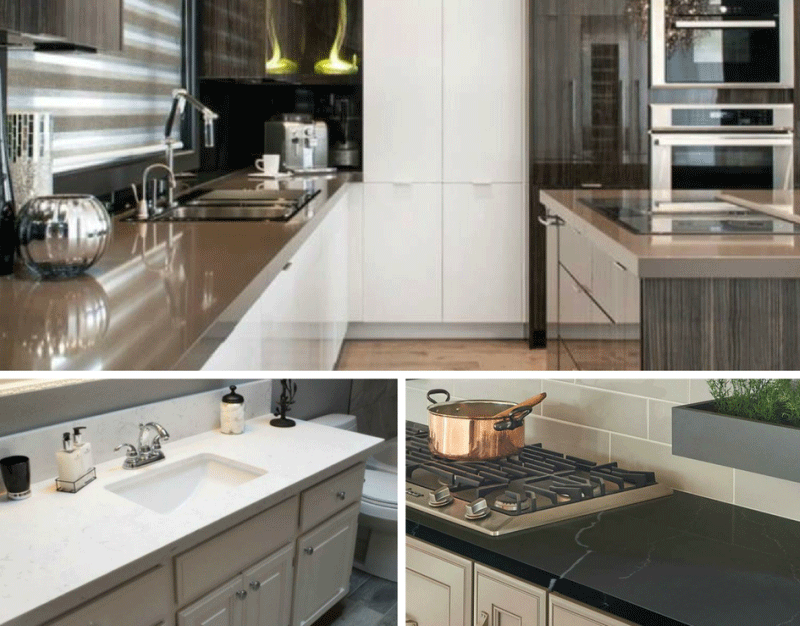 Calling all DIY weekend warriors! You can install beautiful quartz counters in your home without waiting for a custom order, templating, and fabrication. How? By installing one of MSI's beautiful quartz slabs, now available as a prefabricated countertop.
Prefab quartz countertops feature pre-finished edges and a built-in backsplash, making installation a breeze. From traditional natural stone-look patterns and hues to more contemporary quartz colors, there is sure to be one to complement your individual style.
Choosing prefabricated countertops is one of the top quick kitchen makeover tips to give your kitchen or bathroom a design facelift in only one weekend. Since they are available immediately with no fabrication required, you can successfully tackle even spur-of-the-moment makeovers.
Plus, they are budget friendly, come with a lifetime warranty, and feature the same quality as custom quartz countertops. Let us show you some of our favorite prefab looks!
Frost White Quartz prefabricated countertops are the perfect choice for this contemporary, sun-soaked kitchen. Along with the polished gray cabinetry and walls and stainless steel fixtures, the light-reflecting character of this chic quartz ties the space together beautifully. The matching 6-inch backsplash is both functional and beautiful, making cleanup around the range and sink a cinch.
For a more traditional look, white cabinetry paired with dark gray countertops is a timeless choice. Here, our Shadow Gray Quartz prefab countertops and backsplash are used as a contrasting element to the white-on-white cabinets, backsplash, walls and ceilings, grounding the massive kitchen island. This stunning quartz color has subtle tonal inflections that add character.
More good news? Quartz counters never need sealing and they are easy to keep clean, making them the perfect choice for any aspiring chef's kitchen.
Modern style is all about clean lines, glossy finishes, and selective accessories. In this picture-perfect compact kitchen, our Stellar Gray Quartz tops the white perimeter cabinets and contrasting natural wood grain island. With its low variation and subtle flecks, this quartz color gives a nod to cement, but is significantly easier to clean and maintain, and is more durable to boot.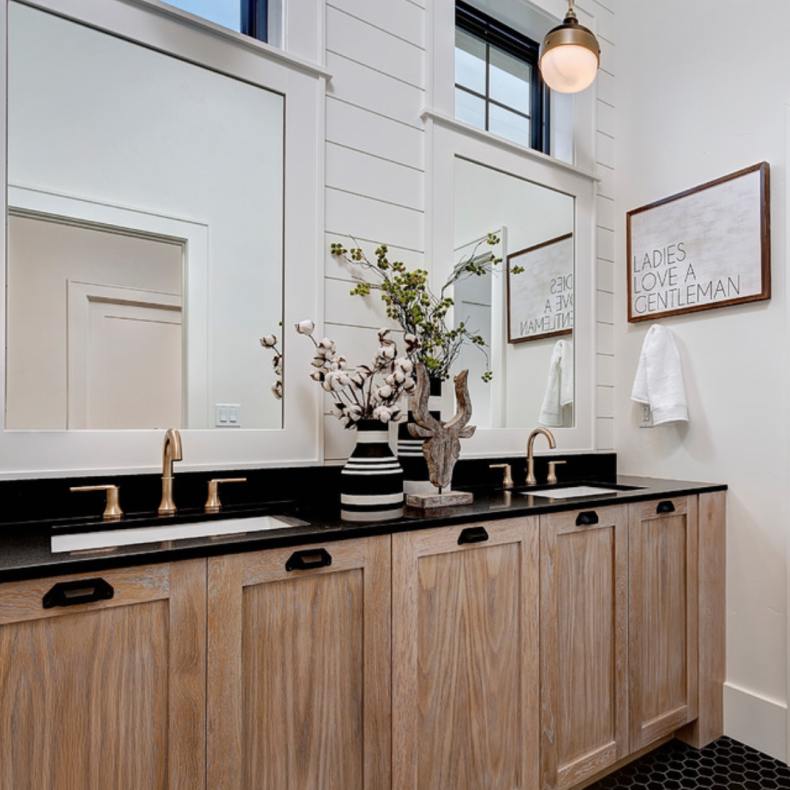 Recreate a similar look with MSI's Sparkling Black Quartz (Photo Credit: Houzz)
Bathrooms are also a great place to use prefabricated quartz counters. Since these counters are already fabricated and readily available, a quick DIY bathroom update doesn't have to be just a dream.
In this lovely transitional master bathroom, for example, our Sparkling Black Quartz contrasts beautifully with the natural grain of the hardwood and is echoed in the black cabinet pulls and window frames high above. As quartz is chip resistant, stain resistant, and less porous than natural stone, it can help you keep bathroom surfaces clean and germ-free.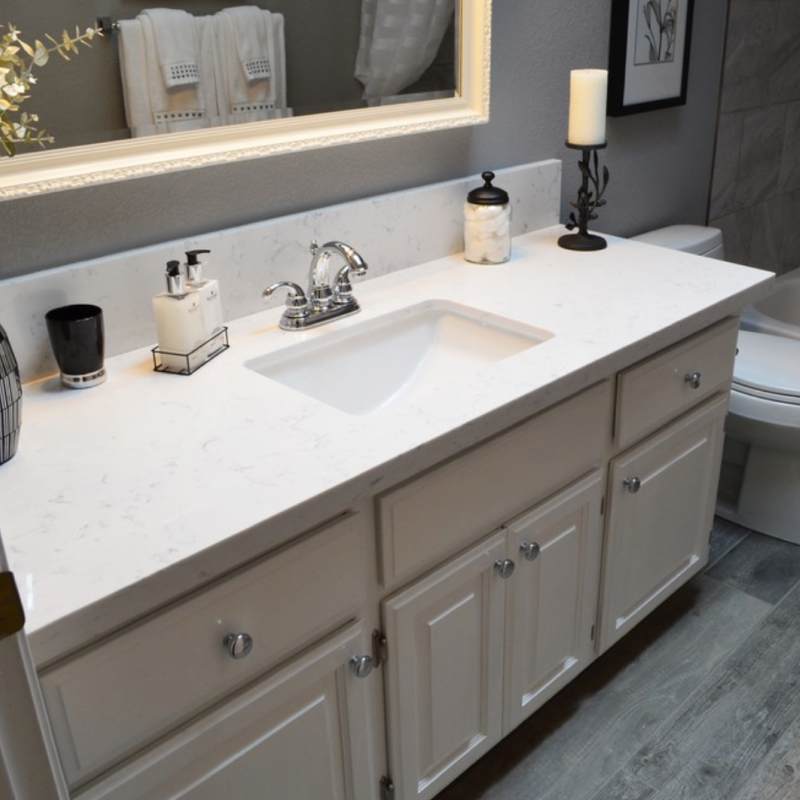 Create a similar look with MSI's Cloud River Quartz (Photo Credit: Houzz)
Finally, for bathrooms without natural light, partnering white cabinetry with white countertops helps to create an airy space. Our Cloud River Quartz color is perfect for the task, adding only a subtle touch of pattern with its charcoal and pewter veins. Elegant and understated, this quartz prefabricated countertop can transform any bathroom quickly, no tile backsplash needed.
Durable, easy to clean, maintenance-free, and budget friendly–it's no wonder homeowners are choosing beautiful prefabricated quartz countertops for quick makeovers and facelifts. A wide range of patterns and quartz colors are available to complement every design style, from traditional to modern.
Explore all of our prefabricated quartz countertop colors and find just the right one for your next DIY project.