Experience Our New Exclusive Lumaluxe Quartz Countertop Collection
August 07, 2020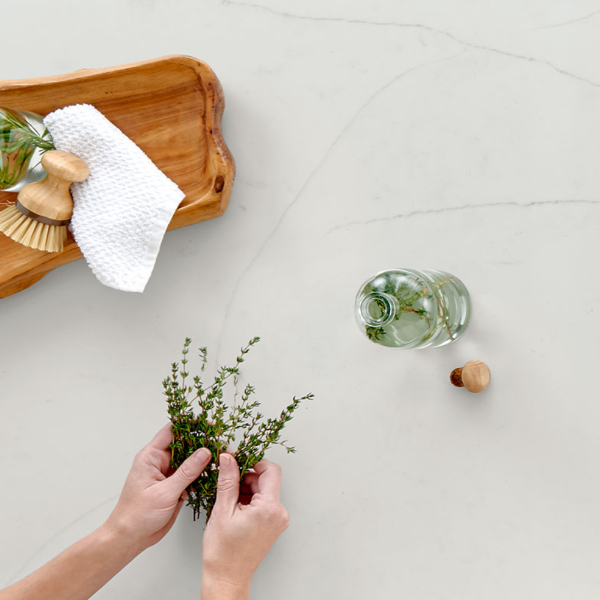 MSI's quartz countertops were already exceptional, luxury surfaces — but we've taken them to the next level! Lumaluxe is the next generation of quartz countertop. New technological advancements in the manufacture of quartz slabs result in a product that is more realistic than ever, with superior visual qualities:
Superior Whiteness: Lumaluxe is available in several different color variations, but the white shades are a purer, brighter white that will catch the light and make the room feel airy and opulent.
Dramatic Veining: Unlike many other marble-look surfaces, the veining in Lumaluxe does not just appear on the surface, but runs through the entire slab, so the countertops are more realistic than ever. Part of natural marble's appeal is its endless variation, while manufactured surfaces are more consistent in pattern. Lumaluxe's dramatic veining, however, appears authentic no matter how large a space it covers.
Increased Depth: In a countertop, depth refers to what lies beneath the very top surface, catching and reflecting the light. Lumaluxe's exclusive formula creates a surface with a slight transparency, just enough to add amazing, eye-catching dimension and character.
MSI's engineered quartz countertops are made with Bretonstone technology, which was introduced in the late 1980s and has been constantly improved. Engineered by Breton S.p.A, a company in Italy, the Bretonstone "recipe" includes just the right proportion of natural quartz, polymer resin, pigments, glass, and other minerals. The materials are mixed together, compacted, heat-cured, and processed for uniformity. It is one of the hardest countertop materials you can choose, and is completely waterproof without any need for sealing. It also resists scratching and heat damage.
Although Bretonstone supplies the machinery to make modern quartz countertops, and the basic method and recipe, it does not produce the slabs. Lumaluxe is a brand-new, exclusive MSI formulation that has enhanced the countertops' beauty, improving shine, dimension, and drama, with colors and patterns you can't find anywhere else.
Lumaluxe carries the same reliable warranty that MSI is known for — a limited lifetime warranty for residential installation, and a 10-year warranty for commercial applications. As with our other premium quartz countertops, Lumaluxe is waterproof, stain- and mildew-resistant, and food-safe. Unlike inferior quartz countertops, MSI's are NSF and Kosher certified. It is also Greenguard certified, which means that it does not emit Volatile Organic Compounds (VOCs) which may be linked to several health problems. Greenguard products do not impact your indoor air quality, so they are safe for your family.
Read on to explore a few of MSI's new Lumaluxe colors, and get ready to be impressed.
Carrara Lumos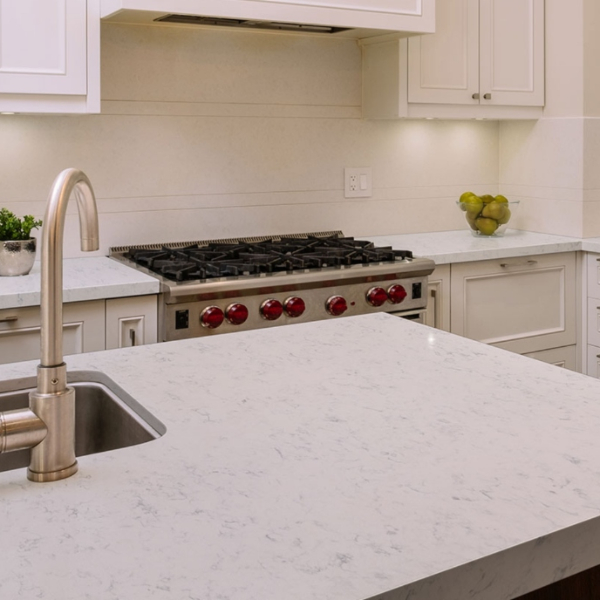 Carrara Lumos
There's a reason marble has been such a beloved material for countertops, backsplashes, and other household surfaces, despite its high maintenance needs. Natural marble has a depth, feel, and glow that is tough to reproduce. Carrara Lumos, though, might be the exception. Its dreamy pale-gray swirls echo the beauty of fine Italian marble so well, it might even be an improvement on the original. Now you can choose a bright white, elegant quartz that looks like marble for your busy kitchen — even the center island — without any worries about stains or etching.
Smoked Pearl
Smoked Pearl
White is the ultimate neutral, which is why so many homeowners choose it for their kitchen and bathroom counters. Smoked Pearl white quartz is a glorious white run through with subtle veins that are even brighter white. You can't get much more opulent than that! It's the ideal choice for countertops, but because it's so durable and easy-care, you can also install it as a backsplash, accent wall, shower surround, and even flooring.
Glacier White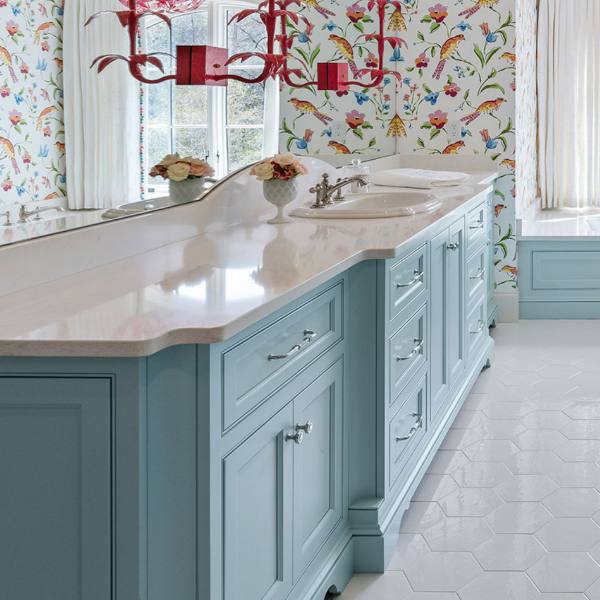 Glacier White
There are so many shades of white, it's hard sometimes to choose the right one for your space. This charming, relaxing bathroom features a Glacier White quartz countertop, a soothing creamy-white shade splashed with accents of muted gray. It sparkles in the light, brightening any room. You'll find it's easy to coordinate with your choice of décor, any color, material, or design aesthetic. In spite of its pale beauty, its impermeability and toughness mean it can stand up to the rigors of daily use while still looking its best for decades.
Portico Cream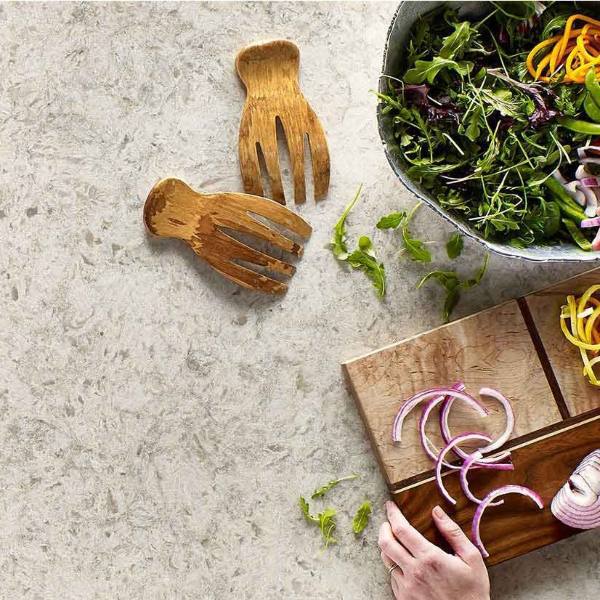 Portico Cream
Every homeowner dreams of a beautiful kitchen countertop, but many people think they must compromise in order to get something that will last. Will it hold up to daily use by your family, who actually likes to cook in the kitchen instead of just admiring it? Can your focal-feature center island withstand the kids' school projects and messy meals? With Portico Cream quartz, compromise shouldn't even enter your mind. It combines shades of cream, beige, and gray in an elegant pattern that complements any style you choose — and it's so low-maintenance, you'll have lots of time to cook a culinary masterpiece.
Calacatta Arno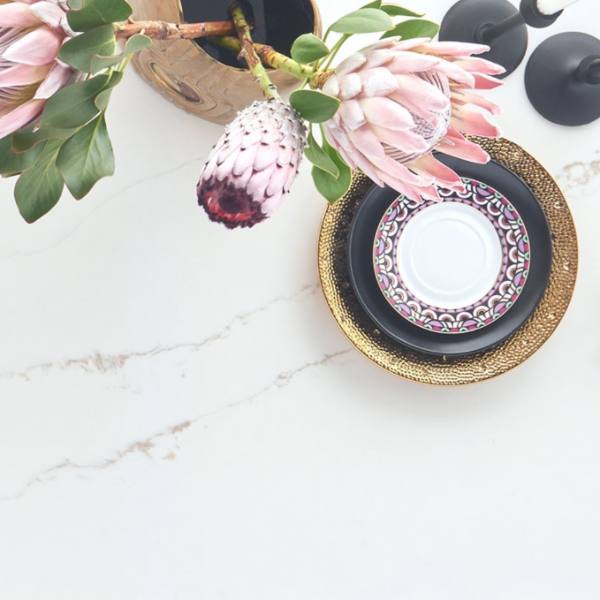 Calacatta Arno
When you install Calacatta Arno in your kitchen or bathroom, everyone who sees it will think you are very brave, or that you have a lot of time to maintain your high-needs countertops. Fine Italian Calacatta marble has met its match with this gorgeous color of Lumaluxe quartz. Only the most discerning, professional eye will be able to tell the difference, but since you know your secret, you can go ahead and enjoy coffee, red wine, spaghetti sauce, oil and vinegar salad dressing, and more without a care in the world. Spills wipe away, leaving your pristine white-and-gray countertop spotless.
It's tough to improve on a product that was already beautiful, durable, versatile, and easy-care. But MSI has done it with the introduction of new Lumaluxe quartz countertops. Now everyone can have the beautiful white countertops they have long admired without any worries about maintenance or damage from everyday wear and tear. You'll be amazed at how they interact with the light, sparkling with depth and character. Check out these colors and our other quartz countertops, and learn what sets Lumaluxe apart from all others.
More on Quartz Countertops
Which is Better for Your Kitchen — Marble or Quartz Countertops?
How to Protect the Finish of Your New Quartz Countertop
Introducing The Lumaluxe Q Quartz Countertop Collection From Msi