How To Choose The Best Stacked Stone Design For Your Project
December 13, 2020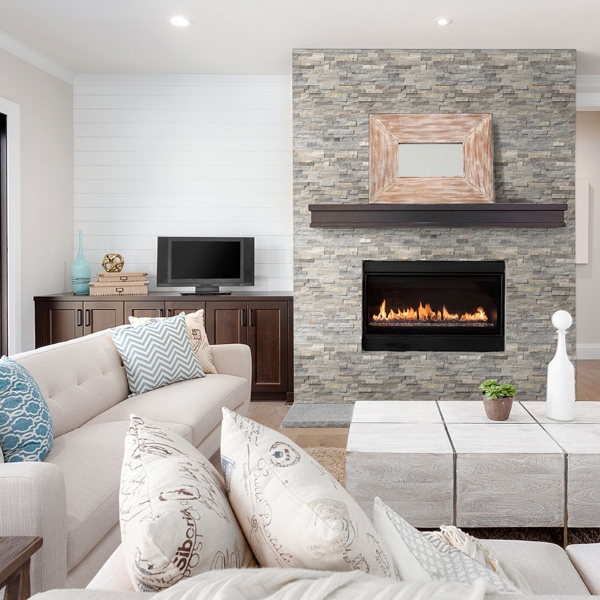 Stacked stone is one of the most gorgeous materials to use both in and around the home. From fireplaces to backsplashes to feature walls, stacked stone improves every area where it's installed. The best quality stacked stone is made of solid quarried stone- not pulverized and pressed panels.
That's precisely how the MSI Rockmount collection is made. MSI Rockmount Stacked Stone Panels are crafted of tightly fitted, dry-stacked pieces of natural stone set in panels for fast installation. Without a grout joint, stacked stone walls have a more natural appearance --drawing the eye to the installation and enhancing the entire room.
Those looking to add detail, interest, depth, and richness to the home's interior should check out these stacked stone panel ideas.
Golden Honey
Golden Honey stone panels are among the most cheerful and welcoming that MSI has to offer. The playful yellowish stones look entirely natural when combined with cream and light brown hues.
Yellow is an intensely invigorating color. It influences strong feelings of warm energy and bright joy. This makes it the perfect option for homeowners looking to give themselves a burst of energy as they go about their days.
These stone panels looks amazing in multiple different design schemes because, like all Rockmount stacked stone designs, it is a style chameleon. Its uses can range from modern to traditional to rustic. Make sure that you're careful to use other warm colors like orange and red around this tile so that you can have a cohesive design scheme.
New California Gold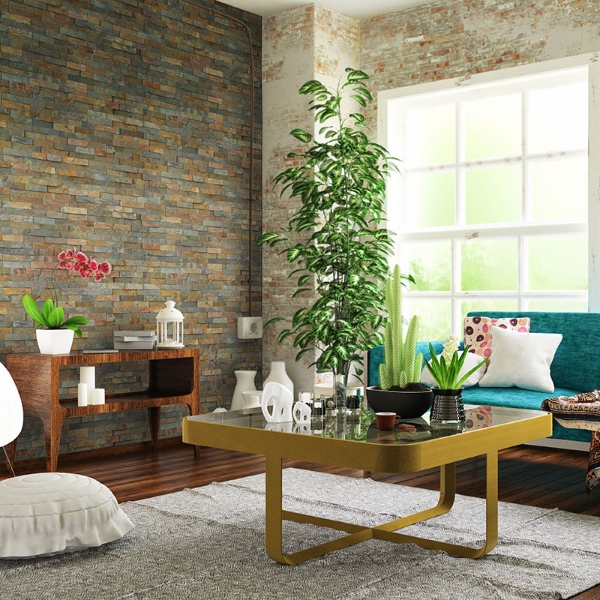 If you like the aesthetic of warm ledger panels but want to incorporate darker hues, New California Gold might be right for you.
The slate used for these stones is primarily an earthy brown, which matches both contemporary and antique kitchen and bathroom decor. However, it is given added character with ruddy red accents and gray undertones.
Because stacked stone rests on a vertical surface, there's less wear and tear than there otherwise would be. The walls surrounding fireplaces tend to need some warm sophistication, which makes these areas a great home for New California Gold tiles.
Amber Falls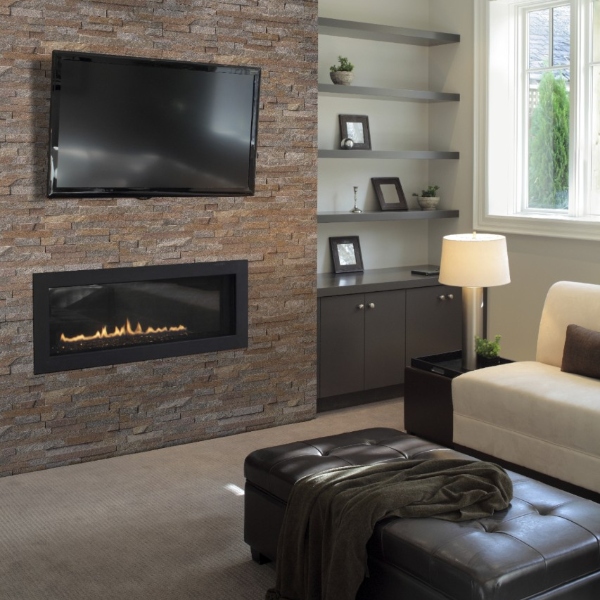 Amber Falls takes the same rusty red hues featured in New California Gold and makes them into a focal point. This style consists of red and orange-brown tile combined with cool gray ones. The overall effect is a gorgeous and elegant combination of warm and cool hues that looks perfect with any design scheme.
Since Rockmount is solid stone, they can be used with confidence both indoors and out. They are perfect for extreme weather conditions and fireplace surrounds. Because of this, you can create a stacked stone backsplash for your outdoor kitchen or living area in addition to indoor ones.
Consider pairing this stacked stone backsplash with a New California Gold accent wall. The styles complement each other flawlessly, so if you want a decor scheme with a lot of character, this is definitely something to consider.
Charcoal Pencil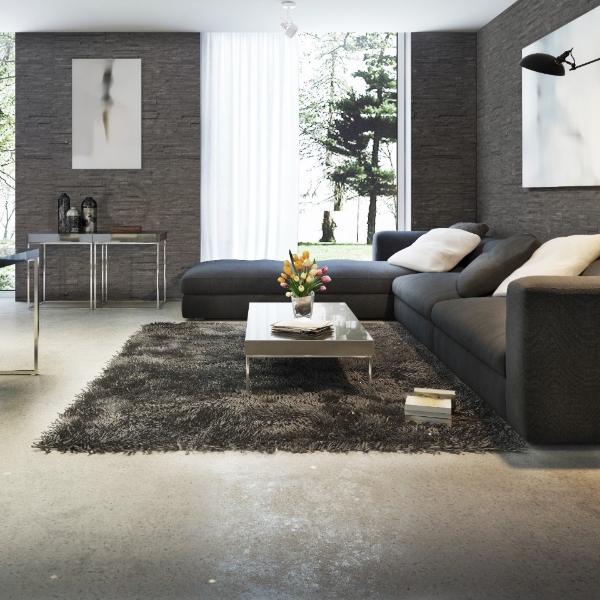 Looking for a classic stacked stone tile that's subtle yet sophisticated? Charcoal Pencil is the prefect choice. Made nearly exclusively of varying shades of gray, this cool material incorporates warmer blemishes to give it an all-natural aesthetic.
The split face gray slate has stones that are much more elongated than other styles on this list. They are thinner and give off a more minute and precise overall feeling. This makes them perfect for smaller homes and rooms. It also means that you can use them for support beams and retaining walls of any thickness in addition to creating backsplashes and accents.
Because they are slim and have iron deposits that can rust if they are exposed to a lot of water, these tiles are best suited to interior use. They make for amazing fireplace surrounds because the cool tile contrasts with the heat of flame, but you can also use Charcoal Pencil as an accent wall tile.
Alaska Gray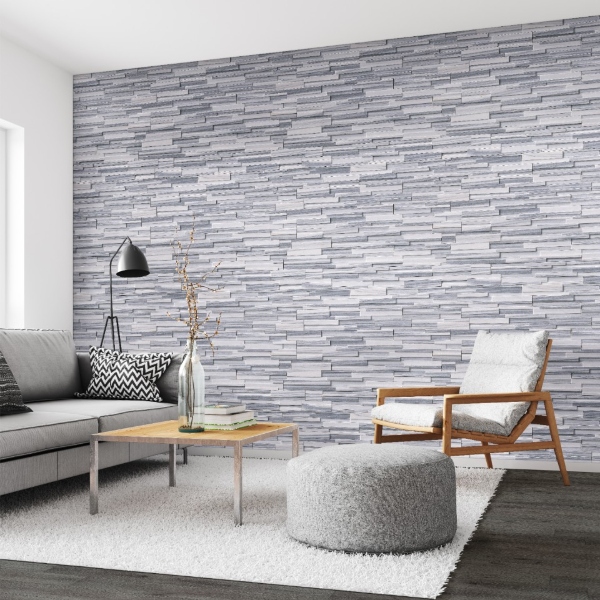 Alaska Gray is one of the coolest stone wall tile options offered by MSI. The cold gray tile is mixed in with Arctic white hues and glaicer-like textures. This gives the entire wall that Alaska Gray tile is constructed from an icy vibe.
For this reason, it's best suited to contemporary kitchens and bathrooms. The hues boasted by this classy style go well with cool stainless steel and fluorescent lighting. Place it over a shining metal sink or underneath glass shelving for a sleek modern look.
You also will never need to worry about keeping the white tile clean because Rockmount maintenance is easy. All you need to do is use a duster that traps dust, a vacuum with a bristle attachment, or spray and a cloth to wipe the surface down. Essentially, this provides you with ultimate beauty and minimal maintenance.
Get Started With Stacked Stone
While there are many different options for wall tile and backsplash styles, stacked stone ledger panels are the perfect option for any home. Every part of the Rockmount collection has a natural appearance without sacrificing the contemporary flair that modern homeowners love. Check out some of the unique looks offered in this video below.
Now that you know how to choose the best stacked stone tiles out there for your walls and backsplash, it's time to begin the installation process. Contact MSI's experts with any remaining questions that you have about installing these beautiful tiles. We're excited to help you find the perfect decor to match your interior design scheme, so we look forward to you reaching out.