Look Alike Granite Countertops In Easy-Care Quartz
November 21, 2020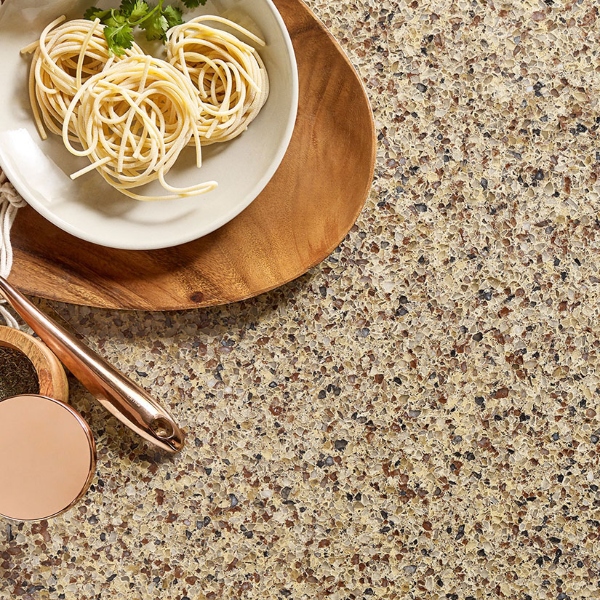 When undergoing a kitchen or bathroom renovation, you have a big decision to make. What types of countertops are you going to install? You're probably considering a few of the most popular options, such as quartz countertops and granite countertops — and there's no surprise why! While granite might be more well-known, there's a reason granite look-alikes like quartz have become increasingly popular over the years.
MSI Surfaces is here to help you compare quartz vs. granite to better understand which countertop material is the ideal choice for your home.
The Benefits of Quartz Countertops
Quartz countertops have become a top pick amongst homeowners for many reasons. Along with their granite-like appearance, quartz countertops offer the following benefits over granite:
Uniform Appearance
When choosing a granite slab for your kitchen, you have minimal control over its appearance apart from its color. Whether you choose black granite or white granite, the textures and tones within the slab are beautiful, but make it difficult to create a uniform appearance. This can be extremely difficult to create a cohesive kitchen appearance if you need a large amount of countertop material. Because of this, quartz countertops have been an extremely popular choice. With quartz, it can be manufactured to have a uniform appearance allowing you to customize it to seamlessly integrate into your space. Whether you want muted tones with subtle veins, smokiness, or a more dramatic flair, this man made countertop option gives you complete control over the appearance.
Ease of Maintenance
When selecting your countertop material, you must take into consideration how much maintenance it's going to require over the years — especially if you plan to keep it looking as good as the first day it was installed! With granite countertops, you will find yourself scheduling annual sealings to ensure they remain in prime condition. Along with annual sealing, you need to invest in a quality granite cleaner that you will use to wipe down the counters daily. Without regular wipe downs, the granite countertops are prone to staining.
Luckily, with quartz countertops, homeowners aren't required to schedule annual sealings or do anything out of the ordinary to keep them looking beautiful. While daily wipe downs will keep your quartz countertops looking shiny and new, there's a bit more wiggle room in how often they need to be cleaned. Your low maintenance countertops simply need to be wiped down with a damp cloth and you can rest easy knowing they look great.
Durability
No one wants to invest in beautiful countertops only to have them show signs of wear and tear. That's why you need a durable countertop material that can stand up to you and your family. Quartz countertops are practically indestructible, meaning that you don't have to worry about stains, scratches, chips, dents, or cracks. Because quartz countertops are resistant to most types of damage, you'll be able to enjoy their beauty without headaches or costly repairs.
Antibacterial
Quartz countertops are non-porous, which means that no bacteria, liquids, or grime can penetrate the surface. Not only does this prevent your countertops from staining and absorbing unwanted materials, but it means you have a safer and cleaner countertop. The non-porous characteristics of quartz prevent it from absorbing bacteria, making it easy to wipe away anything you wouldn't want your family coming in contact with. In comparison, granite is a porous material that will require annual sealing and daily cleaning to prevent bacteria from building up on the surface.
Warranty
As a homeowner, you want peace of mind when installing brand new counters in your kitchen or bathroom — and with a warranty, you don't need to worry about something happening to the countertops. Granite countertops don't typically offer the best warranties because damage is more extremely prevalent without regular maintenance. There's no need to worry when you install quartz countertops because most companies offer excellent warranties — including MSI Surfaces who offer a lifetime warranty.
How to Get the Granite Look with Quartz Countertops
Now that you understand the reasons why quartz is a fantastic alternative to granite, let's take a look at a few color palettes that would look great in your kitchen or bathroom.
Babylon Gray Quartz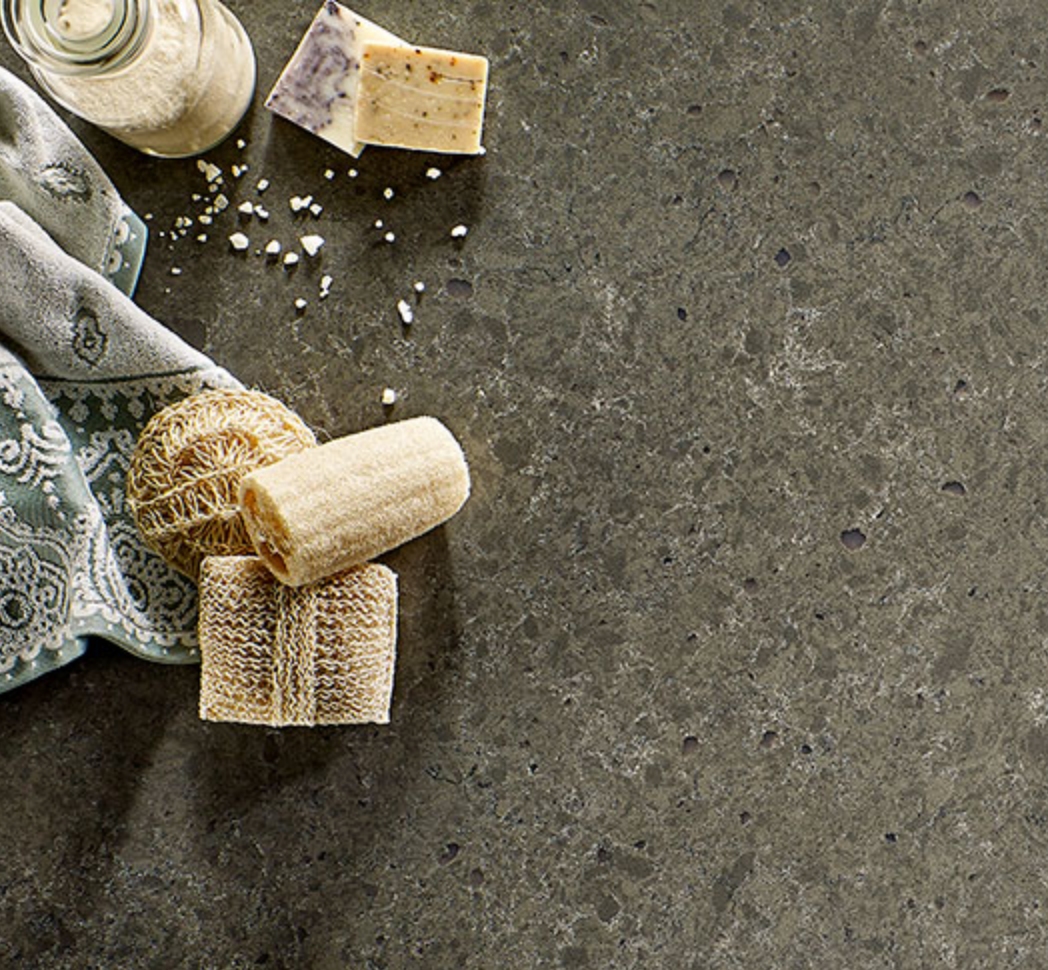 Dark and dreamy, Babylon Gray Quartz is the ideal surface for busy kitchens and bathrooms. The dark hues blend with any home decor or aesthetic, making it a timeless and transitional option. You've found your perfect quartz if you're looking for a beautiful yet durable and relatively maintenance-free option.
Alpine Quartz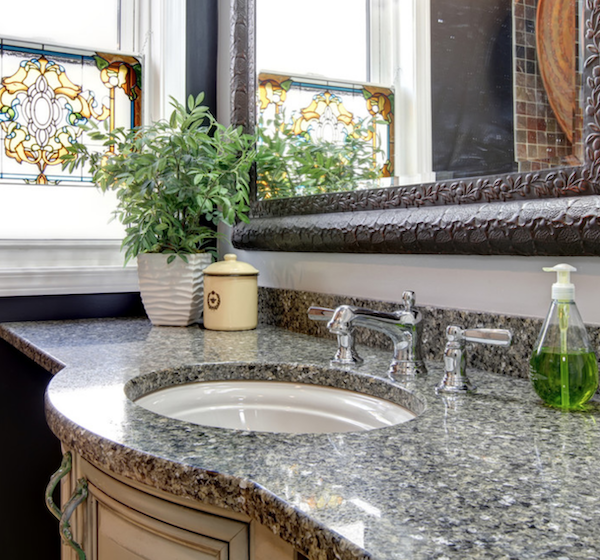 Add a sense of allure to your kitchen with Alpine Quartz. Meshing together gunmetal fragments on a silver-hued and pewter backdrop, all your guests will be impressed with its sleek and sophisticated look. This timeless color palette is perfect for any application — from kitchen countertops to bathroom flooring.
Antico Cloud Quartz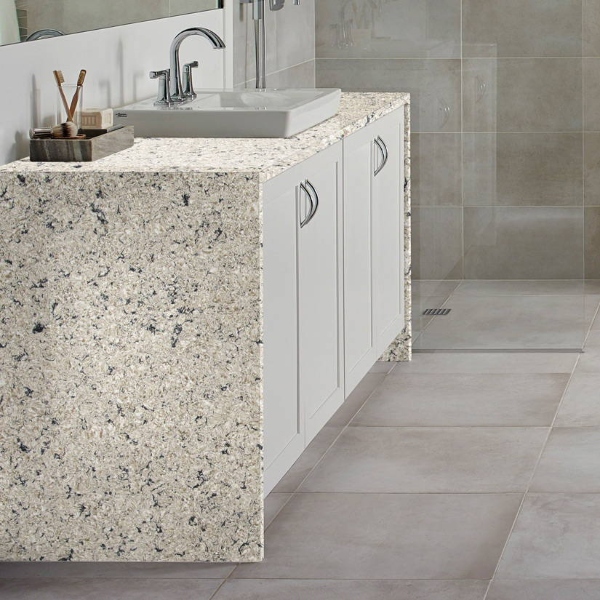 When you want a classic countertop material that blends a timeless color palette with a bit of flair, look no further than Antico Cloud Quartz. Blending luxurious swirls of creamy whites, taupe, and dark grays, this intriguing pattern is ideal for any growing family. This material looks great as counters, backsplashes, bar tops, and more — hiding dirt and grime from the naked eye with its beautiful pattern.
Fantasy Gray Quartz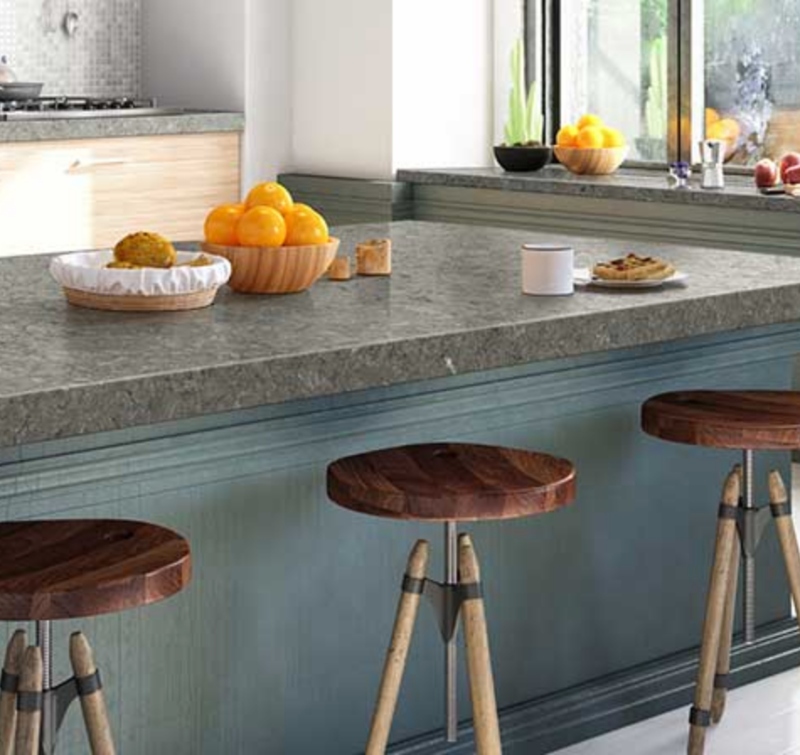 It's no surprise this dreamy quartz has "fantasy" in its name! Combining wistful shades of gray, dark veining, with soft white touches, Fantasy Gray Quartz is what dreams are made of. Create a space you will love for many years to come with this statement-making quartz that is sure to take any room to the next level.
Still not sure what quartz color palette you want? Use MSI Surfaces' countertop visualizer to see how a variety of colors and patterns will look in your home, or use our new Image Search Tool where you can find a countertop by picture by uploading an image of your own kitchen or bath. As always, our team can help you determine what countertop will take the appearance of your space to the next level.
As you plan your next home improvement project, contact MSI Surfaces to learn more about our quartz and granite countertop options.
Learn More about Granite vs. Quartz
How to Choose Between Granite and Quartz Countertops
5 Ways Waterfall Edge Marble, Granite, or Quartz Countertops Rock
5 Inspired Solid Slab Granite, Marble or Quartz Backsplash Ideas
5 Timeless Surfaces: Granite, Marble, Quartz, or Porcelain
READ MORE ABOUT GRANITE COUNTERTOPS
Is Sealing Granite Countertops Really Necessary?
Natural Adaptability: New Venetian Gold Granite
New Granite Colors Offer Endless Possibilities