7 Reasons Why Homeowners Are Choosing Quartz Countertops
November 12, 2020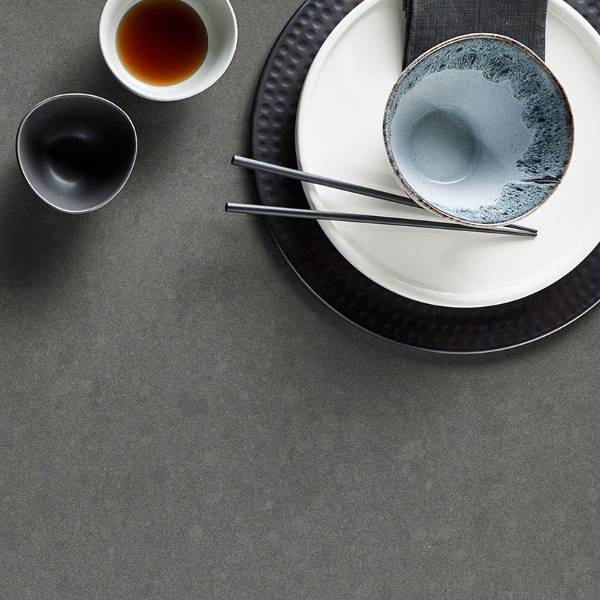 When potential home buyers walk into a kitchen or bathroom and see quality quartz countertops, they see a worthwhile investment. In fact, more than one out of five homebuyers prefer countertops made from quartz.
For this reason, it's no surprise homeowners are choosing to install quartz kitchen and bathroom countertops over other materials. It's an investment that pays off in the long run.
In this article, we'll explore seven top reasons why homeowners are choosing engineered quartz for their countertops.
1. Antibacterial Surface
In these current times, bacteria and germs are on everybody's minds. The kitchen and bathrooms are notably the areas where we find the most bacteria and germs living. Kitchens specifically can harbor a lot of bacteria that cause humans to get sick via foodborne illness. E.coli and salmonella are just a couple of dangerous bacteria that come to mind. Porous surfaces can trap these harmful bacteria and germs and allow them to multiply in your home.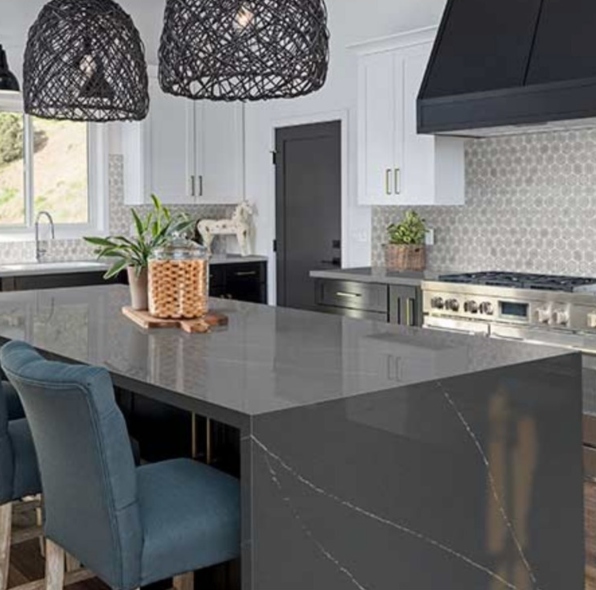 Because engineered quartz countertops are manmade and very smooth, germs and bacteria don't have anywhere to hide. This makes quartz a natural antimicrobial and an ideal material to use in your home. They are easy to keep clean and don't require the use of any harsh chemicals.
2. Low-Maintenance
Certain types of materials used to make countertops require upkeep and regular maintenance. For example, natural stone countertops, as beautiful as they are, periodically need to be sealed every 3 months to a year. This is something to be aware of when you're considering using quartz vs granite in your home.
3. Scratch and Chip Resistant
Quartz countertops are in fact engineered stone. It is 90% crushed quartz and other minerals, with the remaining 10% polymer binders. The process of making engineered quartz countertops consists of mixing pulverized natural stone aggregate with a blend of polymers, extracting the air, and then heating and shaping the material into stone slabs. Because quartz is one of the hardest minerals on earth, the effect is a material that is often more durable, scratch-resistant, and chip-resistant than natural stone.
4. Stain Resistant
There are many items and foods we use in our kitchens that can stain our countertops. Foods such as wine, oils, coffee, fruits, and sauces are notorious for leaving unattractive stains that are almost impossible to remove. One of the most attractive attributes of engineered stone countertops is the fact that they are highly stain-resistant. Quartz countertops are completely sealed and without pores, meaning liquids and other materials aren't able to soak in. This makes them a premium surface for kitchens and bathrooms alike. Not only is engineered stone stain resistant, but it's also heat resistant.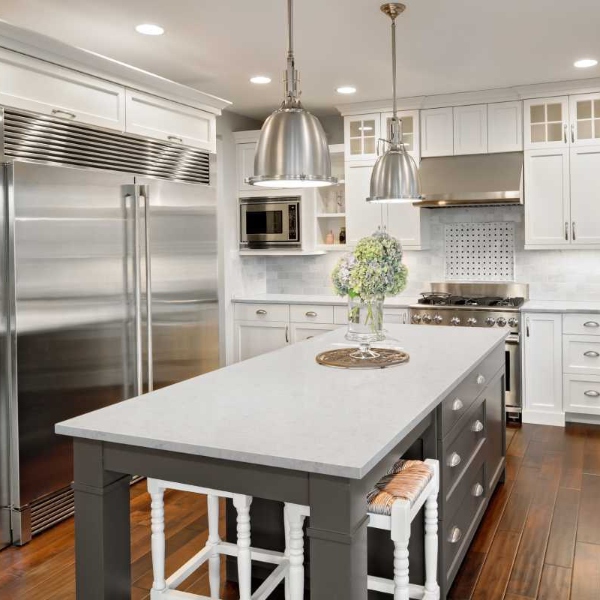 Although not as heat resistant as natural stone countertops like marble and granite, quartz countertops can withstand heat fairly well. Most quartz countertops can withstand heat of up to 150° Fahrenheit, depending on the manufacturing process. However, it's not recommended to place pots directly from the stove onto quartz as it could cause discoloring. Having countertops that are both stain and heat resistant is a top priority for most homeowners. Undoubtedly, this is a great countertop to have if you spend a lot of time in the kitchen cooking.
5. Look and Color Options
Because quartz countertops are engineered, they come in almost an endless variety of colors and patterns. If you want your quartz countertop to look like marble, it's no problem. In fact, quartz countertops come in a number of marble-like patterns. Although most manufacturers offer earth tone colors, some offer reds, blues, and greens as well. Being able to choose from a variety of quartz countertop colors and patterns also allows you to match your countertops to coordinating kitchen backsplash and mosaic styles.
6. High Quality and Good Price
Compared to other materials of similar quality, quartz countertops add just as much value to a home for a fraction of the cost. Some natural stone countertops are twice if not three times the cost of engineered stone. That means a homeowner can get the highest quality of countertops for a very reasonable price. With those extra savings, a homeowner can put that money into other home upgrades. Due to the high-quality nature of quartz countertops, most manufactures will give a warranty of 10 to 15 years. In some cases, the warranty may last a lifetime. If you're looking for a good investment to make, quartz countertops are an affordable upgrade to any home.
7. Environmentally Friendly
One of the best things about engineered stone countertops is that they're mostly a byproduct of other quarrying or manufacturing processes. What does that mean exactly? This means that no natural materials are harvested in order to produce engineered quartz countertops, even though they're 90% made of natural materials. Using waste and byproducts in manufacturing and production is one of the most responsible and sustainable practices a business can achieve.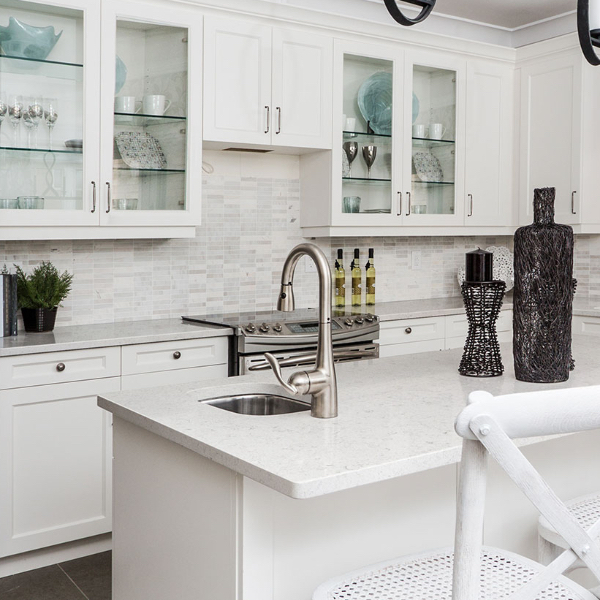 Buying engineered quartz countertops means that you're supporting a sustainable business. So if doing your part to lessen your carbon footprint is important to you, then choosing quartz countertops for your home is a good option.
Heard of GreenGuard? At Q, we pride ourselves on being GreenGuard certified. The GreenGuard Environmental Institute is a non-profit organization that establishes acceptable emissions standards for interior products. If you're looking for a countertop that is safe for your family, Q Premium Natural Quartz countertops pass the test.
Why Choose Q Premium Natural Quartz?
Quartz countertops are beautiful, highly durable, and affordable. They stand up to the most rigorous wear and tear, outlasting most materials on the market. That being said, not all manufacturers adhere to quality standards that we keep at Q. For over 40 years, we've made it our sole mission to produce the highest quality countertops available, while still keeping the environment in mind.
Take a look at the video below to learn even more about what makes Q Premium Natural Quartz Countertops a top choice for designers and homeowners alike.


More About Quartz Countertops
Create A Bold Look With 5 Dramatic-Veining Marble Look Quartz Countertop Colors
Modern Quartz Countertops Offer a Sophisticated Limestone Look Without the Worry
Which Quartz Counters Have the Best Veining?
Are There Different Finishes Available for Quartz Counters?