Is Porcelain Wood Look Tile Better Than The Real Thing?
July 19, 2021
There are few things more exciting than selecting the flooring for your home renovation! Although it may not seem like a big decision at first, choosing the wrong flooring option for your home can leave you with headaches and wasted repair costs. If you're leaning towards hardwood flooring for its timeless and sophisticated charm, consider installing an alternative such as wood-look porcelain floor tile instead.
We understand why you may be a bit hesitant to choose porcelain tile over natural wood flooring, which is why we're here to shed some light on the benefits of wood-look porcelain tile. Not only is it more affordable and durable, but there are countless advantages you'll experience. Let's dive in to find out why wood-look porcelain tile is the perfect choice for any residential application.
Durability
One of the most important factors to consider when selecting a flooring material for your home is durability. Will it have high traffic areas? Do you have pets that will be running around or roughhousing on them? You need flooring options that not only stand up to everyday wear and tear but are also durable enough to handle anything you throw its way.
Although natural hardwood floor is relatively durable, they are more prone to issues like warping, scratches, dents, and cracks than wood-look porcelain tile. This means that you may find yourself dealing with repairs more often than you'd like! Because you're investing a large chunk of change in your new floors, you need to make sure they can withstand almost anything. Porcelain tile is not only stain- and water-resistant but is also fireproof. Can you think of a better choice for your home?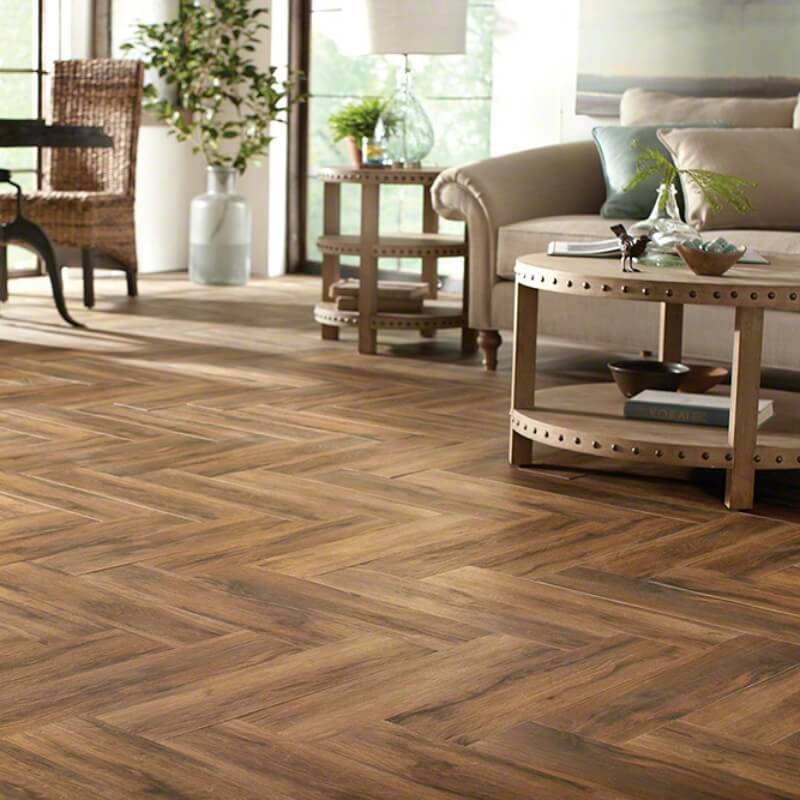 Recommended Tile: For a durable and beautiful wood-look tile, consider Botanica Cashew Wood Look Tile that features warm, rich browns, and beiges. The artful design perfectly recreates the knots, grains, and character of fine natural hardwood.
Affordability
Doesn't it seem like the costs of any home improvement projects add up extremely quickly? Whether you're giving your kitchen a little refresh or undergoing a massive renovation, you need to be mindful of your budget. While there are ways to cut costs, you don't want to have to compromise on quality or appearance for the sake of affordability. Luckily, with wood-look porcelain tile, you can get your tile flooring at an affordable price point without making any compromises.
Hardwood flooring is naturally going to be more expensive because of the lengthy process it takes to source the materials and get them ready for use. Instead of shelling out your hard-earned cash on expensive flooring, wood-look porcelain tile offers the same natural wood appearance — a win-win if you ask us! With porcelain tile, you still can choose your desired cool palette, wood grain, wood knots, and textures, allowing you to create a remarkable space that exceeds your expectations.
Along with less expensive installation costs, it is also less expensive to repair porcelain tile. While wood-look porcelain tile is extremely durable, there are instances where you may need to schedule a repair. Unlike natural wood floor repairs which can be costly, you can't beat the price of porcelain tile repair.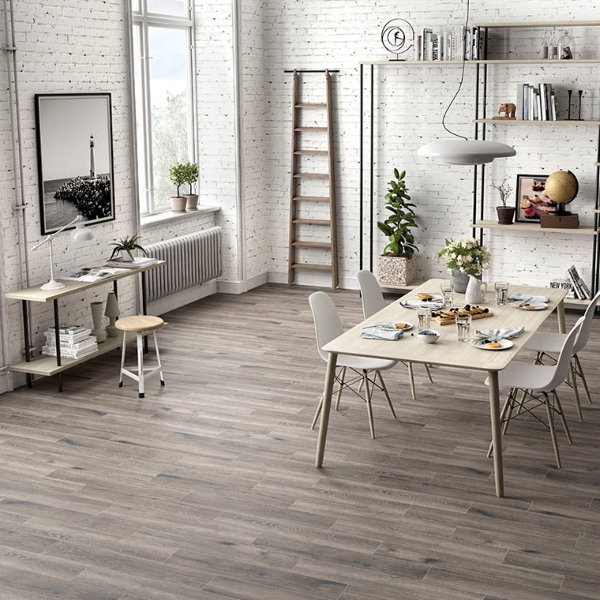 Recommended Tile: For an affordable tile that looks like wood, Gris Porcelain Tile from the Antoni Collection offers the look of wood in an on-trend weathered gray with gorgeous shading and fine graining.
Appearance
If you're investing in new floors for your home, you want them to elevate the look and feel of your space. New flooring is an easy way to take a space from drab to fab — but only with the right option. You're probably a big fan of the look of natural hardwood flooring, and we don't blame you. There's something about the wood tile patterns and graining that create a wow-worthy and rustic appearance, but you can get this look with the help of porcelain tiles!
Unlike natural wood that will need to be refinished every three to five years to maintain its wow-worthy appearance, you can have peace of mind knowing your wood-look porcelain tile will look beautiful for many years to come — without being refurbished! You can even mimic the natural graining, colors, and sizes of wood planks to achieve your dream appearance but at a fraction of the cost. In fact, porcelain tiles are available in even more colors than natural wood, allowing you to have more customization over your space!
If you're torn between a few colors and modern tile patterns, use our flooring visualizer to see how different wood-look porcelain tiles will look in your space. This way you can rest easy knowing you made the best choice for your home.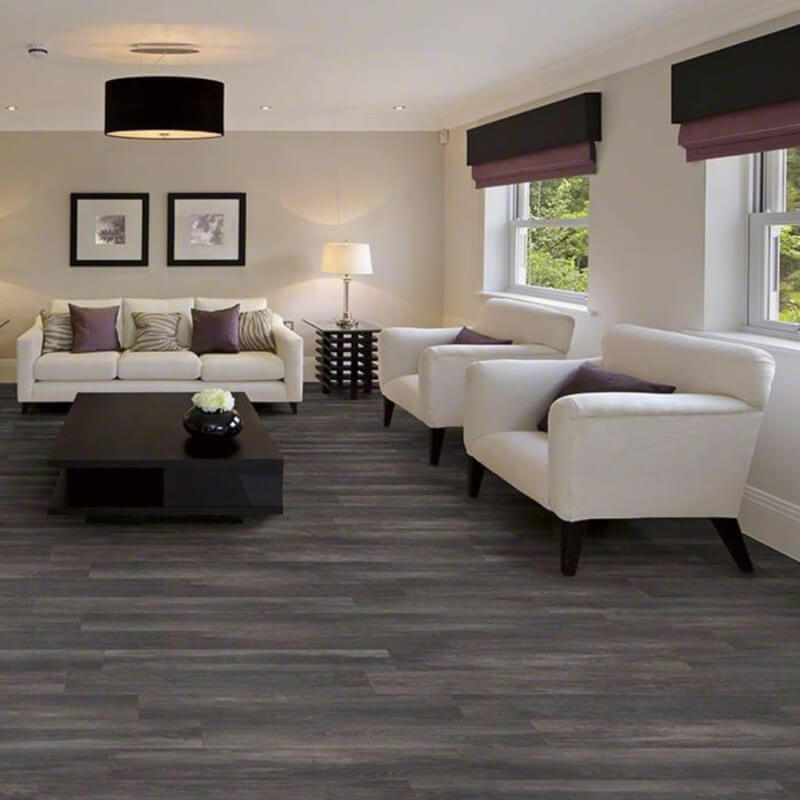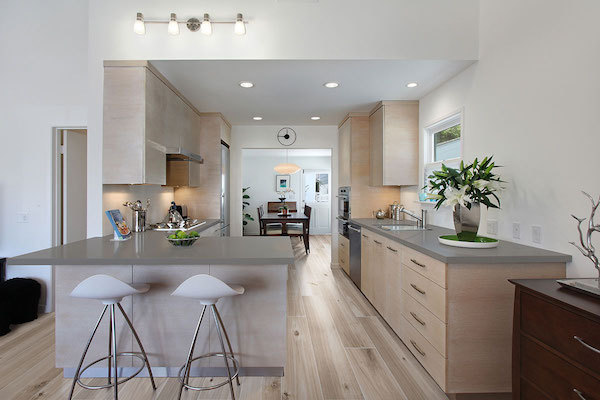 Recommended Tile: Whether you prefer the dark chocolatey charcoal tones of Upscape Nero Wood Look Tile that evoke a distinctively contemporary feel or warm beige tones with the darker brown knots of Havenwood Porcelain wood look tile, you can't go wrong with either of these two selections.
Moisture Resistance
Depending on the location in your home where you are installing your new floors, you may need to consider whether they'll be exposed to water or moisture. If so, opting for natural wood can be a risky choice! When wood is exposed to moisture, it can result in cupping, warping, and discoloration — not something you want to experience after the hefty price tag! Repeat water damage may even lead to mildew and mold which can wreak havoc on your family's health.
Luckily, wood-look porcelain tile allows you to get the look you want without having to worry about moisture. Because porcelain tile resists moisture, it is perfect for applications where it is more likely to encounter water, such as a mudroom, bathroom, kitchen, or outdoor living space. Breathe a bit easier knowing you made the right decision with porcelain tile.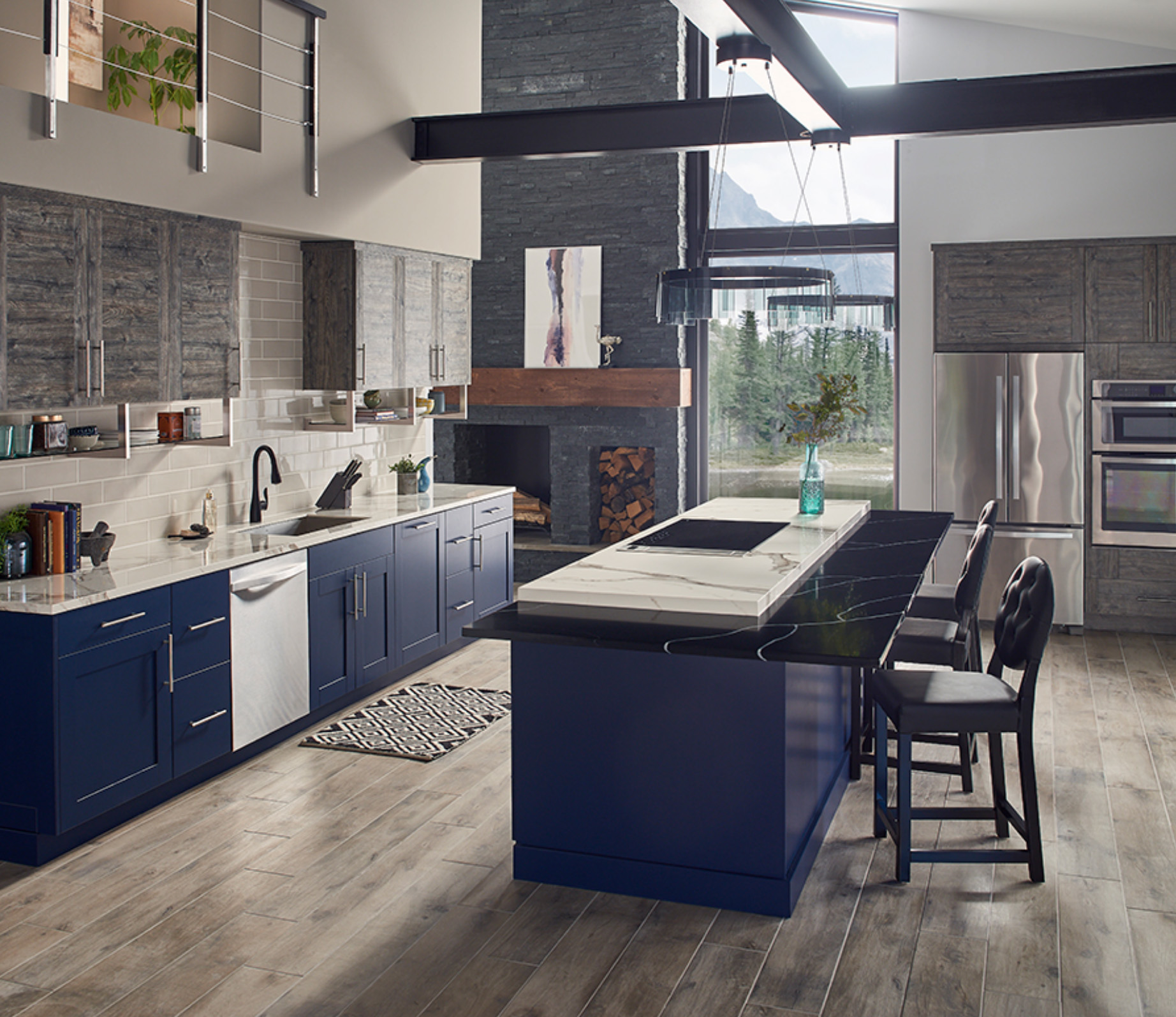 Recommended Tile: When looking for a flooring option for a moisture-prone area, we love Country River Stone porcelain wood tile from MSI in Stone. Featuring warm gray tones with realistic knots and graining, there's nothing quite like it.
Call MSI for Wood-Look Porcelain Tile
Instead of spending all your time babying your hardwood floors to prevent damage, choose wood-look porcelain tile instead. This high-quality and durable flooring material offers you a timeless and sophisticated appearance but at a much more affordable price point. Learn more about high-style wood-look tile and how it can be incorporated seamlessly into your home:

To learn more about our wood-look porcelain tiles, contact MSI Surfaces today. We can help you determine the most effective and affordable option so you can install porcelain tile.
READ MORE ABOUT WOOD LOOK TILE:
Upgrade Your Home with Porcelain Wood Look Wall Tile
Create A Worn Wood Look with Porcelain Tile
The Different Design Styles Of Porcelain Wood Look Tile
Easy Care Porcelain Tile In Vintage Wood Looks
Move Over, Hardwood – This Is A Job For Porcelain Wood Tile!
READ MORE ABOUT WOOD LOOK TILE:
Country River Collection: Naturally Elegant Wood Look Porcelain Tile
Upgrade Your Home with Porcelain Wood Look Wall Tile
Get the Look And Feel Of Real Wood with Waterproof Vinyl Plank Flooring
Get Durable And Affordable Wood Looks with Cyrus And Cyrus XL Luxury Vinyl Planks