Outdoor Oasis: Warm Up In Winter Time
November 29, 2016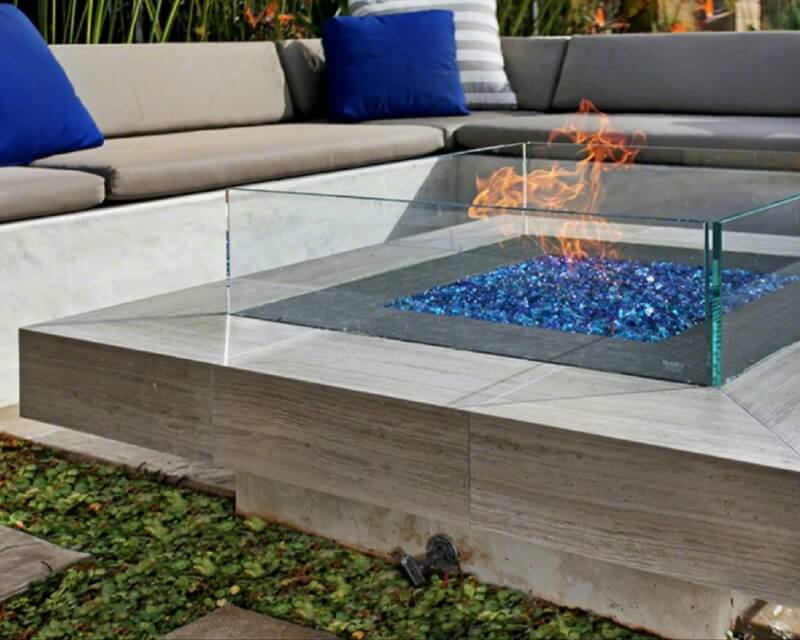 The cool crisp evenings of fall will soon give way to the chilly evenings of winter. But never fear, because with a backyard fireplace or a fire pit, you'll be enjoying relaxing evenings with friends and family, gathered around a warm, flickering flame. Whether your style is traditional or modern, and everything in between, be inspired to create your perfect cozy outdoor oasis with stacked stone, travertine pavers, travertine tiles, and a wide array of other natural stone products.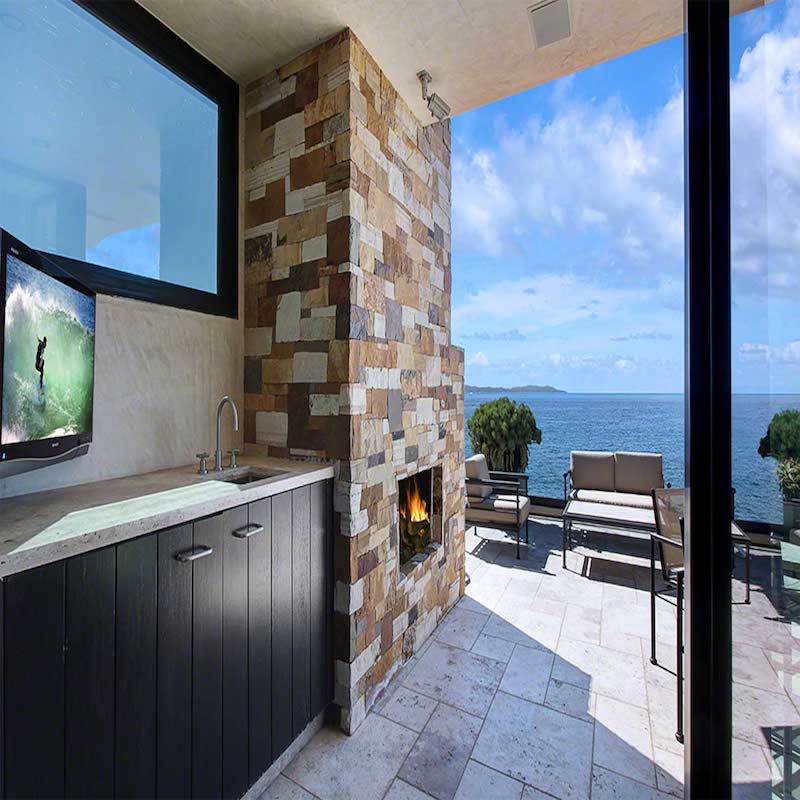 Featured: Coffee Travertine
What could possibly compete with this tranquil ocean view? A show-stopping stacked stone fireplace and a patio surfaced with rustically beautiful Coffee Travertine Patterned Tiles featuring a tumbled finish. This outdoor kitchen blends with the leisure area effortlessly, combining the cabinetry's contemporary lines with classically Old World finishes to create a relaxing haven perfect for both quiet evenings and lavish parties.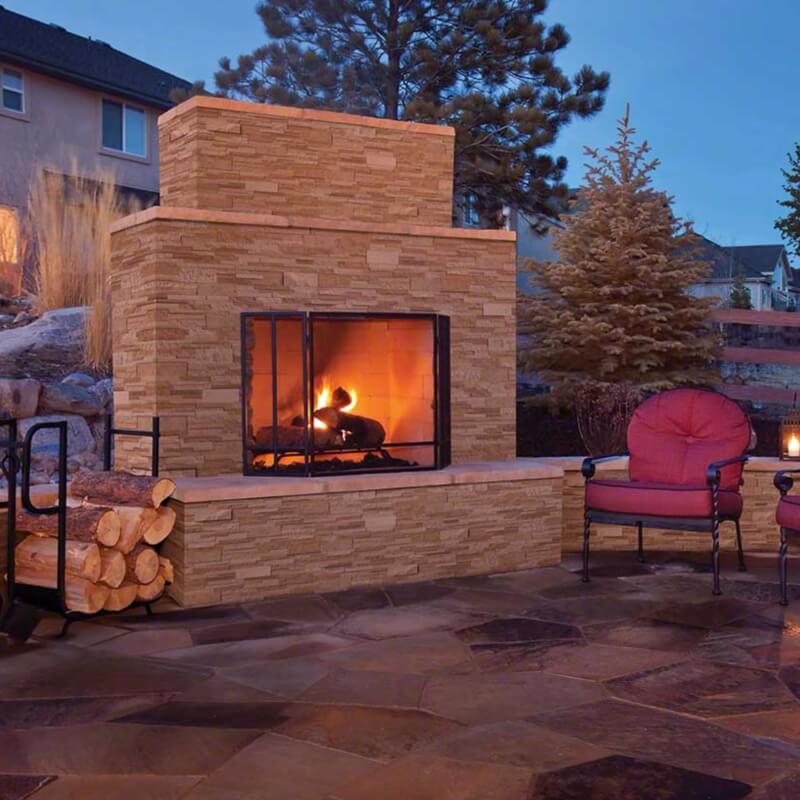 Featured: Casa Blend 3D Multi Finish Stacked Stone
Casa Blend 3D Multi Finish Stacked Stone in travertine panels combine the rustic elegance of split face stones with smooth honed finish tiles. This stunning contrast adds character while blending traditional and contemporary elements. Snuggle up by the fireplace with your favorite book, or host friends for a laughter-filled evening. Natural flagstone pavers are a perfect complement that works to balance atmosphere, making this cozy corner at once sophisticated and homey.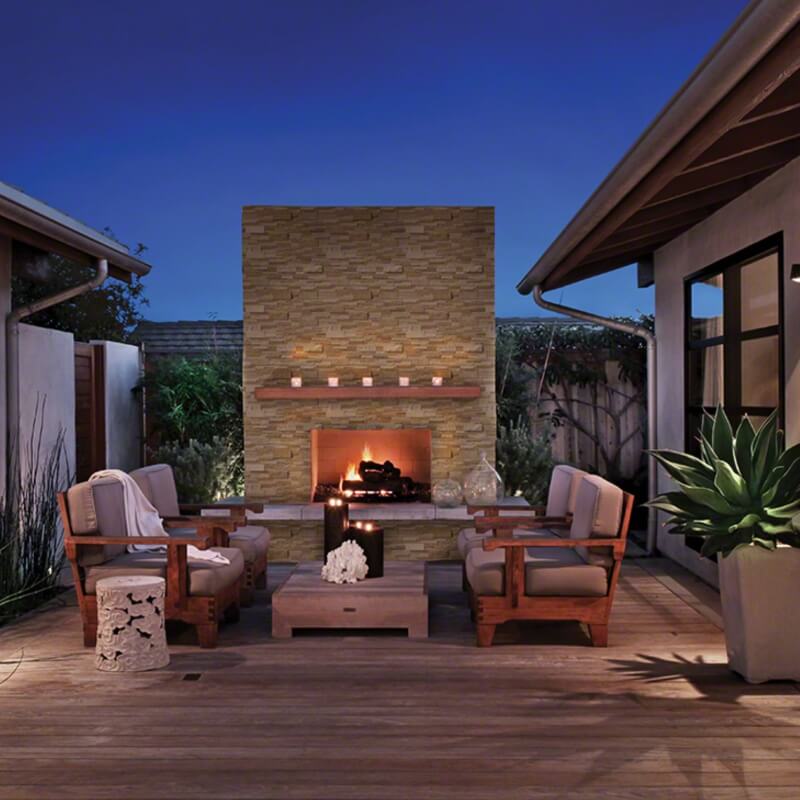 Featured: Casa Blend 3D Honed Stacked Stone
The freestanding fireplace in this soothing yet contemporary outdoor space highlights the contemporary-edge natural travertine stacked stone panels. This updated style and the warm gold and cream tones of Casa Blend 3D Honed Stacked Stone ledger panels make the fireplace the focal point in the design. Enjoy rousing conversations and roasted marshmallows, or just put your feet up and relax under the stars, warmed by this handsome fireplace.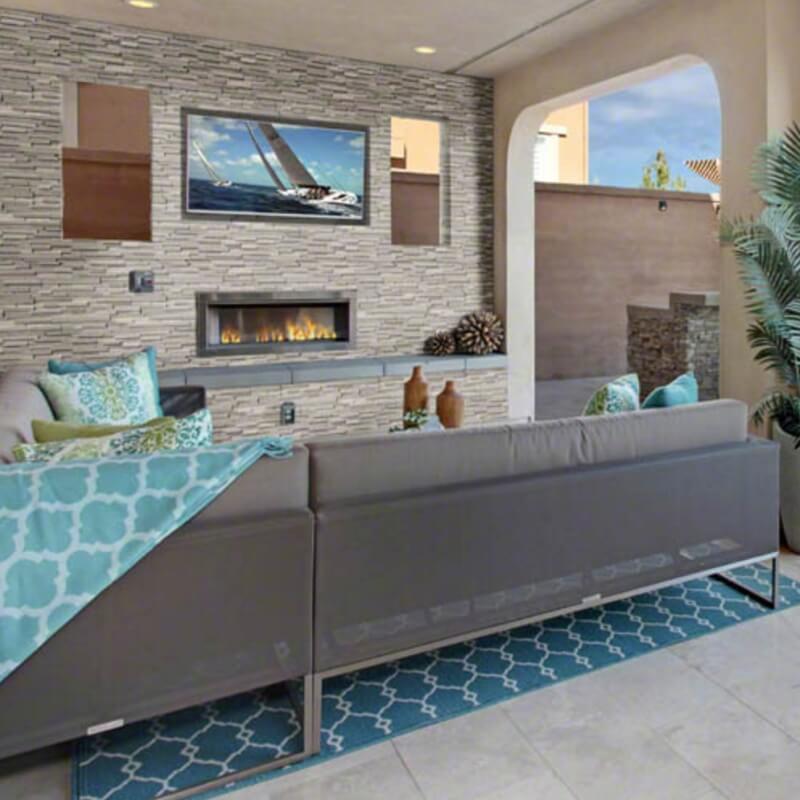 Featured: White Oak 3D Honed Stacked Stone
Snuggle into this space where cool blue and gray tones play together in a relaxing outdoor oasis unified by on-trend natural marble White Oak 3D Honed Stacked Stone panel fireplace. The elevated hearth invites you to warm your hands and feet while sipping your favorite beverage. The tile floor completes the modern clean lines of the space and the soft graphic patterns elevate the look and evoke a tranquil and classy atmosphere.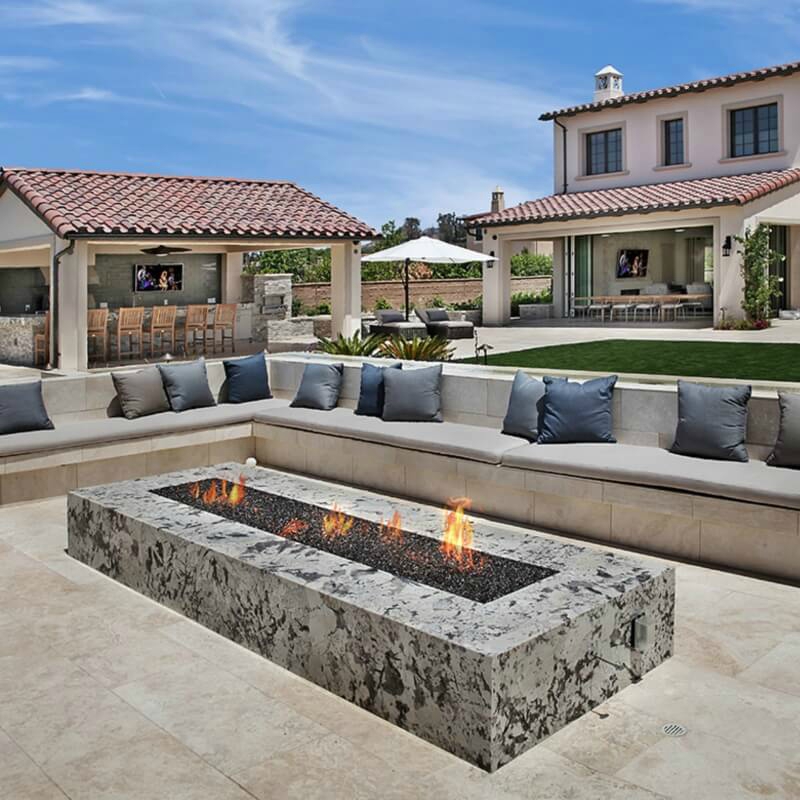 Featured: Tuscany Platinum Travertine Tile
This modern outdoor oasis highlights Tuscany Platinum Travertine Tile versatility in design style. Here, honed tiles anchor the space by providing clean lines and subtle texture that allows the granite clad fire pit to be the star of the show. The low, built in seating, dressed with cool blue and gray pillows, plays off the tones in both granite and travertine, unifying this lounge-inspired space reminiscent of a hip downtown rooftop bar.
With our Stacked Stone Visualizer tool you can begin the process of designing the perfect fireplace for your sensational outdoor oasis. Choose from our vast selection of granite, marble, slate, and travertine stacked stone ledger panels, and complete the look with complementary durable natural stone travertine tiles, flagstones, cobbles, or granite. Cozy up this winter around a custom fire feature that is sure to warm you and your guests on cool winter evenings.