5 Stunning Stacked Stone Accent Wall Ideas
August 01, 2023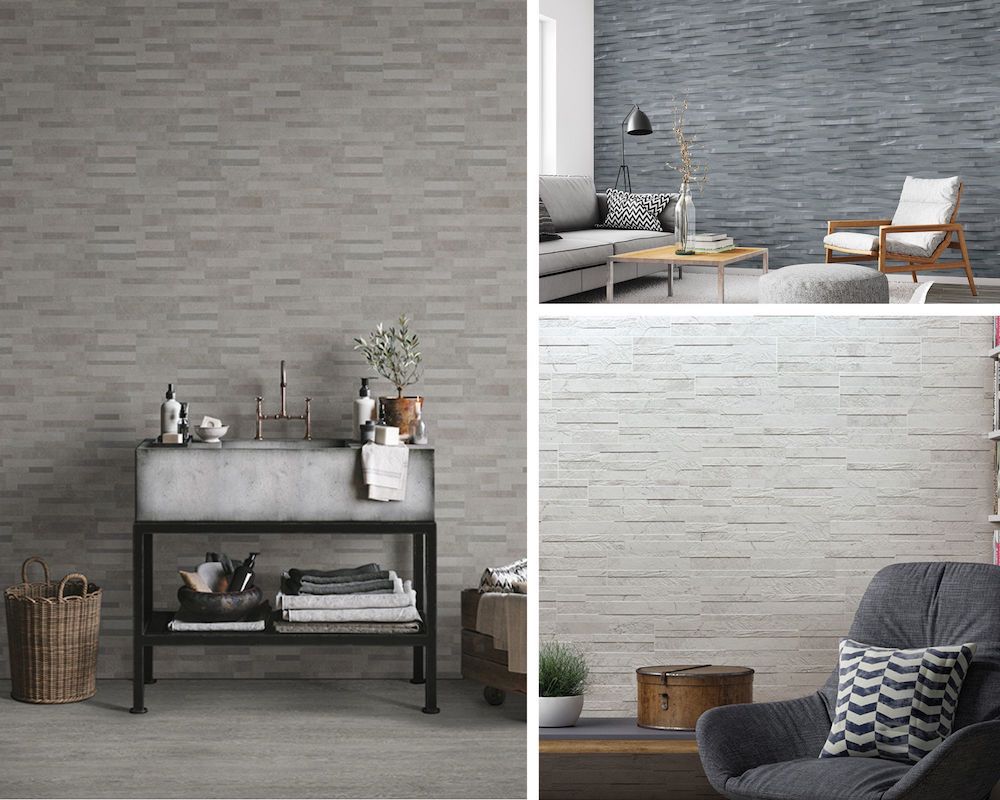 Accent walls are ideal for bringing interest and personality to your home. If you want to add more than color to your walls, stacked stone offers a step up from paint and the perfect means of enhancing visual appeal through increased depth, dimension, and texture.
With dozens of colors, textures, finishes, and styles to choose from, you'll have no trouble finding the right one that add character and luxury to your space. From traditional to trendy, we have designs to upgrade any style.
Our stacked stone ledger panels, available in both porcelain and natural stone, are easy to install and resist scuffing, staining, and fading. Our Dekora™ Porcelain Ledger Panel Collection and Rockmount™ Stacked Stone Collection provide opportunities for homeowners to complement their overall design and style aesthetic.
Our versatile and durable stacked stone collections enhance both the interior and exterior of any home. They create striking statement walls for entertainment areas and charming kitchen backsplashes. Both indoors and out, they add timeless elegance to fireplaces. Additionally, they bring a touch of nature to outdoor kitchens and gathering areas, making them warm and inviting. No matter the location, our stacked stone is unmatched at bringing natural beauty and adaptability to every space.
Dekora™ Porcelain Ledger Panel Collection
There are endless ways to create focal points within your interior design, updating and elevating your home decor in the process. You might think a stacked stone accent wall is only suitable for rustic or farmhouse interiors, but when you choose elegant porcelain panels, you'll find that this material enhances traditional and contemporary styles as well, ranging from highly decorative to minimalist.
With the option for both indoor and outdoor applications, low-maintenance Dekora™ Porcelain Ledger Panels add charm and sophistication to any living space. Which designs are best suited for your home and personal taste?
Modern Appeal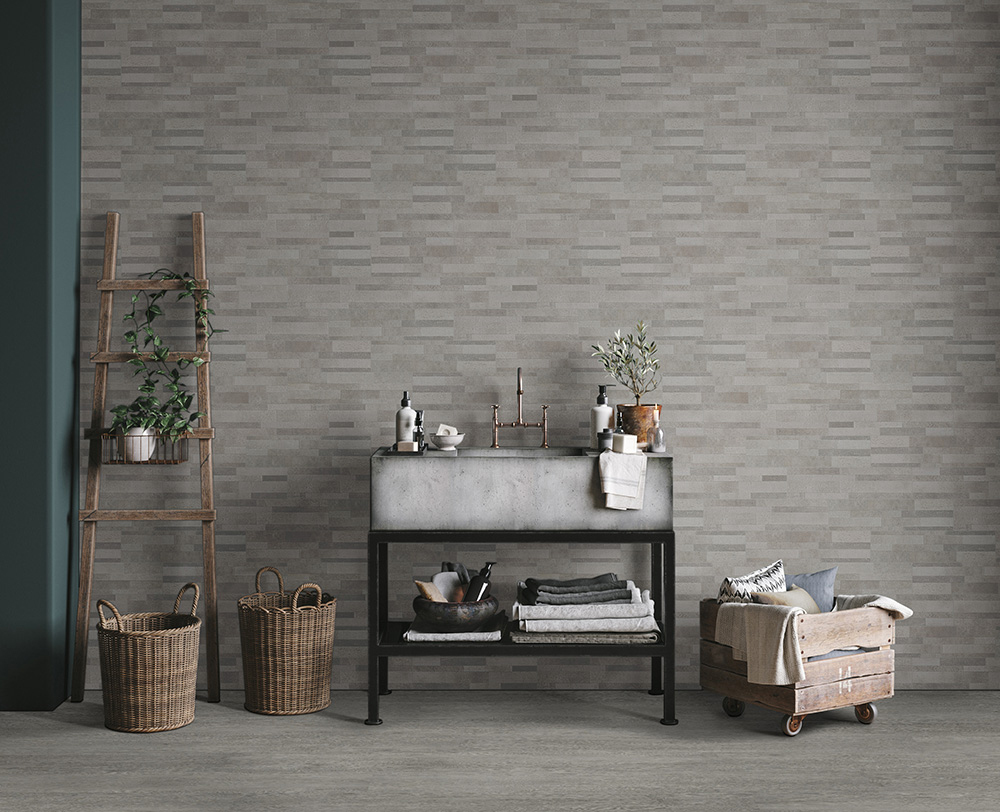 Nora Sterling Stacked Porcelain Panels
Variety is the spice of life, and spicing up any room is easy with the texture and richness of Nora Sterling porcelain panels. This lovely design features shades of light greige and gray tones to create a soothing ambiance and dappled effect from afar.
Its matte finish lends a modern appeal and casual aesthetic to your decor, making it the perfect backdrop for any room. If you want an accent wall that adds subtle beauty and interest to your space while offsetting sleek, contemporary fixtures, Nora Sterling is the ideal choice.
Classic White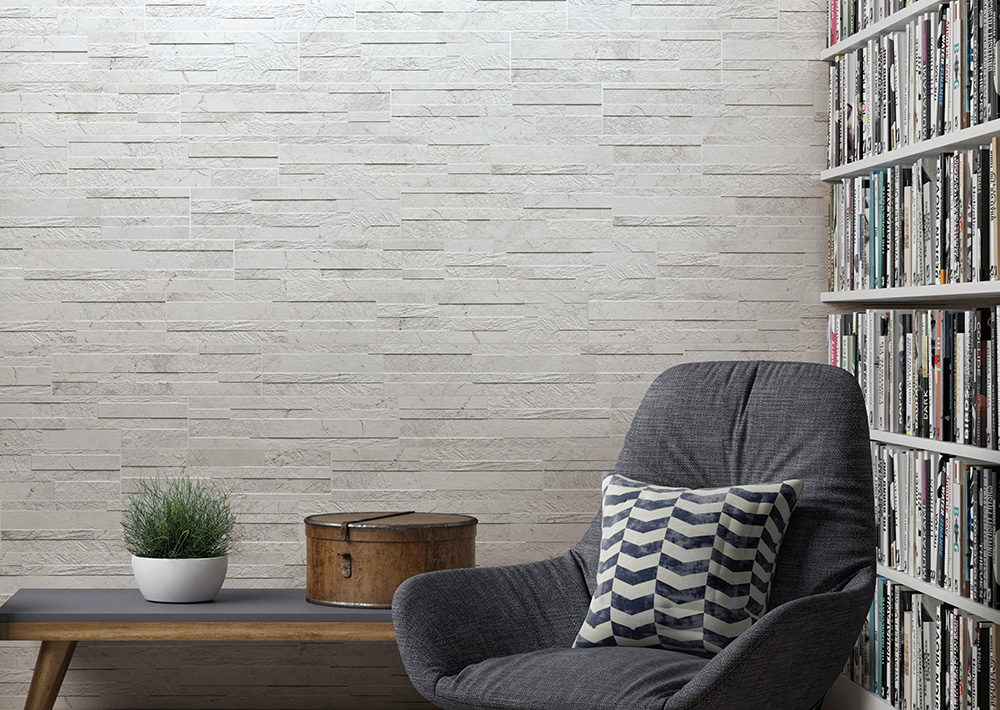 Carrara White Stacked Porcelain Panels
White walls offer a clean slate upon which to build a personalized design, but they also imbue your space with a sense of simplicity, calmness, and cleanliness. If you want a feature wall that embodies these sensibilities but has a bit more flair, you're sure to appreciate the soft white background and delicate gray patterning of Carrara White porcelain panels. Designed to mimic the cool tranquility of its namesake marble, this porcelain design delivers luxury appeal and easy maintenance.
Welcoming Warmth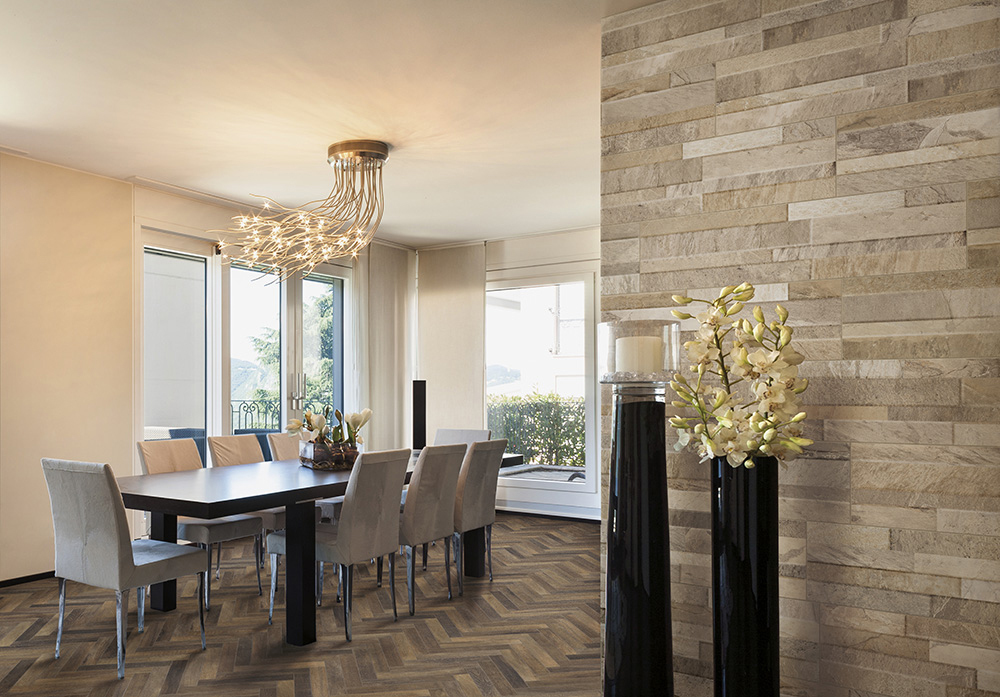 Canyon Cream Stacked Porcelain Panels
There's a lot to be said for the welcoming feel of our Canyon Cream porcelain panels, replete with warm hues of creamy beige, sand, and gold. A smooth, matte finish allows detailed striations and speckles on individual tiles to shine, adding movement and dimension that makes each panel more than the sum of its parts. Canyon Cream is a perfect choice for living rooms, bathrooms, and more.
Rockmount™ Stacked Stone Collection
Whether you prefer the allure of a chic, contemporary stone facade or the rustic appeal of a refined stone veneer, we have just what you're looking for in the Rockmount™ Stacked Stone Collection.
With options for honed or split face surfaces, or combinations of the two, you can choose a sleek or rugged aesthetic that takes your design to the next level. With exciting new colors and finishes, these panels in authentic, natural stone add richness to any interior.
High-Impact Drama
Cosmic Black 3D Wave Stacked Stone
Never underestimate the striking appeal of black marble. While white marble is a popular choice for everything from flooring to countertops, anyone looking to make a statement with contrast will love the dramatic flair of Cosmic Black 3D Wave. The wave-like placement of tiles creates a uniform, three-dimensional basketweave pattern with alternating protrusions and recessions. This adds dimension and visual texture to any accent wall, creating a show-stopping centerpiece for your room.
Minimalist Beauty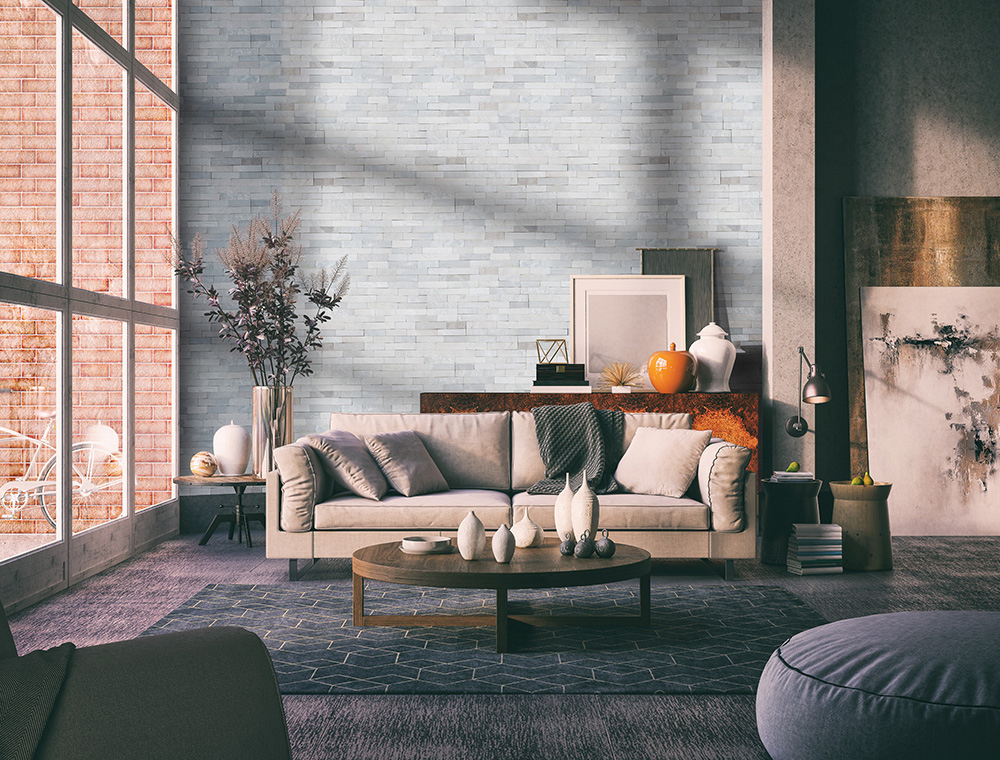 Arctic White Multi Finish Stacked Stone
If you love the look of whitewashed living rooms, you can elevate the aesthetic with Arctic White Multi Finish stacked stone. Featuring white marble, this exquisite stone has plenty of character with its randomized placement of tiles in a range of finishes — incorporating both smooth and rough surfaces.
Accent Your Interior with Breathtaking Stacked Stone
If you're looking for attractive and timeless accent wall ideas that add an element of luxury to your home's interior, you can't go wrong with eye-catching stacked stone. Options in porcelain and natural stone ensure that every homeowner finds the perfect aesthetic for their home design and personal style preferences.
Are you interested in learning more about MSI stacked stone designs? Contact our team via live chat now, find an MSI authorized dealer in your area, or visit a showroom to look at samples.