5 Wonderful Porcelain Tile Patterns
January 29, 2017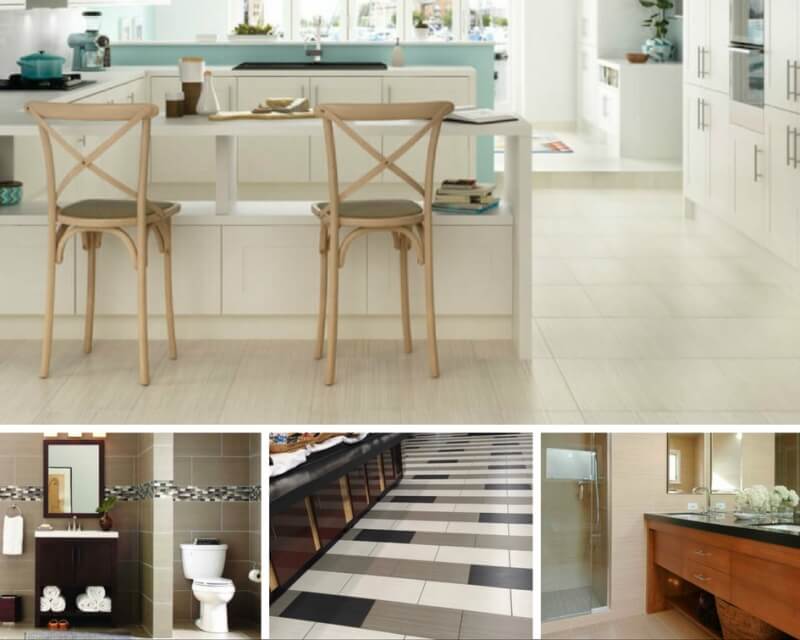 MSI offers a wide variety of porcelain tile options, but if you love the modern look, consider our Focus Collection. These large-format, rectified porcelain tiles have a textured appearance or slight wood-grain look to give your space that coveted contemporary feel.
Selecting the right tile for your room is an important decision, but how you decide to install your tile of choice can be even more crucial to your overall design. The different ways that tile can be aligned has an effect on the room, and we're highlighting five configurations from our Focus Collection that provide big impact.
Straight Horizontal Layout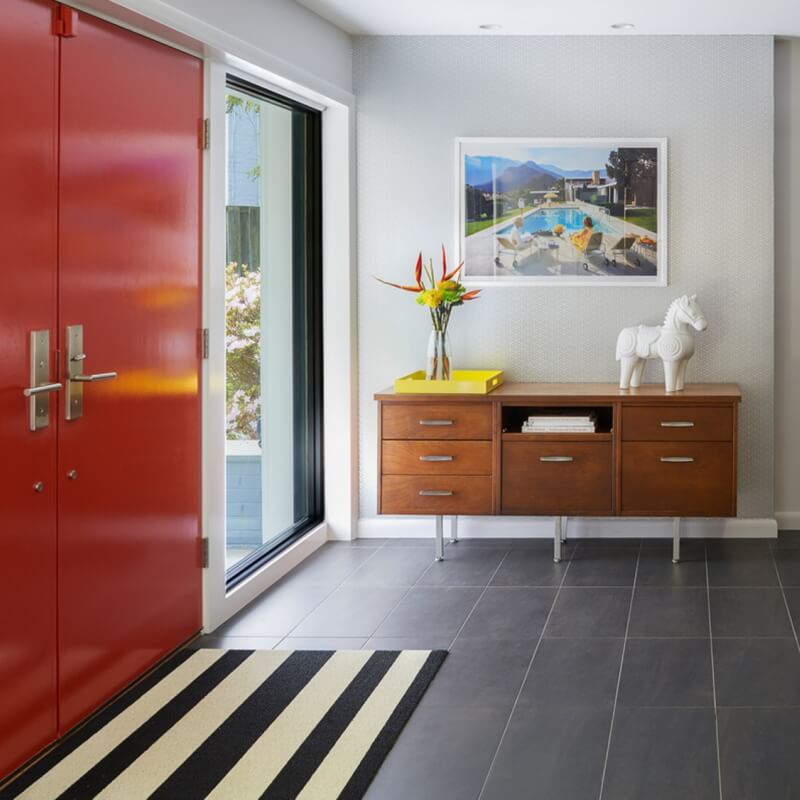 Featured: Graphite Focus Porcelain (Photo Credit: Houzz)
A straight pattern installation is one of the simplest layouts you can choose. But with a rectangular 12x24 tile like Graphite Focus Porcelain, you still have to decide which direction you want to take. Laying this mid-tone gray tile flooring in a horizontal straight pattern gives the illusion that your space is wider than it really is.
Although darker colors tend to make a room look smaller, that is not the effect in this rather large entryway, which is beautifully balanced by subtly patterned light gray wallpaper. The double doors and black-and-white rug also help to visually expand the entryway.
Straight Vertical Layout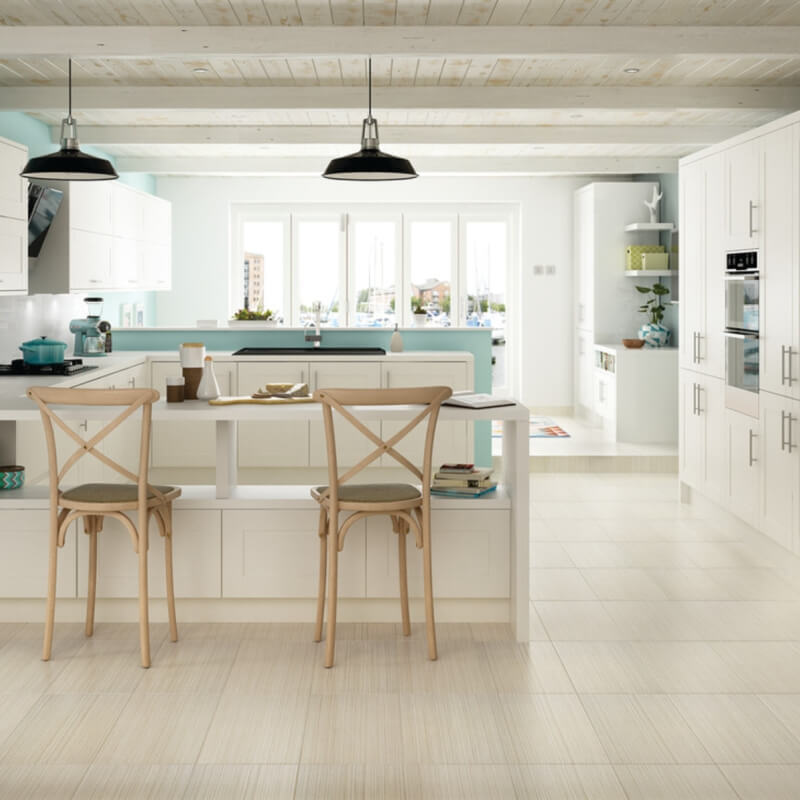 Featured: Glacier Focus Porcelain (Photo Credit: Houzz)
If you want to elongate a space, draw attention to a design focal point, or create flow from one room to another, choose a straight vertical layout using 12x24 large-format tiles.
This light and airy waterfront home features Glacier Focus Porcelain, a soft white background with light stripes that looks similar in tone to sand. With the tile lined up with the flow of traffic, the vertical layout carries you from the kitchen to the dining room, and then to the amazing view of the boats beyond.
Perpendicular Layout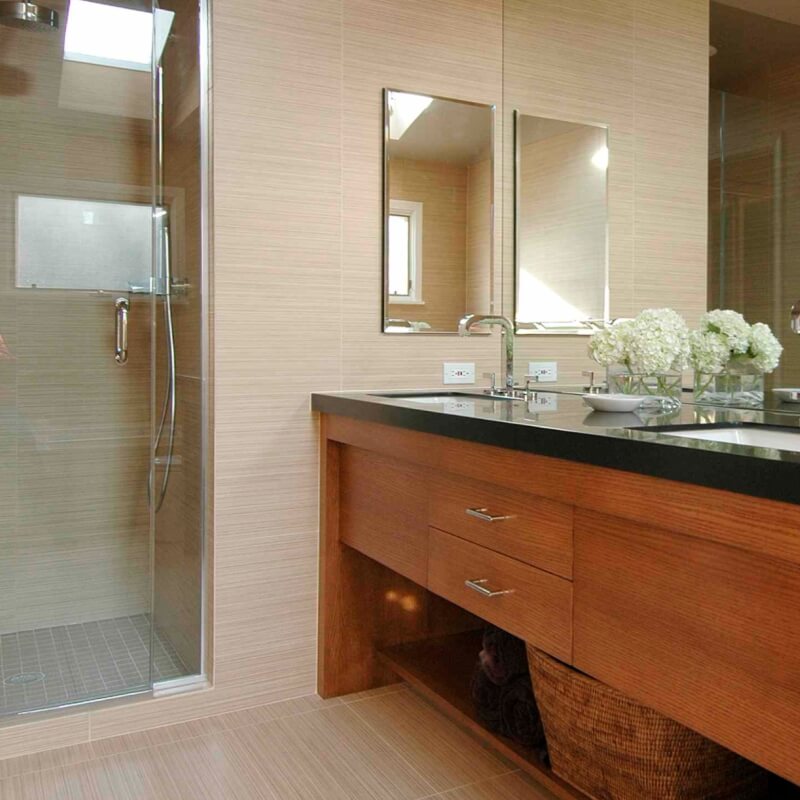 Featured: Khaki Focus Porcelain (Photo Credit: Houzz)
In a smaller space like a bathroom, some designers and homeowners like to bring the tile from the shower onto the wall, or the floor tile up onto the wall. This space features both applications, using Khaki Focus Porcelain tiles.
However, the continuous tile pattern from floor to ceiling is broken up with a perpendicular layout. These tiles are lined up one way on the floor and then reversed on the wall, creating a distinction between the floor tile and the wall tile. The soft khaki color doesn't overwhelm or overpower the smaller space, and the tonal stripes mimic the look of a more modern grass cloth.
Classic Brick Layout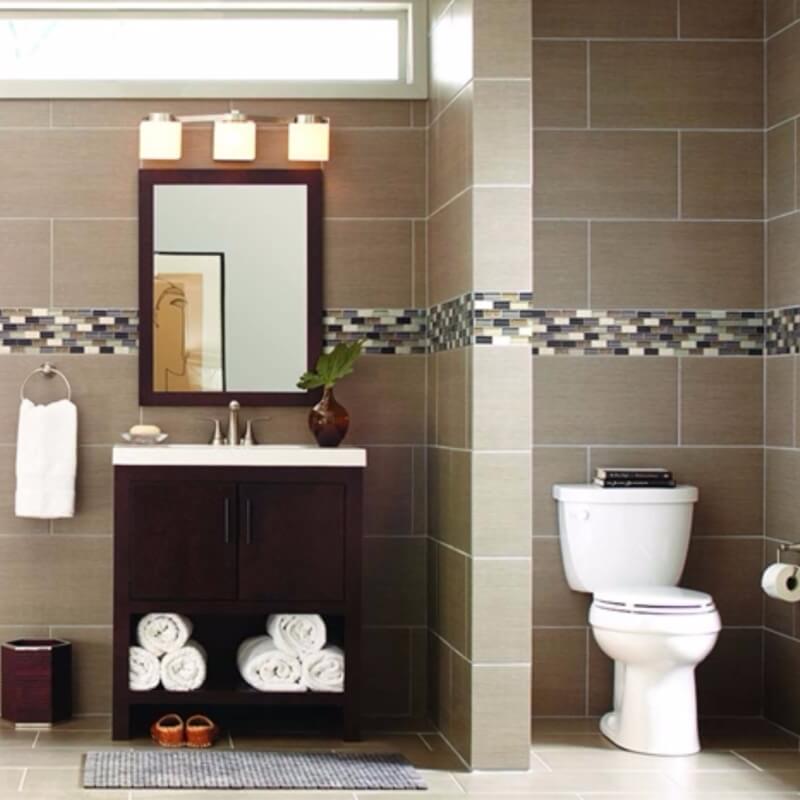 Featured: Olive Focus Porcelain
The classic brick installation is another basic layout where the tiles are staggered or lined up so that each row is offset by half of the tile's width. This contemporary bathroom is covered in Olive Focus Porcelain, a sleek tile in neutral olive greens with soft stripes. The pattern creates movement, and the accent strip of mosaic tiles emphasizes this motion even more.
Colorful Classic Brick Layout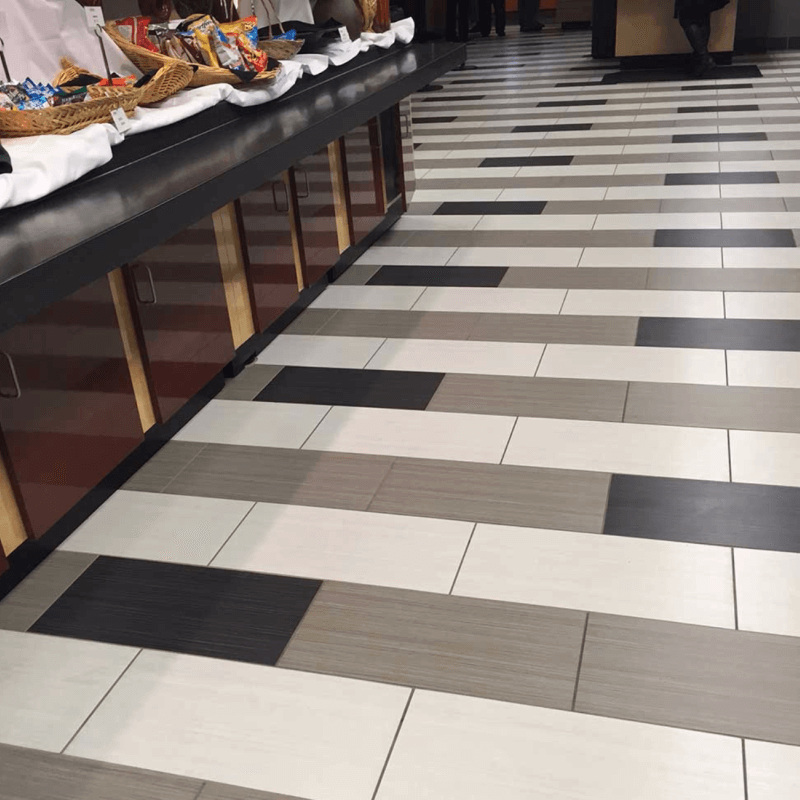 Featured: Focus Porcelain Collection (Glacier, Olive and Graphite)
If you want to add more drama to your flooring, then try mixing different colors, as in this bold classic brick layout. This room creates big impact by combining the soft whites of Glacier Focus Porcelain, the neutral olive greens of Olive Focus Porcelain, and the mid-tone grays of Graphite Focus Porcelain. The lighter colors create a horizontal striped pattern, while the selective use of the dark gray tiles forms a vertical pattern.
No matter what type of tile you desire, MSI carries a wide variety of options to suit your style. To get more inspiration, use the MSI Flooring Visualizer to check out even more pattern choices.
READ MORE ABOUT THE BENEFITS OF PORCELAIN TILE
Porcelain Perfection: 3 Of Our Favorite Porcelain Tiles
Porcelain Perfection: 6 Porcelain Tiles That Mimic Wood
5 Best Porcelain Tile Options For Mudrooms