What Is Luxury Vinyl Flooring And Why Is It So Popular?
November 08, 2022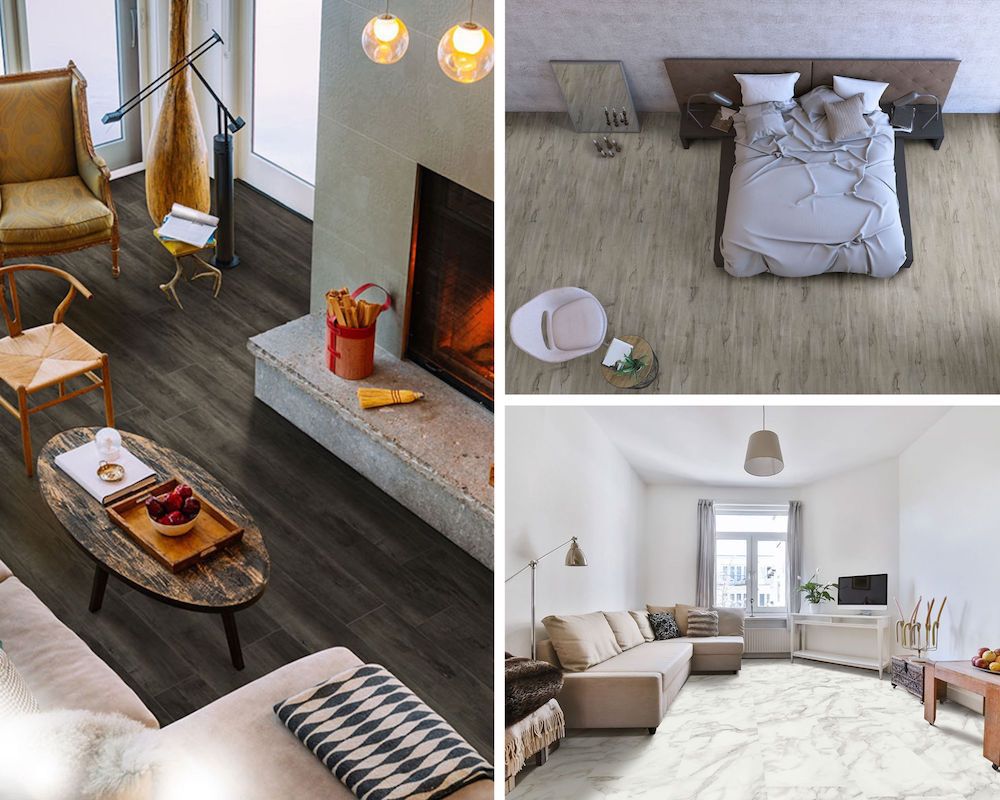 Luxury vinyl flooring has become a top choice of all the flooring products available to homeowners. The reasons are as numerous as the colors and patterns available. So, what is it, and why is it taking over the industry?
Luxury vinyl tile and planks deliver everything homeowners want from their flooring. First, there's the durability and easy maintenance to consider—and it's waterproof. The ease of installation is important, too, along with the beauty and affordability. But before you rush to the home improvement store or flooring showroom, take some time to learn more about the pros and cons of LVT and the different types of products available.
RIGID CORE VS. GLUE-DOWN FLOORING
Luxury vinyl flooring comprises two basic types: rigid core planks and flexible dry-back glue-down planks. Rigid core planks click into place with a tongue-and-groove system and are also known as "floating floors" because they do not need to be attached to a subfloor. Their easy installation makes them ideal for DIY projects. Glue-down LVF, on the other hand, is just that: planks that need to be attached to the subfloor with an adhesive.
Although rigid core flooring options are easier to install, if one of the planks becomes damaged, it's harder to replace just one because the planks interlock. Glue-down planks have advantages and disadvantages, also. They require a flat, even subfloor for installation because every imperfection will show through and affect the finished result. But it's often better for installation in large rooms or areas with high traffic.
LUXURY VINYL PLANKS VS. LUXURY VINYL TILE
When discussing luxury vinyl flooring, that term includes both planks and vinyl tile. The two are very much alike and are manufactured in the same way. Both are long-lasting waterproof flooring.
Luxury Vinyl Planks (LVP) are manufactured to realistically resemble wood and come in different sizes of planks, just like the hardwood flooring they replicate. When installed properly, it can be tough to tell the difference between LVP and natural wood just by looking at them. Planks are also available with different thicknesses and acoustic (sound-absorbing) features.
Luxury Vinyl Tile (LVT) refers to natural stone looks and other unique patterns. Like LVP, they are available in a variety of sizes and thicknesses.
WHY IS IT SO POPULAR?
LVP and LVT are soaring in popularity. Here are a few of the benefits of luxury vinyl flooring:
Aesthetic Appeal: Luxury vinyl flooring brings the gorgeous looks of hardwood flooring or stone tile flooring, such as marble, quartzite, concrete, and more, into your home.
Durability: These products can withstand the wear and tear of everyday life for many years, resisting chips, cracks, stains, dents, and other types of damage.
Easy to maintain: Unlike natural stone, LVT never needs to be sealed to maintain its good looks and be protected from damage. Likewise, planks that look like wood never need to be waxed or refinished. They are simple to keep clean and hygienic, making them ideal for homes with small children and pets.
Acoustics: Luxury vinyl flooring absorbs sound better than other types of tile, so it improves the acoustics of the room where it's installed.
Waterproof flooring: It is exceptionally water resistant, which makes it ideal for installation anywhere in your home, even in areas that get wet often, such as bathrooms, kitchens, laundry rooms, mud rooms, and entryways.
Comfortable: Compared to other types of tiles, luxury vinyl flooring feels warm to the touch, so walking barefoot is much more comfortable.
Affordable: LVF is often more budget-friendly than the materials it replicates. For example, if you love the look of marble, you can install marble-look LVT in your home for a fraction of what the real thing would cost.
Here are a few examples of our popular LVP and LVT colors.
BROOKLINE LUXURY VINYL PLANKS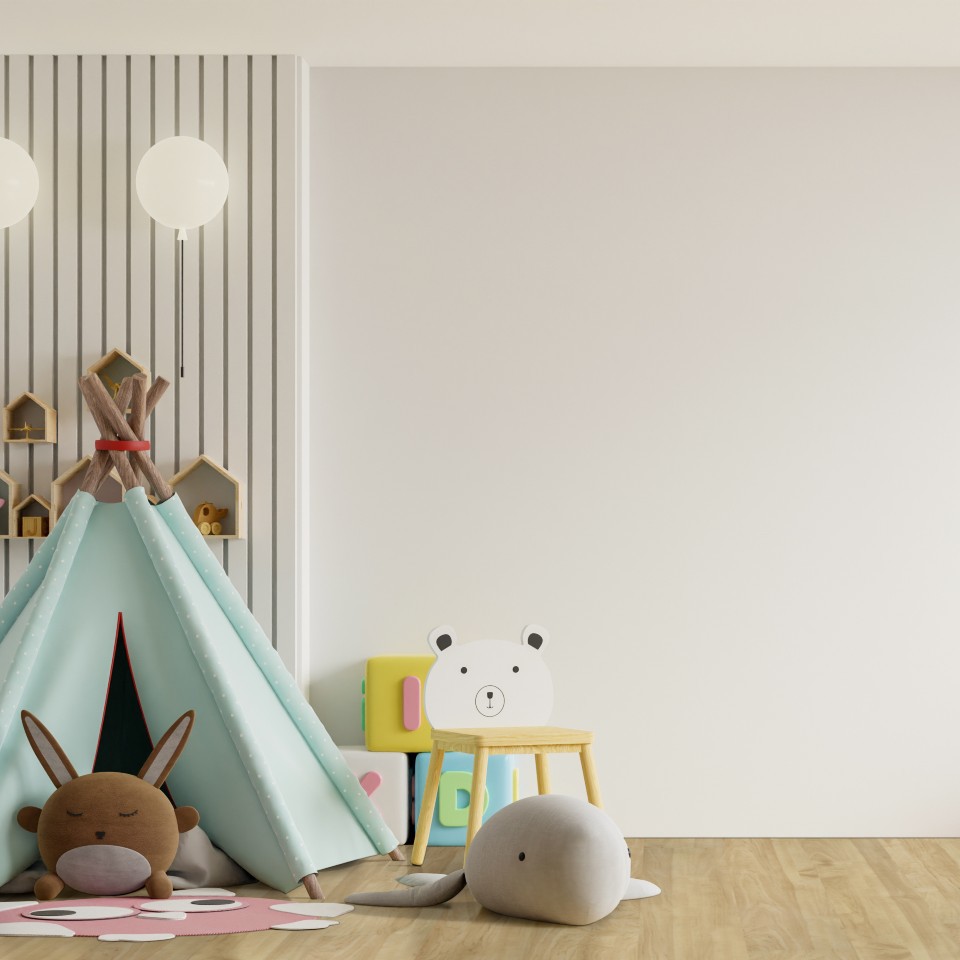 Bring the warmth of wood-look LVP into your home with Brookline from MSI's Cyrus collection. It features a golden color along with realistic graining and knots. Because it is waterproof, easy to keep clean, and feels warm to the touch, it's an ideal choice for kids' playrooms, bedrooms, or anywhere else in your home. It's a rigid-core plank with click-and-lock installation and is available in both 7" 48" and 9" x 60" sizes, so you can choose the one that's best for your room.
BRACKEN HILL LUXURY VINYL PLANKS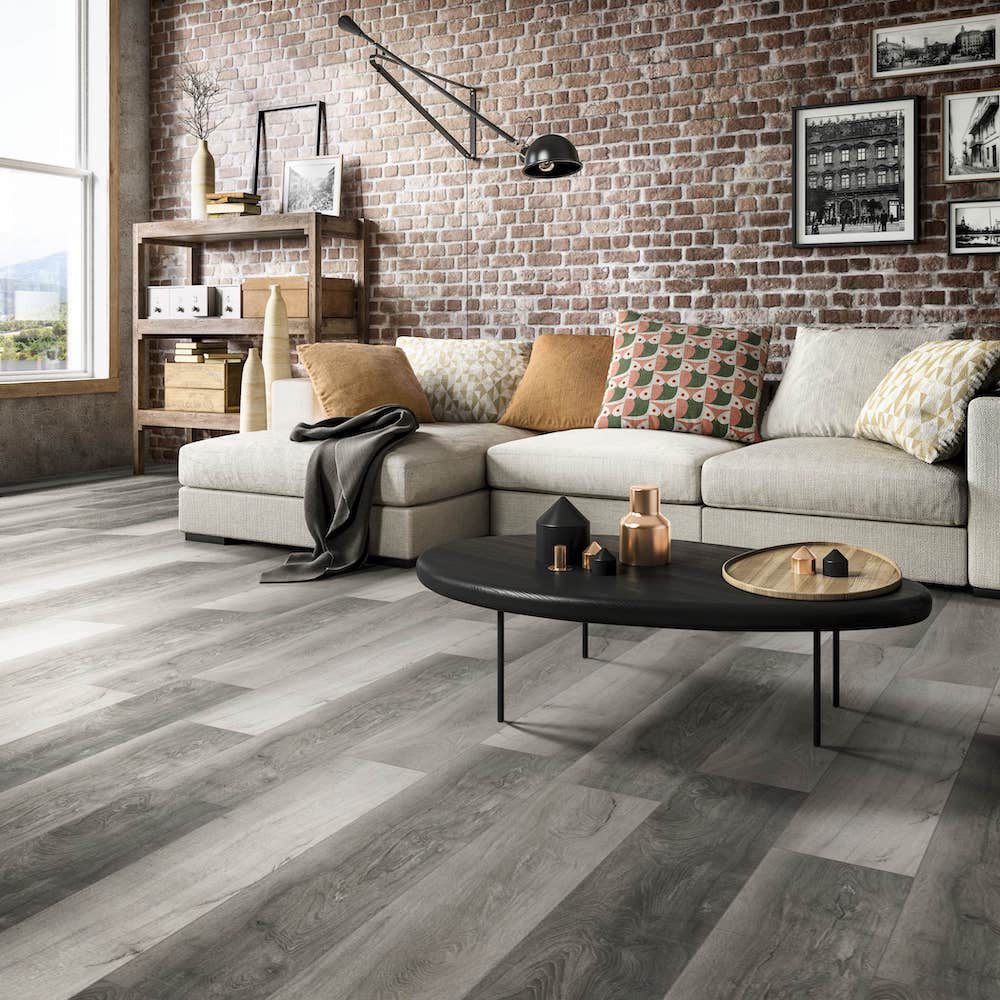 Bracken Hill LVP from the Prescott collection is a soothing blend of gray shading with the look of weathered wood. It is available in 7" x 48" planks with a pre-attached backing, and as a rigid-core plank option, it's easy and quick to install and transform a room. We love how it complements industrial, rustic, and contemporary interior designs.
MOUNTAINS GRAY LUXURY VINYL TILE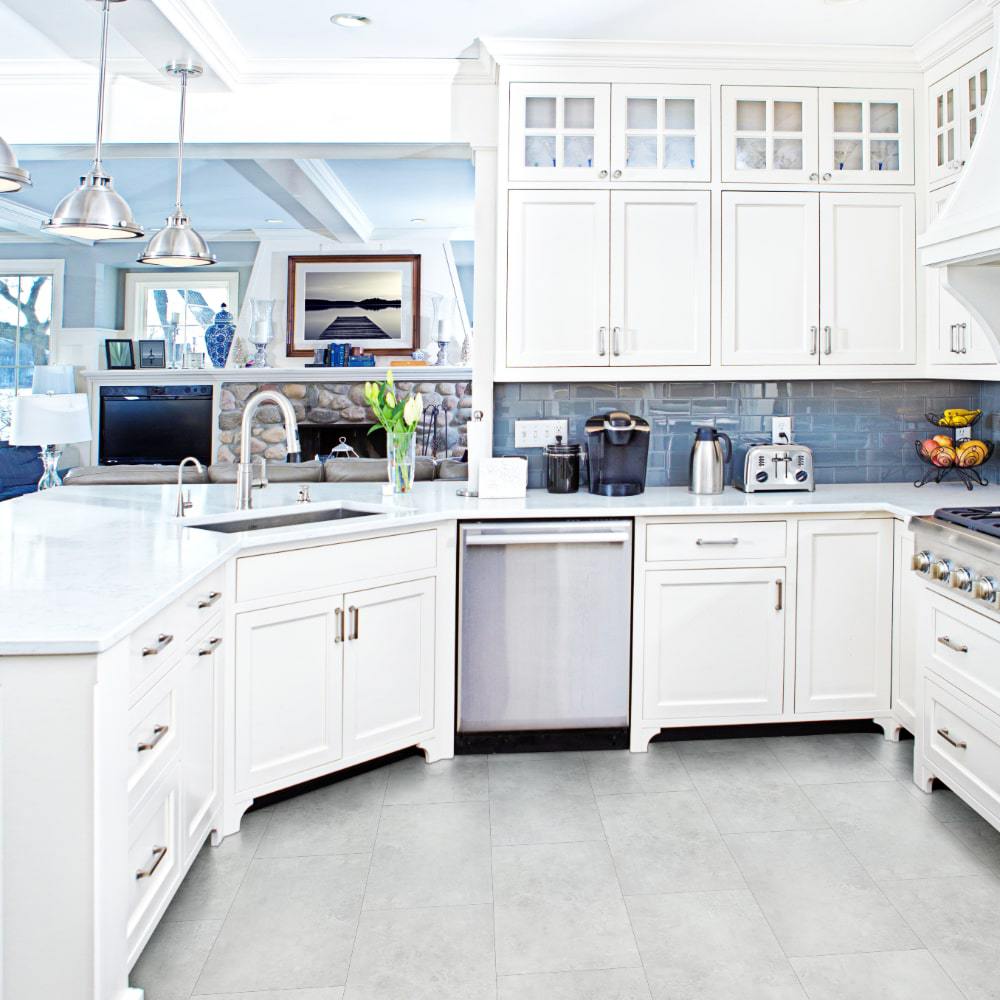 If you love the look of a light-colored stone-tiled kitchen floor but worry about the upkeep, consider installing Mountains Gray LVT from MSI's Trecento collection. Unlike natural stone, it never needs sealing and is 100% waterproof. So, you can have your elegant, serene pale-gray kitchen floor even if you're a messy cook with a busy family – no worries.
QUARZO TAJ LUXURY VINYL TILE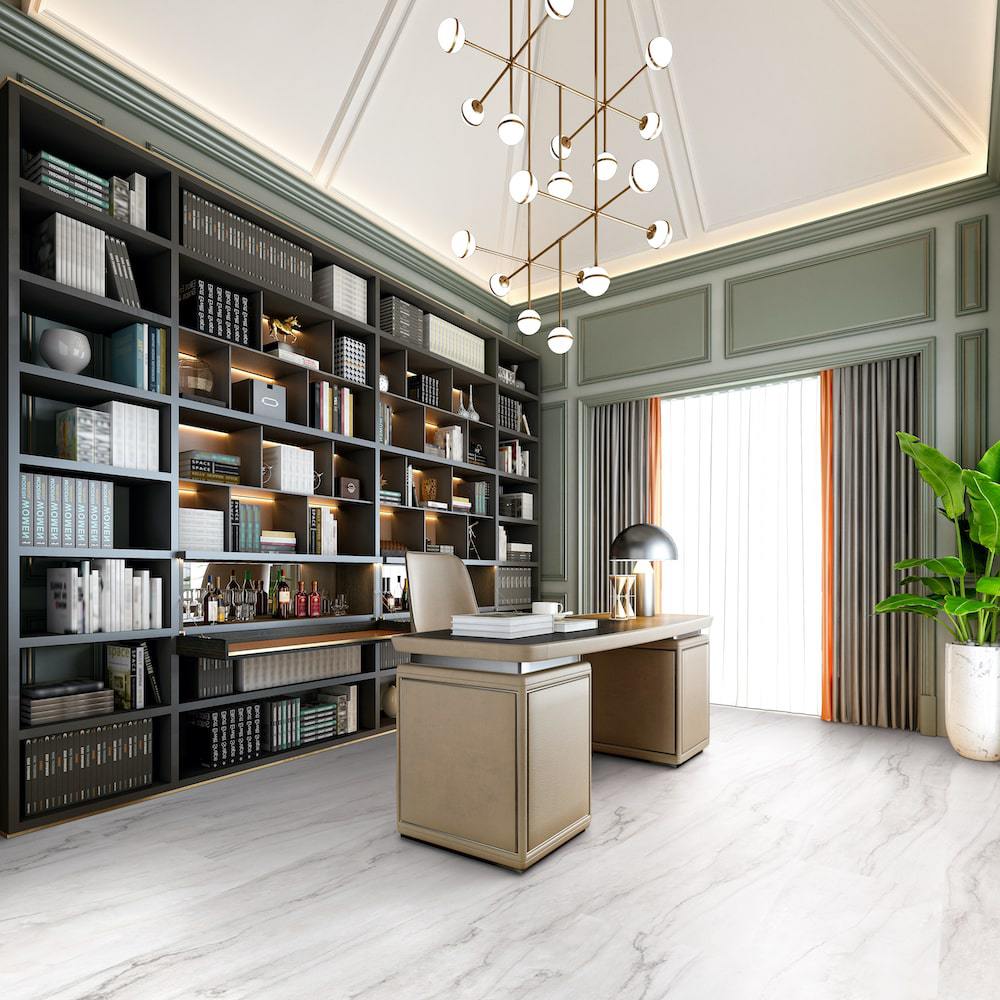 It's hard to beat the look of marble tile flooring when making a space elegant and upscale. However, natural marble can be pricey, and it requires special care to keep it looking its best. With Quarzo Taj luxury vinyl tile, you can enjoy this look in any room of the house – your office, den, family room, even a bathroom – without worrying how it will hold up to high foot traffic, splashes, or even your pet's muddy paws. It's budget-friendly, too.
Now that you know more about luxury vinyl flooring, we hope you're inspired to begin your next home improvement project. Be sure to browse our web galleries and see all of the beautiful products we offer, and if you have any questions, contact us at MSI and see how we can help. We're industry experts and are happy to help in any way we can. Contact us online, visit one of our showrooms, or chat with us in real time through our MSI web chat feature at the bottom right of your screen.
Learn More About Luxury Vinyl Flooring
Go Bold With Windsor Luxury Vinyl Tile
What Is Luxury Vinyl Flooring?
What Is Luxury Vinyl Flooring And Why Is It So Popular?
Luxury And Durability Come Together In Our Eden Porcelain Tile Collection