Mosaic Monday: How To Clean And Maintain Glass Mosaic Tile
July 04, 2016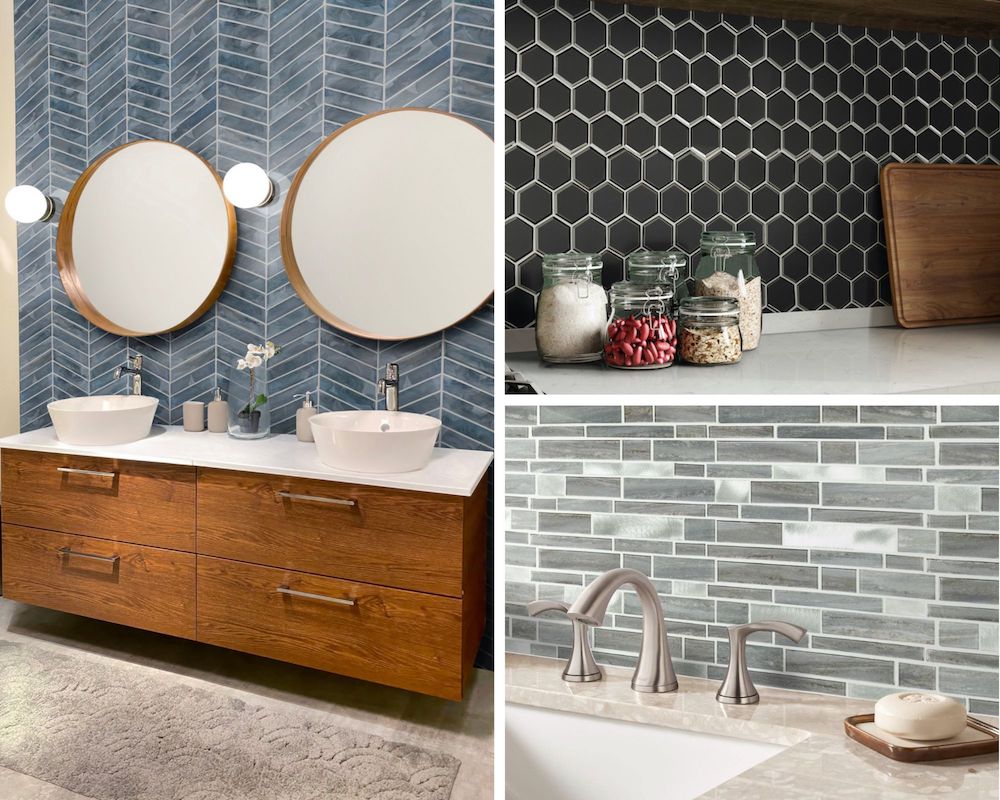 Glass tiles are popular for kitchen backsplashes, shower surrounds, and other areas of the home, and they come in a wide range of sizes, shapes, and colors. More cost-effective than the more porous ceramic, non-porous glass tiles are very durable and are resistant to staining, bacteria, mildew, and mold. They are also simple to clean and maintain.
Just remember that although clear glass backsplash tiles add a rich luminous quality to any design, shiny surfaces may show fingerprints, footprints, and water spots more easily, so they do require frequent maintenance in order to keep everything looking sparkling clean. To get you started, here is a simple guide to keeping your glass mosaic tile looking brand new.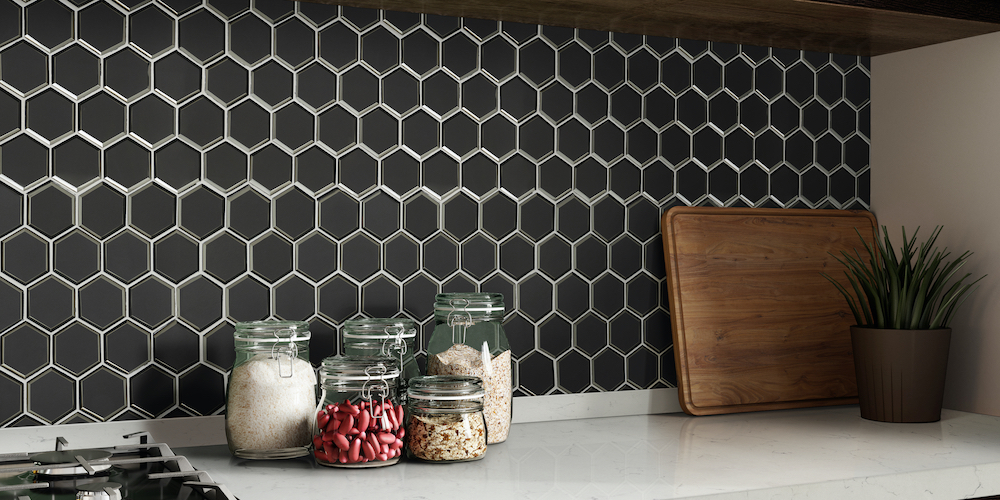 Metallic Gray Beveled 3" Hexagon Mosaic Tile
Easy Cleaning
When cleaning glass tile, use non-abrasive cleaning products in order to avoid scratching your beautiful backsplash or bathtub mosaic tile. One of the easiest ways to clean glass tiles to a sparkling shine is with equal parts water and vinegar in a spray bottle. Spray the mixture on and leave it for approximately 10 minutes. To get rid of soap scum or stains caused by hard water, rub tiles with a soft cloth or brush, rinse with cold water, then wipe dry.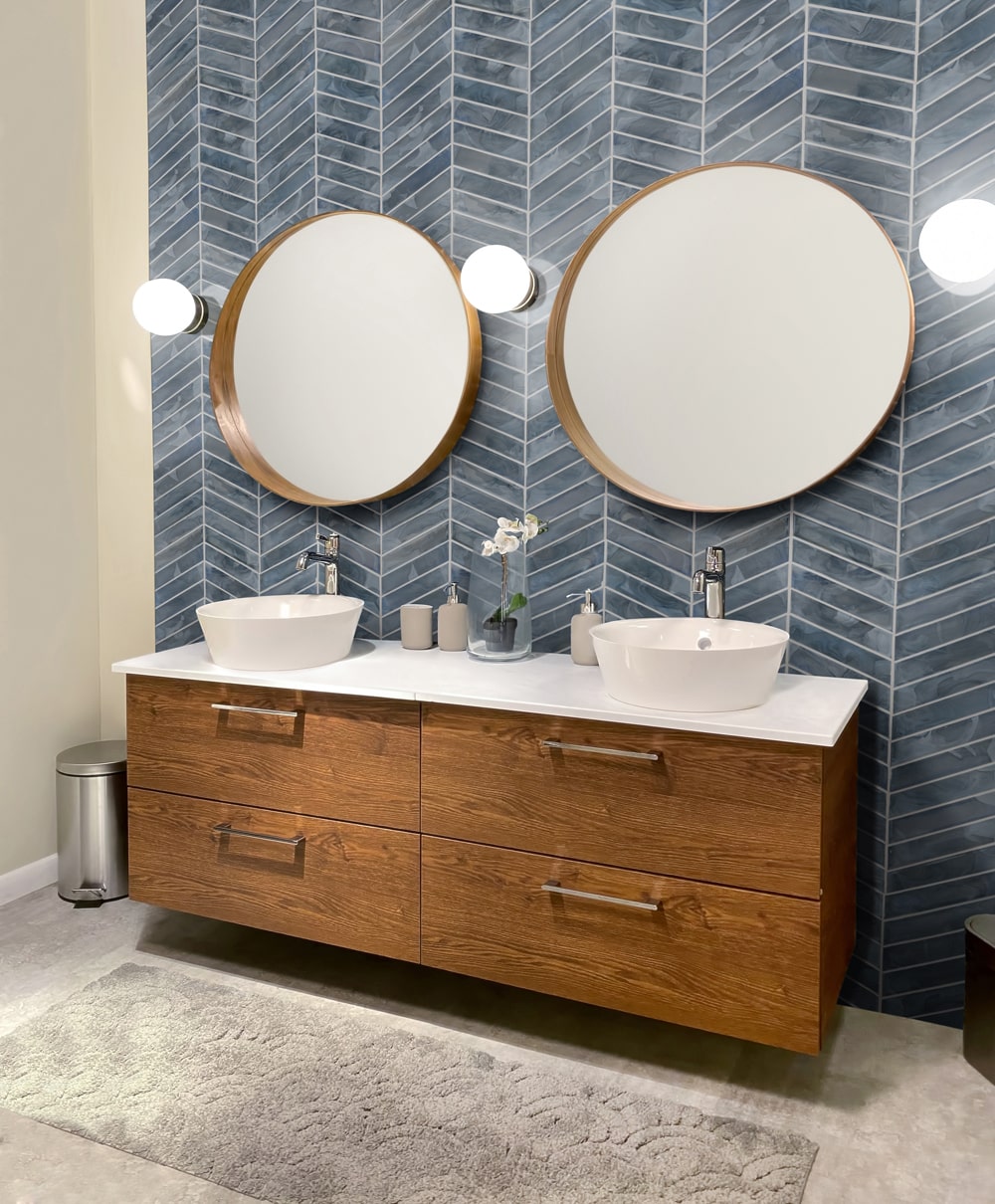 Blue Shimmer 6 mm Chevron Pattern Tile
Scrubbing Stains
For problem stains or marks caused by hard water and calcium and magnesium deposits on your bathroom mosaics, use a white vinegar and baking soda mixture. Pour vinegar over the stained areas, sprinkle the sodium bicarbonate over the vinegar, and wait until bubbles form. Finally, wash the tiles with cold water and wipe dry. You can also conveniently use toothpaste to tackle your stains. Keep in mind that toothpaste is more abrasive than the other mixture, but not likely enough to scratch your tile.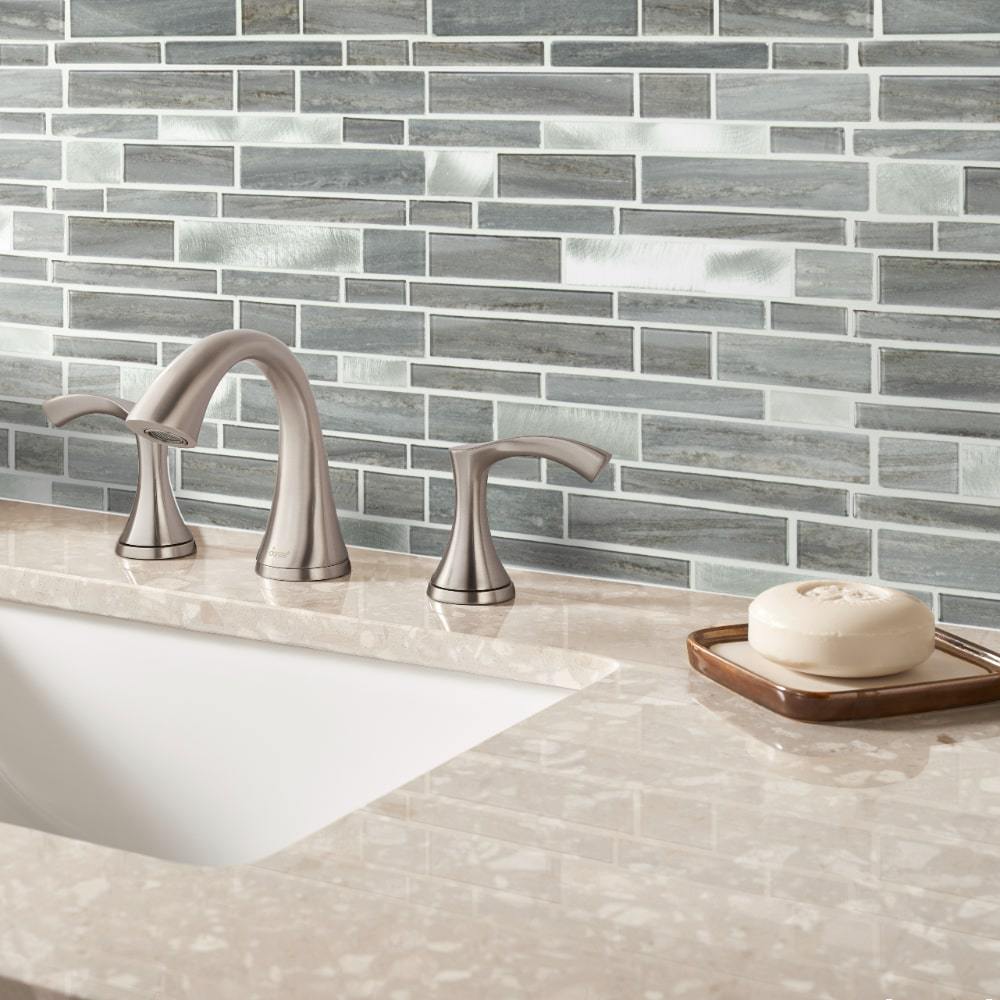 Bimini Interlocking Metal and Glass Tile
Washing Backsplashes
Cleaning your kitchen backsplash tile is similar to washing the glass mosaic tiles in your bathroom. You won't have to reach far for a cleaning solution—simply add a ½ teaspoon of dish detergent to a spray bottle or bowl filled with warm water. Spray your backsplash or dip a damp sponge or cloth in the mixture to clean the tiles. Wet a clean cloth with cold water, wipe down, and dry.
Tackling Grout
Grout can be a pain to keep clean since it is porous and stains easily. For regular upkeep, spray grout with a half-and-half mixture of white vinegar and warm water, let it sit for approximately five minutes, scrub with a soft toothbrush, and finally, rinse with water and dry. For added cleaning power or for tough stains, add a baking soda and water paste to the grout before spraying with the vinegar and water solution. And if you see mold growing on your grout, tackle the issue with stronger cleaners like a regular grout cleaner, or spray the grout with a mixture of ¼ cup bleach with ¾ cup water. Be sure to finish off the job by scrubbing with a soft-bristled brush, rinsing, and wiping your tile and grout dry.
Need help choosing the right tile for your backsplash or shower surround project? Visit an MSI showroom, chat with us online, or contact an authorized MSI retailer in your area for expert guidance.
Learn More About Mosiac Tile
From Subway Tiles to Mosaics: The Latest Decorative Accent Tile for Walls and Beyond
5 Must-See Mosaics Offer Bold New Backsplash Options
Signature Waterjet Cut Mosaics