Discover Our Top 10 New Quartz Countertop Colors
May 27, 2020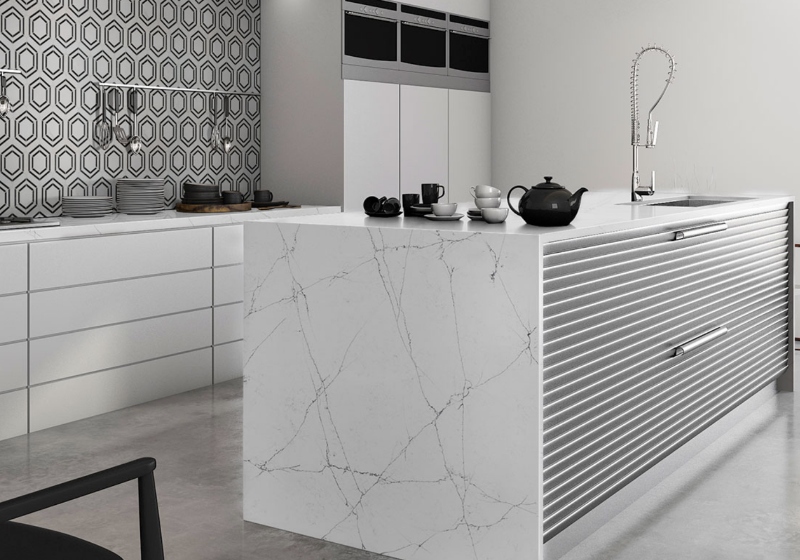 If it's time to install a new kitchen countertop, you have some tough choices to make. It's easier, though, when you consider quartz's rise in popularity over the past years. In fact, it's the top luxury material choice for countertops—so it's safe to proclaim that a quartz countertop is just as timeless and stylish as any classic marble countertop.
Marble is still a favorite, though. Ironically, that's one of the reasons quartz is a top trend for 2020. MSI has reimagined the look of marble, as well as other popular counter materials. Since quartz is an engineered surface material, it can be manufactured to resemble any other type of surface, and does so with ever-increasing realism. With so many options that resemble marble, tough, easy-care quartz that looks like marble lets you enjoy the best qualities of both.
Quartz is used for more than just countertops in today's design trends. It also serves as shower walls, backsplashes, and more. It's become such a hot trend that it's dominating kitchen and bath industry shows, being featured in design magazines, and is an overwhelming favorite in those perfectly staged model homes.
If you're exploring those interior design resources, chances are you'll see a lot of MSI's new quartz countertop colors. For your consideration, we present our top ten most popular colors.
Soapstone Metropolis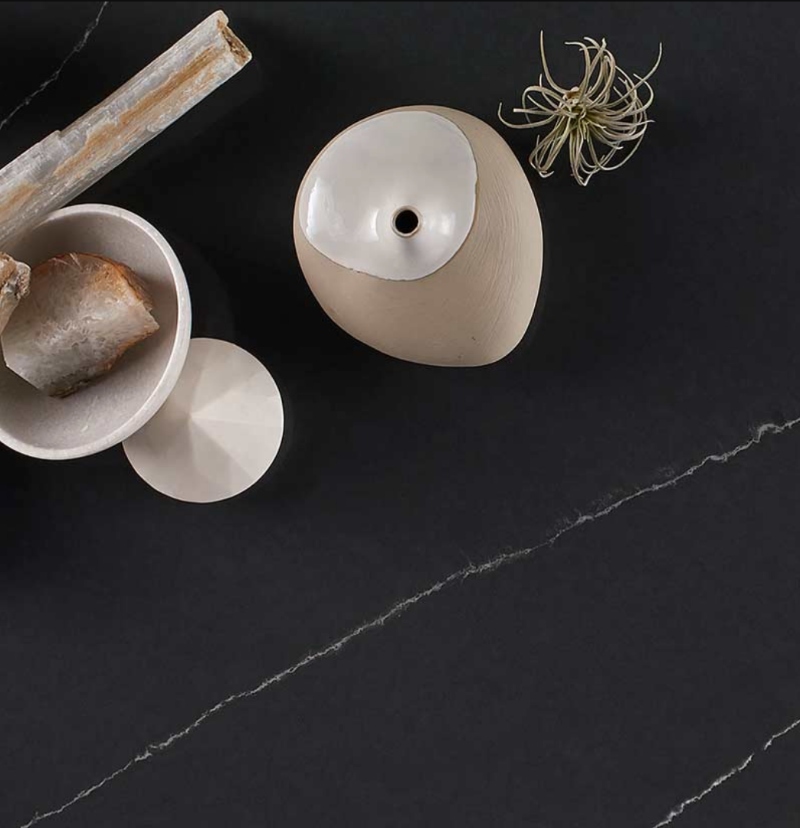 There's a preference in today's designs for softer, more neutral tones like soft black, griege, eggshell, or dull bluish-gray as opposed to bolder ebony, bright white, or solid beige. Soapstone Metropolis is a good example of this, featuring a soft slate-gray highlighted with long white veins. Whatever your style, this neutral countertop will add to that friendly, peaceful feeling we crave in our homes these days.
Calacatta Alto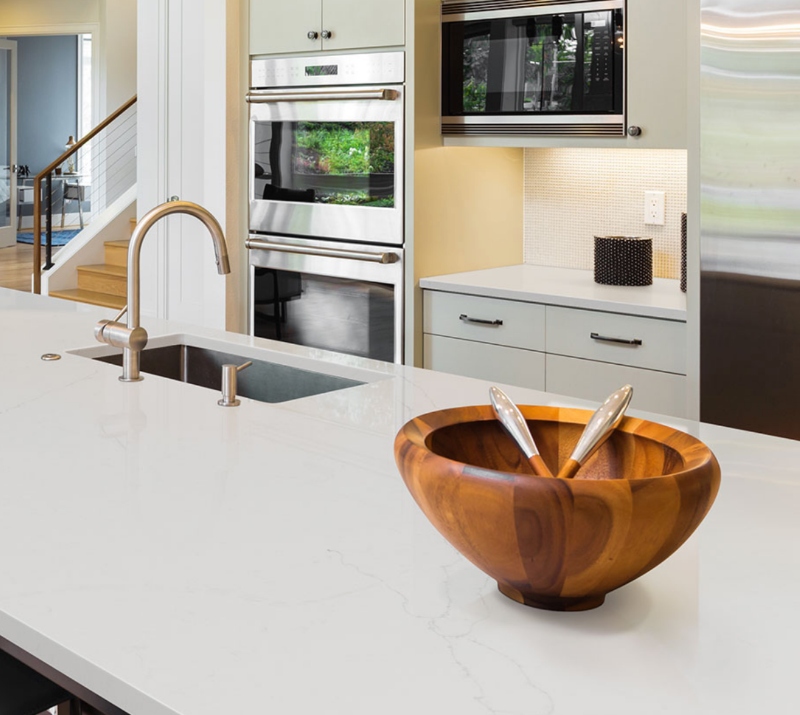 Softer tones are in demand due to the open, airy feel that homeowners associate with modern. Crisp, sleek lines and simplicity are hallmarks of the modern aesthetic. Calacatta Alto delivers the look of marble in a shade of cool white with subtle, soft gray veining.
Calacatta Clara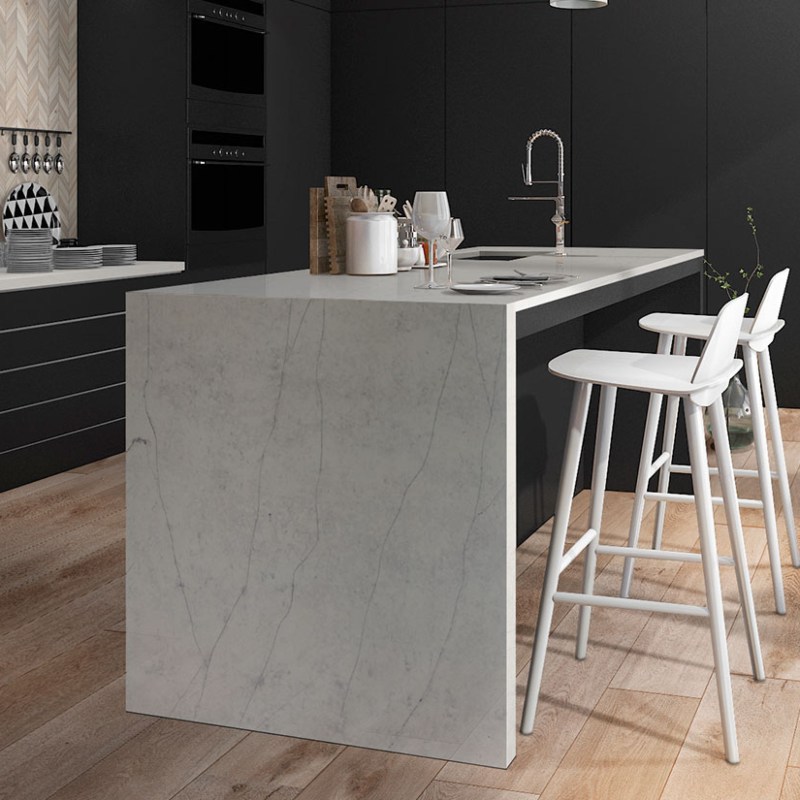 Homeowners are also rediscovering innovative countertop finishes, loving the way it can change the entire look of the slab—and their room. This was one reason concrete countertops were taking off for a while, though they seem to be on a downward trend. Thanks to advancements in technology, many of MSI's quartz countertop slabs are available in a honed, matte finish. Calacatta Clara, with its resemblance to fine Italian marble, is ideal for this treatment.
Calacatta Leon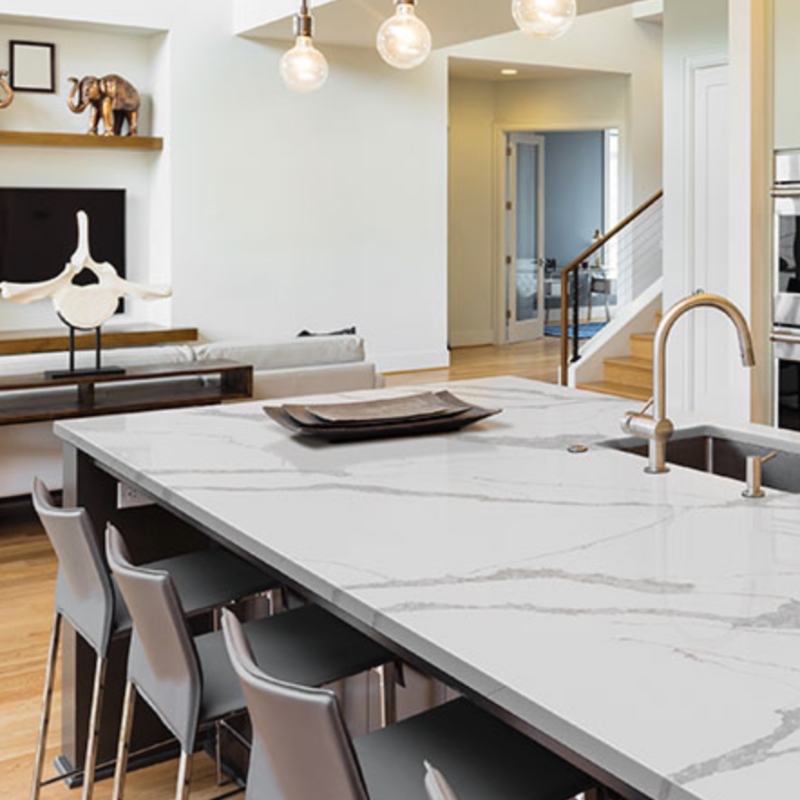 Some like it bold, and that will never change. Homeowners are still relying on bold veining and movement in countertops to enhance their décor and express their personal style. Calacatta Leon features bold gray veins that meander throughout a white background. This dramatic quartz countertop is the perfect complement to an elegant, contemporary design.
Carrara Marmi
Recent events have increased concern about minimizing the spread of germs, especially in the home. That's one of the reasons quartz is on the rise in today's kitchens and baths — its non-porous nature. If you're trying to decide between quartz vs. granite, remember that quartz needs no sealing to remain completely waterproof, so it won't harbor bacteria or viruses. Carrara Marmi, bright white with subtle veining, offers a simple, clean look. It's easy to keep clean too!
Carrara Iris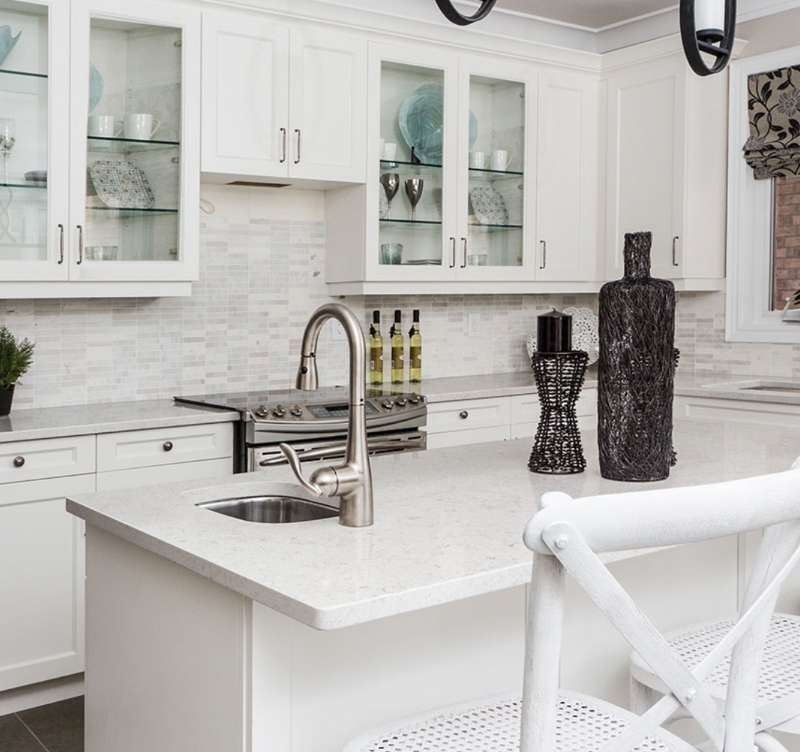 We haven't seen much fading of the all-white kitchen trend, particularly in contemporary design aesthetics. With this clean, pure canvas as a background, it's a cinch to add pops of color by accessorizing. However, a quartz countertop choice with delicate gray swirls, like Carrara Iris, provides just enough character and depth to make the brightest white space friendly and cozy.
Carrara Lumos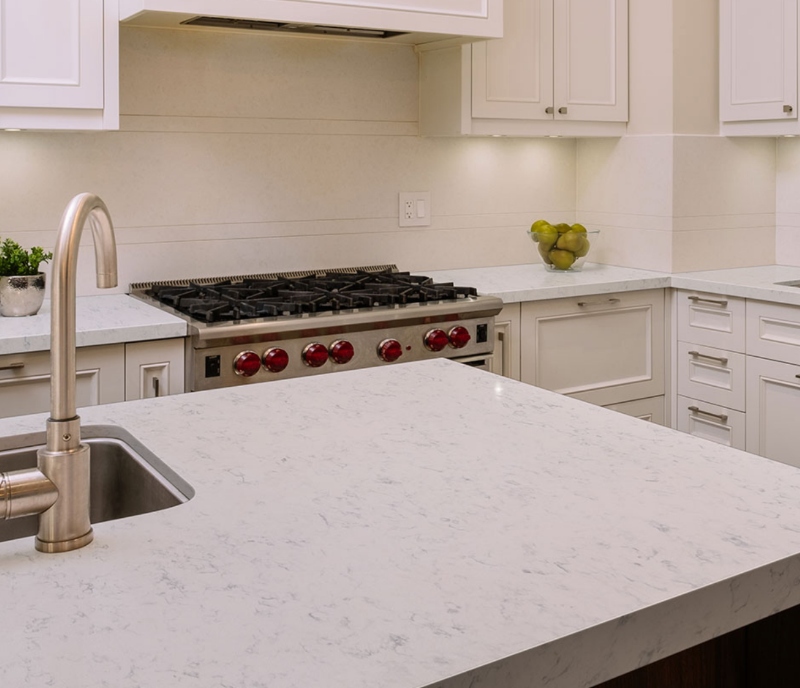 The farmhouse-style kitchen isn't going anywhere, either, although a more modern take eliminates much of the clutter and kitsch. This clears the way for a standout countertop, and what's more fitting than a white marble surface? Carrara Lumos quartz countertops feature wispy gray veins for movement that doesn't dominate the space.
Calacatta Arno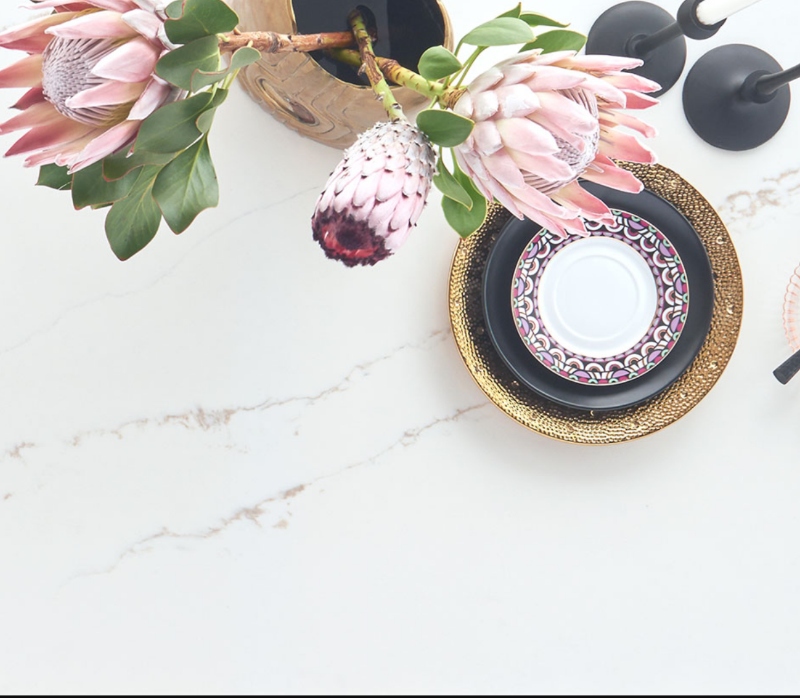 Sometimes the difference between a quartz countertop that looks nice, and a countertop that makes the room into a masterpiece, is a simple matter of hue. Calacatta Arno, like most marble-look quartz colors, features a white background. This one, though, has a warm hue and veining with a hint of gold. If you're not in love with the simple gray-and-white look of Carrara, this little pop of color can make all the difference.
Calacatta Trento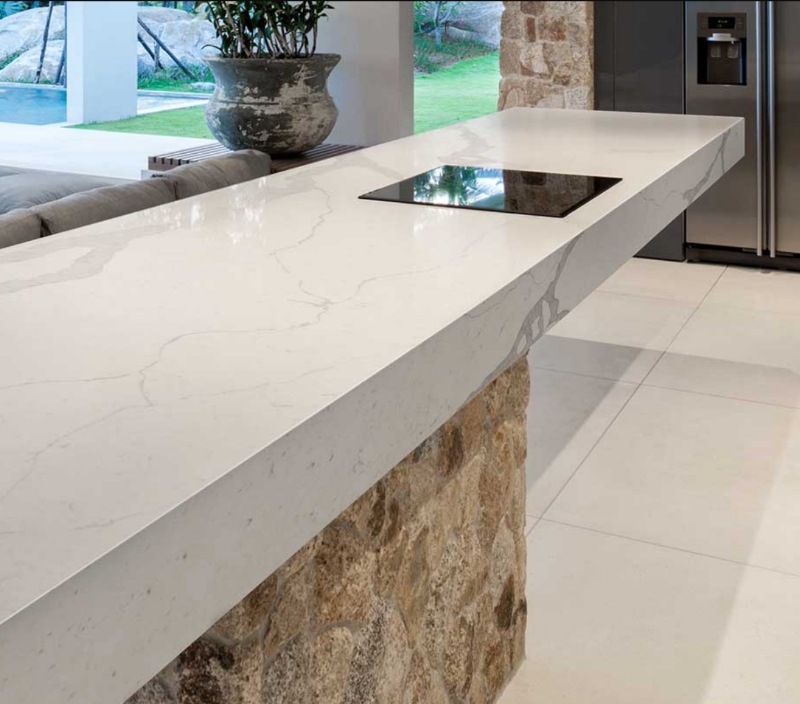 Homeowners who prefer countertops with dramatic veining may wonder how a manufactured surface can possibly look natural, particularly in large installations. Won't the design repeat and appear contrived? MSI makes sure there's plenty of variation throughout large sections. Bold marble looks like Calacatta Trento are also good choices for book matching, turning this repetition into a feature instead of a drawback. This process matches identical slabs side by side, mirror-image style. The result? Simply stunning.
Calacatta Ida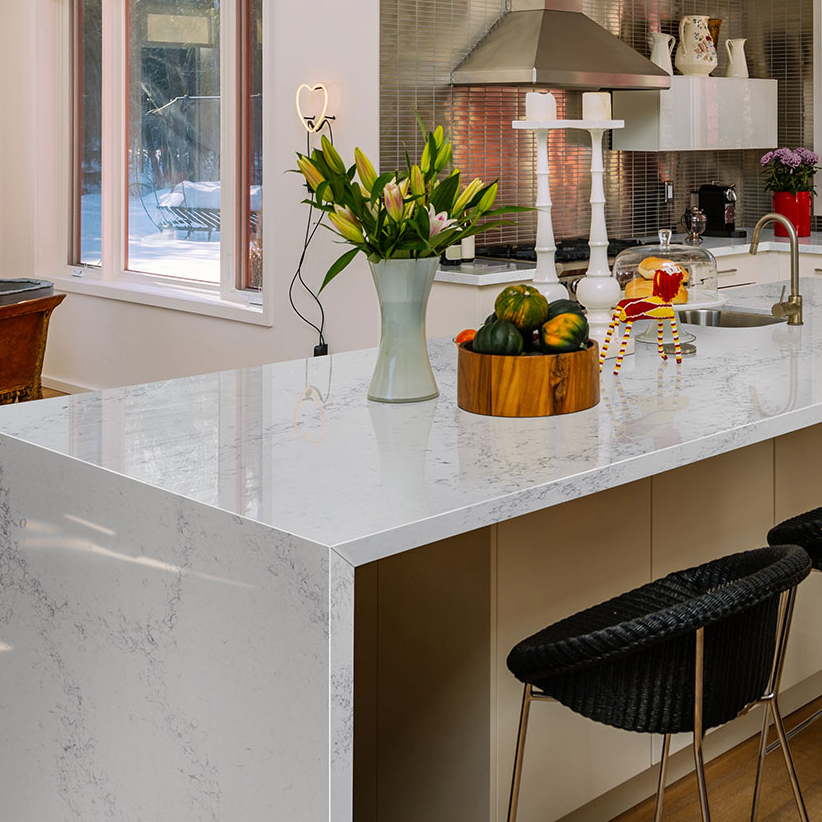 Spending lots of time at home with our families has become the new normal. Whether you're overseeing school projects, working at home, or cooking healthy meals together, you need a countertop durable enough to stand up to constant use. Calacatta Ida, which features unique swirling veins against a white quartz backdrop, proves that you can have a white counter that stays white. It's easy to care for, resists stains and scratches, and lets you focus on more important things.
The look of marble is classic and timeless, and it's also incredibly versatile. Quartz countertops may be one of 2020's hottest trends, but homeowners are understandably concerned about choosing a design that will look just as stylish and fresh ten years into the future as it does today. That's why our top ten new quartz countertop colors have reached their star status — with quartz, you can have the look everyone loves, and also a worry-free surface material.
These ten colors present ten reasons you need to consider quartz for your home, but there are many more, just as there are many more colors to choose from. Explore MSI's online inspiration gallery today to find out more about marble-look quartz, as well as our other extensive collections.
More About Quartz Countertops
Are Quartz Countertops Replacing Granite as The Best Choice For Your Home?
Our Top 10 Quartz Countertops That Look Like Marble
How Can You Tell the Difference Between Granite and Quartz Countertops?
Limestone-Looks-With-Quartz