Current Obsessions: Here's Why We Keep Coming Back To Black And White Tile
February 09, 2018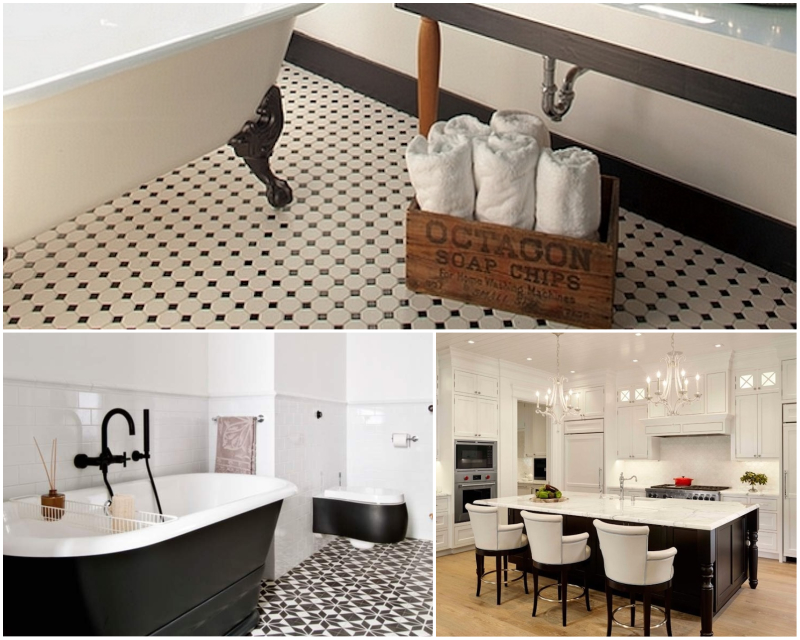 Black and white are polar opposites on the color spectrum, and yet, together they are a perfect design pair. Elegant, timeless, and on-trend, marrying together black and white elements creates a striking and eye-catching space.
From traditional to modern, and every design style in between, this picture-perfect palette welcomes other colors and textures with open arms. And, your design is easily updated with just a fresh coat of paint on the walls and new accessories. See how black and white porcelain tile and ceramics create the perfect launching pad to design your perfect space.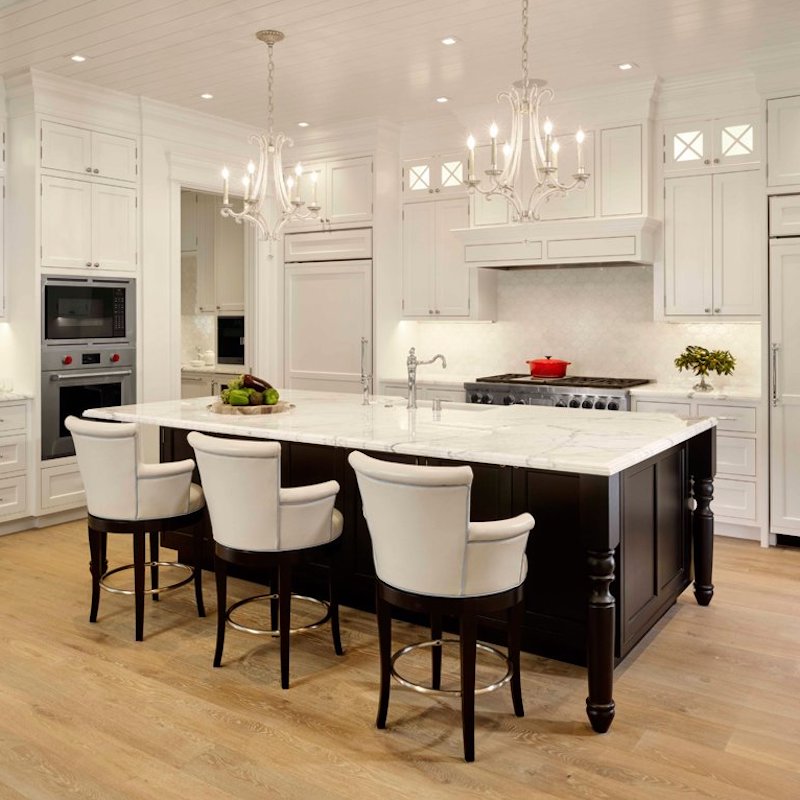 Get this look with MSI's Whisper White Arabesque 8mm Mosaic backsplash tile (Photo Credit: Houzz)
Beautiful white cabinetry, white countertops, and Whisper White Arabesque 8mm Mosaic backsplash tile set the tone for this elegant and sophisticated kitchen. While a white island may be tempting, here using furniture-styled jet-black cabinetry for the island really creates a welcoming vibe. This stunning kitchen is the perfect marriage of black and white – it is bright, inviting, and timeless. And don't forget the lighting! Task lighting around the perimeter, under cabinet lighting, and the beautiful chandeliers over the island, all add to this kitchen's charm.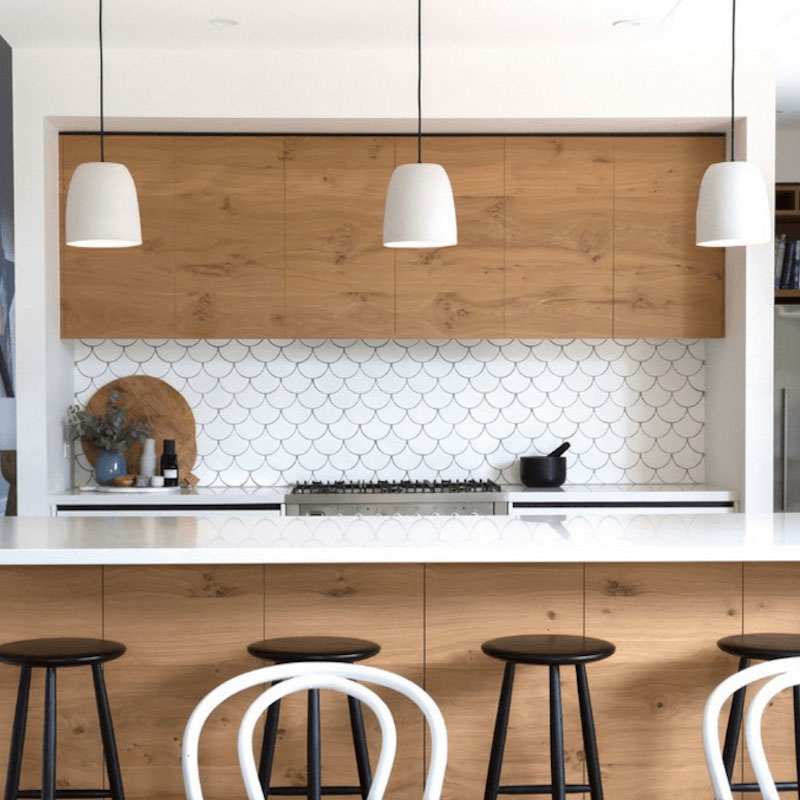 Recreate this look with MSI's White Glossy Fishscale Mosaic backsplash tile (Photo Credit: Houzz)
For some, a strictly black and white color scheme may be a touch too sharp. To bring a touch of warmth, and to add a rich texture, using mid-tone natural hardwood on cabinetry and floors provides the perfect balance. Here, stunning white countertops and the beautiful White Glossy Fishscale Mosaic porcelain tile lend a contemporary edge to the space that partners exquisitely with both the black barstools and natural hardwood cabinetry and flooring. This kitchen highlights how well these colors come together to create contemporary design.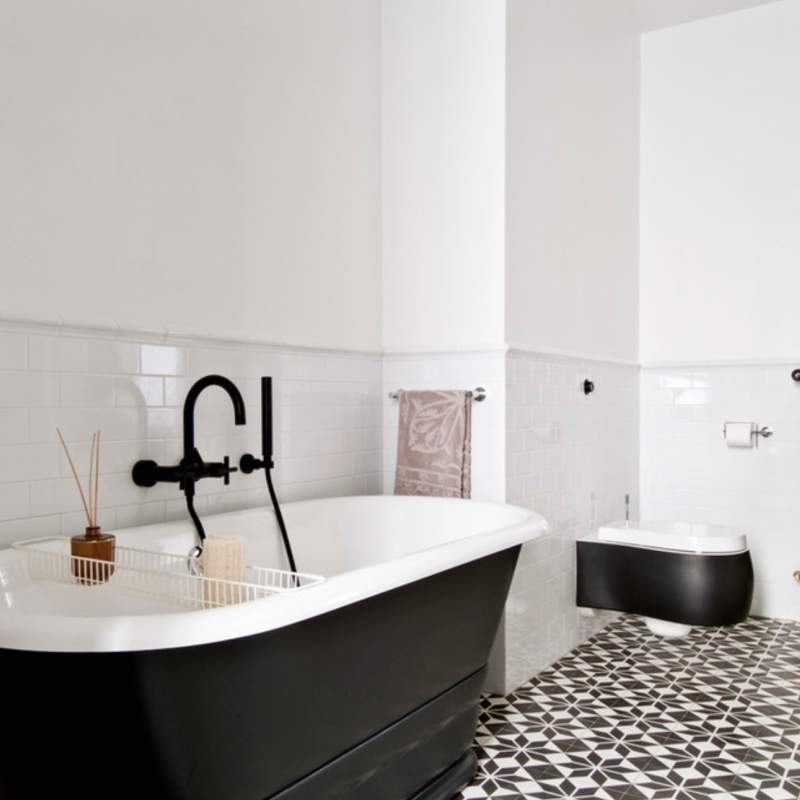 Get this look with MSI's White Subway Tile backsplash (Photo Credit: Houzz)
The mixing of contemporary and traditional elements is a great way to blend design styles and create a truly unique and show-stopping space. In this bathroom, on-trend patterned floor riles and traditional fixtures are simply a match made in heaven. The White Subway Tile backsplash lends a subtle, yet elegant backdrop that partners beautifully with the graphic nature of the black and white porcelain floor. This combination provides the foundation that allows the black bathtub to be the headlining attraction.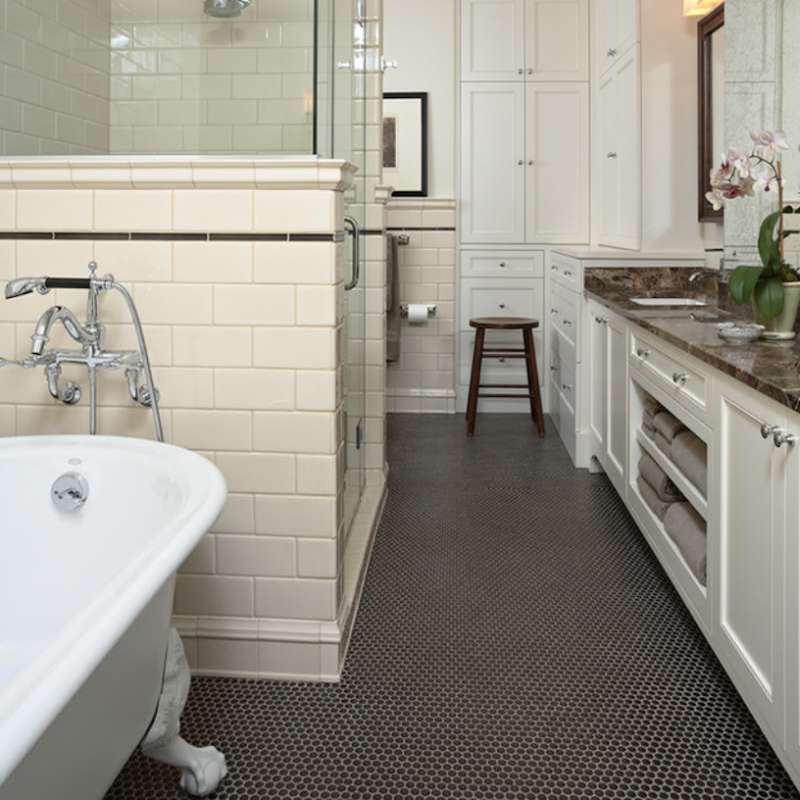 Recreate this look with MSI's Black Penny Round Mosaic flooring (Photo Credit: Houzz)
Doesn't everyone dream of soaking in a beautiful claw foot tub? Here, white cabinetry and white subway tiles lay the background vision while the black pencil molding accent and the gorgeous Black Penny Round Mosaic porcelain tile flooring provides an elegant and timeless contrast. Take special note of the grout color selection here – darker grout for the floors and white grout that matches the subway tiles on the walls keeps the space from becoming too busy.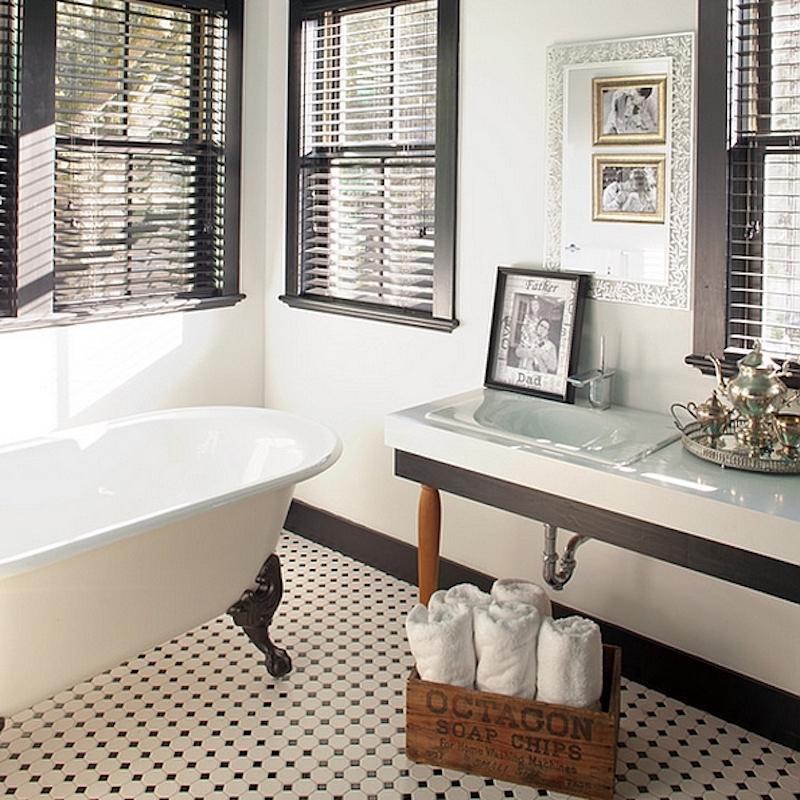 Get this look with MSI's White and Black Matte Octagon Mosaic flooring (Photo Credit: Houzz)
Victorian homes use the black and white color scheme beautifully and demonstrate that it is anything but boring. The white subway tiled shower and white fixtures are the perfect complement to the beautiful White and Black Matte Octagon Mosaic tile flooring that is at home today as it was 100 years ago. Adding a touch of color on walls and doors is an easy way to add warmth and your personal style to a black and white foundational bathroom.
Black and white marry together effortlessly in design today, just like it has for generations. With new materials, graphic tile designs, natural stone countertops, and a wide range of mosaic tiles offered in this color scheme, you can incorporate it into your project easily. Choose porcelain floors, backsplashes, and walls dressed in black and white to lay a design foundation that will remain fresh and bright for years to come.