Functional And Stylish Porcelain Tile Hotel Flooring Ideas
December 22, 2022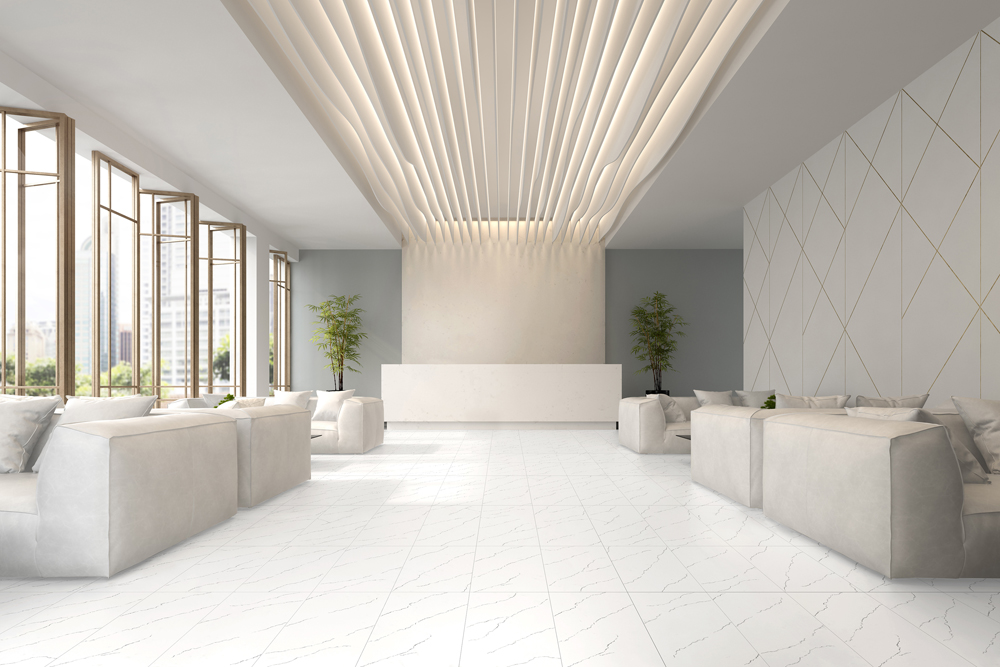 As the saying goes, you never have a second chance to make a first impression. While so many elements create the dazzling first impression you want your guests to have when entering your hotel lobby or its other spaces, chances are the one they'll notice first is the hotel flooring.
At the same time, however, there's a need for practicality. Hotels need durable flooring to withstand heavy foot traffic and resist stains and damage. Additionally, it needs to be easy to keep clean and hygienic. The ideal flooring for a hotel must accomplish all of this while remaining within the hotel's budget for decorating and maintenance. MSI is here to offer you the perfect suggestion: porcelain tile.
Porcelain tile checks all those boxes; it combines function and style and is suitable anywhere your guests roam within your hotel walls – and even outside. Read on to find out how porcelain tile flooring can enhance your hotel and guests' experience.
LOBBIES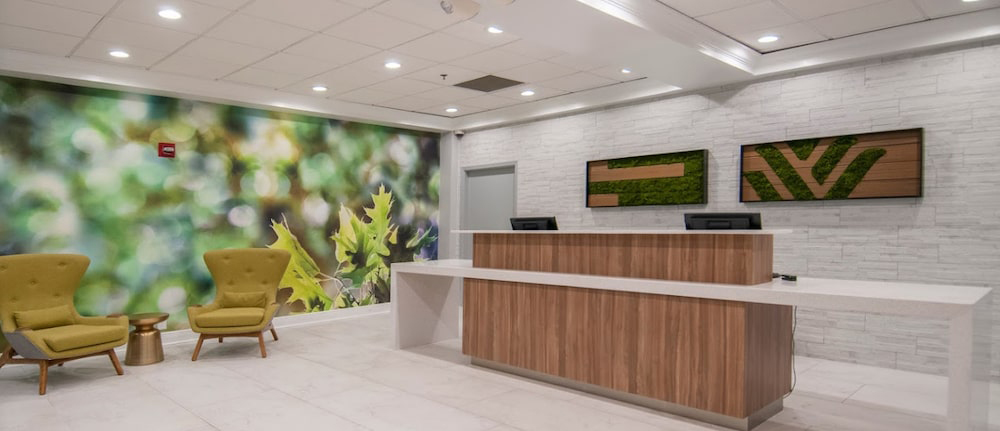 Whether your hotel exudes a classic, traditional ambiance or a fresh, contemporary look, a beautiful floor is critical. However, it's unlikely any room within your hotel walls will experience the same foot traffic and general wear as the lobby. So not only will it be graced with every guest's step, but it will also face suitcase wheels, luggage cart wheels, and the inevitable spills and tracked-in dirt.
Impress your guests with a clever flooring choice that is not only durable but also waterproof and easy to maintain – porcelain tile. Natural stone porcelain tile looks like Praia Carrara (pictured above), Bernini Bianco, or Brixstyle Glacier have the additional benefit of versatility. Since many hotels regularly remodel their lobby, selecting tile patterns that will go with any color and style is a wise investment.
BATHROOMS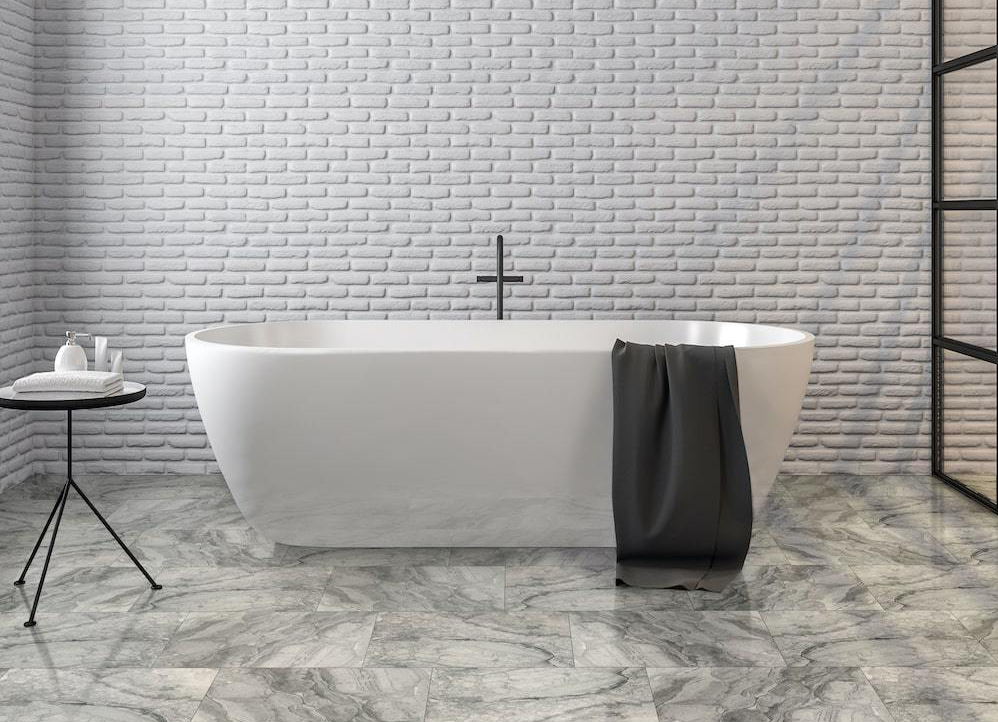 A hotel bathroom can be a big challenge to maintain between guests' stays. There's no other room with a greater need for pristine surfaces and exceptional hygiene – even the slightest amount of dirt, mold, or damage will be noticed by guests and criticized. At the same time, an upscale bathroom with designer looks and soothing décor will keep your guests coming back for more and garner five-star reviews.
The key to accomplishing this is choosing the right surfaces: walls with texture and neutral colors, elegant fixtures, a stunning vanity top (MSI can help with that, too!), and, of course, a floor your guests can't wait to put their bare feet upon. Porcelain tile flooring like Adella Calacatta, Aria Bianco, or Kaya Onda (pictuced above) can replicate the look of natural marble for your guest bathrooms – the ultimate in luxury and hospitality. But it's far easier to care for and much easier on the budget!
GATHERING SPACES

Many hotels have conference rooms or meeting places in addition to their guest rooms, ranging from cozy spaces for small groups to rooms large enough to fit 100 or more. Either way, choosing the right flooring is essential.
Gathering spaces that project an inviting, home-like atmosphere put your guests at ease, so they can focus and get their best work done. For this, porcelain wood look tile flooring is ideal. We have you covered, from the pale-beige Aspenwood Amber to the dark-gray Belmond Obsidian and many shades in between. Not only are they gorgeous, but they also withstand spills and hold up to moving chair legs without any problem at all.
GUEST ROOMS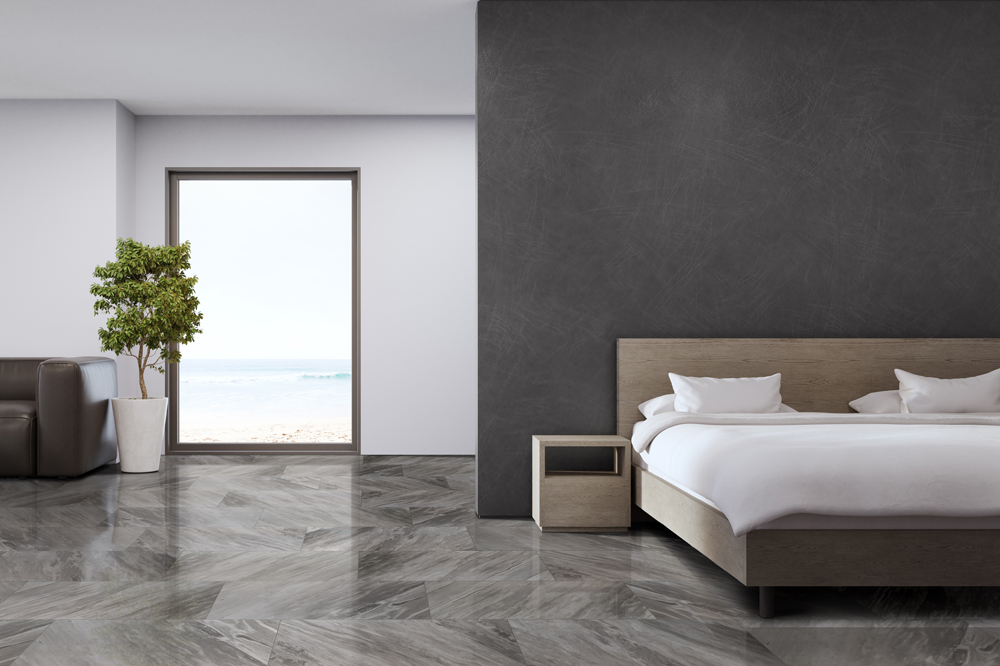 Depending on your hotel's style, your guests will have certain expectations about how their rooms will look. One thing is constant, though – they expect it to be immaculate and well-maintained. Hotel rooms with carpets or carpet tiles are quickly becoming relics of the past, as everyone is concerned about their health and wellness, and keeping a carpet hygienic is tough.
Of course, a porcelain tile floor can do all of that easily. Maintenance is a breeze, which makes your cleaning staff more efficient and effective. There's no need to seal the floor to maintain its waterproof, stain-proof property. It also won't need to be waxed or polished. Just sweep it with a broom or vacuum, mop as needed, and it's ready for the next guest. The image above reveals how a hotel guest room can be lavish and welcoming, and easy to maintain with stunning porcelain tile like Eden Bardiglio (pictured above).
With so many different colors and patterns to choose from, such as these wood looks, you can create the design your guests love best.
RESTAURANTS & BARS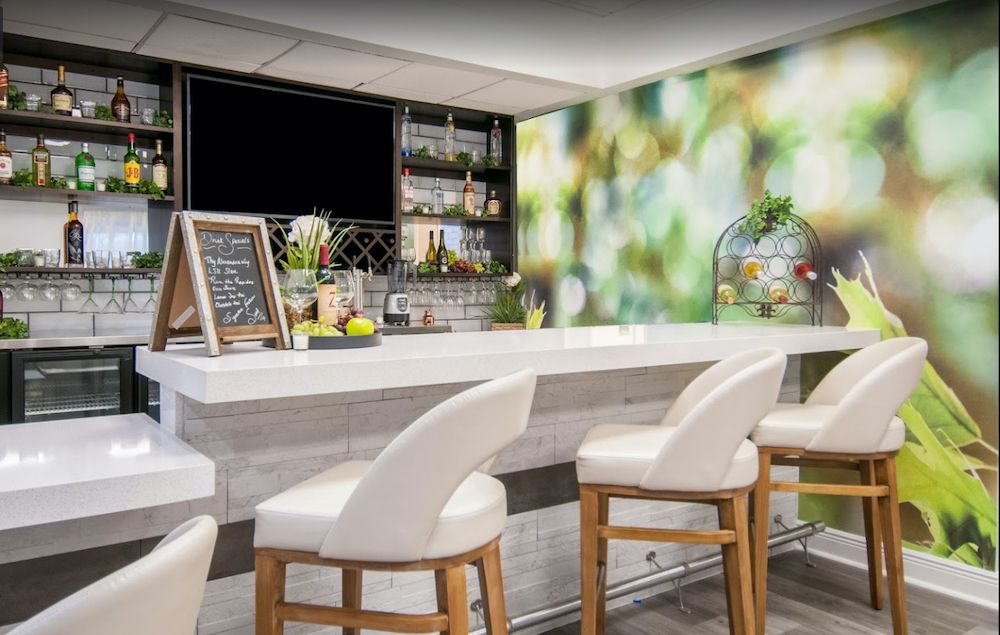 There's probably no place more in need of easily cleaned flooring than your hotel's restaurant, café, or bar area. It may be tempting to use plain tile flooring for this purpose, but why do that when you can choose from gorgeous porcelain tile? You can opt for a cozy hardwood-floor look, such as the elegant Braxton Saddle, or create a rustic feel with a natural wood look tile . Or, if your theme is more elegant, choose a porcelain tile that replicates the look of marble, such as Eden Calacatta porcelain tile.
A bar/lounge area is probably the one area in your hotel you can indulge in creativity with the décor. Impress your guests with a modern tile such as the bold Dellano Exotic Blue or Moss Gray. The flooring you choose can also be complemented by a coordinating, or contrasting porcelain wall tile, giving you distinct character in any space.
Wherever you install MSI's porcelain tile, you will enjoy all of the benefits of its stylish, durable, easy to keep clean, and less expensive materials it replicates. But here's another factor to influence your decision – it's slip-resistant, too. So whether it's in your lobby, a bathroom, or anywhere else, you can worry less about your guests or staff slipping and becoming injured.
We'd love the opportunity to help you choose the perfect tile for your hotel installation. Chat with us in real time through MSI's website chat feature, or visit one of our showrooms. We are here to help every step of the way.