How Long Does Backsplash Tile Last?
March 19, 2018
Many homeowners today use the backsplash as an opportunity to give their kitchen or bathroom plenty of personality. But, it's really meant to protect drywall or plaster from the splashes of a sink or the grease, oil, and food stains from an appliance like a cooktop. It's safe to say that the longevity of your backsplash tile will last for decades, but just how long may vary depending on the type of material used and quality of the backsplash installation.
Porcelain tile is most likely the most durable option, while ceramic and glass, which aren't as strong as porcelain, can also last for years. These materials won't warp when wet and will keep their vibrant colors for a long time. While your tile may remain in tact for decades, note that grout will need to be replaced sooner because it wears down, stains, and cracks after a few years or so.
A homeowner will typically want to replace his or her backsplash for one of two reasons: To replace an outdated design with a more modern pattern since styles change over the years or to replace a tile with signs of damage like cracking or chipping. No matter why you're in need of new backsplash ideas, we think you'll love this selection of durable backsplash tile.
Stella Interlocking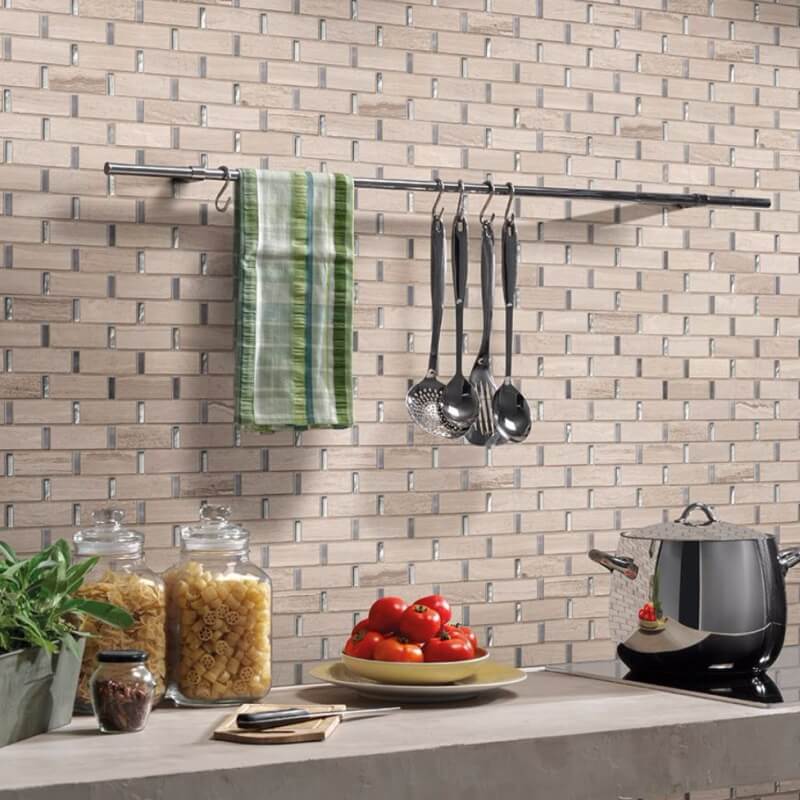 Featured: Stella Interlocking Mosaic
Stella Interlocking Mosaic features a combination of glass, stone, and metal for a chic look that adds a little shimmer to any space. The cream-colored stone, gray metal, and luminous glass provide a neutral backdrop with a bit of a glamorous design for this kitchen's stovetop and prep space area.
Madison Avenue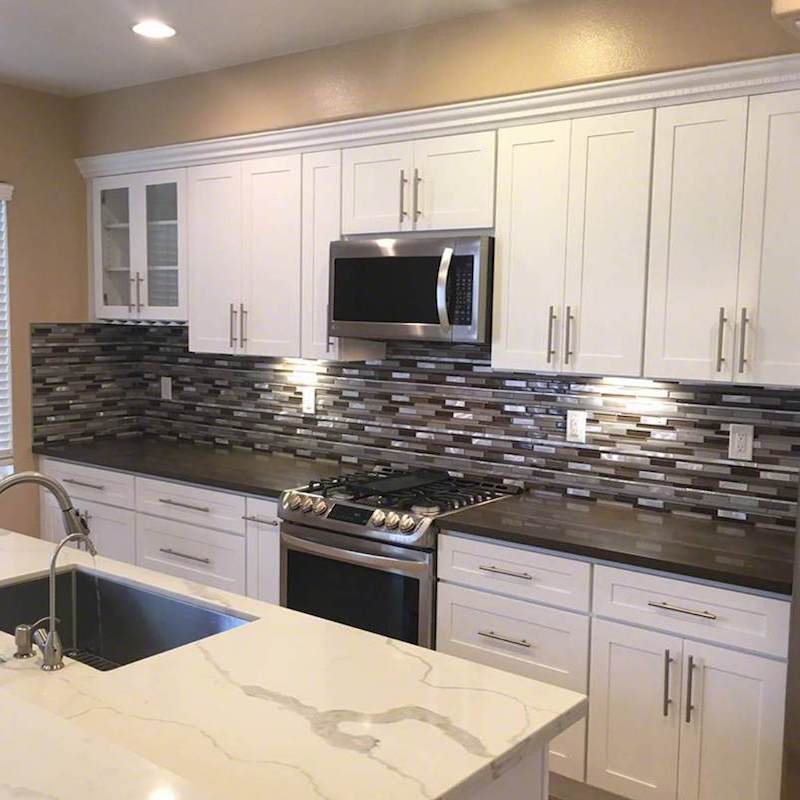 Featured: Madison Avenue Interlocking Mosaic
Madison Avenue Interlocking Mosaic is an interlocking mosaic tile with a beautiful mixture of metal with glass. The brushed-finished metal complements the soft beige and darker beige tones of the glass. The materials in this contemporary kitchen backsplash will be easy to wipe clean, and that's especially important when installing tile behind a gas stovetop. The linear lines also help elongate the space and make the kitchen look larger.
Urban Tapestry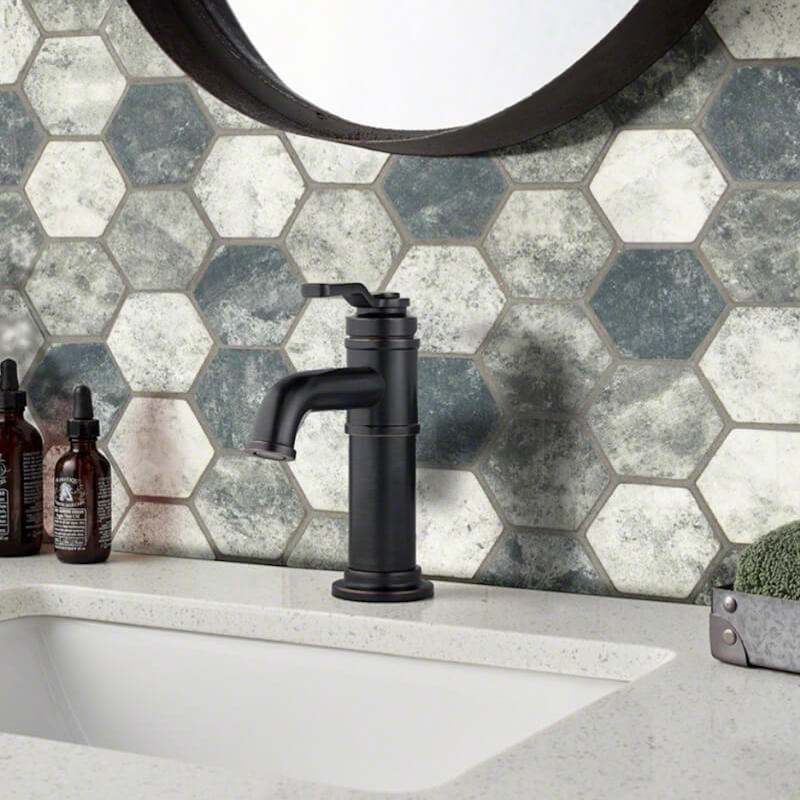 Featured: Urban Tapestry Interlocking Mosaic
Urban Tapestry Interlocking Mosaic is a creative backsplash crafted from recycled glass. The two-inch hexagon tiles include a range of whites and light to dark grays for a modern, farmhouse style. The glass is the perfect choice for installing behind a sink because it won't get damaged from water.
Portico Pearl Herringbone Pattern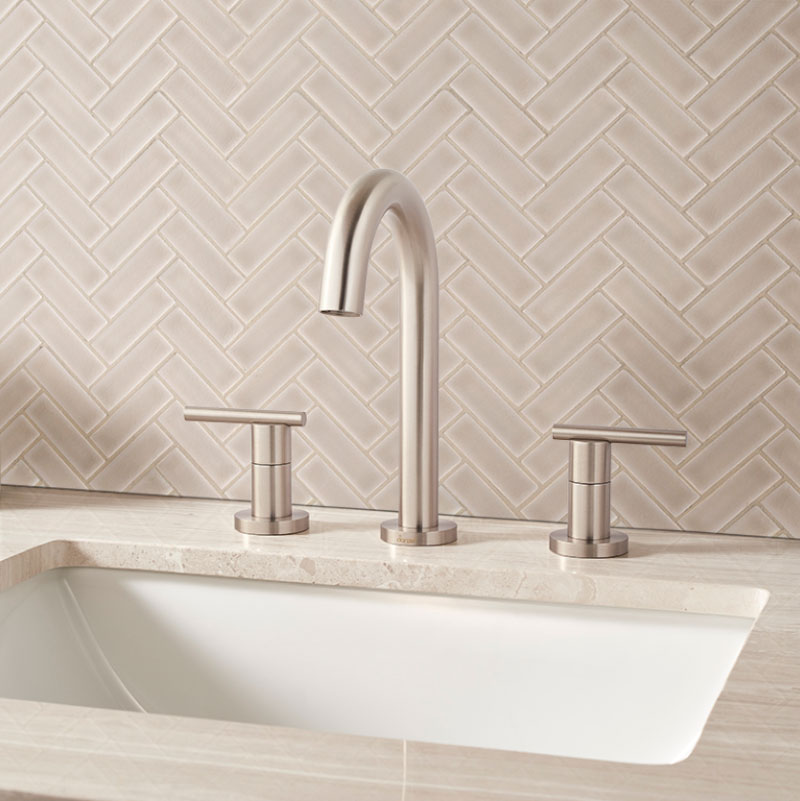 Featured: Portico Pearl Herringbone Ceramic
Portico Pearl Herringbone Ceramic is a beautiful backdrop made from ceramic. It's sophisticated neutral tone and herringbone pattern is right on trend, and it matches almost perfectly with the countertop in this bathroom. It's great for installs behind a sink because the durable ceramic is easy to clean and doesn't require any ongoing maintenance.
Luxe Interlocking Pattern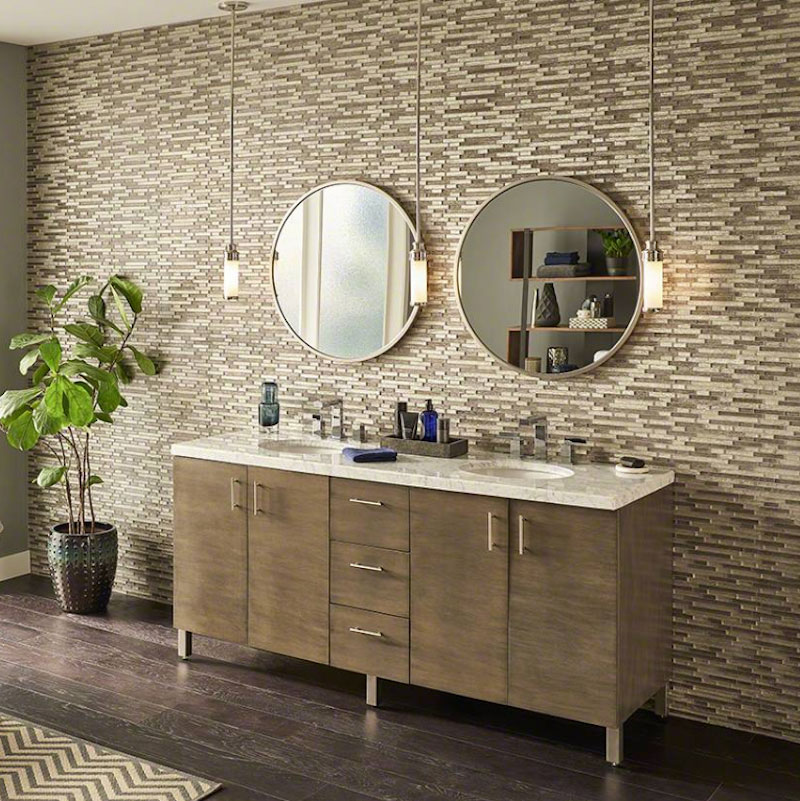 Featured: Luxe Interlocking Mosaic
Luxe Interlocking Mosaic features a graphic pattern and texture that mimics reclaimed wood, but because it's made of glass, it beautifully reflects light and gives the backsplash a more elegant finish. The inherent character and drama of this backsplash design is emphasized even more with the entire wall installation in this luxurious, contemporary bathroom. With glass tile backsplash ideas like this one, this feature wall will last longer than wallpaper thanks to the material's cleaning ease.
Not only will wall tile protect your walls, but it also is an excellent way to enhance the overall design of your space through the use of color, texture, and pattern. MSI offers a wide range of backsplash designs and materials for your next kitchen or bathroom project. Visit your closest MSI showroom or go online to see the new additions to MSI's Backsplash & Wall Tile Collection.
READ MORE ABOUT MSI BACKSPLASH TILE
Gorgeous 3d Backsplash Tiles For Kitchen And Bath
Here's How A Tile Backsplash Protects Your Bathroom Walls