Popular
Trend Spotlight: Reinventing The Nest
April 16, 2021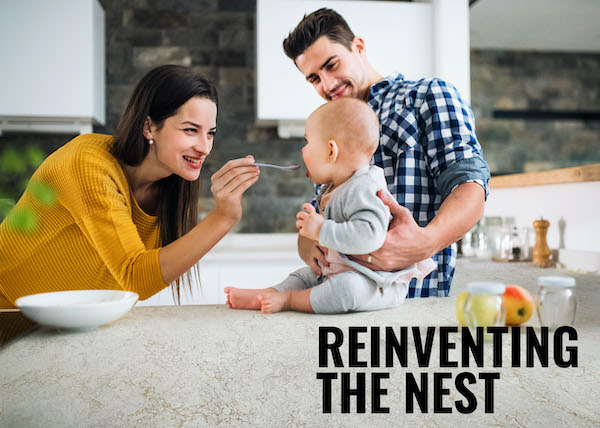 As we move closer to the other side of the pandemic -- stronger, more resilient, and wiser from the experience--- we've had many months to reconsider the importance of home. In a sea of change that was 2020, the walls closed in, and our worlds became smaller. Moving every inch of our lives under one roof to create a self-sufficient sanctuary was a challenge like no other, but we did it, however imperfectly.
In households big and small, we had to figure out how to make space – both physically and emotionally — for all the roles we play; parenting, working, schooling, and relaxing (a.k.a. hiding out in the closet). For many, maxing out functionality was an ongoing strain. The kitchen island doubled as a home office. The sunroom morphed into a classroom. And we moved cars out of the garage to make space for a gym. In every which way, our homes became our lifeline.
Swapping out the carpet for porcelain tile made this one-time family room perfect for remote learning.
In Reinventing the Nest, one of this year's Top 5 Hard Surface Design Trends, we take an up-close look at how the pandemic is reshaping our relationship to home. Experiencing each of our rooms in the worst of times— for months on end— revealed its strong points and weak spots. Its opportunities and limitations. And whether we've outgrown our space or we're renovating, residential design will never be the same.
The Playbook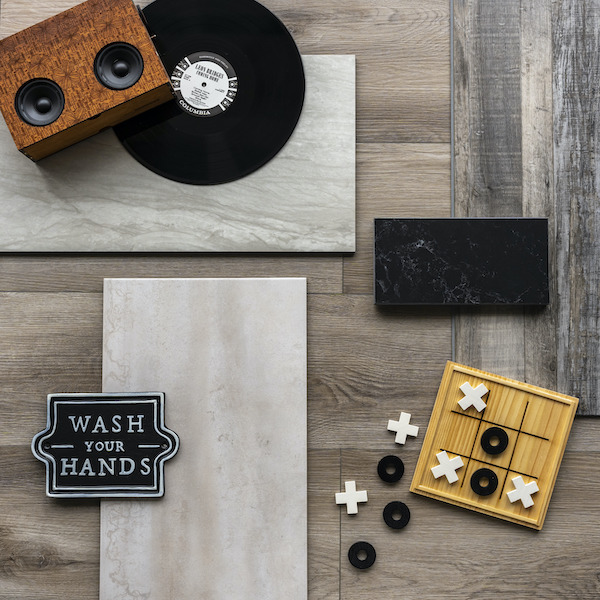 Our mood board is equal parts classic and innovative -- from porcelain tile and LVT to vinyl records and tic tac toe.
1. Carve out multi-use zones with built-in versatility to help provide separation for various life areas - remote work, distance learning, etc.
2. Free up time and energy by choosing low-maintenance, stress-free surfaces designed to withstand the rigors of daily life: waterproof, pet-proof, and kid-friendly surfaces include Everlife Luxury Vinyl Flooring, Q Premium Natural Quartz countertops, and porcelain tile.
3. Create sanitized gateways to divide indoor and outdoor space using non-porous surfaces in entries and mudrooms.
4. Recast underutilized spaces like basements, bedrooms, attics, hallways, and garages for work, school, and entertainment zones.
5. Maintain a low-clutter interior to keep rooms clean and sterile.
Land the Look: One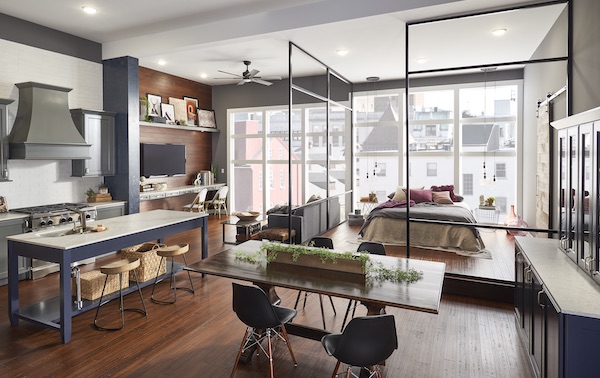 Maybe the most open sightline you'll see this decade, this sleek and modern space has a practical side:
Gray Lagoon Concrete Finish Quartz countertops.
We require a lot from our homes in 2021. From Sunbrella fabric on the sofa to luxury vinyl tile on the floor, the more approachable our interiors in 2021, the better. And with so much of our lives indoors these days, more and more homeowners are saying 'Yes, please!' to all things fuss-free – including wipe-it-down-and-go surfaces like Q Premium Natural Quartz and Everlife LVT. Both feature smooth, impervious surfaces, so they prevent bacteria and microorganisms from growing.
Achieve the look with our favorite surface choices.
Countertops: Gray Lagoon Concrete Finish Quartz, Mara Blanca, Carrara Iris
Floors: XL Cyrus Hawthorne, XL Cyrus Ludlow, XL Cyrus Cranton
Backsplash: Aria Bianco Mosaic, Bianco Dolomite Subway Tile, Brickstone White
Land the Look: Two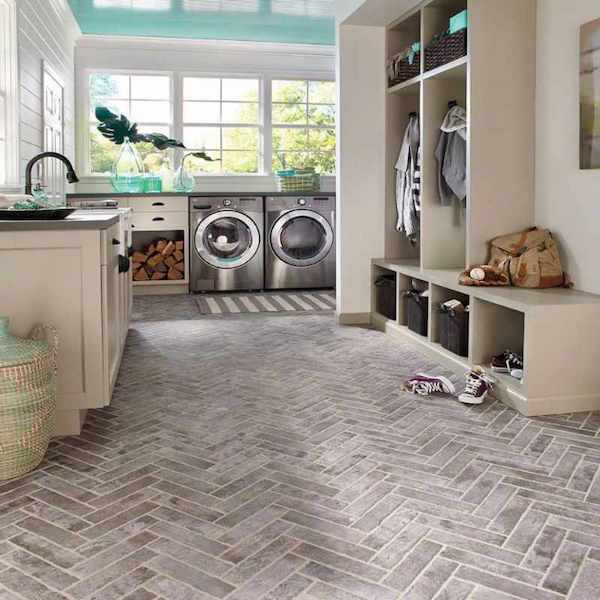 One of hardest working rooms in the house, with Brickstone Taupe Porcelain floors.
We've relied upon mudrooms for removing shoes and outerwear before entering the home for ages. But today, decontaminated entries provide an essential separation from the outside world. The award-winning space above is a utilitarian dream -- built-in storage for kids, quartz countertops for folding laundry, a sink for sanitizing hands, and low-maintenance porcelain floors. The collections in the Reinventing the Nest trend prove that you can achieve Insta-worthy looks and be super practical.
Achieve the look with our favorite surface choices.
Countertops: Fossil Gray Matte, Babylon Gray Concrete, and Carrara Mist
Floors: Brickstone Taupe Porcelain
Land the Look: Three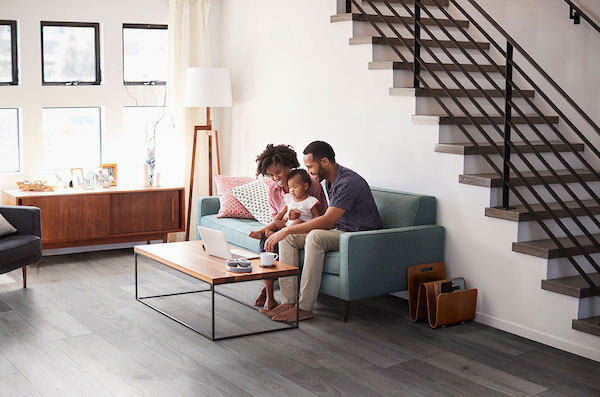 Wood looks, clean lines, and pops of color make this mid-century living room dreamy.
Everlife XL Cyrus in Woburn, underfoot.
Cocooning isn't all bad. Spending more time at home has strengthened many families. And while tuning into Netflix saved our sanity, we also focused our eyeballs on household things that helped us get through the day. And which ones didn't? And if you're a family with kids and pets, any item purchased for looks alone probably didn't last the year. Fortunately, there's a growing number of durable brands to choose from on the home front in 2021, with sexy looks to boot. Reinventing the Nest surfaces stand the test of time: waterproof, scratch-proof, stain-proof, —all-around life-proof.
Achieve the look with our favorite surface choices.
Floors: Everlife XL Cyrus in Woburn, XL Cyrus Mezcla, and XL Draven
Land the Look: Four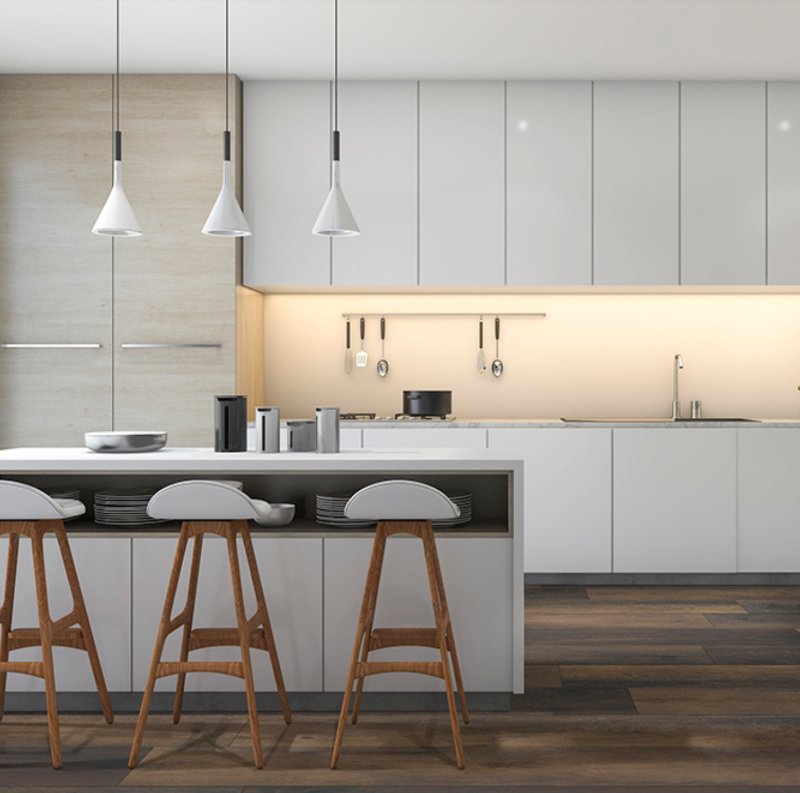 A modern kitchen deserves a modern floor: meet Everlife LVT XL Cyrus Hawthorne.
One of the words dominating interiors in 2021 is soothing. This primarily white kitchen has just the right amount of wood and texture to make it easy on the eyes and welcoming. There's a beautiful juxtaposition between the sleek flat panel cabinets and the more rustic wood look floors. And the storage! Whether you're prepping lunch, gathering for a family meeting, sending off a document from your laptop, now more than ever, expect kitchen designs to be flexible in these multipurpose ways.
Achieve the look with our favorite surface choices.
Countertops: Premium Plus White, Arctic White, Calacatta Vicenza Matte
Floors: XL Cyrus Hawthorne, XL Cyrus Ludlow, XL Cyrus Cranton
All Things Accessible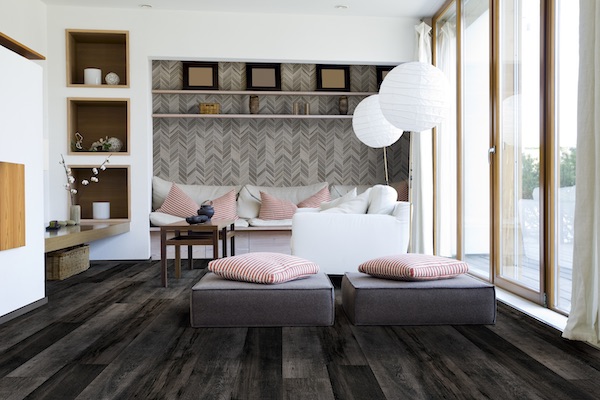 After staring at boring walls for months, Chevron patterned walls are trending: Carolina Timber in White.
Reimagining our homes so that they sustain us in both happy and trying times is a conversation we'll be having for years. While we haven't figured everything out, we're clearer about what we need from our homes in both form and function. Getting that part right makes maintaining a healthy work/life balance a bit easier.
Whether you're preparing to buy a new property or just gathering ideas for a summer project, we hope our 2021 surface trends inspire you. We love seeing the looks you create pop up on our Instagram feed, tag us—#msisurfaces— on your projects.