Real Stone Vs Stone Veneer: What's The Difference?
June 28, 2019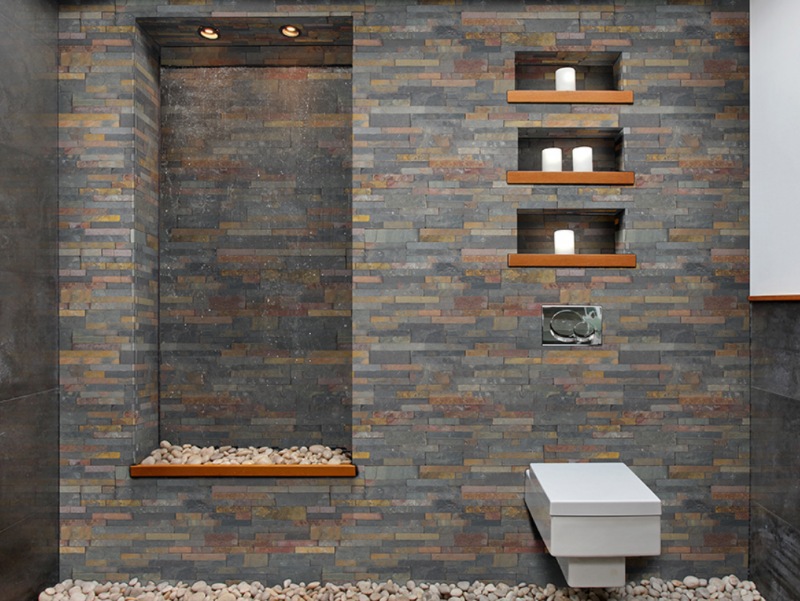 Whether it is featured on a fireplace or the exterior of the home, stone veneer adds flair full of character and texture. While MSI provides consumers with real stone products, not all veneers available on the market are true pieces of the thinly cut limestone, sandstone, or granite. These look-alike materials, on the contrary, are made from a mold containing concrete colored with iron oxides to help mimic the look of the intended stone. So why go faux when you can give your home high-end style with the real thing?
Many homeowners and designers opt for natural stone because it comes with so many benefits. But, you might be wondering whether you should choose thin stone over thick stone. While stone veneer is about twice as heavy as the faux version, it is a lighter, more convenient alternative to full block stone. Plus, there are some installations that are just too difficult to use with the heavier product. Use this guide to learn more about the differences and why thin stone veneer is a more durable and easier option than traditional stone.
Stone Veneer Size
Made from real natural stone, thin stone veneer provides versatility as a result of its lightweight, narrow design. It consists of quarried stone that has been thinly cut and varies from 3/4 to 1 1/2 inches thick. The thinner pieces of stone wall tile still weigh a substantial amount at approximately 13 pounds per square foot, but there are no weight restrictions for installation, which means it can be applied anywhere without any problems.
One of the draws to full stone is its robust beauty that also provides the illusion of a space made entirely out of natural stone. It is typically 4 inches thick, and its size provides depth and dimension. However, the thicker natural stone is extremely heavy, while the weight per square foot will vary depending on what type of rock is chosen. For instance, sandstone is not as dense as granite, so the type suitable for the project may actually limit your desired product choice.
Stone Veneer Style
Because manufacturers are able to cut down so many different types of natural stone into the thin size needed for the veneer, there are large varieties of colors, textures, and sizes to suit distinct styles. From sleek and modern to earthen and rustic, you will find stone panels that go with any design style.
Full stone also comes in a wide variety of colors and types, but it may not be as versatile in terms of style. Since these larger pieces are going to be used outdoors, they are more suited for a traditional space, cute cottage, or rustic mountain home.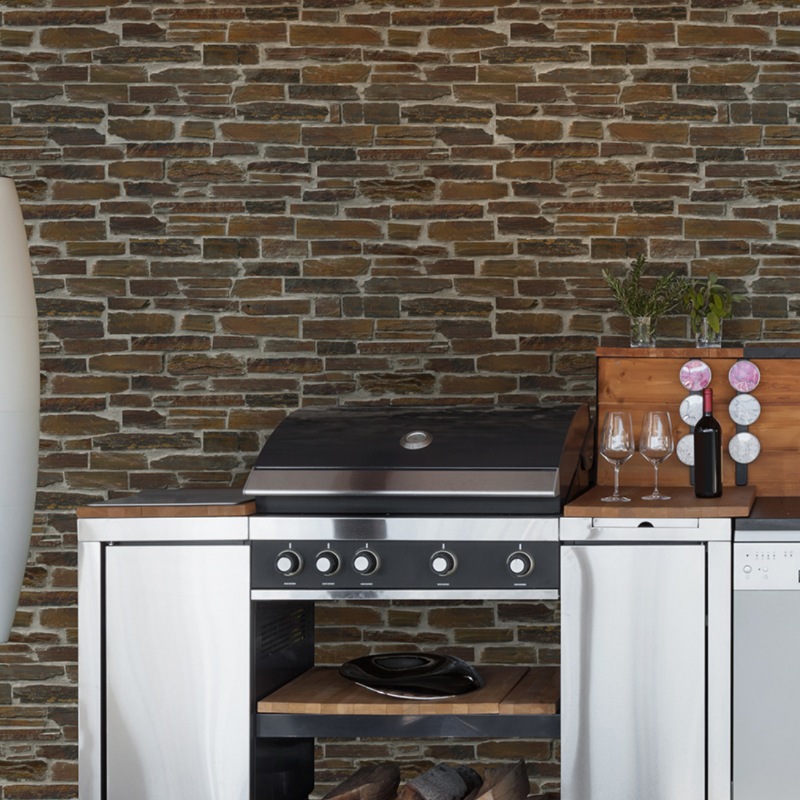 Featured: California Gold
Stone Veneer Installation
Thin stone veneer offers flexibility for both its interior and exterior use. It can be utilized like wallpaper since it does not require any structural support, unlike solid stone. However, it is not to be used as a structural product. Instead, stacked stone enhances existing features like exterior facades, fireplaces, or feature walls. The sky is the limit in terms of having no height restriction for a single installation. The product determines the exact process for preparing the area and installing your ledger panels, but it is always best to follow the manufacturer's instructions.
Its lightweight design makes the installation process easier in more ways than one. While the price per square foot may be higher than full stone, you have to consider the total expense. Not only does the weight and size reduce transportation costs, but it also results in less money spent on labor expenses as well. That is because they are easier to lift and handle, and they can be cut and placed faster because they create less physical strain on the person installing them. In the end, you may be paying a more affordable price for a more expensive product.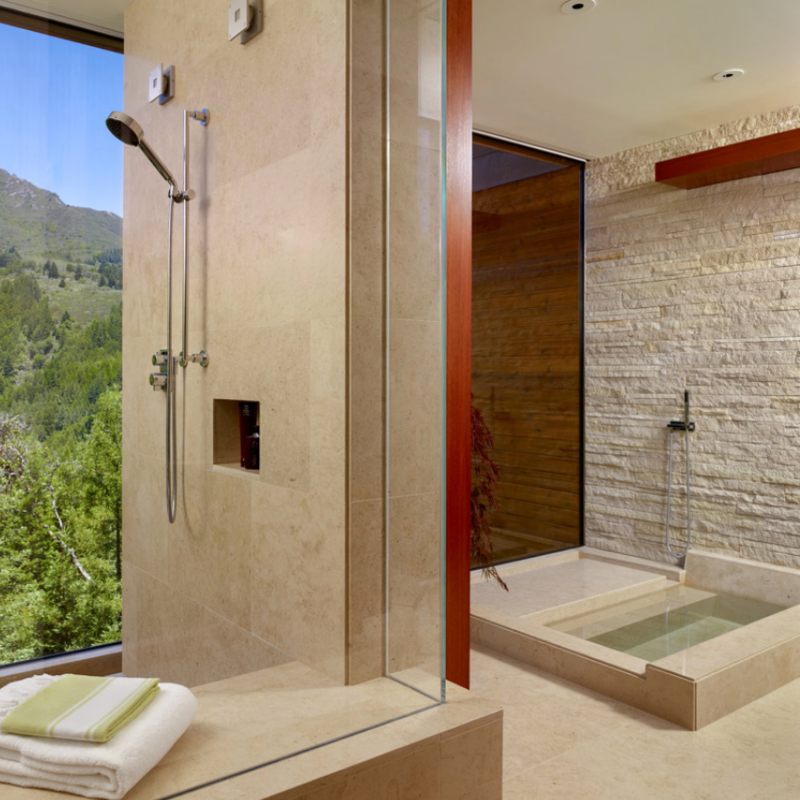 Create a similar look with MSI's Durango Cream (Photo Credit: Houzz)
Full stone veneer is used where its thickness, weight, and size are properly supported, and the bulkier style makes it more difficult to install in smaller spaces. An architect or other professional should carefully evaluate your property in order to ensure that it is the right application for your exterior structure. This thicker stone installation requires either a proper footing or shelf and possibly special strengthening for the flooring.
One of the biggest challenges when working with full stone is its weight. Not only does the heavier material take more time and effort to lift and handle, but it can also become time-consuming to sort and fit the pieces of stone together correctly like a large puzzle. Plus, the installer's time is limited in regards to how tall he can safely install full stone veneer in one session because the facing could collapse if the mortar between layers does not have enough time to set. As a result, you may purchase the full stone for less than thin stone, but you can definitely expect to pay more for labor, which adds up quickly.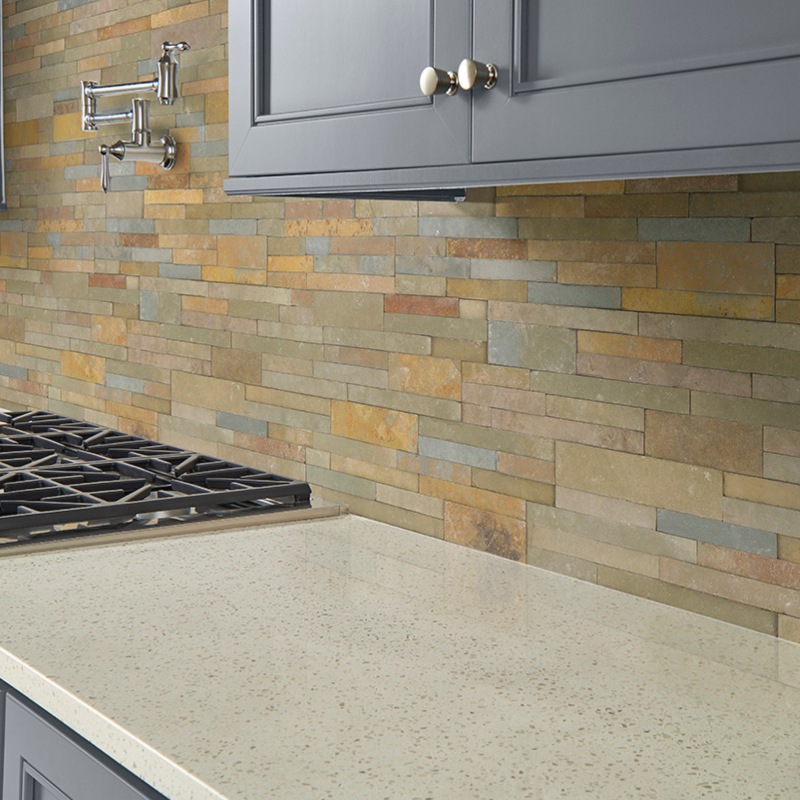 Featured: Sedona Vanilla
Stone Veneer Durability
Natural stone lasts a long time, and with thin ledger panels, you can easily install it indoors without any issue. However, you have to consider how it will be exposed to the elements when used outdoors. Moisture penetrating through to the wood frame or sheathing behind it could be an issue. But, with the right moisture barriers being used, thin stone is still an excellent choice for an exterior upgrade.
Because of the sheer mass of full stone, it holds its own against the elements. When installed correctly, moisture should not penetrate the stone or its mortar joints. Even with strong winds, rain, snow, and ice, it will not easily chip or crack when faced with Mother Nature's fury. The thicker size is also less vulnerable to damage caused by freeze-and-thaw cycles or fluctuating temperatures brought on by changing seasons.
Which Is Right for You?
Stone veneer comes with many benefits like a beautiful appearance, detailed texture, and excellent durability. The type of project may dictate your decision, but the thinner stone façade offers additional flexibility in terms of application and installation you will not find with full stone.