Current Obsessions: A Match Made In Heaven With Quartz Countertops And Natural Stone
June 18, 2018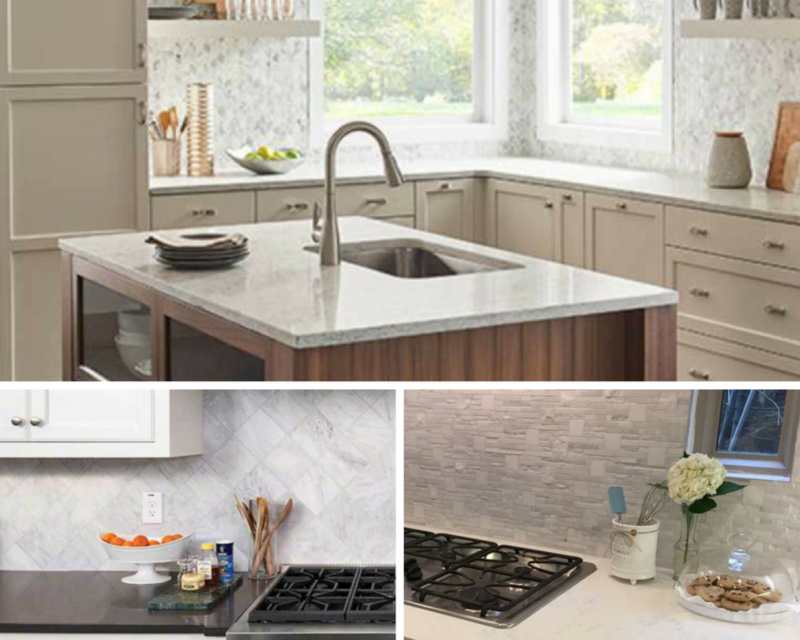 There are dozens of reasons to choose a quartz countertop for your kitchen or bath — the durability, the ease of care, the beauty, and the variety of color options just to name a few. But one concern that holds many homeowners back from buying quartz countertops is how well they will pair with natural stone used elsewhere in the room design.
If you're using marble, granite, quartzite, or some other natural material for a backsplash or flooring, would it be a decorating faux pas to pair it with a faux surface? We say no — it's a smart choice for creating elegant and family-friendly home décor.
Check out these gorgeous room scenes and decide for yourself!
Arabescato Carrara Marble and Shadow Gray Quartz
One of the reasons that MSI's quartz is so complementary to natural stone is that they are top quality surfaces, and are manufactured with natural quartz and other minerals in the mix. Just because they're super-easy to care for, there's no compromise on the elegance of the finished look.
In this kitchen, Shadow Gray quartz countertops pair beautifully with a genuine Arabescato Carrara marble tile backsplash. If you've got your heart set on marble, using it for a backsplash instead of the counter takes much of the worry and the work out of keeping it looking pristine and gorgeous.
Greecian White Opus Marble and Calacatta Vicenza Quartz
MSI carries several quartz countertops that look remarkably like genuine marble. They feel like natural stone too, solid and enduring. Without careful, close inspection, it can be difficult to tell that they're two different materials. Only you will know that unlike the real thing, your engineered countertop needs no sealing to remain water- and stain-resistant. Shown here, Greecian White Opus is a combination of soft gray and white with eye-pleasing texture, an exceptional match to marble look-alike Calacatta Vicenza quartz.
Calacatta Bianco Marble and Gray Lagoon Quartz
Your countertop and your backsplash don't need to be a perfect match to be complementary. Choosing quartz countertops with a subtle pattern such as Gray Lagoon adds visual interest without overpowering the backsplash when it's the star of the show — for example, uniquely-shaped Calacatta Bianco natural marble tile mosaic.
Even the pale-hued Gray Lagoon quartz will give you no worries, no matter how busy your kitchen gets. That's why it's the perfect choice for kitchen workhorse countertops, especially the center island.
Montauk Black Slate and Gray Lagoon Quartz
The same kitchen shown from a different angle highlights the Montauk Black flooring, which is a deep charcoal gray-colored natural slate. With gold and gray accents, Gray Lagoon Quartz counters offer a lighter-toned balance to the dark stone flooring. In fact, this room proves that not only can you match many quartz colors with natural stone, you can match more than one type of natural stone as well.
Greecian White 3" Hexagon Marble and Calacatta Vicenza Quartz
There's no question about the opulence that genuine marble tile adds to a room, especially when it's used in a classic Greecian White 3" Hexagon Polished Marble mosaic. Although this old-world beauty can turn your bathroom into something spectacular, let's face it — marble isn't the easiest surface to live with.
That's why it has become so popular for accent walls and backsplashes. Marble-look Calacatta Vicenza Quartz pairs so well with the real marble on the wall that you'd never know it was a different material. Such a wise, easy-care choice; just wipe with a mild cleanser or plain water.
If you were on the fence about pairing natural stone with quartz, these examples should give you all the convincing you need that it's not only possible, but it's one of the best decisions you could make. Just because quartz is engineered doesn't make it any less elegant and high-quality than natural stone.
Visit MSI's Inspiration Gallery or check out all of our quartz counters, so you can dream up the perfect complementary pairings of your own!