How Do You Clean Luxury Vinyl Planks?
October 14, 2019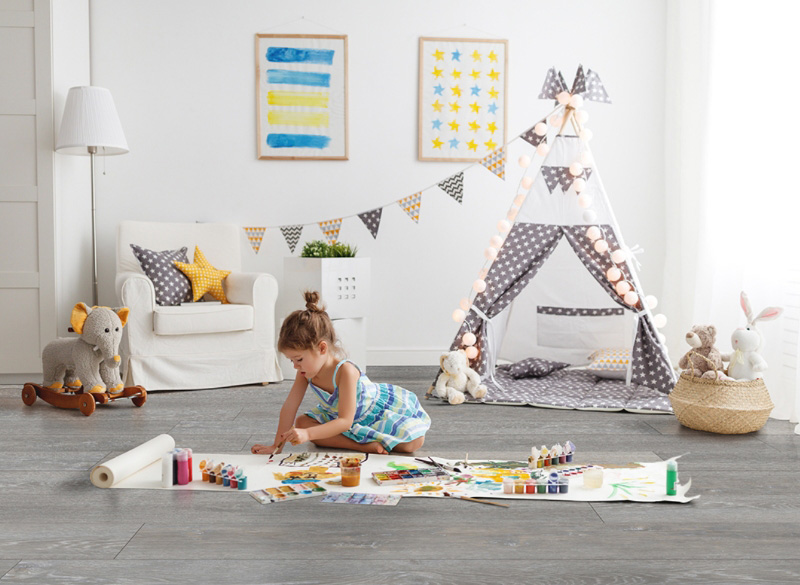 Finally — your beautiful new luxury vinyl plank flooring has been installed. Now, how will you keep it looking like it's brand new for years to come? Fortunately, with LVT flooring, it's not difficult at all. After all, the easy-care aspect is one of the reasons you chose this flooring!
Why is LVT So Durable?
The durability of luxury vinyl flooring (LVT) is part of its charm. It allows you to enjoy the charming, warm look of fine hardwood flooring in places you wouldn't dare install the real thing, such as in bathrooms and kitchens. Unlike real wood, vinyl tile that looks like wood won't warp and it's completely waterproof. If you have a busy family with active kids and pets, this will give you peace of mind.
However, Luxury Vinyl Flooring isn't completely indestructible. Its longevity depends upon several factors, including the installation, maintenance, and the LVT quality—the thickness of each plank and its wear layer.
LVT is made up of a backing, a core, and a protective wear layer. The most important component when it comes to durability is the wear layer, which sits between the printed pattern on the tile and the urethane finish on top. This makes the tile flooring resistant to dents, scratches, and stains.

Daily Care of LVT Flooring
While daily care of vinyl plank flooring is relatively simple, there are a few guidelines you should follow to keep your LVT looking its best for years to come. Here are a few tips:
• Clean floors with a dust mop daily; this removes dirt and other abrasive debris that could wear and scratch the flooring over time.
• Be sure to sweep or dust mop your floor before using a wet mop.
• Use a moist soft cloth or mop for cleaning as needed.
• We recommend a pH neutral cleanser. Overuse of harsh detergent cleaners can cause a buildup of residue over time, leading to a cloudy, dull finish.
• Be sure to go over your floor with a clean mop to make sure all the cleanser is wiped up.
• Clean up spills right away.
Wondering what type of mop to use on your vinyl plank flooring? Forget about the old-school string mops with the wringer bucket; today's mops are much easier and better for the flooring. Avoid any mop that has a built-in scrub brush — if you need to scrub, use a soft-bristle hand scrubber for spot cleaning. Many homeowners love the lightweight spray mops with a built-in, refillable sprayer and disposable or washable microfiber pads. Just be sure that the spray cleaner you use is safe for laminate floors.
Specialty Care of LVT Flooring
Despite the best daily care, vinyl plank flooring will eventually need some TLC. This includes food spills and splatters that need more than a damp mop to remove, scuffs from shoe soles, and really stubborn stains like ink, makeup, nail polish, or markers.
We recommend beginning with the mildest cleansers and techniques before moving toward the heavy artillery. Your first step should always be to sweep or dust-mop the floor to remove abrasive particles. Next, you can boost the cleaning power of your mild cleanser with a small amount of vinegar or a squirt of dish soap. Use a soft mop, a cloth, or a soft-bristle brush to aid in spot-cleaning as needed. More tips:
• If a food stain is particularly stubborn, you can use a paste of water and baking soda. Baking soda is slightly abrasive, but is still much more gentle than other abrasive cleansers.
• Makeup or ink stains may be removed with rubbing alcohol.
• To remove fingernail polish, crayons, shoe polish, or markers, use acetone-free polish remover.
• Scuffs may be removed with WD-40 with a soft cloth.
• Always make sure to remove all traces of the cleanser or chemical you use on the floor to avoid further damage.
• If the LVT is permanently stained or damaged beyond repair, you can simply replace the damaged plank with a new one. Be sure to keep a few extra on hand just in case you need them.
We do not recommend the use of steam cleaners or steam mops. Although they may be marketed as safe for all types of flooring, steam cleaners can expose your LVT to extreme heat which can damage the finish — and void the warranty.

Precautions
No matter what type of flooring you install, there are precautions you must take to keep it looking its best and prevent damage:
• Do not use floor polish or wax. LVT does not need to be sealed or polished, only cleaned with a mild cleanser and a soft mop.
• Avoid mats with rubber backing. Area rugs are recommended as both protection and decorative accents.
• Use felt tip protectors on furniture legs.
• Replace wheels or casters on furniture with soft rubber wheels.
• Do not slide furniture across the floor without a protective pad.
Vinyl plank flooring has many advantages over other types of floor. Homeowners enjoy the simple care requirements, durability, and versatility, as well as the excellent value and ease of luxury vinyl tile installation. By protecting and maintaining your LVT from the very beginning, you can ensure it remains just as beautiful for years to come.
Learn More About Luxury Vinyl Tile
Got Trim? A Guide to Everlife Luxury Vinyl Flooring Accessories
The Definitive Guide to Luxury Vinyl Tile
Luxury Vinyl Tile – The Wilmont Series
How Do Laminate and Vinyl Flooring Differ
Would you like to learn more about Luxury Vinyl Tile? Read the Definitive Guide to Luxury Vinyl Tile to learn everything you need to know. And check out these vinyl flooring videos to learn more about LVT flooring styles, LVT installation, and maintenance.
Are you interested in Luxury Vinyl Tile for your home? Here are some options on where to purchase Luxury Vinyl Tile. And most LVT brands and manufacturers offer a search feature on their website to find luxury vinyl tile dealers near you.