Natural Stone Looks With Q Quartz Countertops
November 04, 2019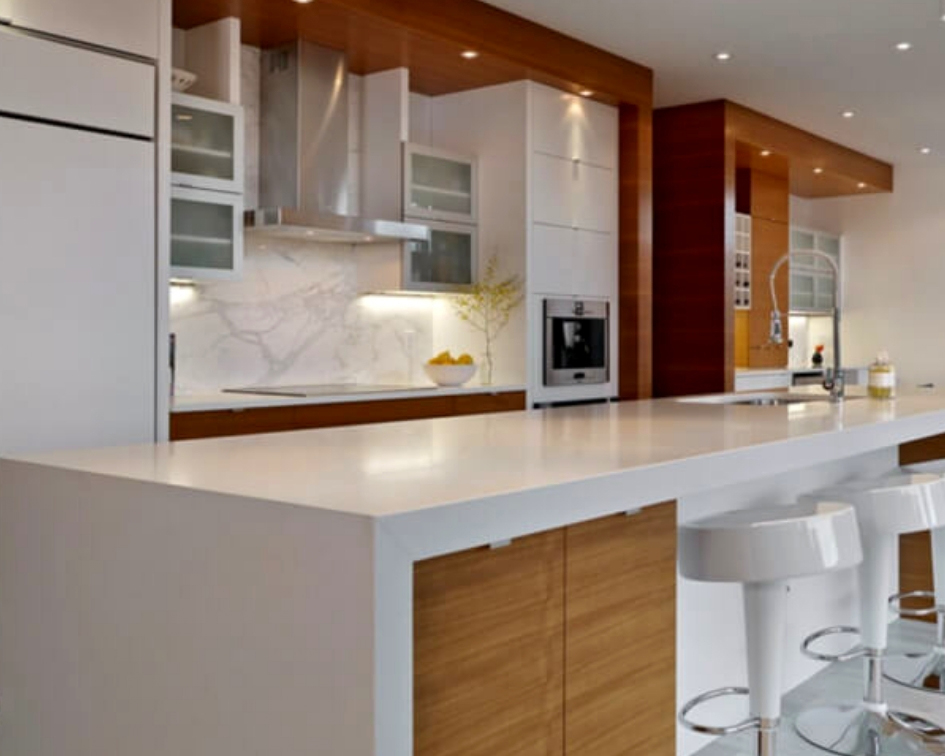 Natural stone is one of the most luxurious surfaces you can put into your home. The high-end luxurious look of natural stone has been artfully recreated in durable quartz by Q Premium Natural Quartz from MSI. If you want the look of stone countertops without the maintenance, and a sleek modern look, quartz countertops may be the luxury surface you've been dreaming of.
All of the countertops in this post are quartz created to resemble natural stone. Do you long for soapstone counters but want something more durable and less complicated to care for? We've got you covered with our modern soapstone-look quartz. The same holds true for other natural stone recreations—we offer many beautiful marble-look quartz slabs to complement your style and your lifestyle.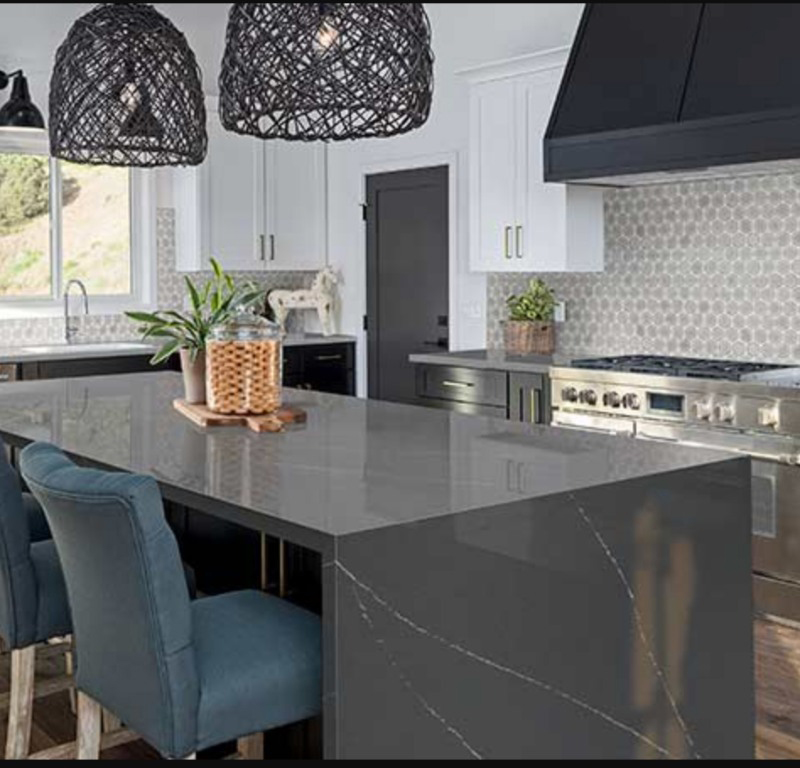 Soapstone Metropolis
Let's talk Soapstone! Soapstone counters are sleek, sophisticated, and timeless. And our Soapstone Metropolis is just one of our new quartz countertop colors that takes the look of natural stone and updates it with modern sensibilities. In this kitchen, our Metropolis is used to create an expansive waterfall island where you can entertain friends and family, do science projects, and prepare holiday meals without worry.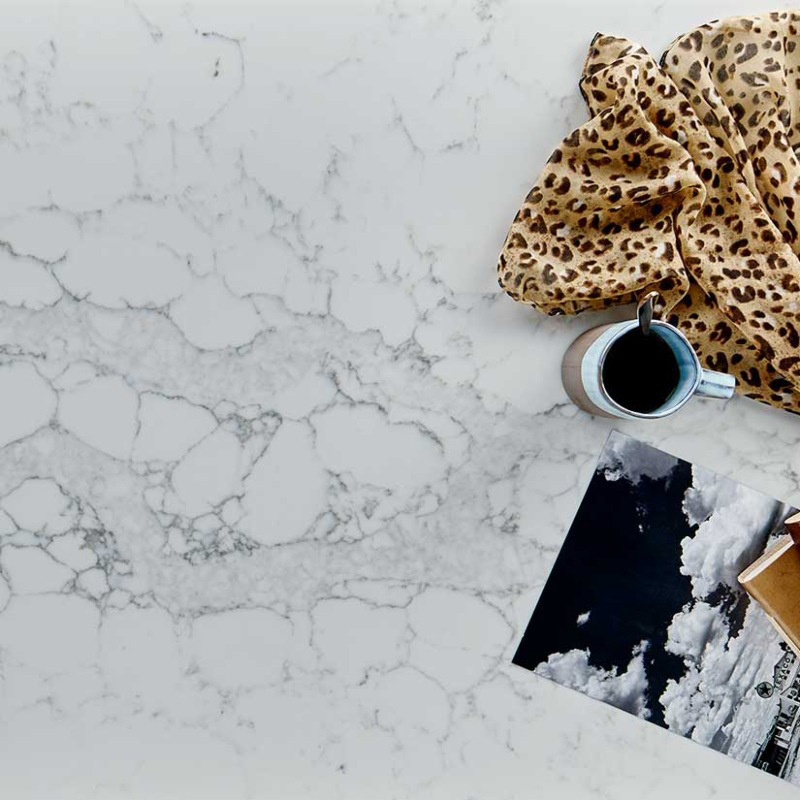 Calacatta Naples
If you love the classic look of Italian white and gray marble, you are going to love our marble-look quartz. Our Calacatta Naples has a soft white background and the whispers of gray veins recreate the look of fine natural marble beautifully. Durable, easy to clean, no sealing required, and an outstanding warranty make this quartz countertop ideal for kitchen and bathroom countertops in active homes. White and gray are timeless colors for kitchens and baths and lend a welcoming edge to any room.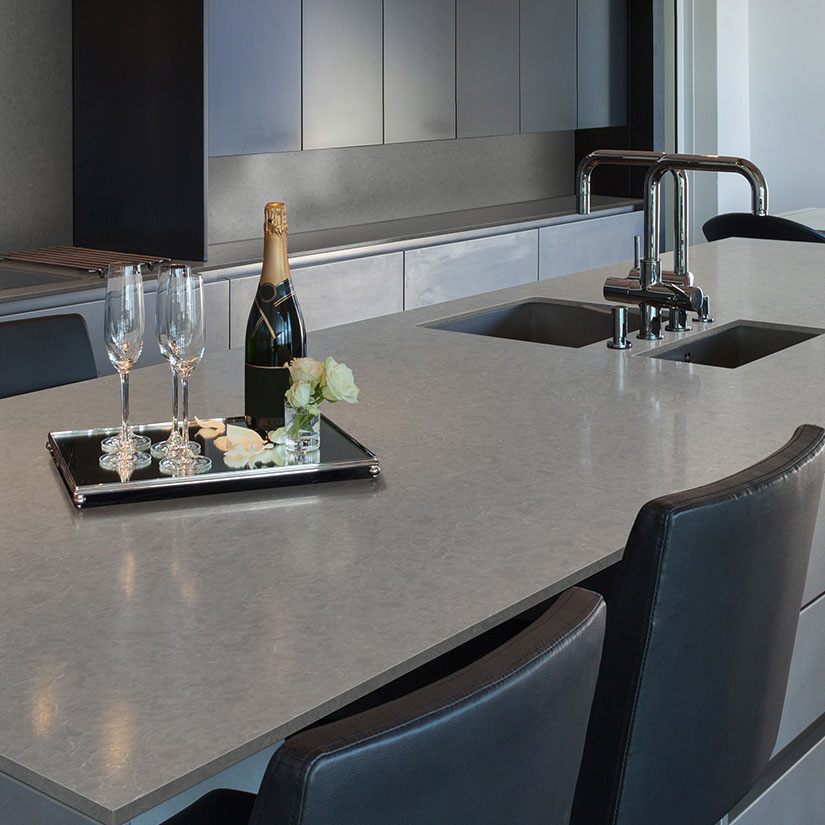 Vena Carbona
Is your style more modern? Do you prefer the industrial look of concrete or cement? We've got you covered with our quartz that looks like concrete, Vena Carbona. The modern aesthetic of this design features flat-front cabinets and an overall gray tone where the subtle inflections in our concrete-look quartz countertop look right at home. Gray kitchens are trending, and for a good reason—they are clean, sophisticated, and perfect for modern designs. Unlike natural concrete, our quartz countertops don't require special care to prevent staining!
And we can't overlook how well quartz countertops work in bathrooms. Bathrooms are filled with beauty products and cleaning products that can harm the finish of a natural stone. With quartz's durability, it is the ideal premium surface for bathrooms as it will stand the test of spills, sprays, and cleaning. In this stunning bathroom, our Stellar Gray quartz was selected to complement the richly-grained cabinets, and the countertop is the perfect resting place for the two sinks. Wouldn't you love to get ready in the mornings knowing that if you spill, no damage will occur?
Q Premium Natural Quartz countertops from MSI are available in a wide range of colors and patterns, including realistic stone-looks like those featured in this post. We invite you to explore all of the quartz countertop colors in our inventory to find the one that speaks to you.
Learn More About Quartz Countertops
10 Frequently Asked Questions About Quartz Countertops
Quartz Countertops: Through-Body Vs. Non-Through Body
Solid Quartz Countertop Colors are Anything but Ordinary!
How to Choose the Right Quartz Countertop