Solid Quartz Countertop Colors Are Anything But Ordinary!
November 27, 2019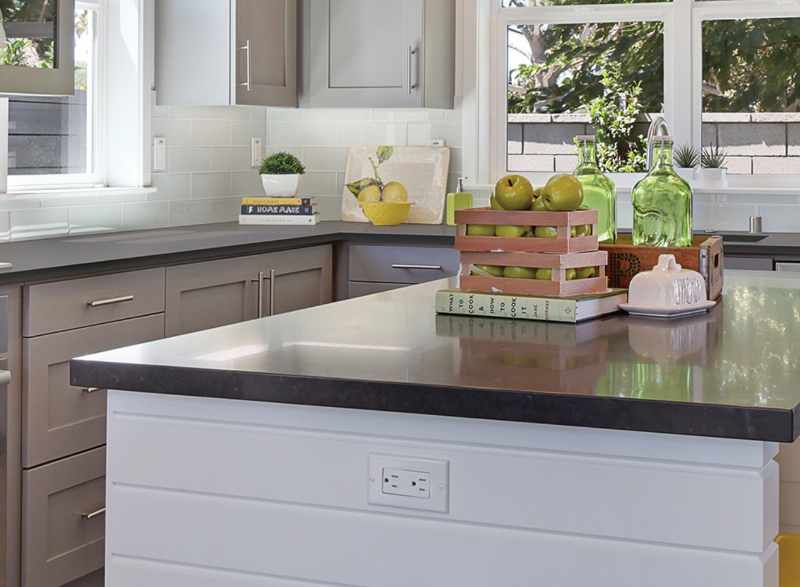 Are you overwhelmed by selecting new countertops for your home? It is easy to get overwhelmed when selecting colors and patterns, but you have to consider the pros and cons of countertop materials too. While many homeowners covet natural stone, it isn't the right material for every project for two primary reasons. First, natural stone requires maintenance, and second, the natural veining and movement may not complement contemporary and modern designs. The good news is you can choose one of our quartz countertop colors that oozes sophistication, and it never requires sealing or other maintenance.
Quartz countertops are available in a wide range of patterns and colors, even quartz that looks like concrete or natural stone. But here, we are going to focus on solid-colored quartz slabs that have a style all their own. As you will see, the simplicity of these countertops is adaptable to any style. If you are searching for a timeless premium surface that will last for decades to come, you must give serious consideration to quartz.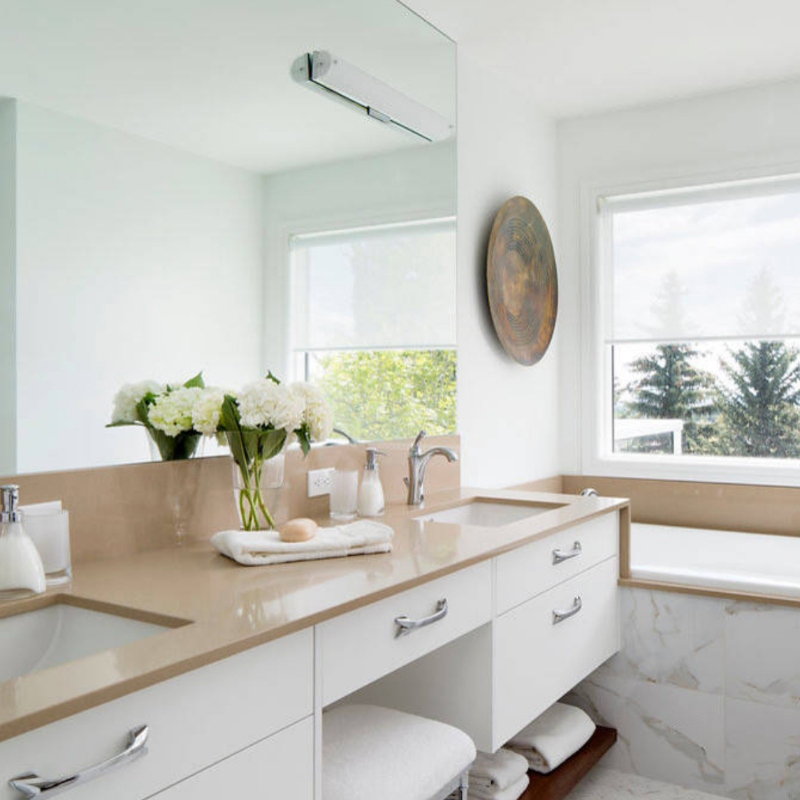 Canvas Beige (Photo Credit: Houzz)
Bathrooms take a ton of abuse each day. Beauty products and cleaning products can damage some types of countertops – but not quartz. In this sun-soaked master bathroom, our quartz countertop color Canvas Beige adds a pop of neutral beige, creating high-style that complements the gray and white tile and the white cabinetry beautifully. The designer also chose to install a mirror that runs from the backsplash to the ceiling and the entire length of the vanity to capture the light making the bathroom feel expansive. The warm beige keeps this bathroom from feeling sterile and, cold and it makes a timeless statement.
In small kitchens, space is definitely at a premium. Every surface must be beautiful, functional, and stand the test of time. To make areas appear larger, partnering light colors is a must. In this efficient eat-in kitchen, the white cabinetry, table, walls, and accessories needed a punch of color to highlight the spectacular architecture, and our Midnight Majesty quartz countertop was just what this space needed. In this instance, the dark color isn't moody or dull; instead, it acts as a grounding element that keeps this small kitchen's design dynamic and exciting.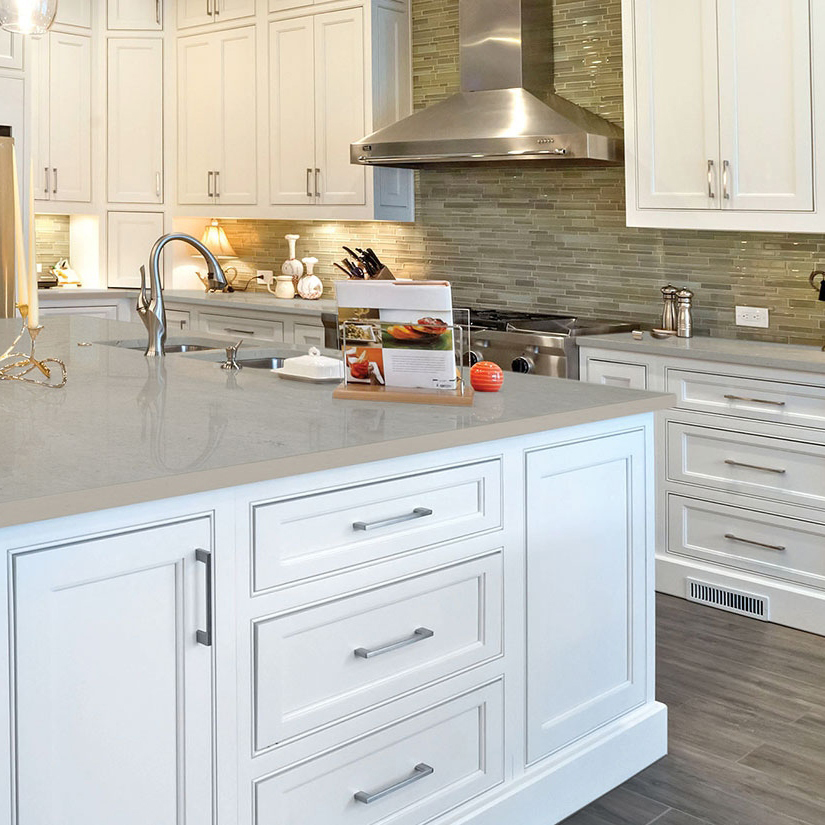 Fossil Gray
The pairing of white and gray in kitchens and bathrooms is timeless and always in style. In fact, can you name another color combination that so easily transitions from classic to contemporary or modern designs? In this transitional kitchen, custom white cabinetry is partnered with our soothing Fossil Gray quartz countertop color to provide a soothing palette that is easy on the eyes. The backsplash and the flooring were expertly chosen, and the overall look of the space is welcoming and sophisticated.
If you love modern design, you are going to love this design. The combination of the tile floors, a marble-look backsplash, flat-panel cabinetry, custom appliance facings, and the expansive Arctic White quartz waterfall island is nothing less than spectacular. The wood cabinetry gives this chef-inspired kitchen warmth while the solid white quartz countertop doesn't distract from the backsplash and other fashion-forward design elements. Imagine entertaining your family friends around this large island without having to worry about spills and splashes – this is a perfect solution for active homes.
We invite you to explore our entire collection of Q Premium Natural Quartz countertop colors. Browse through and find the colors that you love, and then you can virtually "try it on" in just a few clicks. Visualize in real-time how each color and pattern will look in your existing kitchen or bathroom, or you are in the process of remodeling one of your rooms, you can use MSI's kitchen design tools to help you choose flooring, countertops, backsplashes, and more. Don't be afraid of solid-color quartz. Hopefully, we've demonstrated how beautiful this style of quartz countertop can be.
Learn More About Quartz Countertops
10 Frequently Asked Questions About Quartz Countertops
Quartz Countertops: Through-Body Vs. Non-Through Body
Natural Stone Looks with Q Quartz Countertops
Solid Quartz Countertop Colors are Anything but Ordinary!
How to Choose the Right Quartz Countertop