8 Unique Backsplash And Floor Tile Patterns To Create Intrigue In Any Room
August 21, 2022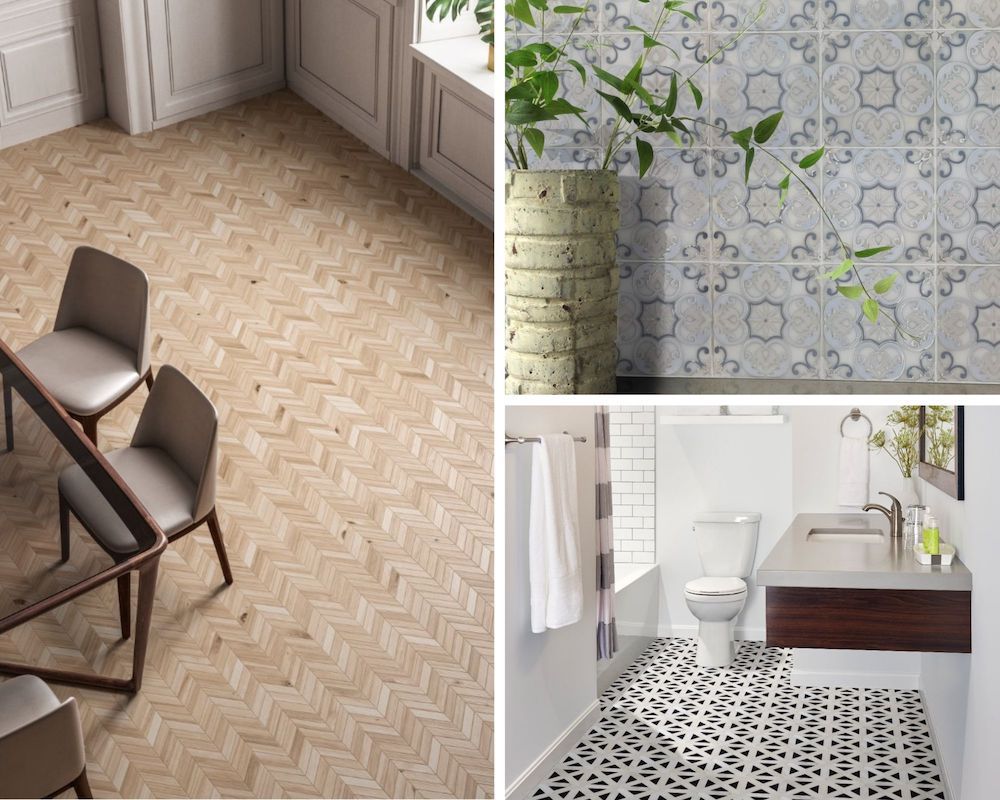 When it comes to upgrading your home's kitchens, bathrooms, and other living spaces, there are endless ways to add visual interest and imbue your home with personality and style. One great way to elevate design is with stunning tile patterns that deliver luxury appeal.
Whether you love the look of a traditional floral pattern or want the modern, structured appeal of a geometric tile, there are endless options to boost sophistication and intrigue in your space.
Patterned backsplash tile is the ideal complement to simple countertop materials, while floor tiles can ground a room or add a whimsical spirit to your space.
Picking the right tile isn't always easy, but with so many fantastic MSI options to choose from and a team of dedicated professionals to help, you're sure to find the perfect pattern for your home improvement project. Here are several stunning selections for style inspiration.
Kenzzi Dekora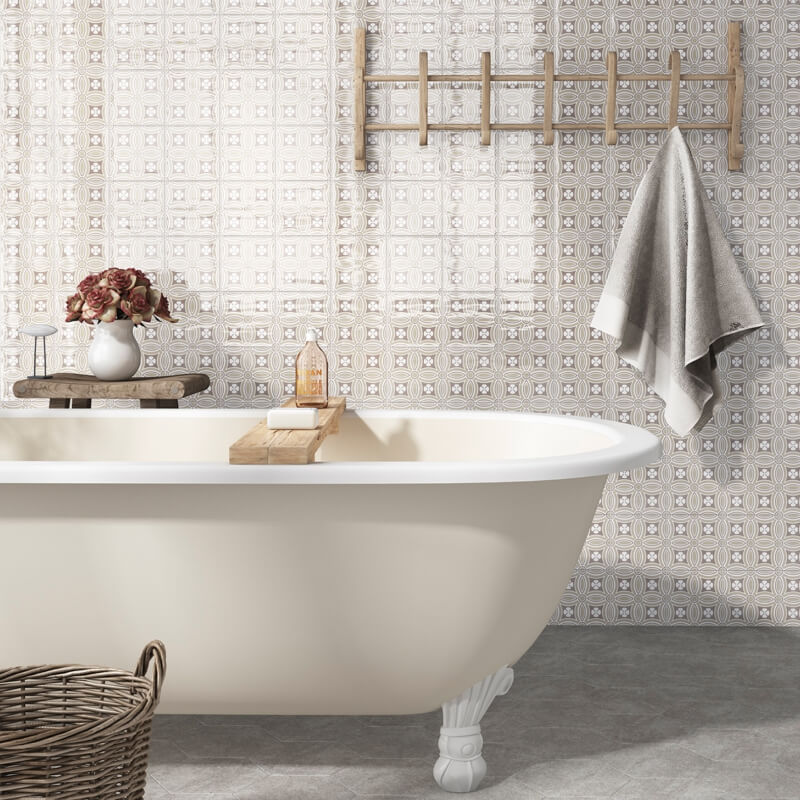 Some homeowners won't even consider a floral motif because they assume it will be too bold or precious. This is hardly the case with Kenzzi Dekora encaustic tile, which blends classic patterns and neutral hues to create a design that works equally well in traditional and modern home settings.
Crafted in Spain, these glossy, encaustic designs are ideal for use as bathroom tile, whether you choose them for flooring, a shower enclosure, or an entire wet room.
In truth, the pattern reads more geometric than floral at first glance, delivering a refined appeal that complements feminine, masculine, and neutral designs. It's the versatile floral pattern you never knew you needed.
Tetris Florita Blanco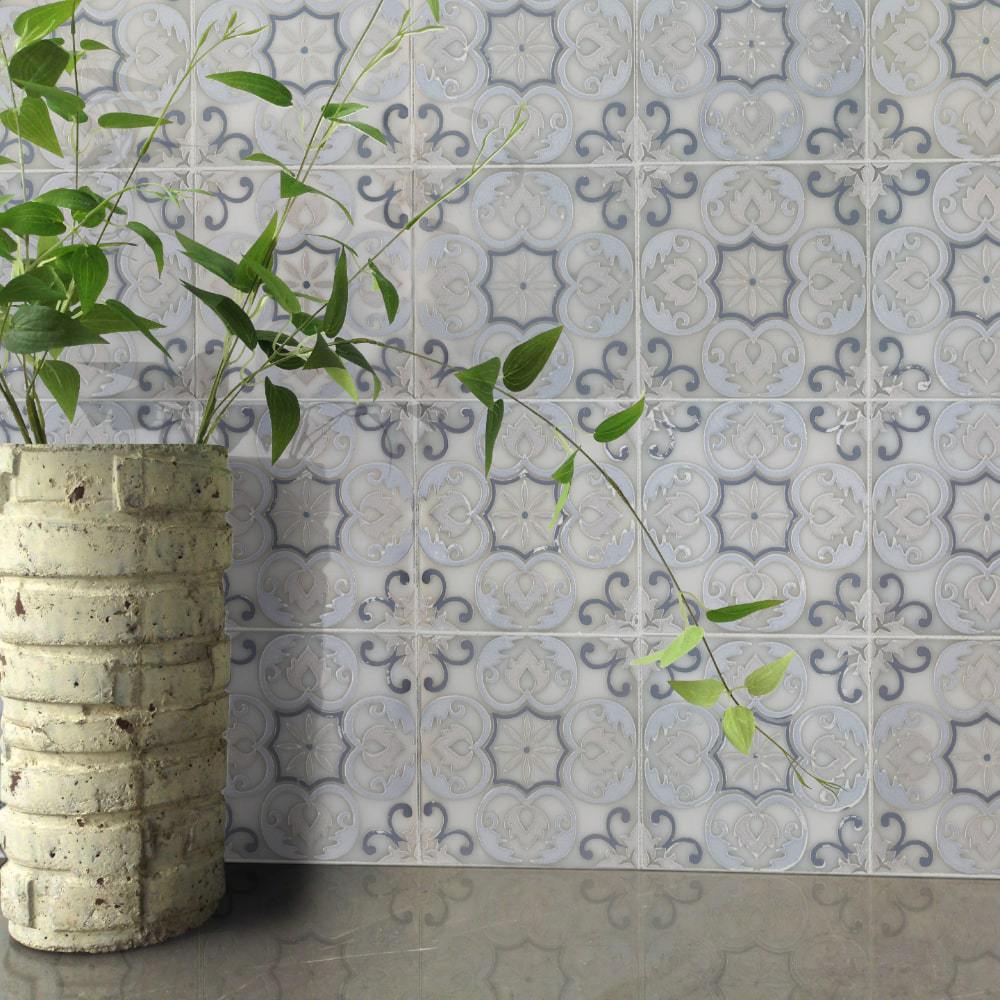 Carrara marble is the perfect material for any home design that prizes classic elements and a tranquil aesthetic. However, you may not want your backsplash or tile flooring to be too sleepy. This is where Tetris Florita Blanco pattern tile can save the day.
This gorgeous tile offers a soothing color palette, consisting of a soft white marble background and patterns in cool white and gray. With a series of curved floral and leaf figures arranged in an almost damask-style pattern, this tile adds incredible beauty to any home interior without feeling overwhelming.
Retro Fretwork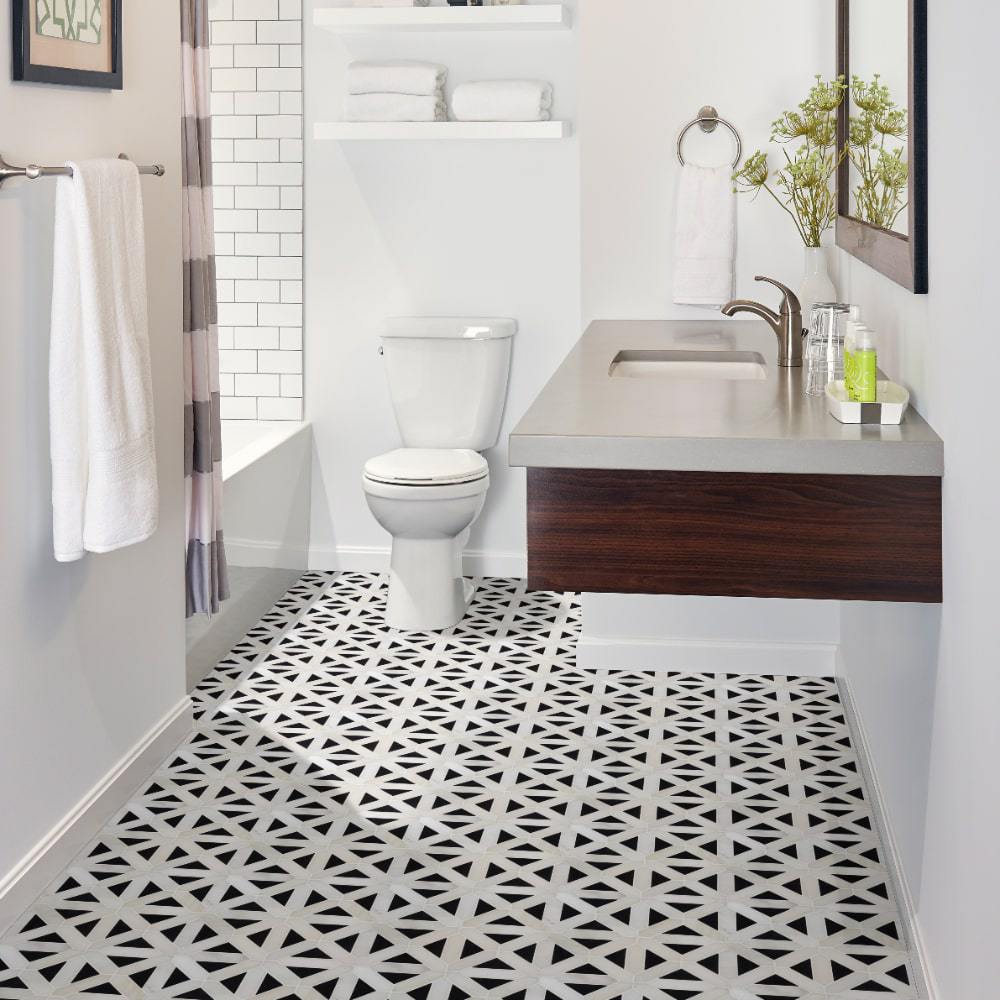 Pure geometry is the order of the day with Retro Fretwork polished marble tile, featuring a complex pattern of squares and triangles. White marble makes up the outline of squares and Xs, with interlocking picket tiles creating the harmonious appeal of mitered edges.
Black marble fills the negative space with triangles contrasting starkly against white edging. The result is a glorious pattern that adds striking beauty to timeless kitchen and bathroom designs with a black and white motif.
Harlow Picket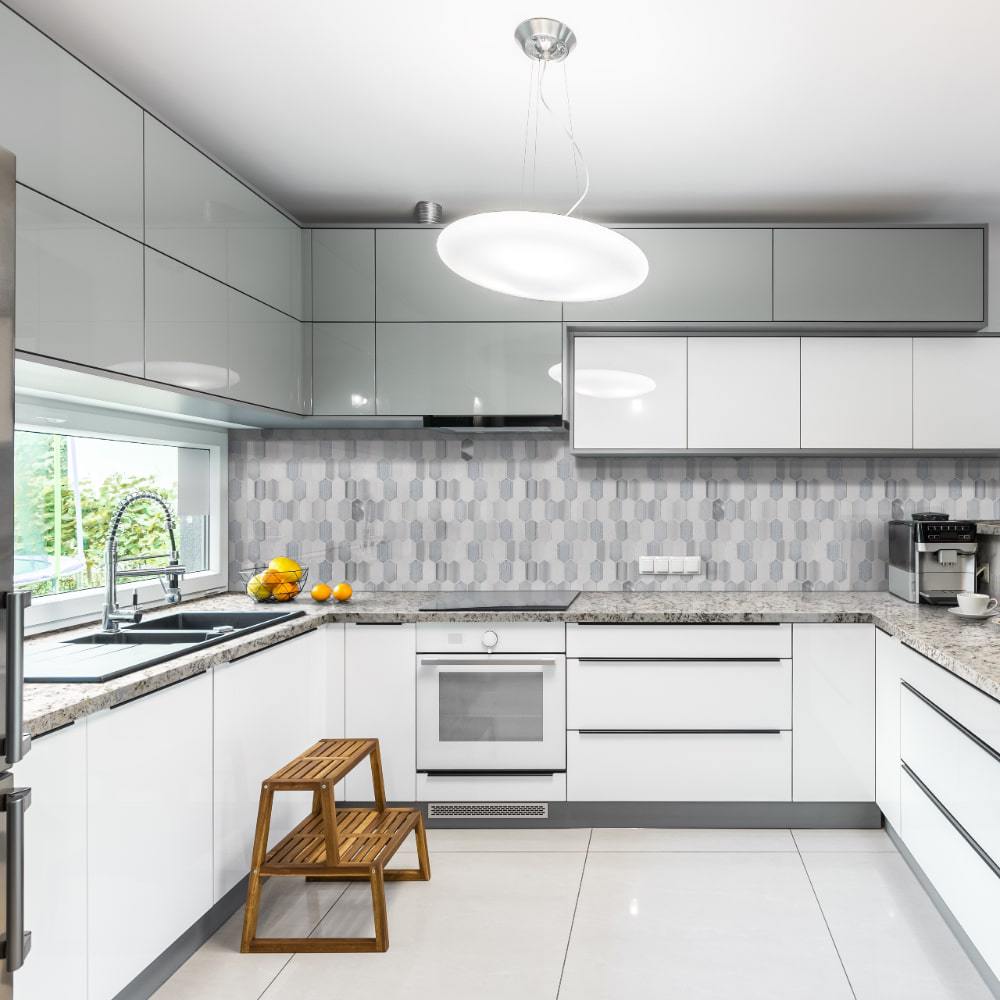 The average homeowner might not think to pair glass, stone, and metal tiles into one cohesive mosaic, but with Harlow Picket tile, the guesswork is eliminated. This contemporary option features picket tiles that are just shy of the radial symmetry of a hexagon, creating a pattern that lends height to a backsplash when oriented vertically.
The real visual draw, however, comes from the mixed media. While all of the materials are light to mid-tone gray in color, the use of textured stone, glossy glass, and shiny metal create variation and intense dimensionality. This tile can serve as a focal point or simply complement a dramatic granite countertop.
Havenwood Beige Chevron Mosaic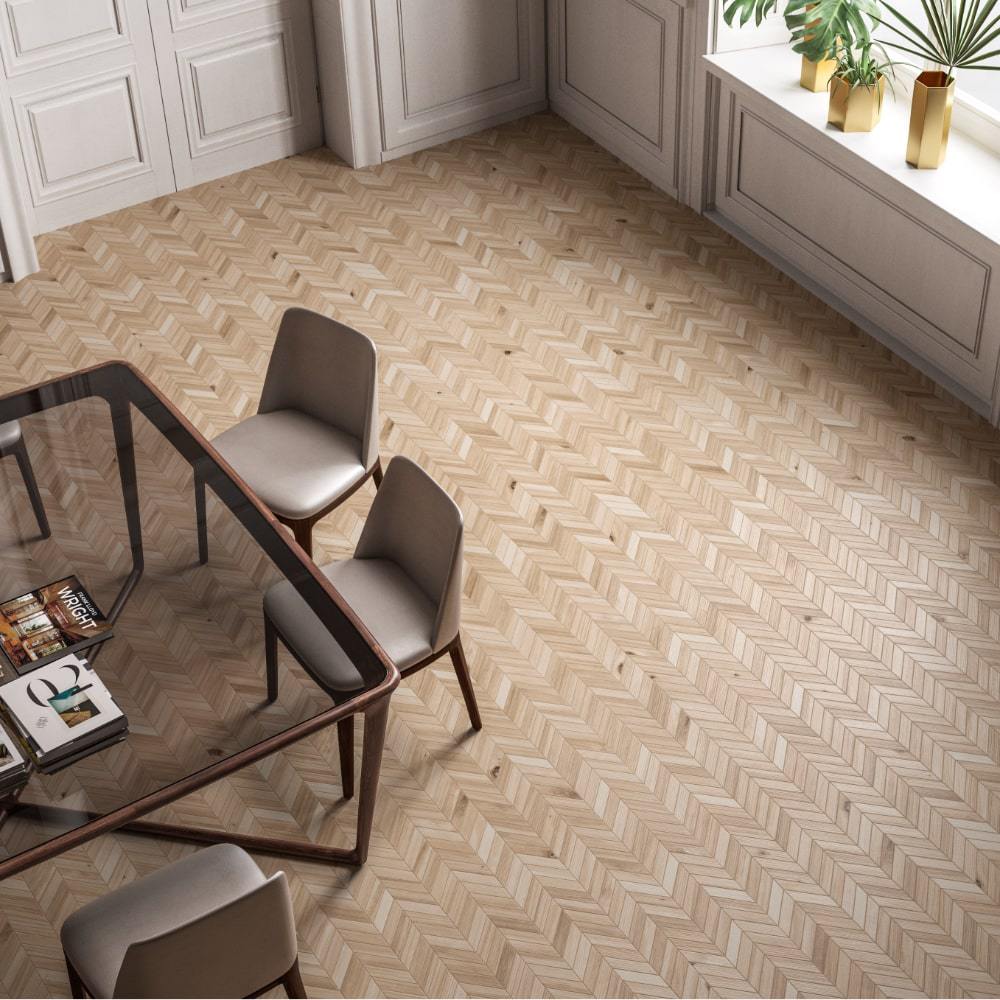 The classic chevron pattern can add incredible movement to a space, whether you use it for flooring or an expansive backsplash. Havenwood Beige Chevron Mosaic tile is a perfect example.
This porcelain tile, imported from Italy, may seem somewhat calm and low-key, thanks to warm beiges ranging from pale to middle tones. However, the color variation and tight pattern serve to create the illusion of sheaves of wheat laid flat.
With a white or beige grout, the pattern will certainly shine, but choosing a darker grout will really make tiles pop from the background.
Calacatta Cressa Leaf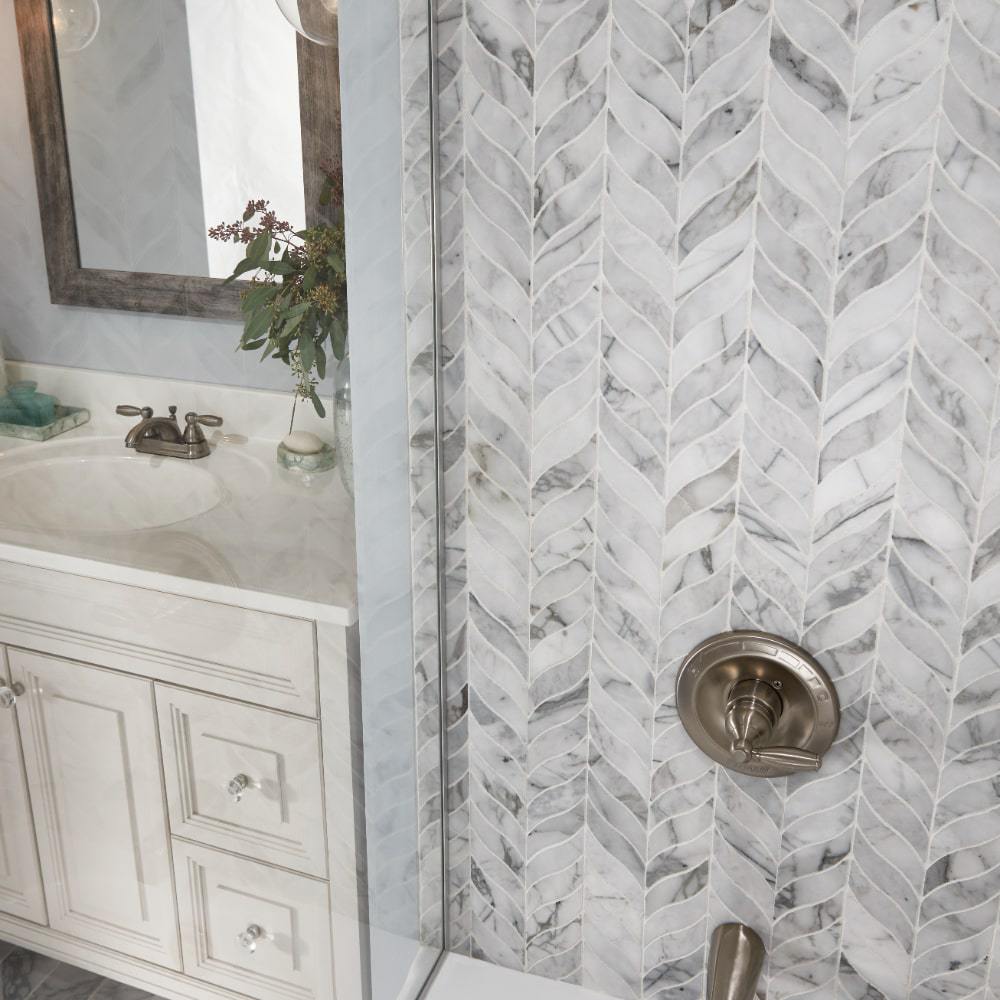 There's no denying the beauty of luminous, white marble, especially the milky white and soft gray of popular Calacatta varieties. How can you take the classic appeal of this natural stone and translate it into a modern tile?
It's simple with Calacatta Cressa Leaf bullnose tile, which mimics the curved leaves of its namesake plant. A variation on the chevron pattern, this tile delivers mirrored rows of diagonally curving tiles, creating the symmetrical appeal of a feather. Variegation among tiles is thanks to soft veining in gray on the white background.
Angora Framework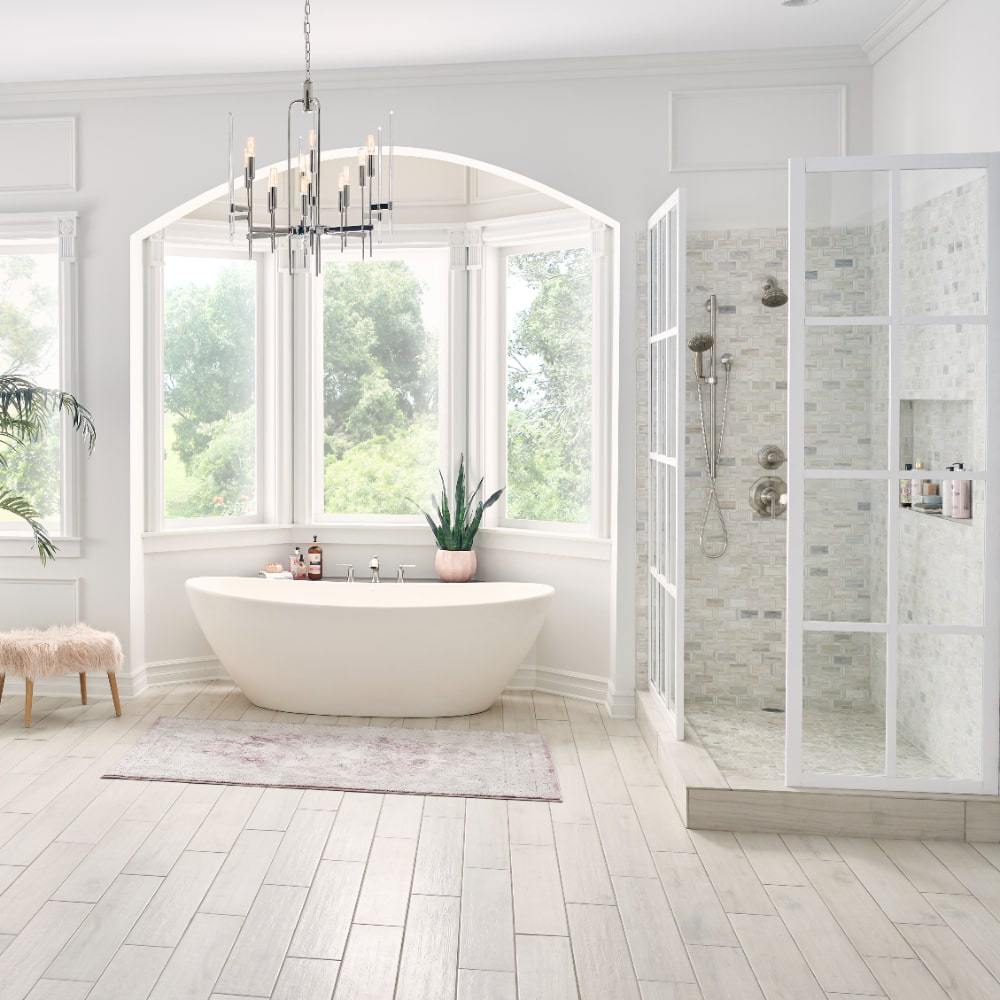 Adding brick to your design, either for flooring or walls, is a bold choice that imbues your space with industrial and traditional architectural vibes. It also adds a very particular color to your palette that you might not be looking for.
With Angora Framework polished subway tile, you'll enjoy the timeless layout of classic brick-and-mortar but without the distracting color and stuffy architectural associations.
This polished subway tile pattern features "bricks" in subdued beige and golden-hued marble to add warmth to your space, while the "mortar" outlines are presented with thin strips of white and gray marble for mild contrast.
Dove Gray Herringbone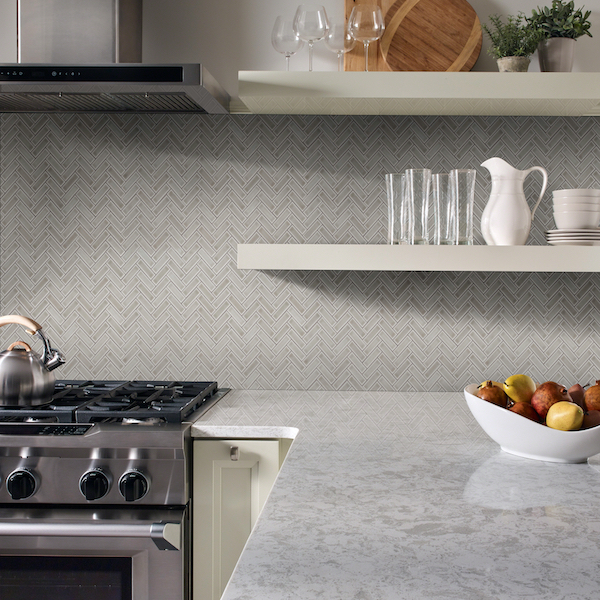 Few patterns are more sophisticated and universally beloved than herringbone, whether it's elevating the luxe vibe of a tweed jacket or taking your kitchen tile to the next level.
When you choose Dove Gray Herringbone tile for a backsplash, flooring, or shower walls, the warm gray hues will imbue your design with a sense of modern elegance and a calming ambiance. If you're looking for a ceramic tile that pairs well with a wide range of other design elements, this herringbone pattern is ideal.
Although there are practically endless tile options to explore, MSI makes it easy to pair the perfect elements for your design, thanks to visualizer tools that allow you to mix and match products in real spaces.
If you need help finding the right product or an authorized showroom, you can always call the MSI pros or contact us via convenient online chat.