Which Porcelain Floor Tiles Are Slip Resistant?
October 25, 2017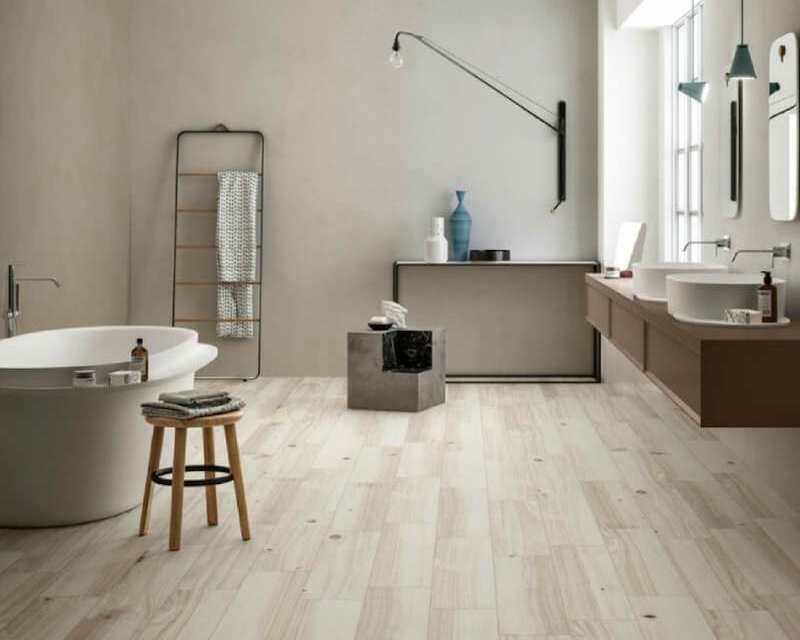 According to the National Floor Safety Institute (NFSI), slips and falls account for over 1 million hospital visits each year. On top of that, the Consumer Product Safety Commission estimates that floors and flooring materials directly contribute to more than 2 million fall injuries each year in the United States. These two startling statistics show just how critical flooring choices are in both homes and business. (1)
While no flooring choice or tile can be entirely "slip proof," there are industry tests and standards that determine the slip resistance of tiles.
The DCOF (Dynamic Coefficient of Friction value) is the industry standard, setting the minimum standard for interior floor tile at >.42 DCOF. All of the tiles highlighted in this article meet or exceed this minimum standard.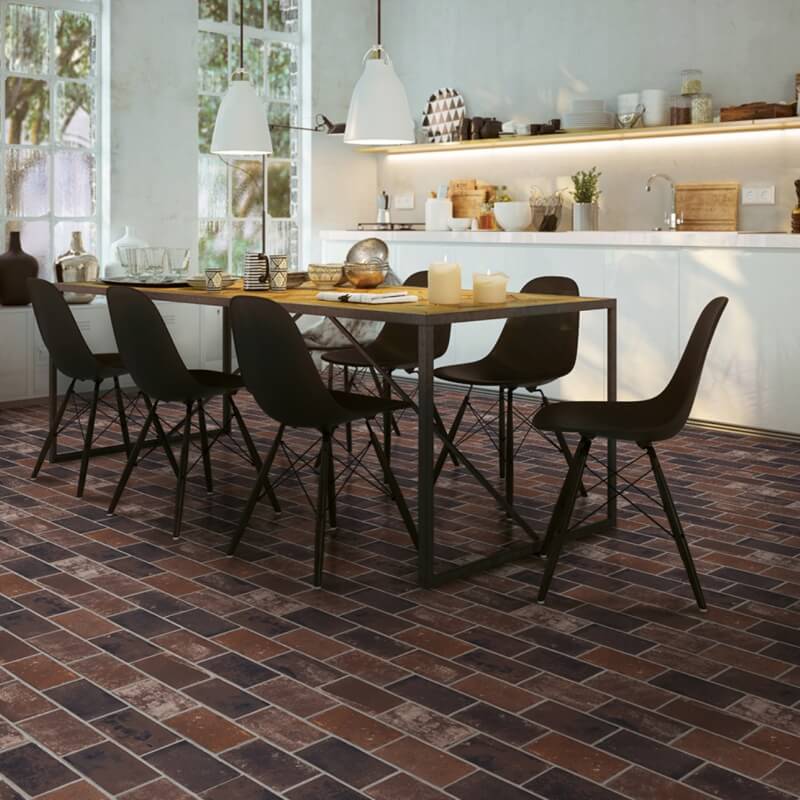 Featured: Red Brickstone Porcelain
In kitchens, slip resistant floors are a necessity. Spills are bound to happen, and without a proper floor, falls can happen, too. In this "heart of the home," protecting family and friends must be a top priority.
Red Brickstone Porcelain is a great choice for busy home kitchens where a refined rustic design element is desired. It's even robust enough for use in commercial properties.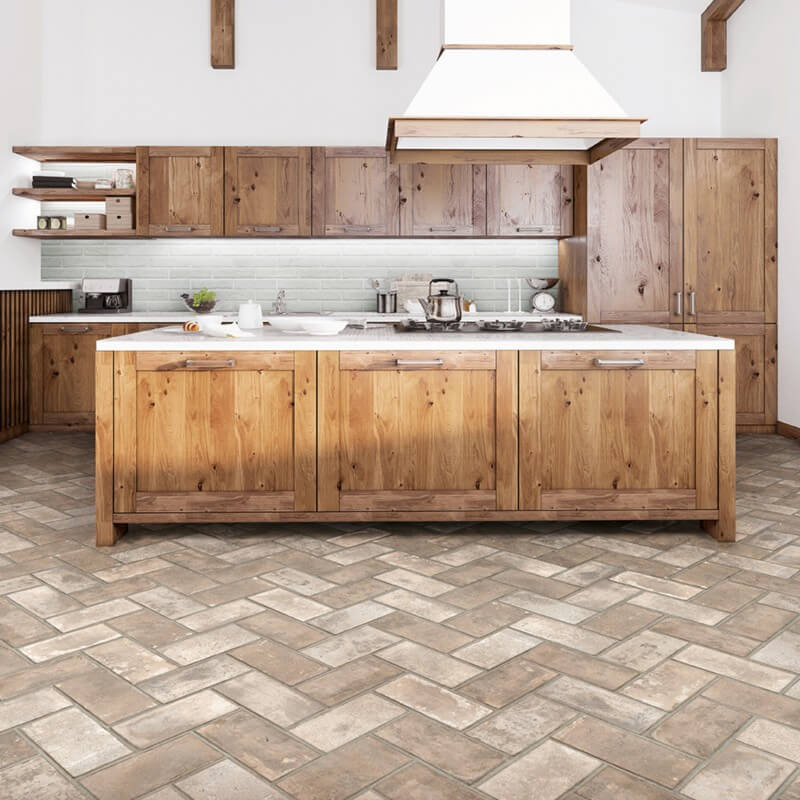 Featured: Ivory Brickstone Porcelain
Keep in mind that when grease spills or spatters on the floor, quick cleanup is required. As fats start to cool, they can make floors incredibly slippery and dangerous. Fortunately, tiles like our Ivory Brickstone Porcelain are easy to clean and maintain. The dimensions of these tiles allow for creative installation designs like herringbone and basket patterns.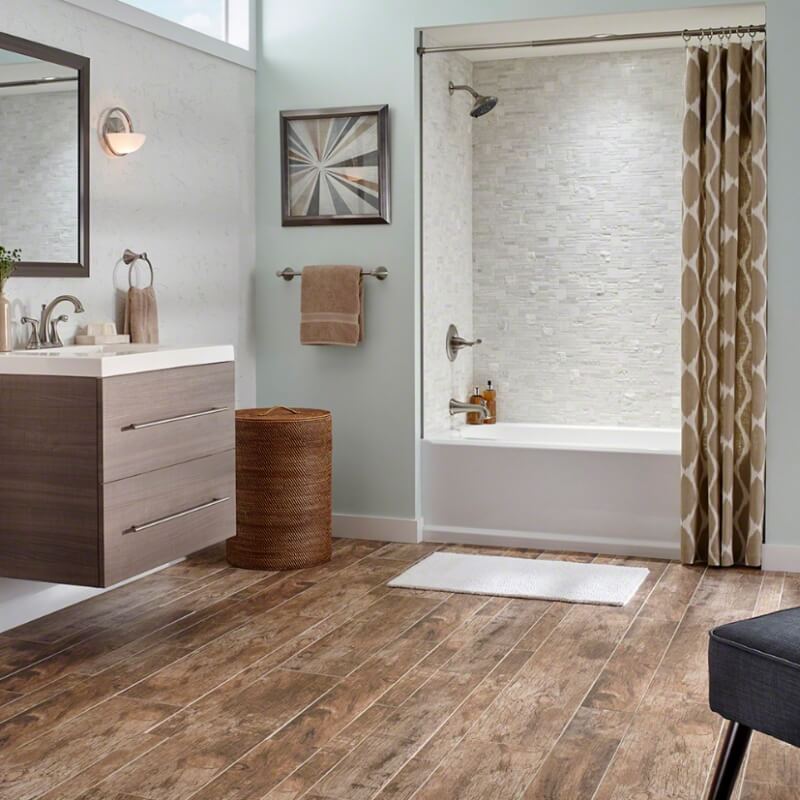 Featured: Natural Forest Wood Look Porcelain
Bathrooms are naturally another area of the home that absolutely needs slip-resistant floor tile. Stepping out of out a bathtub or shower with wet feet shouldn't be a fall risk. Large format Natural Wood Look Tile from the Forest Collection has the added benefit of limiting grout lines, making rooms feel more expansive and bright.
It isn't just kitchens and bathrooms that need slip resistant floors—entertaining areas, entryways, and of course laundry rooms or mudrooms should meet or exceed DCOF standards as well.
Paloma Porcelain is a great choice to bring a striking pattern to these living areas. Timeless and classic, this slip-resistant tile floor effortlessly complements a variety of design styles.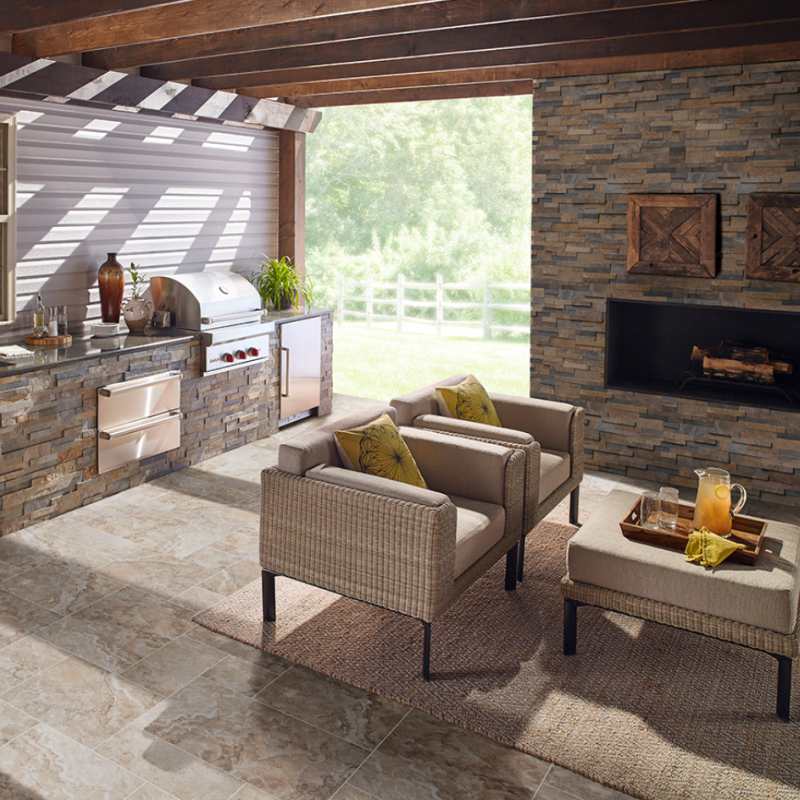 Featured: Castle Beige Porcelain
Selecting the right tile for exterior projects is vital, too. Weather, slope, and water features must play into the decision when selecting porcelain tile for flooring outdoors. On the pool deck, it is important to select a tile with a DCOF rating of >.60, while on generally dry patios and for outdoor kitchens a DCOF rating of >.42 is normally fine.
Castle Beige Porcelain tiles provide an elegant grounding element that blends beautifully with stacked stone and stone slabs.
Whether the space calls for a brick-look tile, wood tile, Old-World Cotto look, or a fresh and exciting pattern, there is a slip-resistant floor tile to fit your design style and needs. When selecting tile for flooring, it is imperative that you take into account the DCOF, aiming for a rating of >.42, particularly in areas with the potential for spills or water like kitchens, bathrooms, and laundry rooms.
This DCOF standard applies to level areas, but not to slopes. For ramps or other inclines to be slip-resistant, the DCOF rating needs to be >.65. So take proper precaution and don't become a slip-and-fall statistic. Slip-resistant tile floors can't guarantee your safety, but when paired with responsible cleanup practices and appropriate floor mats, they can certainly make a difference.
READ MORE ABOUT SLIP RESISTANT FLOOR TILES
9 Waterproof and Slip Resistant Porcelain Floor Tiles
MSI's Top 10 Zeroslip Porcelain Tile Products