A Closer Look At Granite Countertop Edge Profiles
September 02, 2017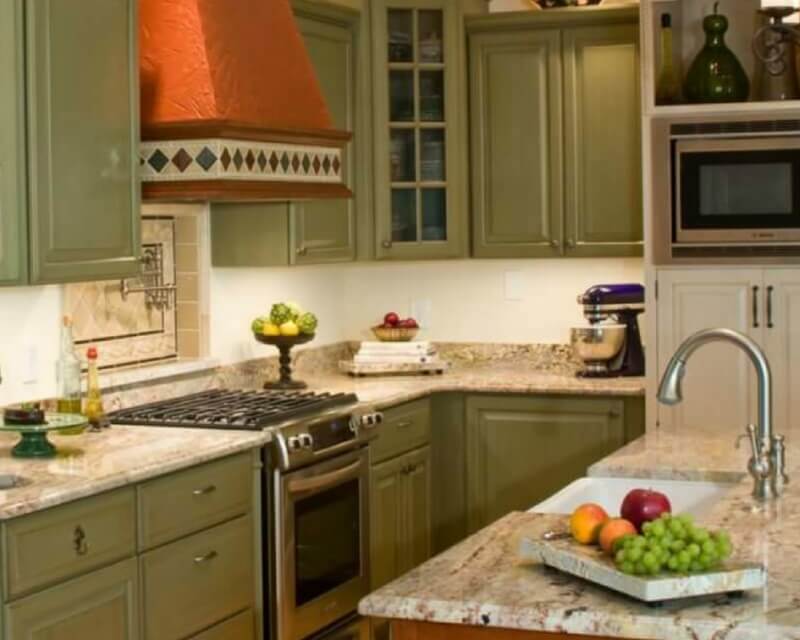 Pulling together a cohesive design is all about details, details, details! After all, it's these small elements that give character to the room.
That's why every choice you make—even your countertop edge—adds to the finished look and helps bring your vision to life. The edge profile you choose for your granite countertops can alter the style and feel of your kitchen, making it an important decision.
And with so many different options to choose from, let us help you get started with a quick look at some of the most popular granite countertop edge styles you'll come across.
Spanish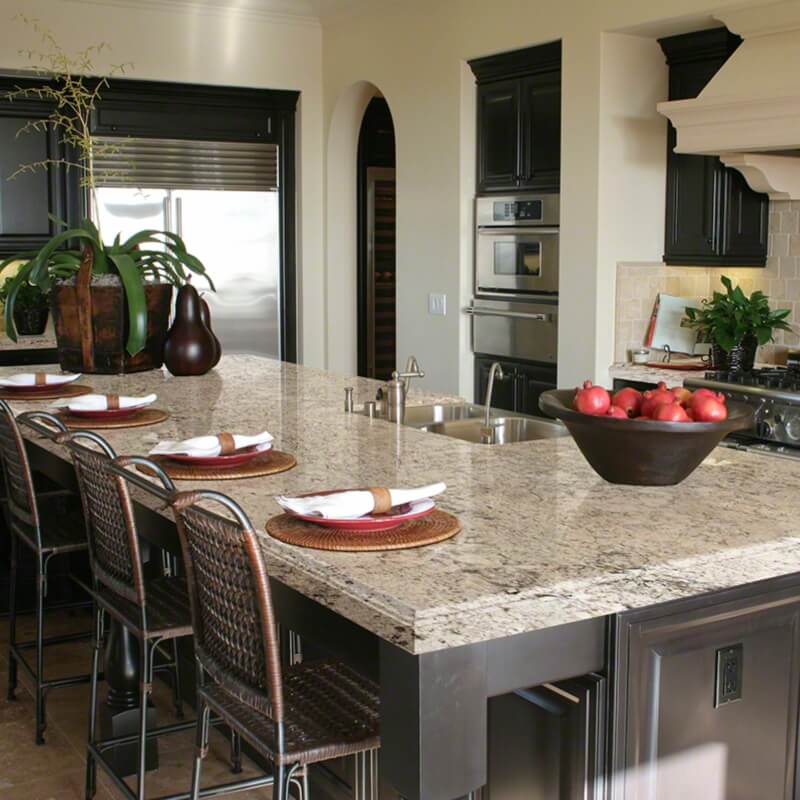 Featured: Snowfall Granite
A Spanish edge has a small 90-degree step that meets with a convex and concave curve before being finished off with a straight edge and a flat bottom.
With all of the edging layers, it will require more time to clean, but on the other hand, this edge should help to catch any spills before they drop to the floor. The Spanish edging gives a substantial look to this oversized island in Snowfall Granite.
Half-Bullnose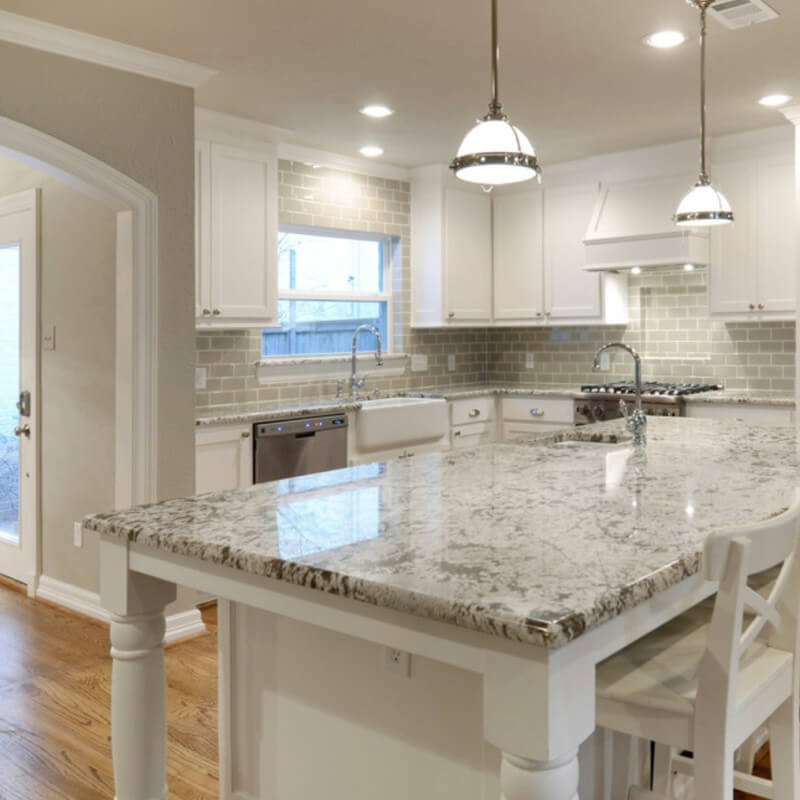 Recreate this look with MSI's Bianco Antico Granite (Photo Credit: Houzz)
A half-bullnose edge has a rounded edge with a rounded top and flat bottom. This popular edge works with a variety of design styles, from classic to contemporary.
If you have kids, you might want a rounded edge like this one, simply because the softened corners are safer. Just remember that with any curved edge, spills will more easily trickle down onto the floor.
This simple detail works well with the rest of the clean lines in this vintage-inspired kitchen. Plus, the soft gray background with warm taupe and pink flecks of Bianco Antico Granite gives the cooking space an updated look.
Eased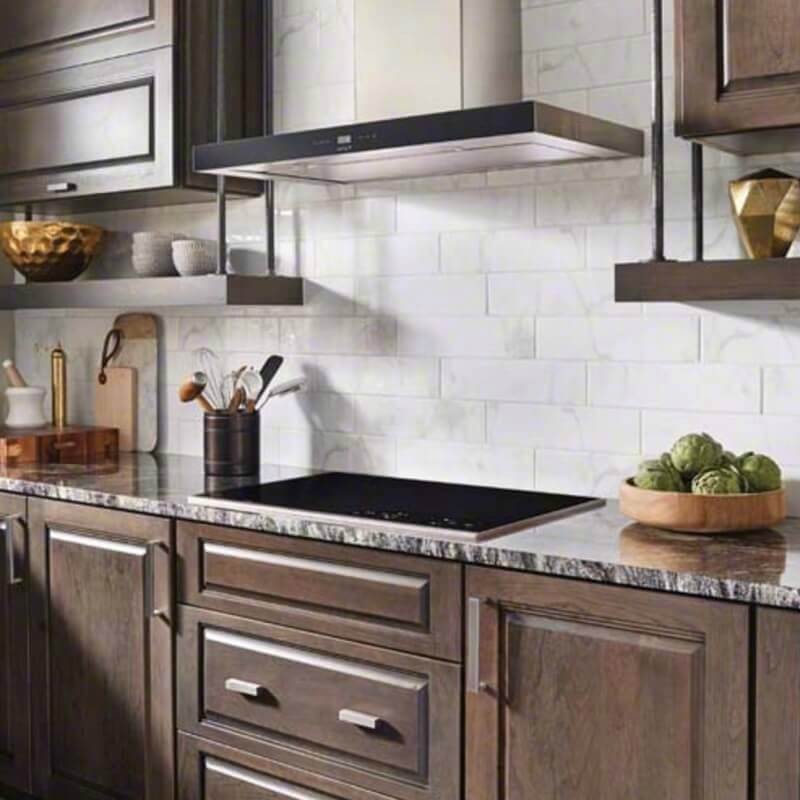 Featured: Black Forest Granite
An eased edge has a 90-degree edge that is slightly rounded. It's the most common type of edge you'll find in kitchens and bathrooms because of its clean, simple profile.
As seen with this black granite countertop, eased edges will also give your countertop the thickest look, and a look that is extremely easy to clean.
The eased edge counter on this bold Black Forest Granite complements the rest of the kitchen's sharp, rectangular edges, from the stainless steel hood range to the floating shelves and cabinet handles and pulls.
Step Half-Bullnose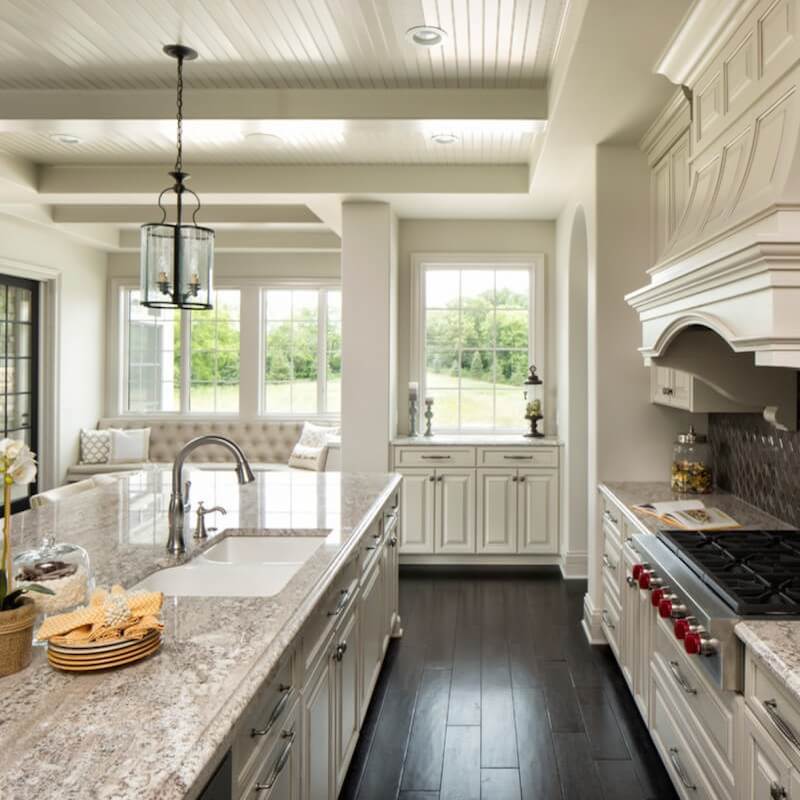 Create this look with MSI's White Supreme Granite (Photo Credit: Houzz)
A step half-bullnose edge has a small, 90-degree step at the top of the granite, and then continues with a slightly rounded edge, finishing with a flat bottom just like the half-bullnose.
With a monochromatic kitchen like this one, you want to add in texture and pattern to keep things interesting. The addition of this extra little step gives the swirled White Supreme Granite just enough detail for a more sophisticated, custom look. The edge on these white granite countertops also flows well with the traditional cabinetry.
Dupont Bullnose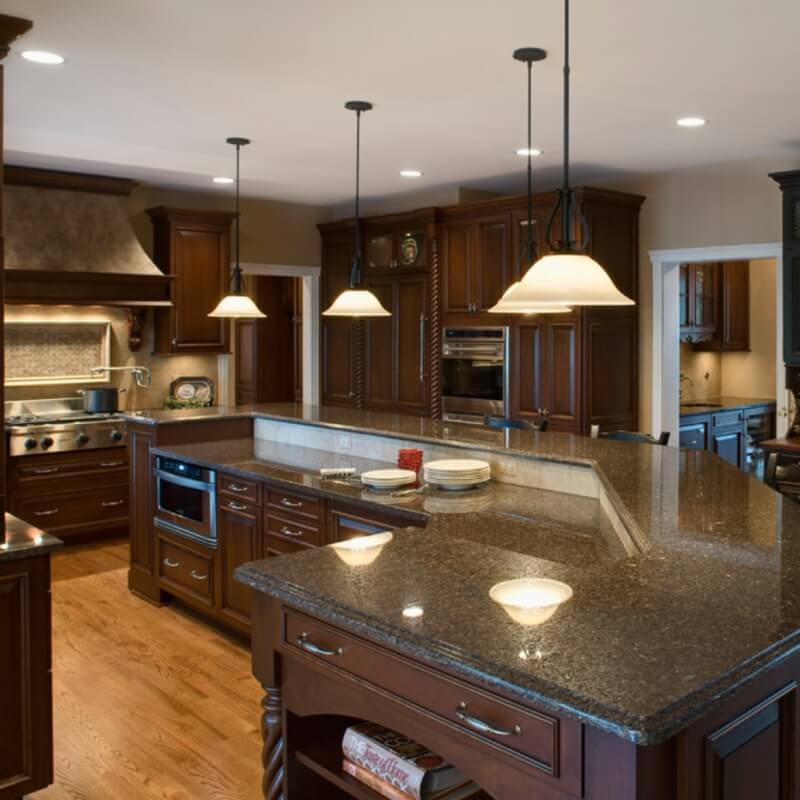 Get this looks with MSI's Imperial Coffee Granite (Photo Credit: Houzz)
A dupont bullnose edge has a small, concave edge with a deeper, dramatic curve and a flat bottom. It's one of the more intricate edges you can choose from.
This traditional kitchen includes a number of detailed features, from the ornate hood range with corbels to the picture frame backsplash and wrought-iron pendants.
Just as the cabinets are finished with turned legs, the edging on the Imperial Coffee Granite with its dark brown color and light flecks is the finishing element this kitchen needs.
It's important to make the right countertop choice, but it's just as important to select the perfect edge profile that works with your design aesthetic.
You can even try out different edge types on your favorite granite countertops with MSI's Edge Visualizer Tool. Try it out, and you'll be able to envision whether or not your dream kitchen countertop look calls for clean lines or intricate curves.
Read More about Granite Countertops
6 Granite Tile Floor Inspirations for Natural Luxury
3 Reasons Granite Countertops Are the Toughest
Before You Choose Laminate Countertops, Read This!
Beyond the Countertop: 5 Granite Countertop Installation Examples
READ MORE ABOUT GRANITE COUNTERTOPS
Which Granite Countertop Edging Is Prone to Chipping?
Why Granite Tile Is A Popular Flooring Choice
Why Interior Designers Are Coming Back to Granite Countertops