Tips From The Trade: How Tall Should Your Quartz Kitchen Island Be?
May 09, 2018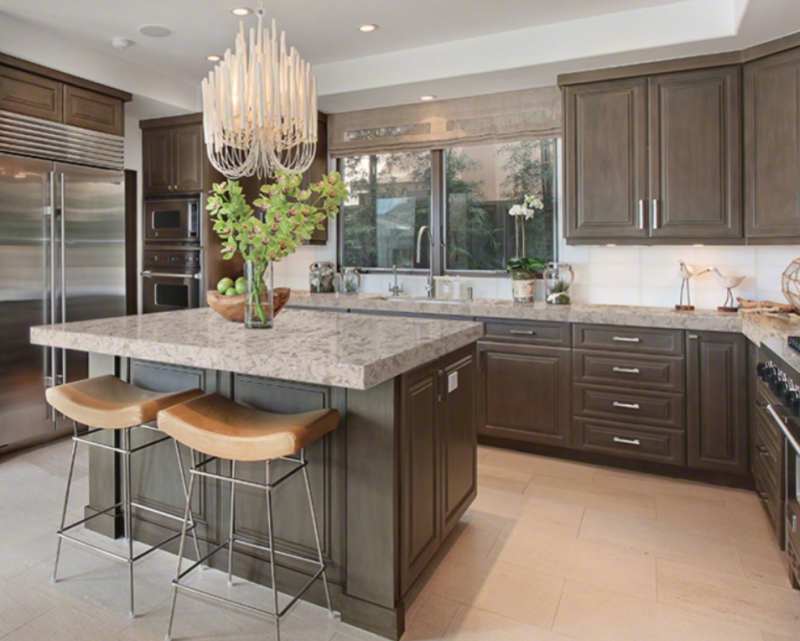 These days, kitchen islands are more than just extra countertop space—in addition to meal prep and baking, they play home to homework projects, buffets, impromptu gatherings, and midnight snacks. With so much to do, this multi-tasking surface is the perfect place for quartz, as it is durable, easy to clean, requires no maintenance, and simply beautiful.
As the centerpiece of your dream kitchen, it is imperative that you carefully think through the proportions—size, height, and shape—of your kitchen island. An island that is too small will be dwarfed by the space, while one that is too large will impede the flow of traffic. As far as height is concerned, a kitchen island is either 36 or 42 inches, depending on its intended use.
For example, a 36-inch quartz kitchen island is generally recommended for meal preparation and to use as additional counter space. Counter-height stools are comfortable for this lower island height and are available.
However, many kitchen design experts recommend a height of 42 inches—bar height—for islands that will be used primarily for seating. Be sure to check the height of stools before purchasing, especially online!
Once you know the configuration and height of your island design, it's time to choose your favorite. This is the fun part, because when it comes to quartz colors and patterns, they truly span the spectrum from minimalistic modern to character-rich traditional.
For a cohesive look, you could install the same quartz counters on both the island and the surrounding cabinetry. This creates a more unified look and feel to the space. Here, the contemporary Fossil Gray Quartz's subtle and neutral inflections sets the backdrop for contrasting cabinetry, architectural details and backsplash to shine.
One great narrow kitchen island idea is to keep quartz countertops light and bright. A more compact 3-foot deep multi-tasking island with tons of storage is perfect for a smaller kitchen. And while contrasting kitchen islands are often popular, they just aren't right for all designs. Here, a white-on-white Carrara Marmi Quartz countertop is used effectively in a waterfall installation to make this kitchen feel more expansive.
Another key factor to consider in designing the shape and size of your island is the floor space that will be remain. You want to leave a bare minimum of 3 feet of walkable space around the entire island. This also ensures that ovens, refrigerators, and dishwashers can open safely and properly.
Sometimes, this means you may have to get creative with the shape of your quartz-topped kitchen island. Remember, not everything has to be square or rectangular; a kidney-shaped or elongated tear drop crafted from Pebble Rock Quartz may be just the custom footprint and style your kitchen needs.
In some kitchens, for layout efficiency, the island may need to house a cooktop or sink. If that is the case, the durability and maintenance free qualities of quartz make it the perfect choice. Here, for example, the contemporary straight edging and waterfall of Gray Lagoon Quartz partners beautifully with contemporary flat-paneled cabinetry, lending warmth and definition to this combined kitchen and dining room.
When designing your island with a built-in cooktop, be sure to plan for a minimum island depth of 36-inches to keep spatters from hitting the floor.
To maximize the expansive look of smaller islands, bright and reflective Arctic White Quartz is a winner. The perfect cooking triangle can't happen in every kitchen, but you can still make the most of a small space with an island that adds much needed counter space, storage, and a home for a sink.
Plus, this polished top bounces the overhead and natural light, giving an otherwise dark kitchen a cheerful look.
Note: It may be tempting to place a sink or the cooktop in teh center of the island, but for more usable space for food prep and entertaining, it may be wiser to place it closer to one of the ends.
According to the National Association of Home Builders, 76% of homebuyers love the idea of having a kitchen island. Just remember, when it comes to making the island dream come to life in your home, the size of your kitchen and how the island is going to be used should be the two main determining factors for its height, width, and depth.
As for materials, a central kitchen island adorned with quartz counters can withstand whatever you throw at it, from daily homework and food prep to entertaining.
Now all there's left to do is choose from our vast selection of quartz colors…and get ready to enjoy the island lifestyle!