What To Look For When Buying Luxury Vinyl Plank Flooring
April 09, 2021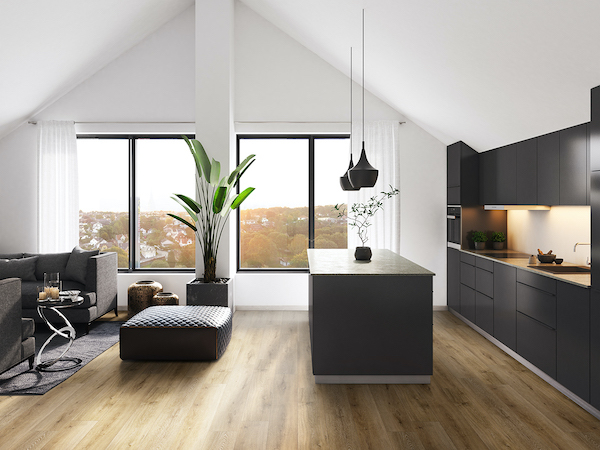 Luxury vinyl tile (LVT) is a durable, pliable, and waterproof flooring option that has become extremely popular over the last few years. This versatile flooring is available in many high-definition patterns, including wood-look and stone-look planks, thanks to advanced technology that makes them very realistic. But not all vinyl plank flooring is the same, so it's essential to have a guide to know which LVT works best for each project.
When you're shopping, there are several points to keep in mind, so you can compare the various products wisely. Although different types of LVT range in price, budget shouldn't be the only consideration in making your choice. Consider the type of area in which it will be installed and what each LVT collection has to offer, and you won't be disappointed.
Standard Vinyl Flooring vs. Luxury Vinyl Tile
Not all vinyl tile is Luxury Vinyl Tile. Vinyl tile has been around for decades; it's available in plenty of colors and it is inexpensive, but there's a big difference between LVT and ordinary vinyl flooring. LVT is characteristically more durable, because of the way it is constructed and the thickness of the wear layer. The colors and patterns are more vibrant and more realistically replicate other types of flooring, such as natural stone or wood. Some types of LVT may even have a textured surface, which makes them appear even more realistic.
Types of Applied Finish
LVT is available with different types of finish, which is a coating applied over the wear layer. The finish protects the wear layer, provides shine, and enhances the color and pattern. There are three types of finish used on LVT planks:
No-wax finishes are best for areas with a low amount of foot traffic or exposure to dirt.
Urethane finishes are appropriate for the average amount of foot traffic and activity. They are resistant to scratches and scuffs from shoes. They make vinyl flooring care and maintenance a breeze.
Enhanced urethane finishes are the highest quality available. They create a high-gloss look, which lasts longer than other types of finish. They are the best choice for areas with heavy foot traffic, including commercial spaces because they offer the most protection against scratches, stains, wear, and other types of damage.
Surface Texture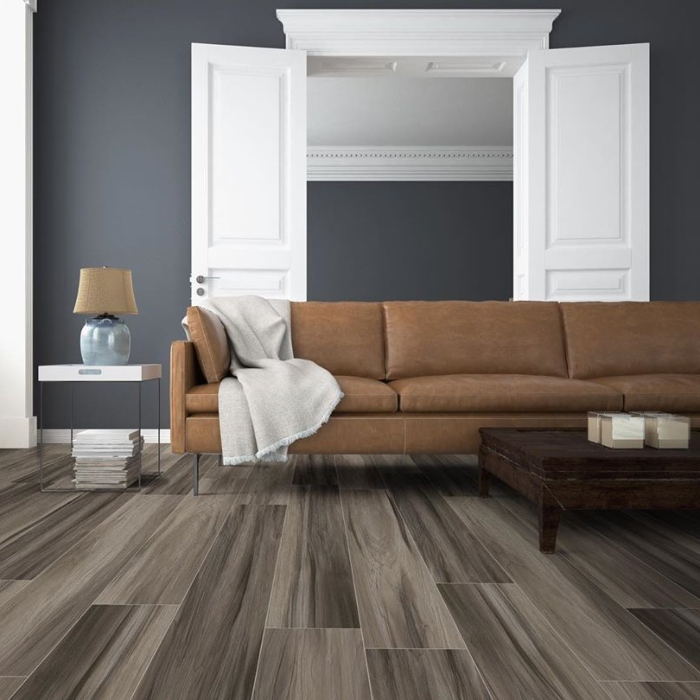 Many types of LVT have a textured surface. The texture contributes to the authenticity of the premium surface it is re-creating, such as natural stone and wood. A wood-look vinyl plank will have a wood-grain texture, which makes it look much more believable than a plain, flat surface. Textured floor tile surfaces also provide a degree of slip-resistance, which is so important in areas such as bathrooms.
Wear Layer Thickness
The wear layer thickness is important. The wear layer is the thickest of all layers that make up an LVT plank, and makes up most of its cost. Different grades of LVT have a range of wear layer thickness, ranging from 4 mil to 40 mil, which translates to 0.1 to 1 millimeter. The thicker the wear layer, the better the overall quality and the longer the flooring will last.
Pay attention to the manufacturer's recommendations for the wear layer. As a rule of thumb, 8 mil is a good choice for a residential area with moderate traffic. For commercial use, a wear layer with a minimum thickness of 20 mil is recommended.
Waterproof Flooring Solutions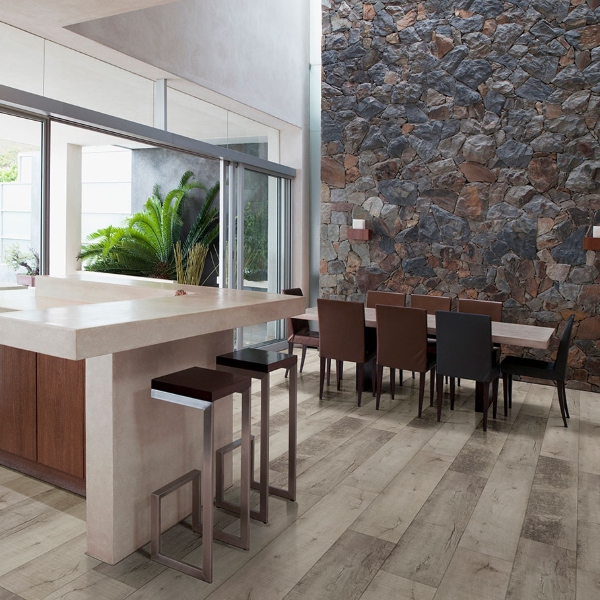 LVT is waterproof, which is one of the greatest benefits of luxury vinyl tile. Liquid won't penetrate the surface of the LVT planks and damage the flooring, although it could potentially leak between cracks. A waterproof underlayment can solve that problem. If your home tends to have trouble with excess humidity, LVT is a great flooring solution for every room in your house.
Underlayment
Underlayment is not always needed. One of the benefits of LVT is that it can be installed directly over the subfloor, since it has some type of underlayment built in. However, there are circumstances in which an underlayment is preferable. It helps to reduce room noises, can enhance LVT's waterproof quality, and reduces the "popping" sound that happens when the LVT is installed on a subfloor that is uneven or was not cleared of debris.
Glue-Down vs. Floating LVT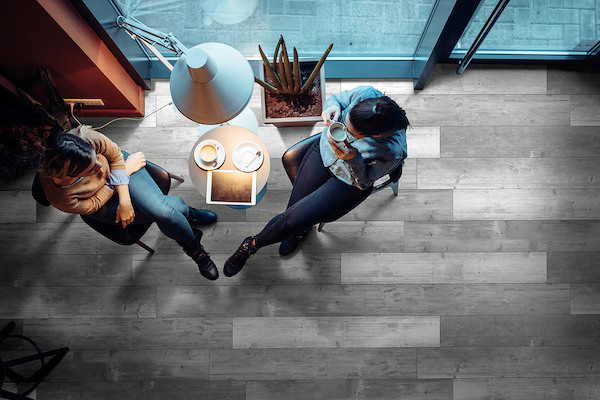 LVT is available in two types, glue-down and floating. Both types of floor have many of the same advantages — they are 100% waterproof, are available in many different colors and patterns that emulate natural stone or wood, and are easy to maintain. So, how do you decide when to use each?
Floating floor tile, or Rigid Core LVT, does not need adhesive. It uses a locking system to install, so that each piece fits into a groove on the next piece. Installing floating LVT is a good DIY project, as it snaps together quickly. Floating LVT absorbs noise better than glue-down LVT. It is also a good option for installation over subfloors that are less than perfect, because it requires little preparation of the subfloor. However, because it is not attached to the subfloor, it is prone to damage from moving furniture or high traffic.
Glue-Down LVT is attached permanently to the subfloor with an adhesive. Because of this, the subfloor needs to be perfectly level and free of debris, and installation is a more complicated process. It tends to hold up better to heavy foot traffic, which makes it the more popular choice for commercial flooring.
You can find many different sizes, shapes, textures, patterns, and colors of LVT on the market. While this may seem to present an endless array of choices, when you consider your own needs and preferences, you'll be able to narrow it down a bit. No matter what you choose, your LVT floor is going to be beautiful, durable, and easy-care for many years.
One of the reasons luxury vinyl tiles are so popular is because they can be installed in nearly any indoor space, regardless of what's already on the floors. You could get started today and be done in just a few days – and with professional, polished results. If that sounds attractive to you, read Luxury Vinyl installation best practices for optimal results.
Check out this luxury vinyl tile pricing guide to learn more about costs. And here are some options on where to purchase Luxury Vinyl Tile.
More on Vinyl Flooring
MSI's Luxury Vinyl Plank Series
What's A Wear Layer and Why This Vinyl Flooring Feature Matters Most
Breaking Down the Cost of A DIY Install of Luxury Vinyl Tile Flooring
5 Reasons to Use Luxury Vinyl Flooring