7 Bold Granite Colors That Turn Up The Heat In The Kitchen
December 30, 2017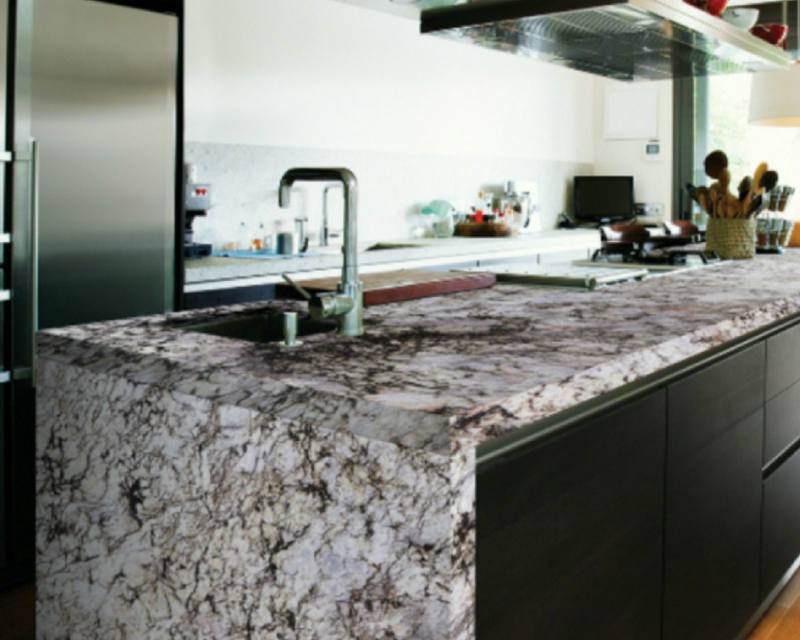 If you're the kind of person who lives life boldly, in vivid color, why not design your home the same way? These seven vibrant granite colors will help you turn up the heat in your home's most important room. We're serving up an extra helping of creativity with a side dish of charisma!
But wait… you say you're not the type to live life loud? These gorgeous granite colors might just change your mind. If you're not sure how to use color in home decor, let these room showcases give you some great ideas.
Titanium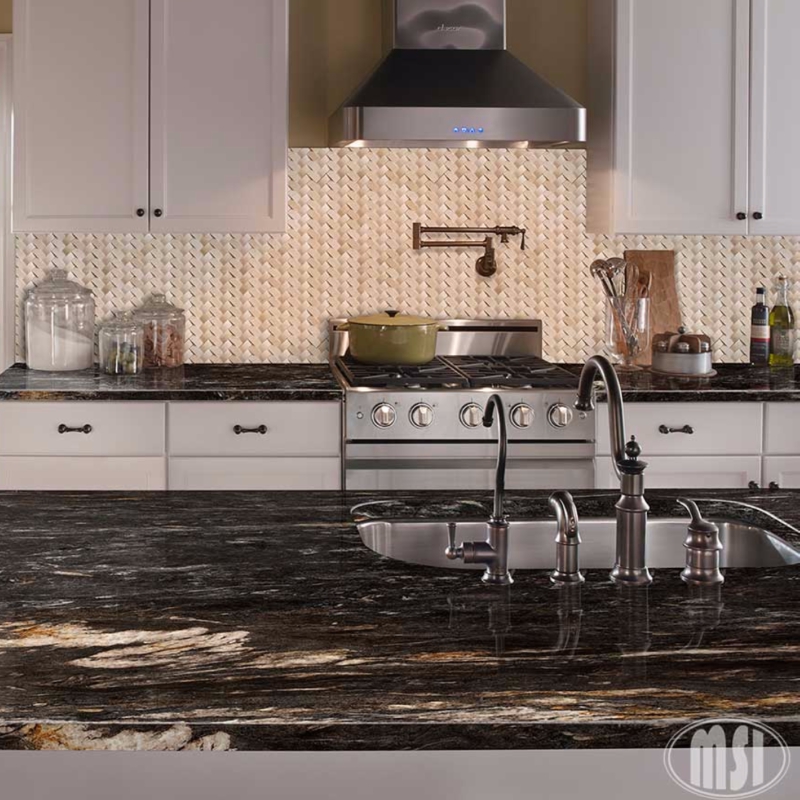 Featured: Titanium Granite
When you combine neutral shades of black, gray, cream, and gold in high-contrast, high-variation granite countertops, the result is anything but bland and subtle. Titanium Granite definitely steals the show as the room's focal point, but matches well with many other elements such as stainless steel appliances, pale cabinetry, and it even holds its own against a textured tile backsplash. Mixing patterns was never so much fun.
Blue Flower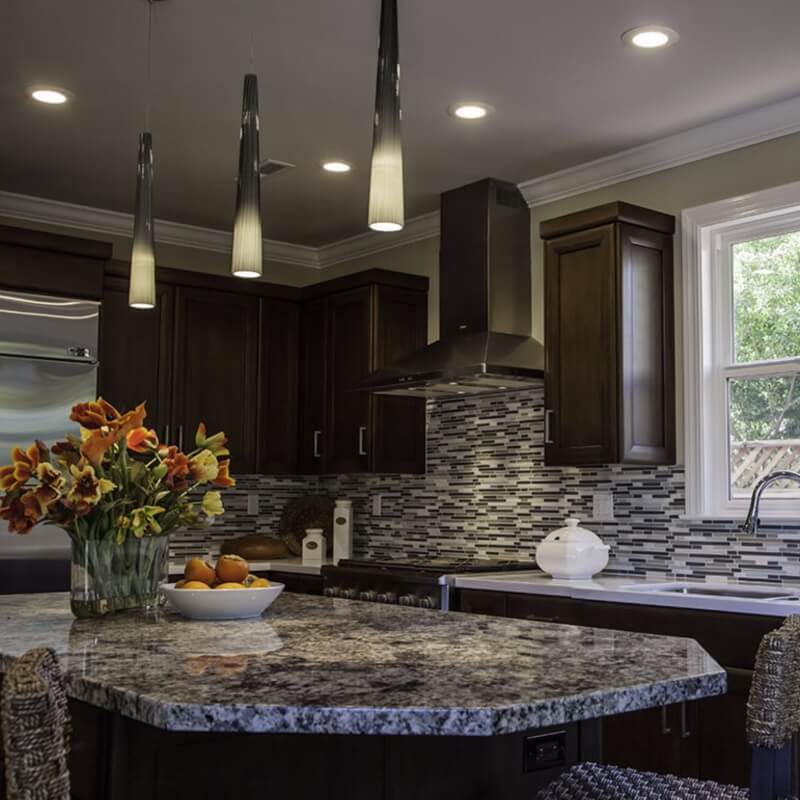 Featured: Blue Flower Granite
The kitchen counter, particularly when it covers a large, central island, is an important bit of real estate. Don't waste that opportunity for greatness — seize it, with boldly patterned granite colors such as Blue Flower Granite. Blue is an uncommon hue in the world of natural stone, even in a pleasant, swirling blue-gray blend. Despite the exotic pattern here, it's OK to pair it with other patterned elements such as a tile mosaic.
Black Forest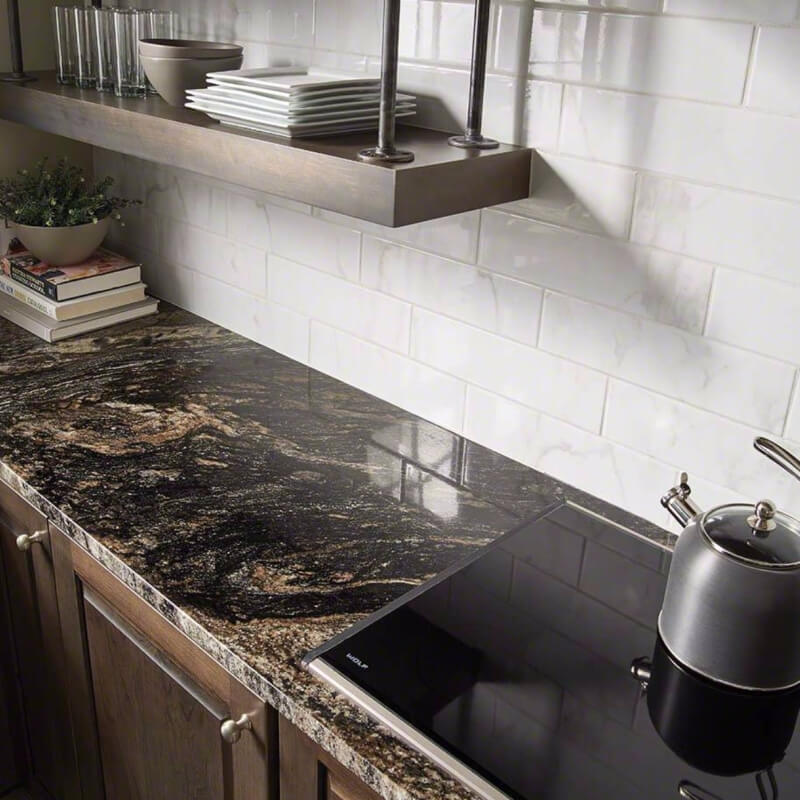 Featured: Black Forest Granite
When you love the idea of a dramatic countertop pattern but aren't ready to put it front and center, you can still use it to make the most of a narrow side countertop. Black Forest Granite combines jet black granite with swirls of gray and snowy white, a classic combo that flatters just about any style of decor. Its reflective polished surface adds to its elegant charm.
Antico Cream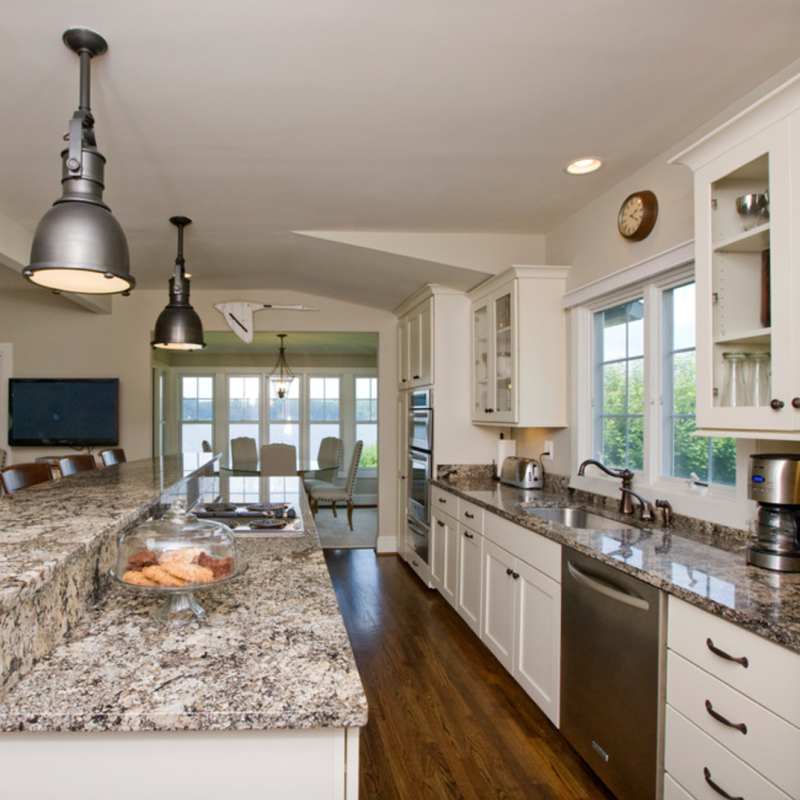 Recreate this look with MSI's Antico Cream Granite (Photo Credit: Houzz)
Bright, beautiful Antico Cream Granite features a chunky blend of cocoa and white with sparkling gold accents. The result is mostly light in color, making it an ideal choice for larger installations such as this central island/breakfast bar that dominates the room. With such an easygoing combination of granite colors, you can't go wrong when selecting complementary furnishings.
Cygnus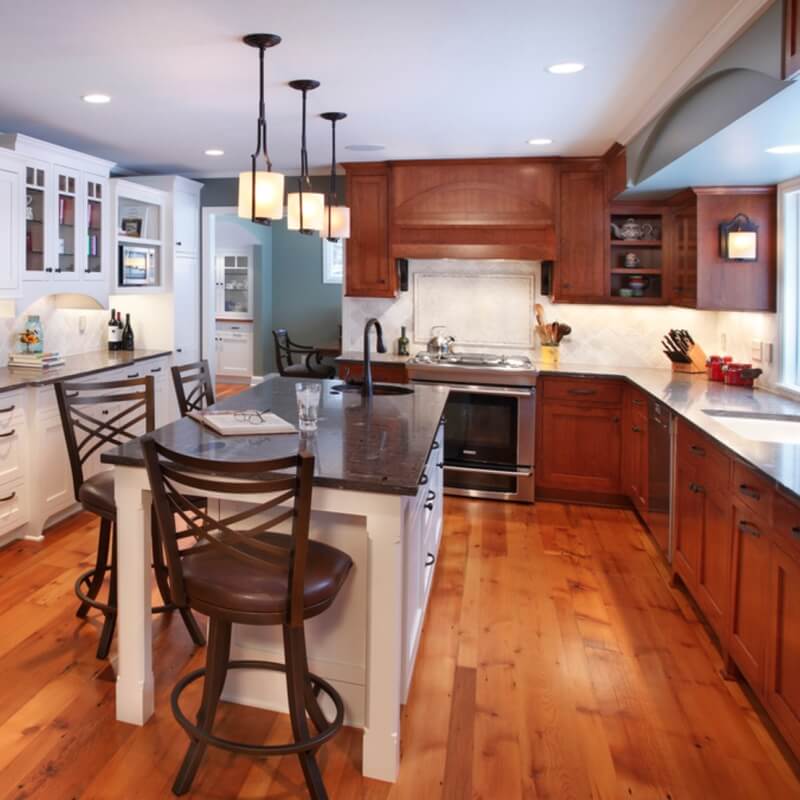 Create this look with MSI's Cygnus Granite (Photo Credit: Houzz)
When choosing a bold granite countertop, there's no reason you have to use it for the entire room. As shown here, Cygnus Granite creates an eye-catching center island, also serving as a cozy gathering space for snacking or socializing. The side countertops are a lighter, more subtle material. Don't think of it as a compromise — think of it as an expertly calculated balance.
Blue Bahia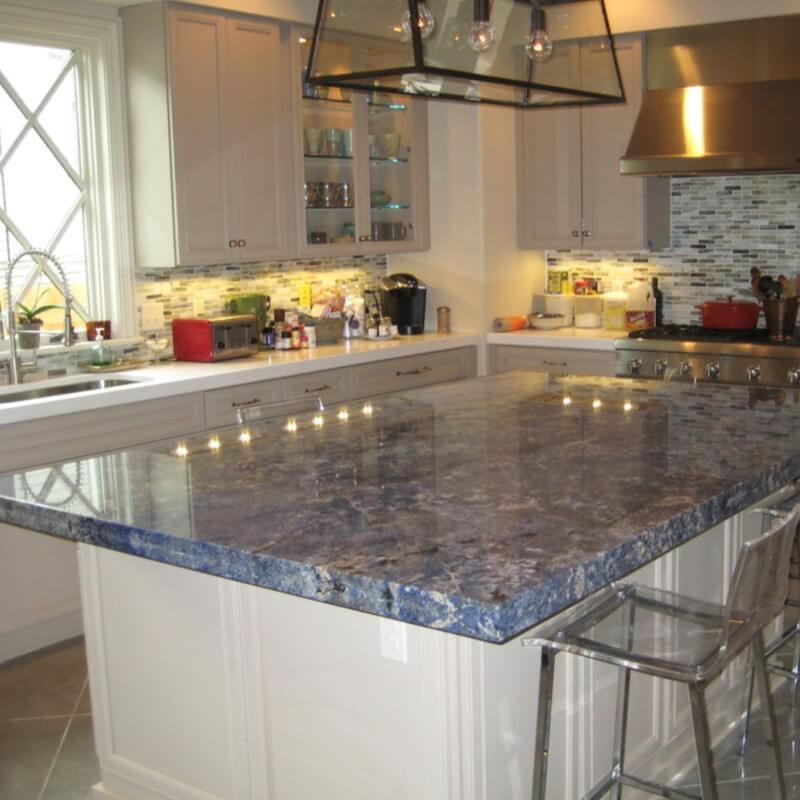 Recreate this look with MSI's Blue Bahia Granite (Photo Credit: Houzz)
Blue Bahia Granite has a relatively subtle pattern, with swirls of gray and white. It's the bright, true blue coloration that steals the show! Natural, blue granite colors are incredibly exotic, and this countertop will draw jaw-dropping attention to anyone you welcome into your kitchen space. Although it's not neutral, blue is a popular favorite shade, so it's sure to please.
Golden Lightning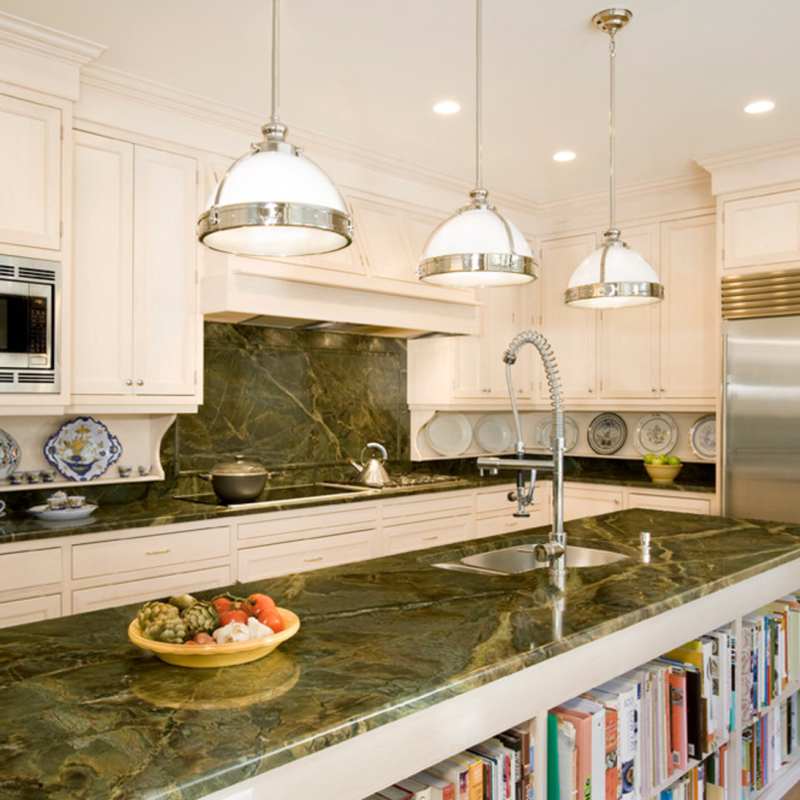 Get this look with MSI's Golden Lightning Granite (Photo Credit: Houzz)
You can't get much bolder than Golden Lightning Granite. Seriously, forget about what you thought you knew about natural stone. Walk away from the soothing, indifferent hues of pale gray. If excitement is what you crave, we offer polished shades of pine- and olive-green shot through with streaks of gold. It looks amazing in an otherwise all-white kitchen.
At MSI we believe there's a time and a space for pale neutrals, solid colors, and subtle patterns — but there's nothing like bold, bright granite slabs to wake up a room and make a statement. Decorate with confidence, and make your kitchen the true expression of your personality and your family's lifestyle. Be sure to browse our website to compare granite cost with other surface options, as well as to see our many other lovely granite countertop choices.
READ MORE ABOUT GRANITE COUNTERTOPS
5 Knockout Granite Countertop Kitchens
5 Of Our Favorite Granite Colors For White Cabinets
5 Popular Granite Countertop Edge Profiles
5 Standout Kitchen Designs with Black Granite Countertops