Create A Work Of Art With Natural Granite Slabs
March 13, 2022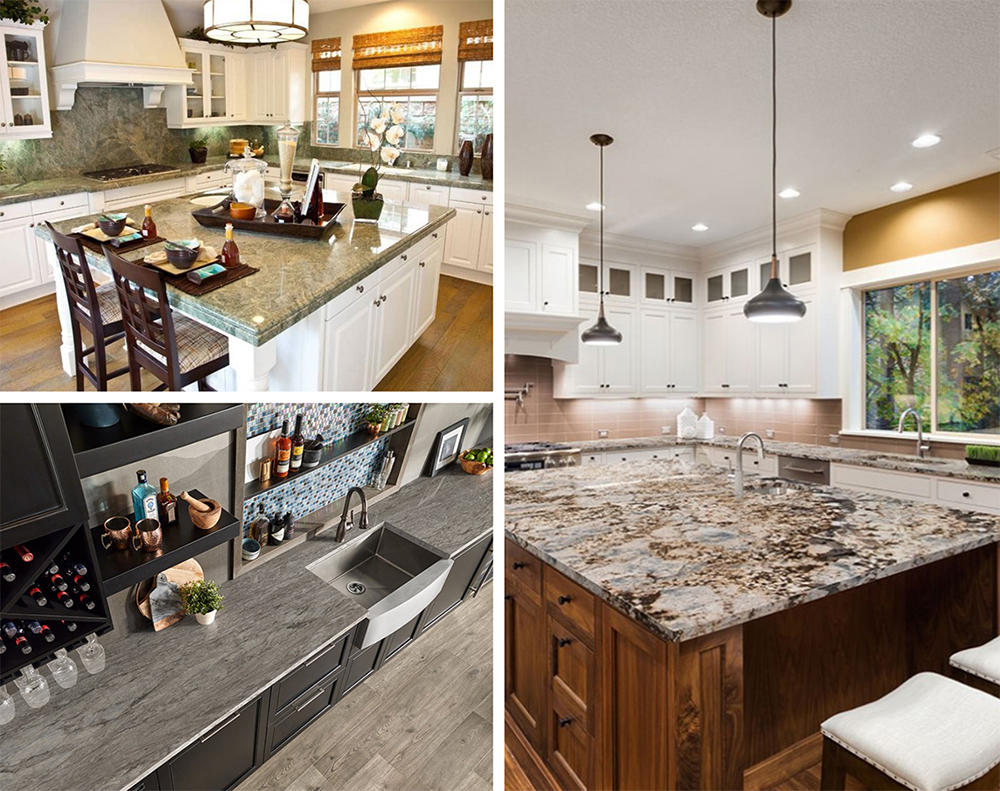 Are you preparing to transform the heart of your home? Whether you're making over an existing space or building from the ground up, the right countertops can make all the difference in your kitchen. While you have plenty of options, few can top the artistic natural beauty of granite slabs.
Granite countertops instantly transform the look of any space, adding movement, dimension, and visual interest. They're a go-to option for design-focused homeowners, and they come in more styles than you may realize. Today, we're taking a closer look at the distinguishing features that make this material so versatile and valuable.
What Are Granite Countertops?
Granite is a natural stone that forms from molten lava below the Earth's surface. The lava slowly cools, crystalizes, and solidifies underground in magma chambers called plutons. This process creates igneous rocks containing spectacular crystals in a variety of colors.
This gives each slab its own unique characteristics, and it's the reason why no two are exactly alike! Once granite is mined from a quarry, it's taken to a factory. There, it's cut into slabs and polished to bring out all of its special qualities.
Once you choose the slab that you love, a fabricator can cut it into the exact size you need. You can also adjust the texture of the granite depending on your preference, as well as the edge treatment.
The Artistic Beauty of Granite Slabs
When it comes to counters for kitchens, it's easy to get overwhelmed by the different selections at your fingertips. You naturally want a material that feels warm and inviting, but it also needs to be durable enough to hold up against daily wear and tear.
This is where granite shines.
This surface beautifully resists stains, scratches, and heat. It's also one of the hardest materials on Earth, so you don't have to worry about using it too heavily. Rather, you can feel comfortable and confident putting your kitchen to the test.
Plus, it's more affordable than you might think. When comparing the cost of granite vs. quartz, you'll find that these two high-end countertop materials are very comparable in terms of price. This is especially true of neutral-colored granite slabs, which will usually cost less than more exotic designs.
The best part? Granite doesn't just wear well and meet the right price point. It's also visually dynamic and each slab is truly a work of art.
Granite slabs are available in a wide array of colors and patterns, and each is just as exquisite as the next. As a homeowner, that means that you can take full creative control and find one that meets your exact aesthetic and personal style. Let's take a look at some of the different styles and granite colors to consider.
Never-Boring Neutrals
Neutral living spaces continue to be a sought-after trend in interior design. They're airy, open, and full of light. Yet, that doesn't mean they have to be devoid of personality or character. Granite countertops add depth and fluidity to any room, and allow you to incorporate a small dose of color where appropriate.
If you prefer to stick with ever-popular white and gray hues, then check out our Stream White Granite. Quarried in India, this granite features small, wine-colored speckles and flowing gray veins, all set against a warm white backdrop. There's a significant amount of variation in the patterns, which makes this a particularly interesting and artistic piece.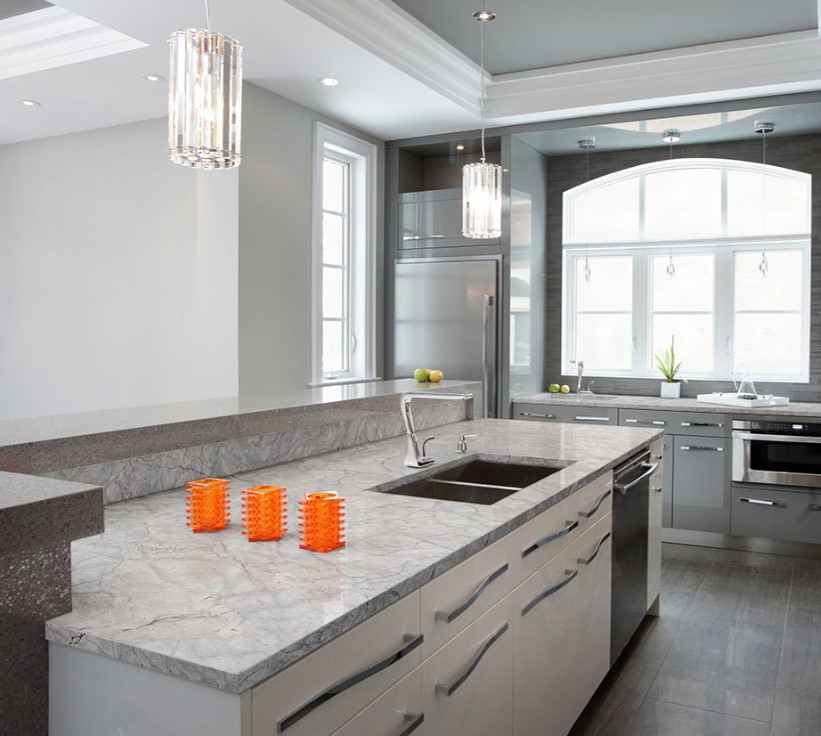 Our Azul Celeste Granite is similar in tone, but slightly darker and denser. It features varying shades of gray, silver, charcoal, and even dusty blue, all combined into gorgeous swirls.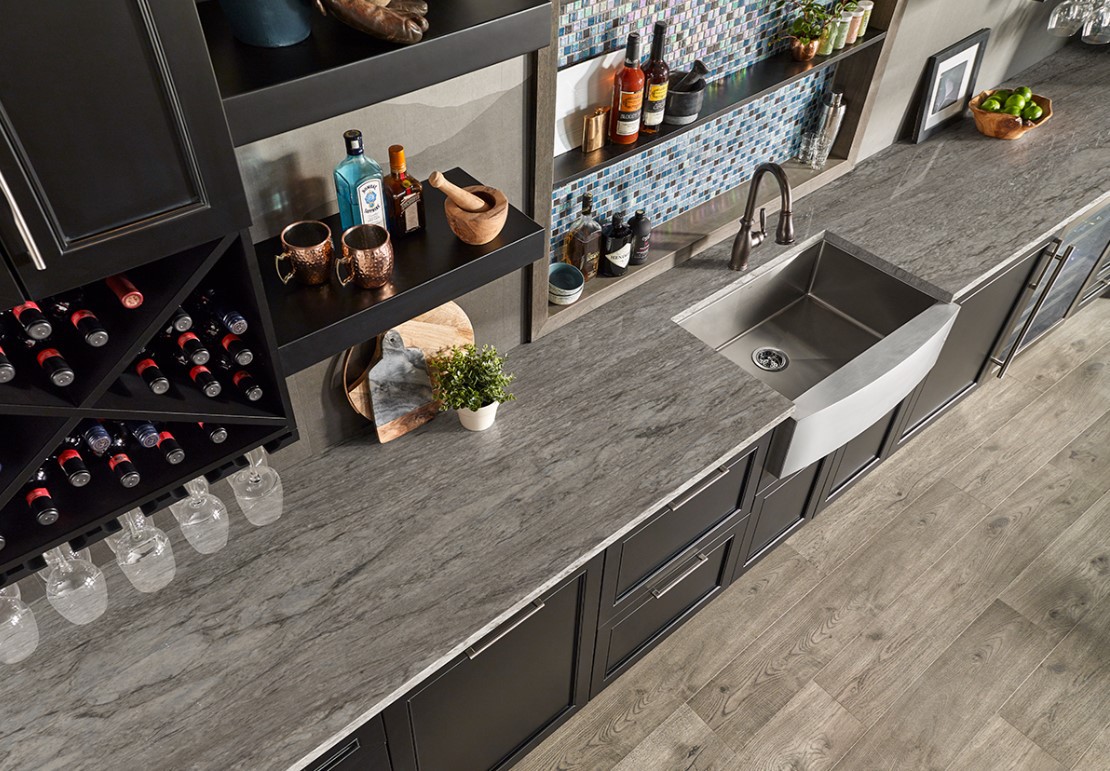 Looking for a gray-and-white pattern with plenty of unforgettable movement? If so, then don't miss our Silver Cloud Granite.
The veins on this slab could easily take the place of artwork in your kitchen. While the backdrop showcases different shades of white, ivory, and alabaster, the swirls are the real stars of the show. They're pronounced and finely-grained, flowing effortlessly across the surface.
Grounding Earth Tones
Earth tones are rich, warm, and timeless. When you incorporate them into your countertops, you can help the room feel open and welcoming. Our Antico Silver Granite is a prime example.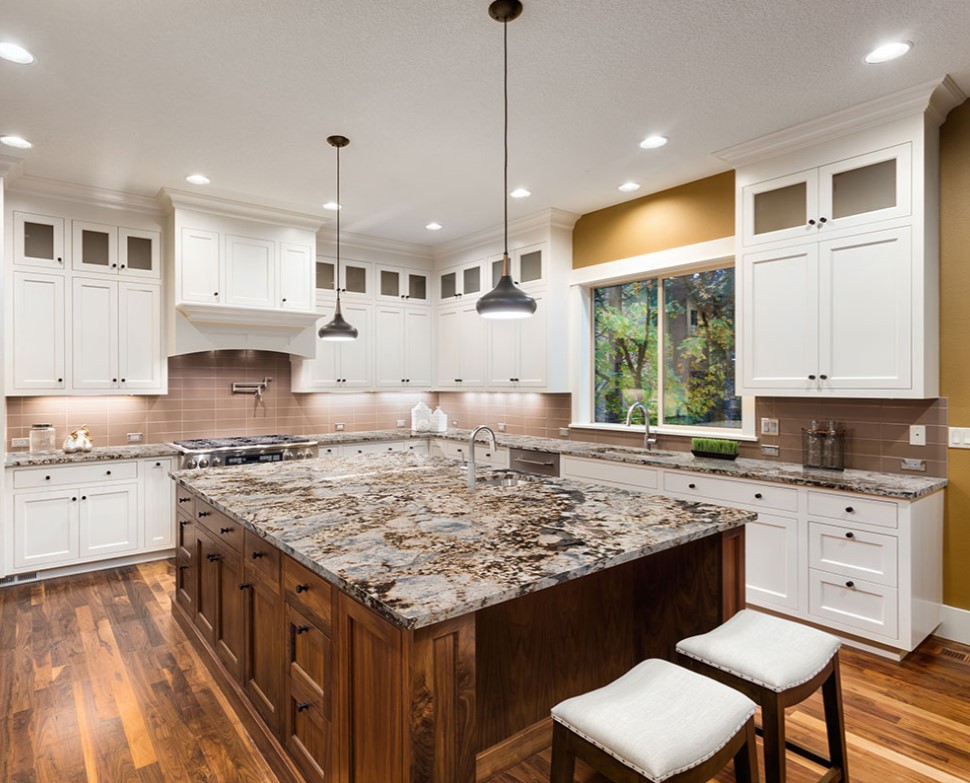 The rich chocolate brown, soft blue, and amber hues flow brilliantly into one another, creating a mesmerizing pattern that will attract people to your kitchen time and again.
Quarried in Brazil, our Andino White Granite is another beautiful option that combines a cool gray and white backdrop with earthy beige and charcoal. The linear pattern is streamlined without being too swirly, generating the ideal amount of movement in your kitchen.
Soothing Blues and Greens
Sometimes, the kitchen can be a pretty chaotic place! Between the cooking, cleaning, and eating, there's plenty of activity going on all of the time. That's why some homeowners are choosing to decorate this room in soothing cool tones.
Soft shades of blue and green are inherently peaceful and tranquil, and granite countertops in these hues are especially beautiful. Take our Costa Esmeralda Granite, for instance. This granite comes from Italy and its light olive color is offset perfectly by the warmth of the tan and white veining.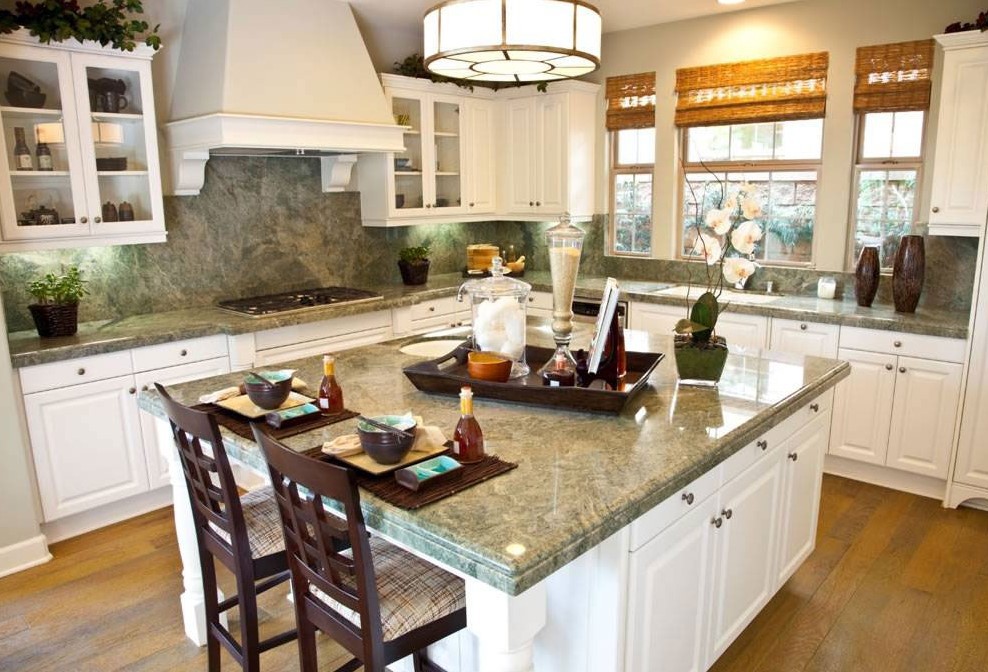 If you're leaning more toward blue tones, then you can't miss our Blue Flower Granite. Featuring both light and dark veins, it seamlessly transitions from light cerulean to deep, moody navy in a symphony of swirls that will turn any island into a real paradise.
Browse Our Full Selection of Granite Slabs
Are you ready to transform your home, starting in the kitchen? Granite countertops are an excellent choice, heralded as much for their artistic appeal as their strength and durability.
When you're ready to get started, feel free to browse our full collection of granite slabs online. If you have any questions or need help picking out the perfect one, contact our team today!
LEARN MORE ABOUT GRANITE COUNTERTOPS
Everything You Need to Know When Considering Granite Countertops
Best Granite Colors for Bathroom Countertops
Use Our Countertop Quiz to Find the Perfect Granite Counter and More!
3 Things You Should Know About Granite Countertops