Popular
Renzo Jadewalk With Us: Enchanted Forest Trend
March 10, 2021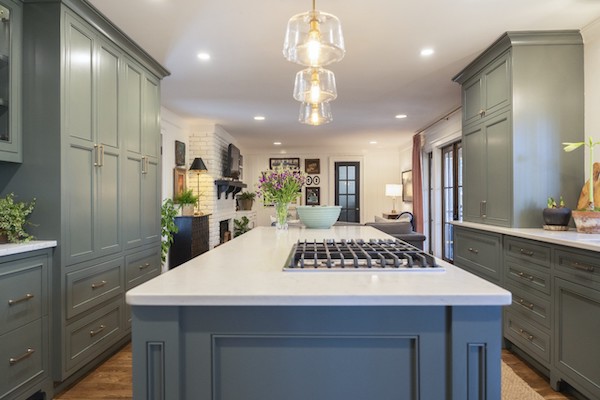 Enchanted Forest, one of this year's Top 5 Hard Surface Design Trends, is the aesthetic equivalent of a walk in the woods. Immersing ourselves with nature's restorative benefits feels good right now. While inviting the outdoors in is nothing new, the look's dramatic elements mix with modern nuance in a love affair with color and mood. The result is refreshingly inspired spaces that are layered with sophistication.
Looks and feels aside, the true north in the Enchanted Forest playbook is versatility. Whether you're planning a reboot of your suburban home or reinventing a city apartment you purchased on impulse, we're diving into this trend so you can bring it home and make it personal.
Playbook Elements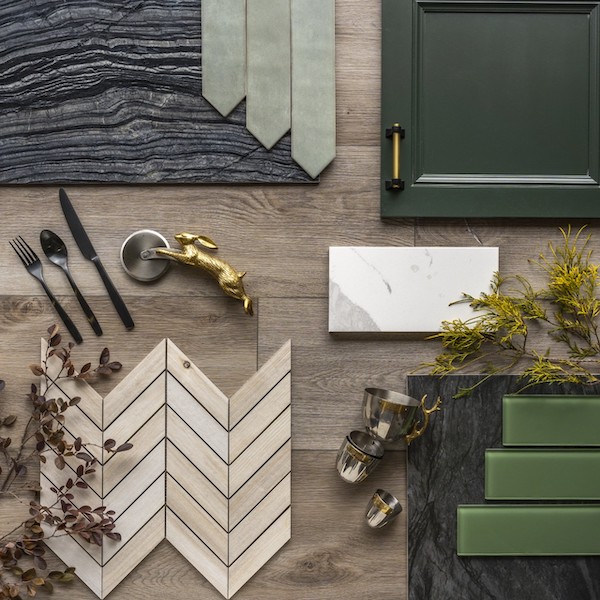 Our design team's trend board shows off how well these materials interplay.
1. Calming to the eye, the palette is organic and flush with greens that enliven and soothe. Moss and emerald brighten up cabinets, walls, and backsplashes the same way they bring life to the forest floor. Known for their tonic-like effect, expect to see more of these earthy pigments in 2021.
2. Dark & moody shades like dark charcoal and black lend character and sophistication to quartz countertops –– a striking contrast against the trend's lighter wood tones and just as lovely next to green. Wallflower veins step aside this year; countertops are daring.
3. Blonde and ash wood tones on floors, furniture, shelves, and rustic beams add a fresh yet natural look.
4. Whether it's a big leafy palm or a tiny succulent, this playbook is full of plant life. Botanists say plants help us acclimate during challenging times. Aesthetically, greenery lends the perfect rush of color against wood looks.
5. From pendants over the island to faucets and hardware, brushed brass accents maintain a warm color story.
6. Organic accents like sisal rugs, woven baskets, and rarified woods accessories (driftwood) dial up the outdoorsy side of Enchanted Forest interiors.
Land the Look: One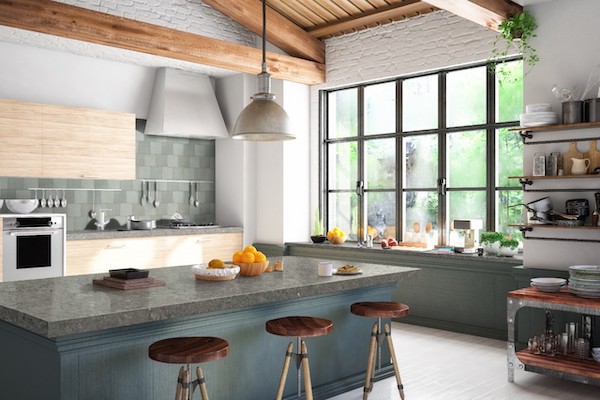 Earthy greens and wood tones meet with clean lines and industrial elements to make this kitchen one-of-a-kind.
Renzo Jade backsplash.
A million miles from cookie-cutter, everything in this room is easy on the eyes. The abundant light from the oversized window reveals warm pigments. Mid-tone wood beams and accents mix with pale wood cabinets and floors. Switching up the island cabinet color adds another layer of interest. Not sure if you're nailing this trend? Ask yourself, "would each element blend in outdoors?"
Achieve the look with our favorite surface choices.
Floors: Everlife Akadia Luxury Vinyl Tile, Cyrus Sandino, Cyrus Whitfield Gray, Caldera Grigia.
Backsplash: Renzo Jade, Laurel Picket, Carbonita Subway.
Countertops: Agatha Black, Black Forest, Cirrus Gray.
Walls: White, Ivory, and Taupe Brickstone.
Land the Look: Two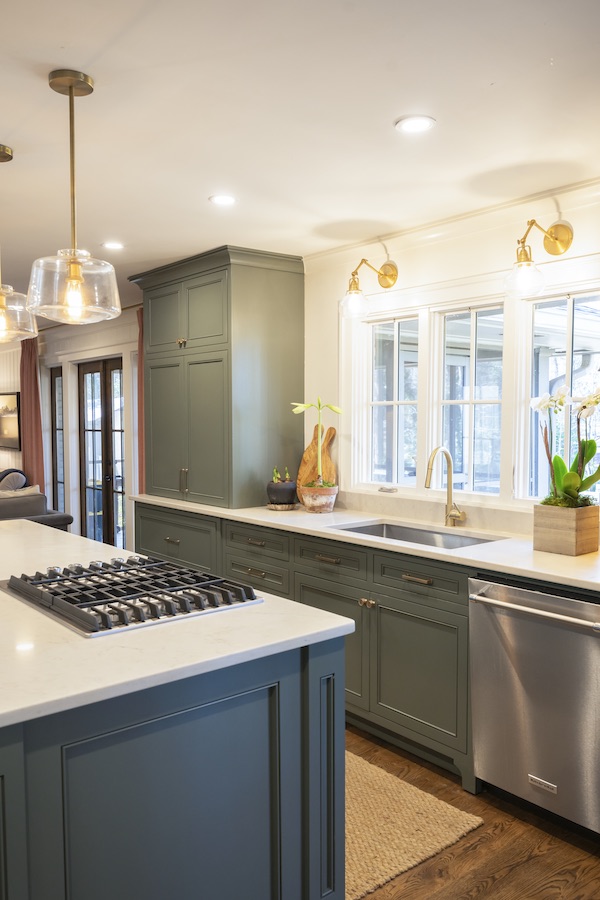 Carrara Marmi Q Premium Natural Quartz, Sherwin Williams Pewter Green cabinet paint,
and brush brass hardware set the tone for this dream space.
Whether it's prepping dinner with the kids or staying connected on Zoom, everything revolves around the kitchen these days. It's always been the heartbeat and sustenance of family life. But with all the extra time we're gathering there, the room must work for today's lifestyle.
Despite the uncertainties we're facing collectively, homeowners are finding comfort and inspiration in nature-inspired designs –– like the Atlanta-based family who just finished renovating this beautiful new kitchen. The good news? Whatever is going on in the world, on-trend updates add value to your home.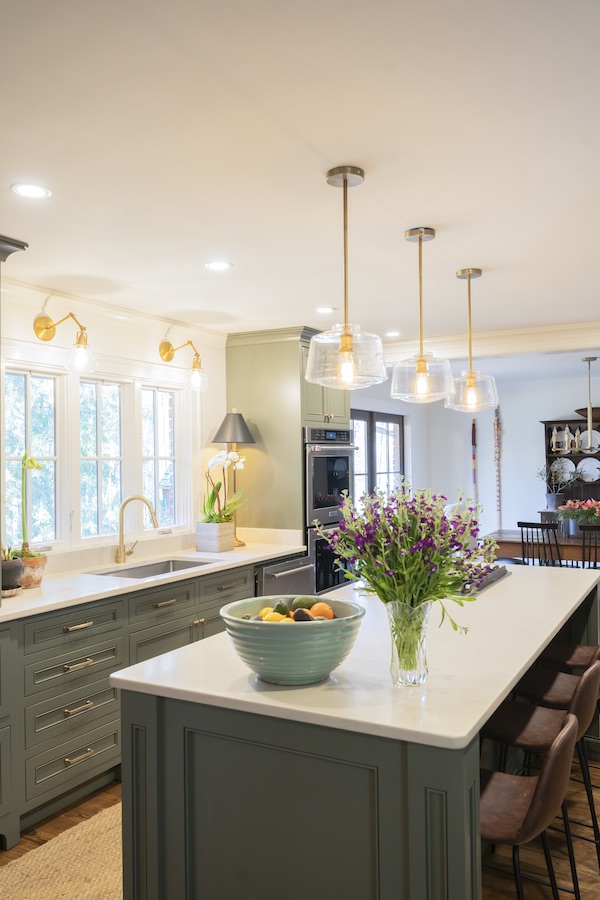 It's safe to say there will meal prep and dishwashing in your future. You may as well do it in
a kitchen that looks like a movie set.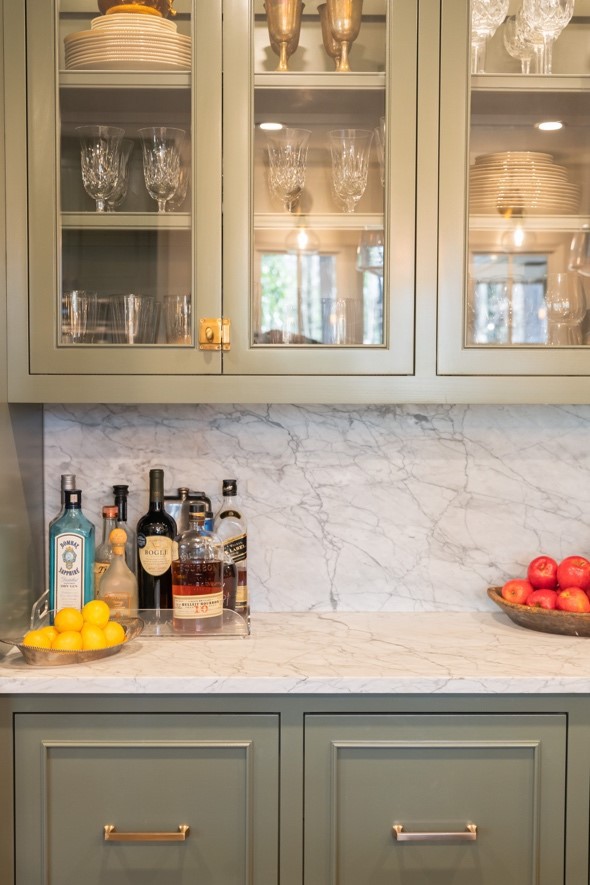 If ever there was a time to have a bar area. This one is all the more lovely with
Carrara White Marble counters/backsplash.
Achieve the look with our favorite surface choices.
Cabinet Paint Color: Sherwin Williams Pewter Green or Benjamin Moore Galapagos Green.
Counters/Backsplash: Carrara Marmi Q Premium Natural Quartz, Carrara White Marble, or Calacatta Leon Quartz.
Floors: Highcliffe Greige Luxury Vinyl Tile (Andover, Everlife), Palmetto Cognac Porcelain Tile, or Cranton LVT (Cyrus Everlife).
Land the Look: Three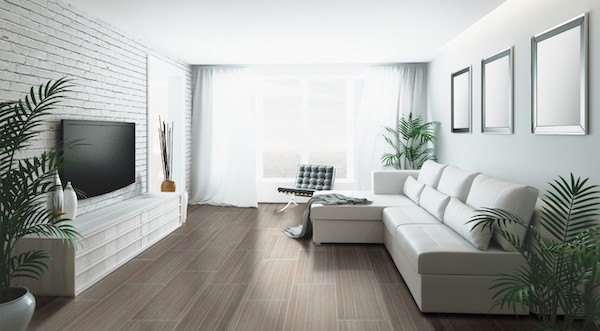 This calm, cool, and collected living space is on the lighter side of the color story.
Trends are always up for interpretation – especially in interior design. Mix old with new pieces. Layer in high and low furnishings on the budget scale. And so on. In other words, choose elements you love and forget the rest. Here, a black leather chair and plants provide dimension and contrast. The wood-look floor anchors the otherwise ethereal room, acting as a bridge between all the color extremes. Notice how the earth-toned porcelain planks give your eyes a soft focus.
Achieve the look with our favorite surface choices.
Floors: Aspenwood Café porcelain wood look tile, York Gray LVT, Saddle Porcelain tile (Braxton Collection).
Walls: White, Ivory, and Taupe Brickstone or Copen Snow.
Land the Look: Four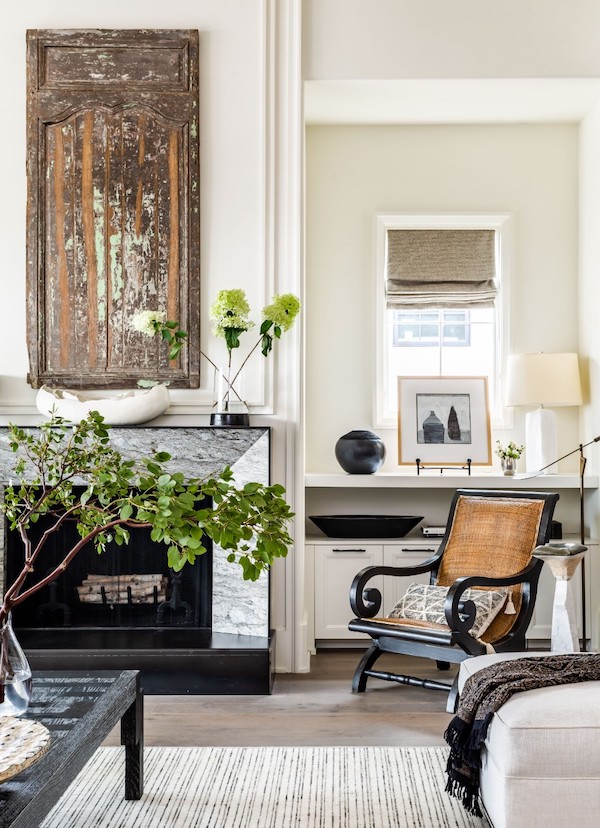 Atlanta's Serenbe Designer Showhouse living room (2020) features a Cirrus Gray Quartzite fireplace surround.
Soaring ceilings (14', to be exact), splashes of vibrant color, gorgeous wood beams, and organic elements mingled in; there's nothing we don't love about this Showhouse living room. Dramatic veins in the quartzite fireplace draw the eye, lending an ultra-sophisticated edge to the room's focal point. Designer Lorraine Enwright created an industrial moment by adding a steel frame around the stone. The message here? Every element matters. To have a truly unique space, tap your inner genius and interrupt the status quo. Fortune favors the bold.
Achieve the look with our favorite surface choices.
Fireplace Surround: Azul Celeste Granite, Anthracite from our Durban collection, Azul Imperiale Quartzite, or Eclipse Granite.
Floors: Salvage Honey Porcelain Tile, XL Cyrus Finely, or XL Cyrus Whitfield Gray.
The Picture of Practicality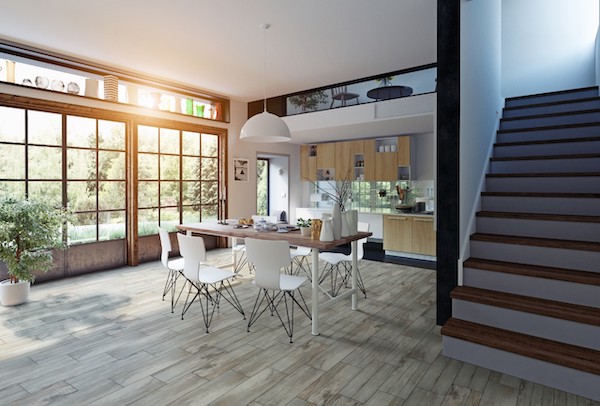 High-end looks, low-maintenance vibes, 2021 is looking better every day: porcelain tile wood look floors.
If the last year has taught us anything, it's that tools and products that help simplify family life are like gold bars right now. In the wipe-it-down-and-go category of Enchanted Forest, we put our favorites at your fingertips: wood look porcelain & luxury vinyl tile, and stone-inspired quartz counters, to name a few. In Reinventing the Nest, another one of our Top 5 Design Trends, we take a closer look at how the pandemic is shaping design in 2021.