5 Hotel Bathroom Countertop Design Ideas That Your Guests (And Housekeeping Staff) Will Love
November 28, 2022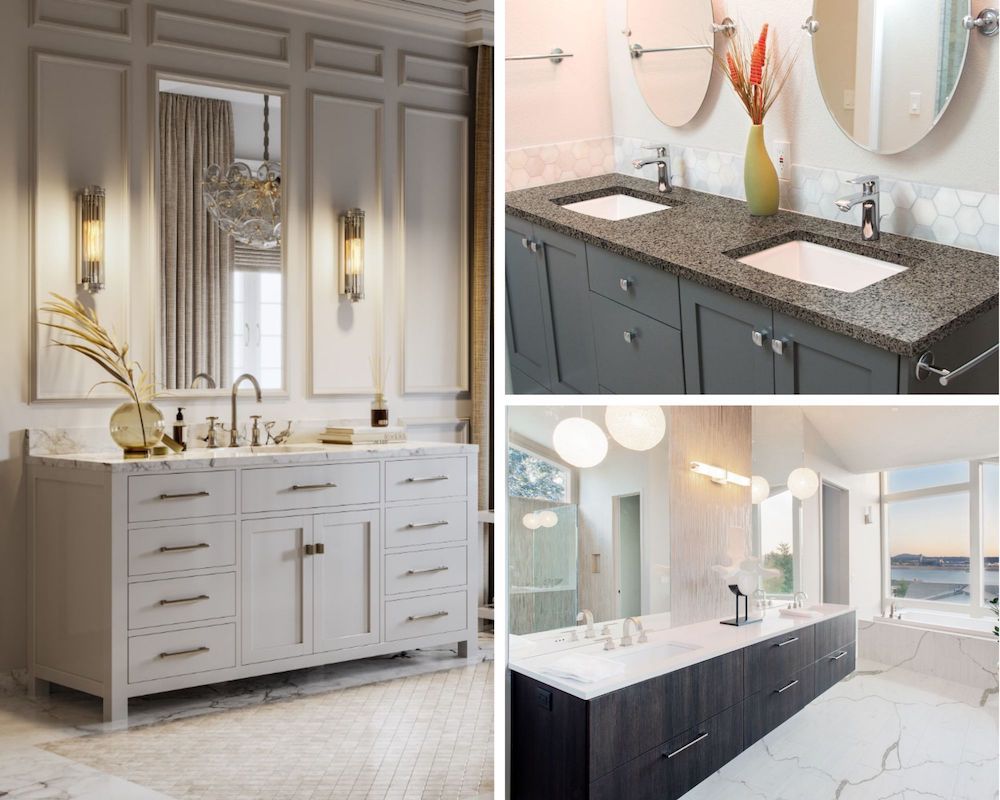 Whether your hotel is budget-minded and targeted to business travelers or an upscale resort, a bathroom that's easy to maintain will please your guests – and your housekeeping staff, too. That's especially true today when everyone is obsessed with cleanliness and safety. But there's no need to sacrifice beauty and style just for the sake of hygiene. So if it's time to upgrade your hotel bathroom countertops, we have the perfect two surface choices: quartz and granite.
Granite countertops have long been a favorite in upscale homes and are universally associated with the look and feel of luxury. These will do the trick if impressing your guests is paramount to your hotel's mission.
Quartz countertops are also taking the industry by storm because of their durability, ease of care, and beauty. But, of course, those qualities shine in hotel suites as well. Quartz offers the look of expensive, high-maintenance surfaces such as marble with far less work and worry.
So, which one is right for your hotel? Let's explore five examples that should inspire and inform your decision.
AFRICAN RAINBOW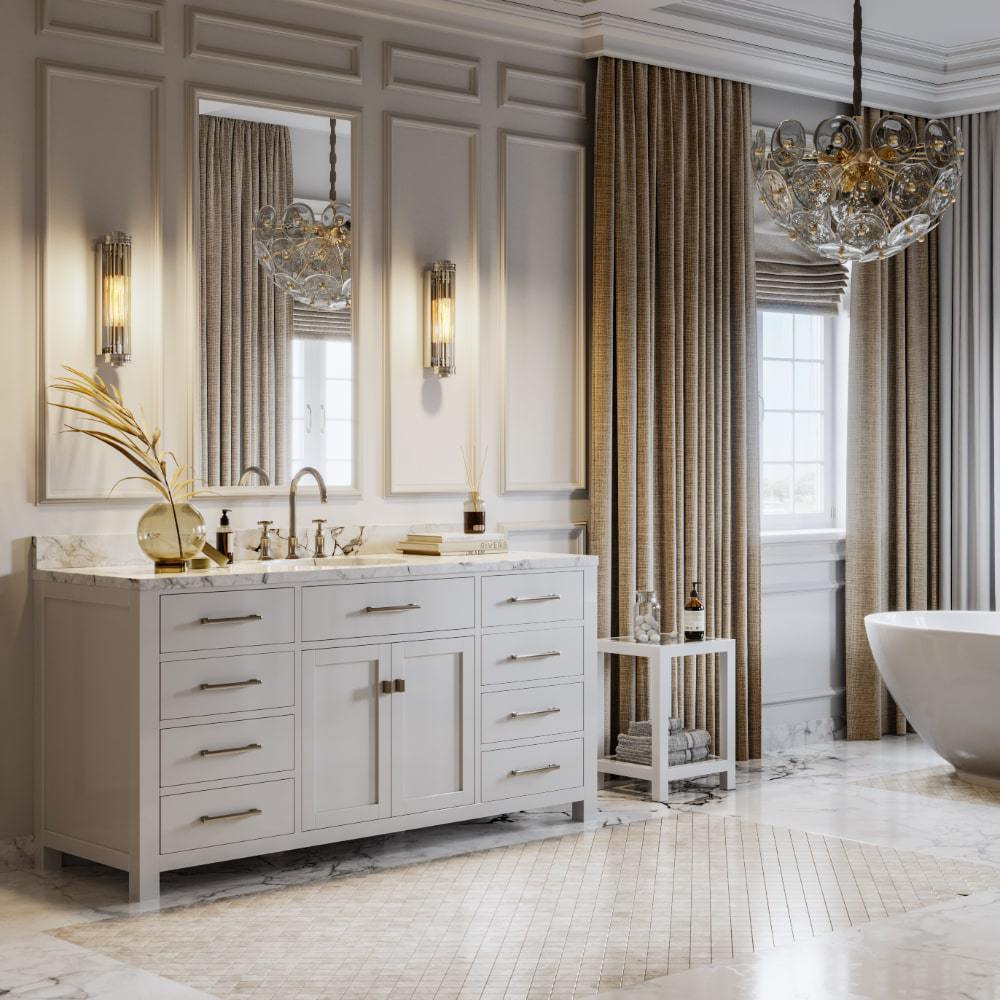 A light, airy, mostly white color scheme in a hotel screams opulence. It shows your guests that they're worth the extra effort of maintaining premium décor and the additional investment in top-quality surfaces. But don't worry – it's granite. When properly cared for, granite countertops can withstand heavy wear and tear without losing their classic beauty.
Like any natural stone, granite countertops must be regularly sealed to maximize their water-resistant quality. This protects the surface from water damage and prevents stains, scratches, chips, etching, and other types of damage from even the most careless hotel guests. But, is that possible, even with a light-colored surface like African Rainbow, which features shades of ivory accented by darker blue-gray and beige veining? Absolutely.
BOHEMIAN GRAY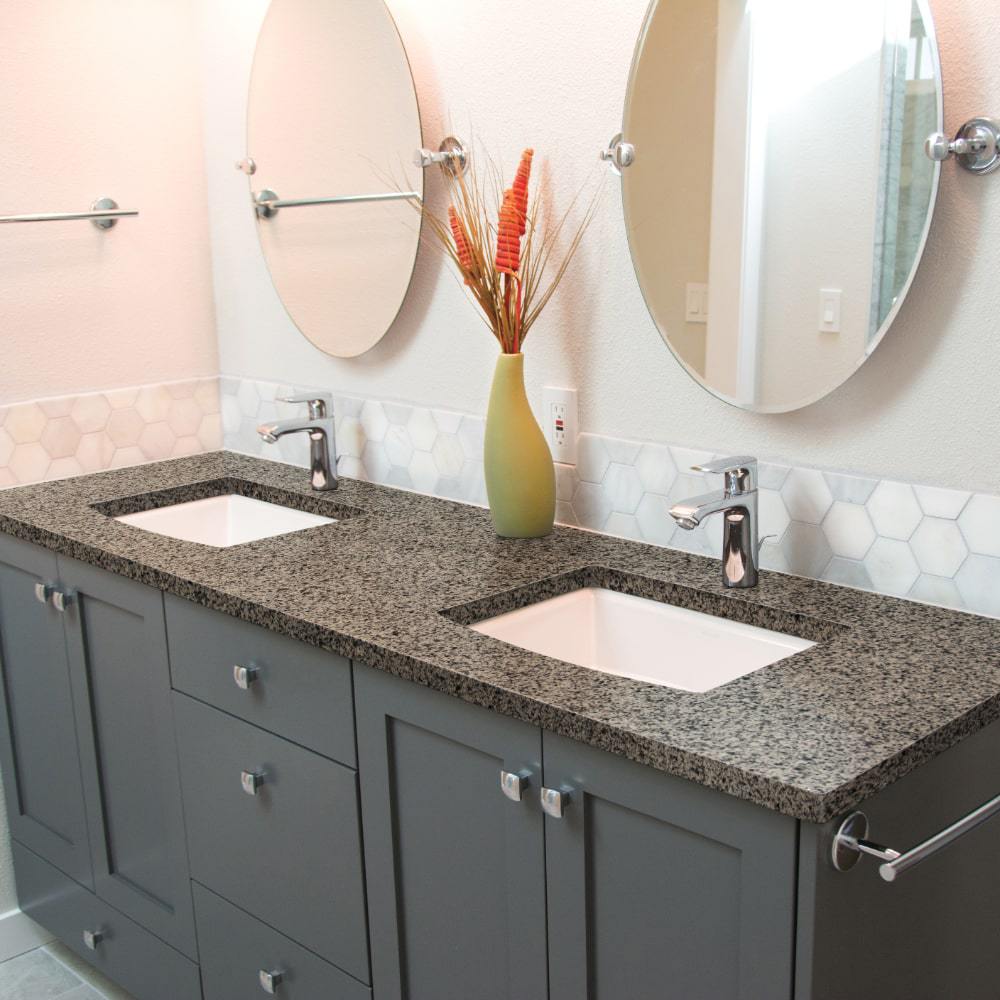 The bathroom featured here shows that it is acceptable to blend patterns – in fact, it's a great idea. This one includes Bohemian Gray granite, an elegant combo of pale gray, darker gray, and jet black. It's a pattern that has the bonus of disguising stains and scratches, although since granite is one of the hardest surfaces available, that may never happen!
Here, the hotel bathroom vanity is complemented by hexagon-shaped marble backsplash tile. That's a great way to incorporate natural stone into a design and truly wow your hotel guests without creating much extra work for the housekeeping staff – or worse, frequent repair and replacement.
CALACATTA CLASSIQUE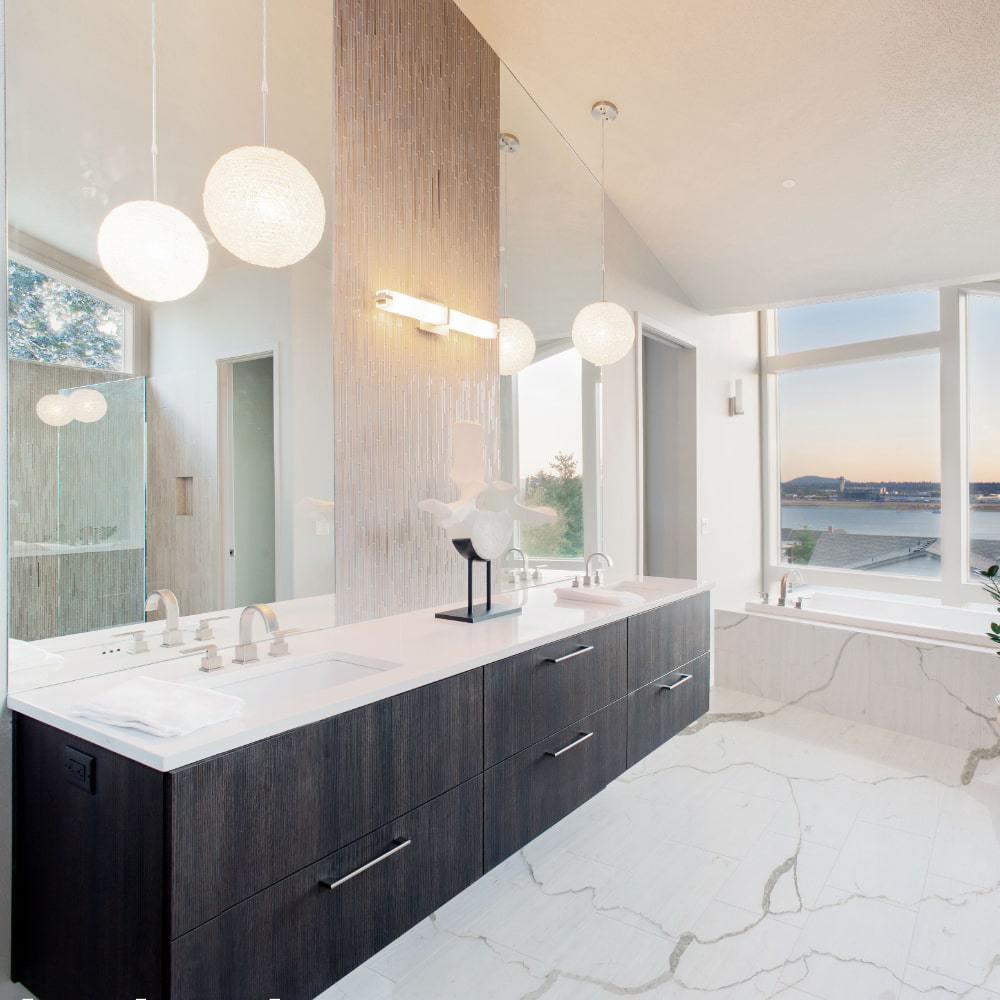 Luxury hotels need luxurious bathrooms – spacious, airy, and sophisticated. So even if your suites' bathrooms lack gorgeous views like this one has, your guests will be too busy enjoying the stylish countertops and flooring to notice. And nothing says luxury like classic white marble with gray veining.
Of course, natural marble has its drawbacks. It needs constant attention to keep looking its best and is prone to damage from stains, etching, and scratches. Get the same glamourous result in carefree Calacatta Classique Premium Quartz from MSI. You'll save a pile of money too, which you can invest in other hotel amenities to keep your guests happy.
CALACATTA PRADO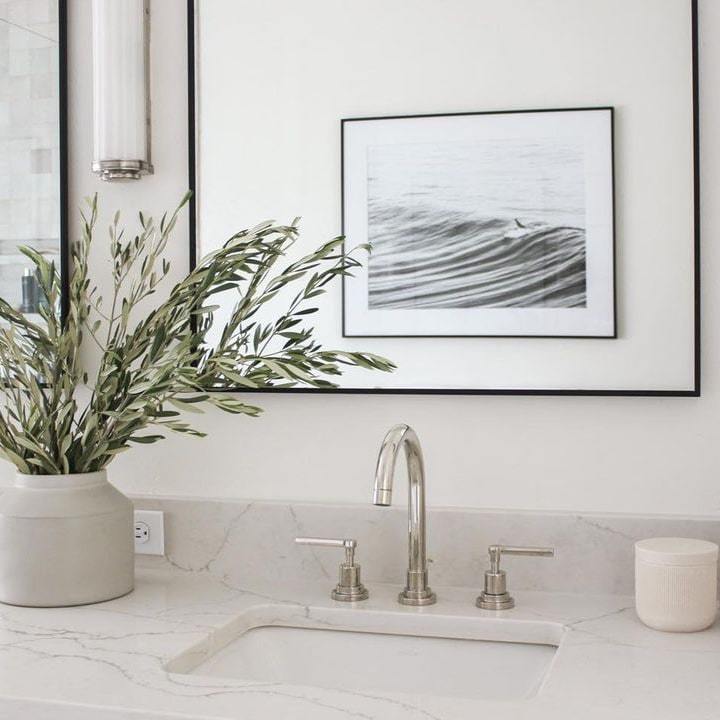 Photo Credit: @houseeleventwelve on Instagram
Impressing your guests with a sensational bathroom is essential, but it's not enough. Business travelers returning to their room at the end of a tough workday, or families who have been sightseeing all day need a hotel suite where they can relax and unwind. One way to accomplish this is with the simple elegance of Calacatta Prado, a bright white marble look quartz with subtle gray veining.
But it's not just for the countertop – as shown here, premium quartz works well for flooring, too. It's also an excellent choice for the backsplash, an accent wall, and even the shower surround. Each place it's installed will make your housekeeping staff's job easier, an investment that will pay off for many years to come.
FOSSIL GRAY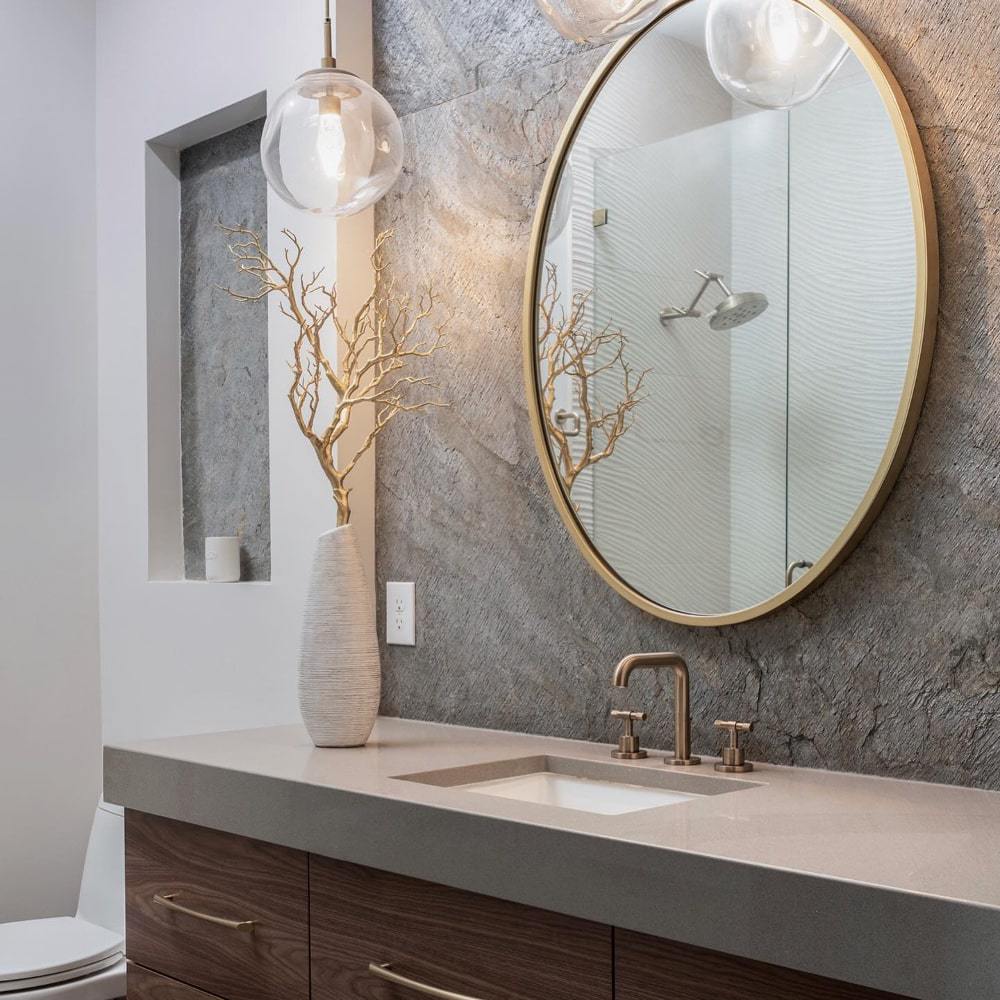 Photo Credit: @fortedesignstudios on Instagram
Styles and trends change constantly, and your hotel décor must evolve if it's going to continue its winning streak. But since countertops are a significant part of any room's renovation cost, it pays to choose a color that will stand the test of time and mesh well with any design scheme. With a neutral medium-gray surface such as Fossil Gray quartz, you can change the wall colors, flooring, and accessories as often as you like, and it will look just as complimentary.
Try mixing it with a different color and pattern for a backsplash for an extra splash of sophistication. This allows you to choose a more exotic surface with a higher price point for its unique décor while using incredibly durable quartz countertops for the surface that gets the most wear and tear.
When it's time to renovate hotel rooms, there are many choices to make. Owners and management can go with inexpensive solutions that will likely need replacing in a few years. Or spend just a bit more and choose premium surfaces like granite or quartz countertops that will last for decades – and give guests a luxurious experience that will keep them coming back and generate glowing reviews. Of course, your housekeeping staff will thank you, too.
As industry experts, MSI employees are committed to helping you make the proper selections for your residential or commercial needs. So when you're ready to start, contact us and let us help you with every step. You can contact us online, visit one of our showrooms, or chat with us in real-time through our MSI website chat feature.
Learn More About Hotel Products From MSI
Hotel Flooring And Countertops For The Perfect Hospitality Bar Design
Check Out Our Hospitality Gallery For Hotel Flooring And Countertop Inspiration
Hotel Flooring And Design Trends For 2022 And Beyond!
5 Hotel Bathroom Countertop Design Ideas That Your Guests (And Housekeeping Staff) Will Love