Adding Texture To Your Space With Carrara White Marble Wall And Backsplash Tile
July 21, 2023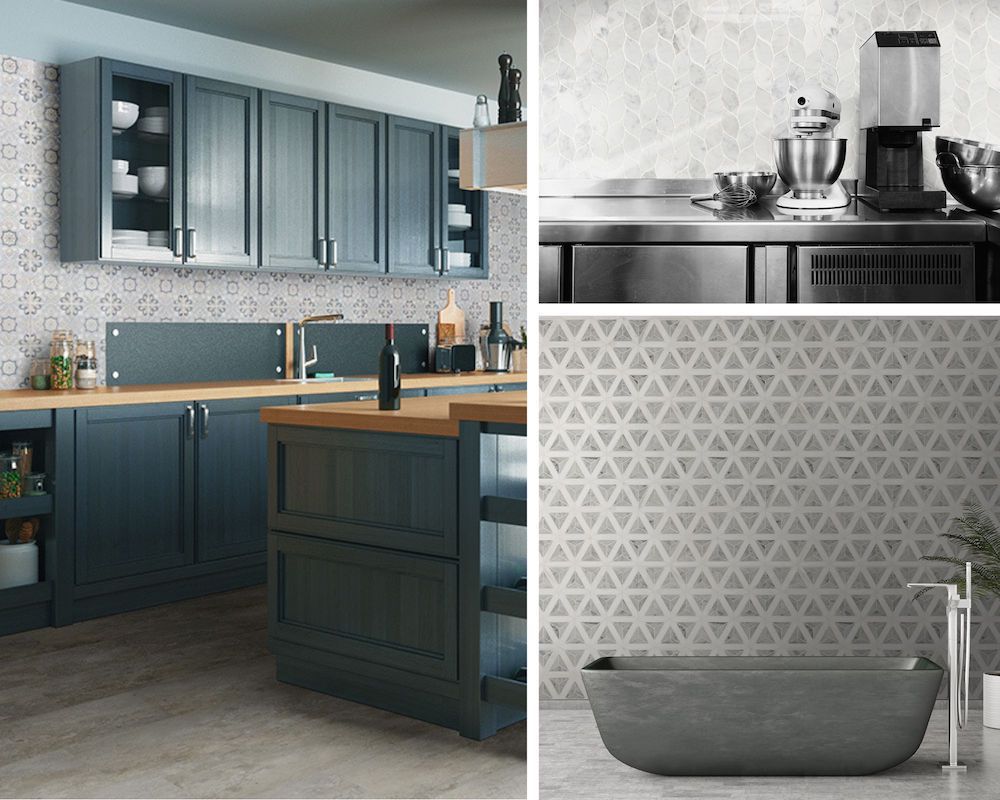 Throughout the years, decorative backsplashes have surged in popularity among homeowners looking to elevate their homes with aesthetics, style, and functionality. While a backsplash alone can achieve these advantages, the inclusion of textured backsplash tiles takes it to a whole new level, producing a distinctive and unparalleled look.
Though ceramic and porcelain backsplashes are favored by many homeowners, there is a growing preference for marble. These homeowners desire something extraordinary that sets their homes apart from the others. Presently, dimensional tiles, particularly Carrara White Marble textured tiles, have become highly sought-after and are creating a buzz in the market.
The Benefits of Textured Tile for Your Kitchen or Bathroom Backsplash
Looking to enhance the visual appeal of your kitchen or bathroom with a new backsplash? Look no further than Carrara White Marble. With its exquisite appeal and timeless elegance, this natural stone offers a luxurious touch to any home.
Let's take a look at some of the ways you can use textured marble tile to enhance your kitchen or bathroom.
Use it to Add Depth and Dimension
Textured tile has the remarkable ability to add depth and dimension to any space, transforming your wall or backsplash into a captivating focal point. With their intricate patterns and unique variations, these tiles create a visually stunning piece that enhances the overall aesthetic of any room.
Use it to Create Enhanced Visual Interest
Textured tile adds an element of visual interest by breaking away from the monotony of a plain, flat surface. Its unique look creates a striking interplay of light and shadows, adding a touch of drama and sophistication to your kitchen or bathroom. This textured surface not only catches the eye but also invites closer inspection, allowing one to appreciate the intricate details and subtle variations that make each one a work of art.
5 Captivating Options for Your Kitchen or Bathroom
Carrara White Marble, renowned for its beauty and rich history, is a testament to the magnificence of nature's artistry. Quarried from the Carrara region in Italy, this exceptional marble has captivated hearts and adorned spaces for centuries. This natural stone is visually stunning and highly durable, capable of withstanding the test of time with grace and sophistication.
Our collection of Carrara White Marble backsplash and wall tile presents five captivating options that showcase the versatility and beauty of this extraordinary material. From sleek and modern to intricate and ornate designs, each tile is meticulously crafted to transform your living area into a sanctuary.
Create allure with the exquisite Carrara White Geometric Tile, featuring a calming blend of white and gray marble. This natural stone backdrop not only exudes timeless elegance but also adds a touch of interest that enhances any room. With its dimensional pattern, this versatile material is perfect for not only elevating kitchen and bathroom walls, but can also be used as an eye-catching floor tile.
Combining the timeless charm of Carrara marble with an ultra-modern twist, this intricate tile effortlessly captures attention. Its variation of white and gray hues in a geometric pattern creates a visually striking effect, adding depth and visual intrigue into your space. Whether you aspire to create a stunning backsplash, a unique statement wall, or make a bold statement on the floor, Carrara White Geometric Tile is sure to leave a lasting impression that embodies both sophistication and contemporary style.
Elevate the sophistication of your bathroom or kitchen with the Carrara White Ellipsis Tile. This exceptional design beautifully showcases the enduring charm of Carrara marble in a striking ellipsis pattern.
With its graceful curves and intricate lines, this tile creates a refined backdrop that exudes culture and refinement. The polished surface enhances the natural luminosity of the marble, resulting in a luxurious ambiance. Whether used as a stunning backsplash or an accent wall, it can instantly elevate the aesthetics of your bathroom or kitchen by adding a touch of refinement that is sure to impress.
Produce a masterpiece of elegance and craftsmanship with this Carrara White Basketweave. Available in a polished finish, this magnificent tile showcases the charm of Carrara marble in an intricate basketweave pattern.
Crafted with meticulous attention to detail, it effortlessly combines intricate design and refined aesthetics. The interlocking marble pieces form a visually stunning arrangement reminiscent of a traditional woven basket. The polished surface of the material enhances its natural luminosity, creating a luxurious look on any wall.
Carrara White Blanco Pattern generates a mesmerizing creation that seamlessly blends the timeless appeal of marble with a distinctive look. With a gentle white background adorned by subtle dove gray veining, its modern leaf pattern invites intrigue and a creates a delightful sense of motion.
This mosaic tile presents an arrangement of various-sized marble pieces, resulting in a visually dynamic and attention-grabbing look that coordinates well with any countertop. The honed finish adds a subdued matte texture, enhancing the inherent beauty of the marble and imparting a sense of understated elegance to the room.
Tetris Florita Blanco Pattern Tile is a stunning testament for design creativity. With its combination of soft white tones and complementary grays, it showcases an on-trend blend of Carrara marble in a unique pattern reminiscent of the iconic Tetris game.
Effortlessly blending sleek geometric shapes with the timelessness of marble, this tile beautifully coordinates with any bathroom or kitchen countertop. The interlocking pieces create a visually dynamic and playful design that adds a touch of artistry to any area of the home. The marble's natural luminosity is enhanced by its polished finish, exuding luxury.
Revitalize Your Space with the Textured Beauty of Carrara White Marble
Ready to transform your kitchen or bathroom into a space of unparalleled elegance and charm? Look no further than Carrara White Marble! With its timeless appeal and exquisite texture, Carrara marble offers a luxurious touch that elevates the ambiance of any room.
We are here to guide you every step of the way. From providing expert advice to offering a wide range of Carrara White Marble options, we have everything you need to create a home that reflects your unique style and vision.
Chat with us online, find a dealer nearby, or explore an MSI showroom near you to discover the beauty and utility of Carrara White Marble textured tile. Let's bring your dream space to life together!