Current Obsessions: Neutral Quartz Colors
October 23, 2016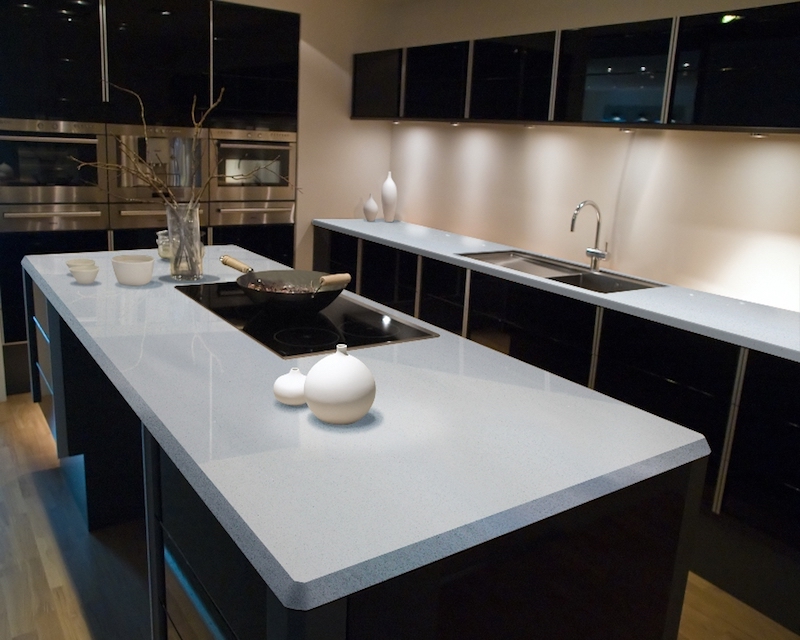 With a vast palette of quartz colors to choose from, why would anyone opt for a neutral when designing their kitchen or bathroom countertop? Although it's true MSI's Q Premium Quartz is offered in beautiful shades including ruby red and blue-gray, there are many reasons to stick with white, beige, and gray. For one thing, when it comes to quartz countertops, neutral can be anything but plain and bland. Some quartz colorways offer great variation and patterning – veining, speckles, flecks, and swirls.
There are also many reasons to choose Q Premium Quartz over other surface materials. It's exceptionally durable, needing little maintenance to keep in top shape. Quartz countertops resist chipping, cracking, staining, and heat damage. And because Quartz is a man-made material, it's consistent in appearance and quality, and can be manufactured in a variety of shapes and thicknesses for any project.
But how will you ever choose? Visit MSI's Virtual Kitchen Designer to try on the various quartz colors and be confident that it will look great in your home.
Romano White
Romano White Quartz is an example of a high-variation neutral. Reminiscent of natural marble or granite, it features swirls, veins, and specks of beige and gray on a soft white background. It's available in large slabs for seamless white quartz countertops. If resale value is a consideration, a neutral surface such as this is a safe choice, while still offering elegant charm.
Babylon Gray
A medium gray with subtle variation, Babylon Gray Quartz is elegant and classy. It's also easy to match with many different colors, allowing you great flexibility in your home décor. Gray quartz countertops allow you to go bold with your paint colors, backsplash, or accessories.
You can also switch out your home's color scheme with the changing the seasons by choosing different window treatments, cushions, or wall décor – and never worry about how those colors will clash with your countertop.
Sahara Beige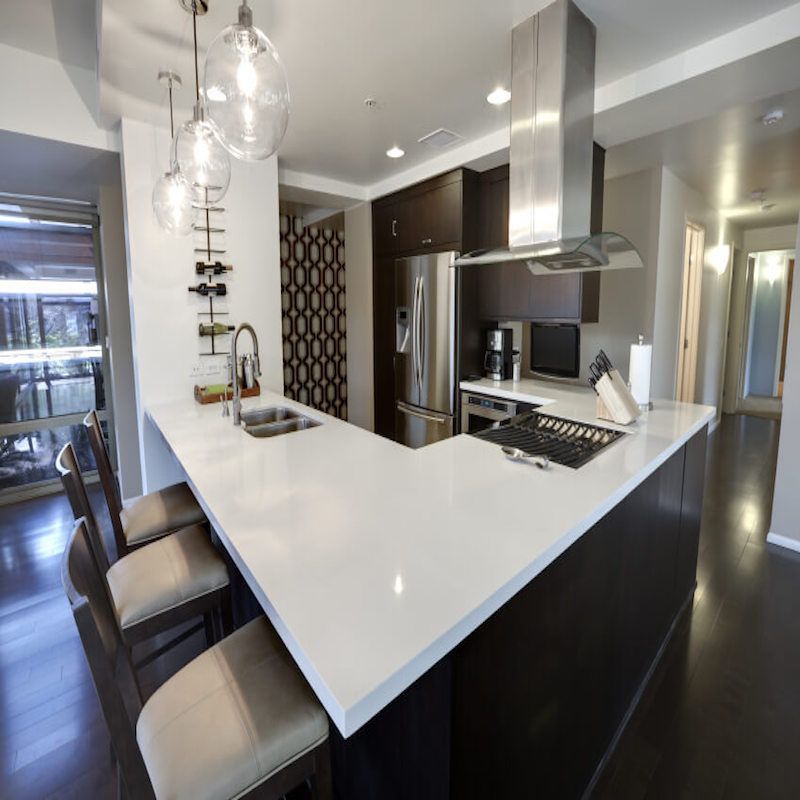 Featured: Sahara Beige Quartz
A black-and-white color scheme can be harsh without a softer neutral to tone it down and unify the two extremes. Sahara Beige Quartz does this beautifully. It's a soft off-white with subtle accents of beige and amber and provides just the barest hint of color for a sleek, sophisticated, polished surface. Plus, it's tough and durable, ideal for a hard-working kitchen, easy to clean for even the messiest cook.
Chakra Beige
If you love the look of bold patterning for your kitchen or bath surfaces but still want to stay with a neutral scheme, Chakra Beige Quartz is all that and more. The swirls, spots, flecks, speckles and veins in this colorway include shades of gray, cream, gold, and even a warm rust shade – yes, it's still considered neutral. Continue the quartz surface up the wall into the backsplash and even beyond for a truly spectacular look.
Carrara Grigio
White marble with pale gray veining could be considered the ultimate neutral, because it looks great with just about anything you want to pair it with. Carrara Grigio Quartz is the best of both worlds – marble's beauty with Q Premium Quartz's tough durability. It's an excellent choice for the kitchen's center island, which often sees the heaviest usage of all kitchen surfaces.
Neutral-toned quartz countertops, in all their stunning variations, are versatile and long-lasting. Reap the benefits of calming, relaxing muted tones without giving up visual interest and personality. Whatever your style of décor – traditional, rustic, contemporary, etc. – and whatever your favorite colors may be, neutral modern quartz countertops are the perfect complement.