Light Colored Quartz Countertops That Can'T Be Beat
September 28, 2018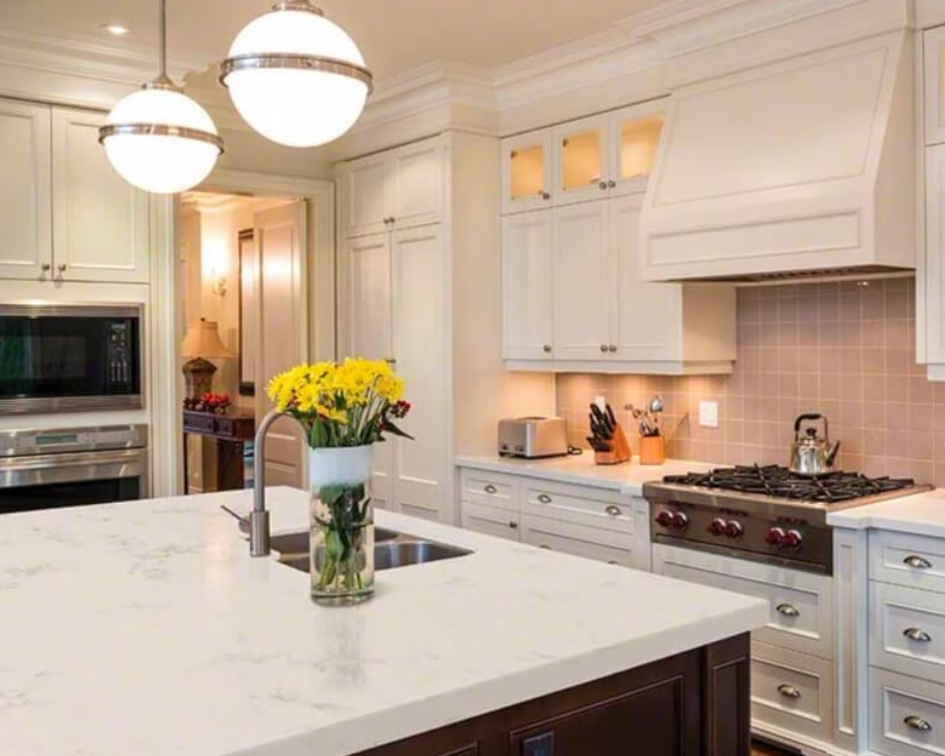 Color, not décor, is actually the most important selection you'll make for your home. It's what sets the tone and mood for a room, whether it is light and airy or dark and dramatic. That's why decorators usually start with color swatches to help put together a cohesive color story. And when it comes to your kitchen or bathroom, the color of your quartz countertop becomes one of those crucial color swatch decisions that can greatly affect the overall design.
Light colors in general continue to gain in popularity, especially when it comes to light-colored countertops. Quartz is available in so many shades of whites to different types of marble look quartz. We've selected some room scenes that demonstrate the important role both white and light colors play in the design of kitchens and bathrooms.
Cashmere Carrara
While darker tones make a space feel more closed in, lighter neutrals make a room look and feel bigger. White also reflects light, so it's the perfect choice to use when tight on space or natural sunlight.
Even though this kitchen gives off a strong modern mood, it definitely feels bright and cheery because the white cabinetry and Cashmere Carrara quartz countertops bounce around the natural light from the large window over the sink. While this engineered countertop looks plain white, it actually features subtle grey veins across the white background. And best of all, light- or white-colored quartz does not require the same care as other light-colored surfaces, meaning your whites will stay that way!
Cashmere Oro
No matter if you live in a brand-new build or a historic home, you can choose white for any interior design style. Choosing light colors for its longevity is important when considering the long-term investment you'll be making for that new property or much-needed remodel.
It's also another way to highlight different architectural features of the home, like in this traditional kitchen. The eye is drawn towards the beautiful windows that flood the room with natural light. The white cabinetry and Cashmere Oro quartz countertops also add to the airiness of the large kitchen, and the thicker quartz slab on the island with its soft whites, barely-there veining, and detailed edge add a subtle design touch. The sage green island and subway tile backsplash along with the touches of greenery connect the indoors with the outdoors.
Calacatta Vicenza
One of the best ways to make your master bathroom feel like a sanctuary is to give it a fresh, clean look. After all, it's the one place where you can wind down after a long day at work or home with the kids by taking a hot, steamy shower or soak in the tub. And having a light color scheme will help you relax and feel less stressed.
This contemporary bathroom features sleek white cabinets covered in Calacatta Vicenza, a quartz countertop with a white background with subtle gray veins. The waterfall edge not only adds to the modern feel of the master retreat, but it also allows the marble look to shine. The white vanity against the white wall looks clean and not clinical thanks to the contrast against the concrete-look tile on the floor and shower and the mosaic wall tile that adds beige, sage green, and blue-gray tones to the color scheme.
Carrara Grigio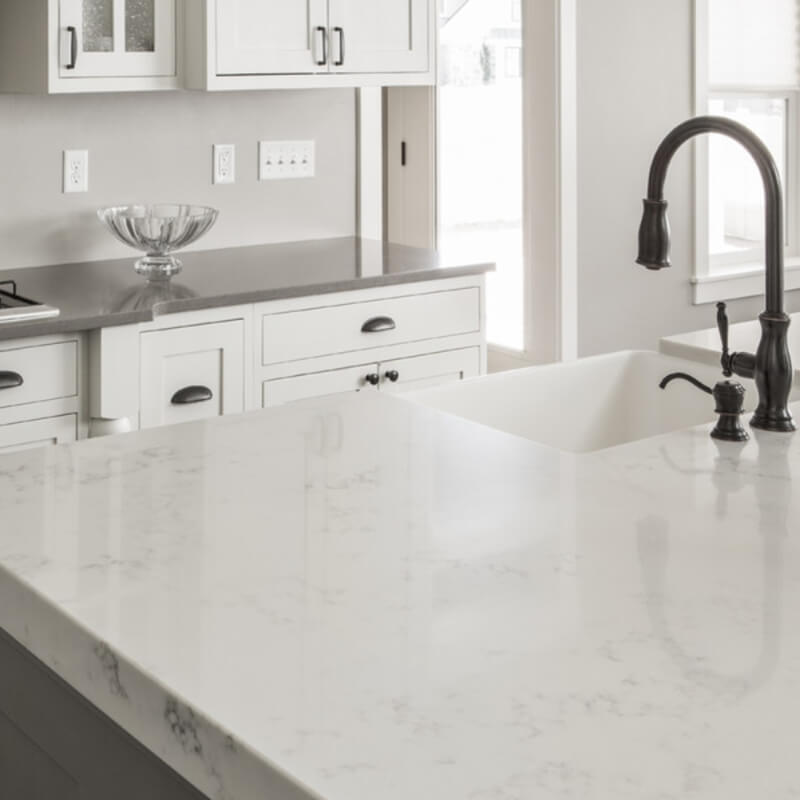 Recreate this look with MSI's Carrara Grigio Quartz (Photo Credit: Houzz)
White is such a timeless color that it'll never go out of style! Years or even decades later, your classic white kitchen won't look as dated as a colored equivalent would when you can date back to the trend.
Marble is another material that transcends trends, but don't let this engineered surface fool you! This white-and-gray kitchen is so elegant, especially with the Carrara Grigio quartz on the island. The white background with marble-like swirls mimics the luxurious stone but without requiring the maintenance of real marble countertops. The two-tone look is something these homeowners will never tire of!
Calacatta Taj
Over time, you might want to change your color scheme, which is easy to do when the majority of your kitchen is white or neutral. Switching out your accent colors can easily alter the mood or ambiance of your space, and it's a lot cheaper than changing up your cabinets or countertops!
This transitional kitchen features white shaker cabinets and the marble look of Calacatta Taj quartz with its cream-colored background and delicate veining. The navy wall color contrasting with the bright white trim and cabinetry lends to the traditional side, while the bowl of lemons give a pop of secondary accent color. The wall color can be easily changed out for a lighter, brighter color or even black-and-white graphic wallpaper for a more modern vibe. Homeowners can even go a step further and swap out their fixtures and appliances for the hottest trends, like matte black stainless steel. These few changes will make this kitchen feel like an entirely new cooking space.
Covering a large surface in the kitchen or bathroom with a white countertop is one of the best ways on how to bathe your home with white. Because there isn't just one shade of white, there are so many tones, subtleties, and veining options to consider when selecting the right quartz countertop for your home. Check out the website or visit your local showroom to view more light quartz countertop colors with MSI's marble-look collection.
Read More About Quartz Countertop Colors and Styles:
New Year New Quartz Colors
Complex Quartz Colors
How to Design A Standout Room With Neutral Colors