How Can You Tell The Difference Between Granite And Quartz Countertops?
June 08, 2020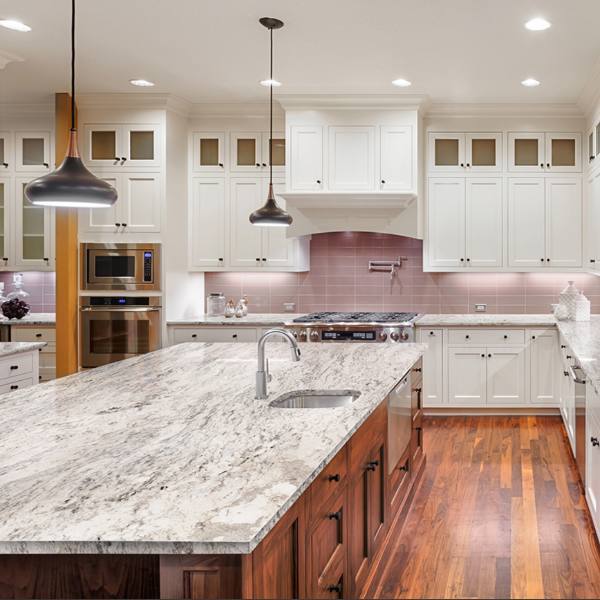 Discerning the difference between natural granite and quartz countertops, which are manufactured, is something you'd expect to be easy – but it isn't. It's especially tricky for homeowners who are unfamiliar with the variety of countertop materials. With this limited experience, they might assume that they know what granite or quartz should look like. However, there are far more varieties of both than most people realize, and many types of quartz slabs don't look like manufactured materials at all.
Why Does it Matter?
Obviously, you'll want to know what you are buying. Nobody wants to buy an engineered countertop thinking it's "real" stone. In showrooms, the two materials may be displayed side-by-side and look very similar, though it's unlikely a salesman will attempt to deceive you.
But, if you happen to see a countertop you admire – in a model home, for example, or a builders' showcase event – you'll want to know what it is so you can replicate the look in your own home.
Also, being able to tell the difference between the two will help you choose which type of surface to install in your kitchen or bath. Although they may look remarkably similar, learning more about quartz vs. granite can help you feel much more confident in your decision.
Here are the main differences between the two materials. Knowing these going in will make you feel like a pro when you walk into the showroom or slab yard.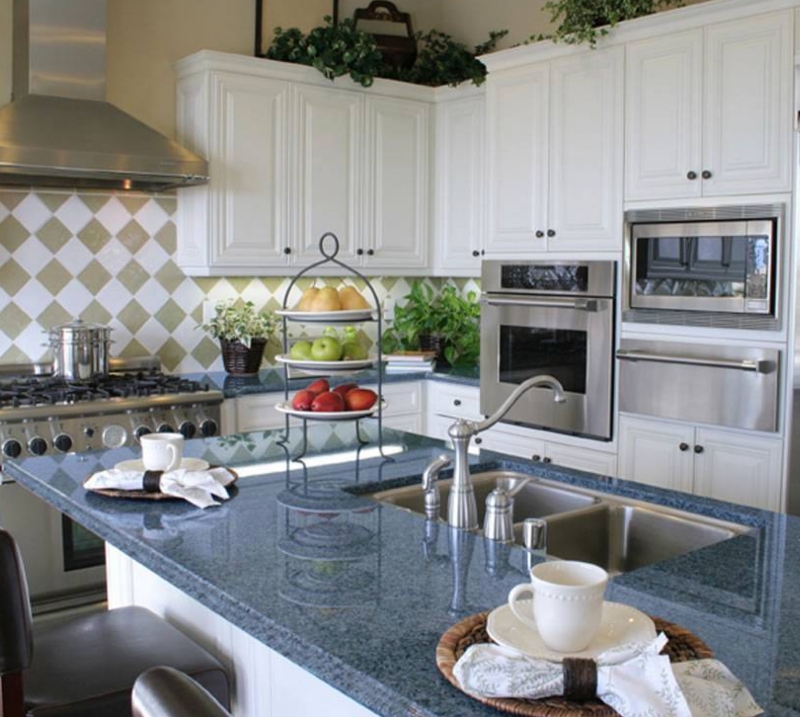 What Quartz and Granite Have in Common
You might be surprised to find out what features the two countertops share – that's why it is not always easy to tell them apart. First off, they are both extremely hard, strong materials.
Granite is an igneous rock, which means it was created from molten lava. It cooled slowly, which allowed large mineral crystals to be formed. Granite often has a mottled appearance, with more than one color, because it contains a variety of different mineral crystals including quartz, feldspar, muscovite, and others.
Although quartz countertops are engineered, they also contain a variety of different mineral crystals, which give them distinctive patterns and colors. Quartz slabs may also contain other materials that change their appearance, such as pigments and other inclusions. Quartz that looks like granite, though, contains many of the same materials, bound together with a durable resin.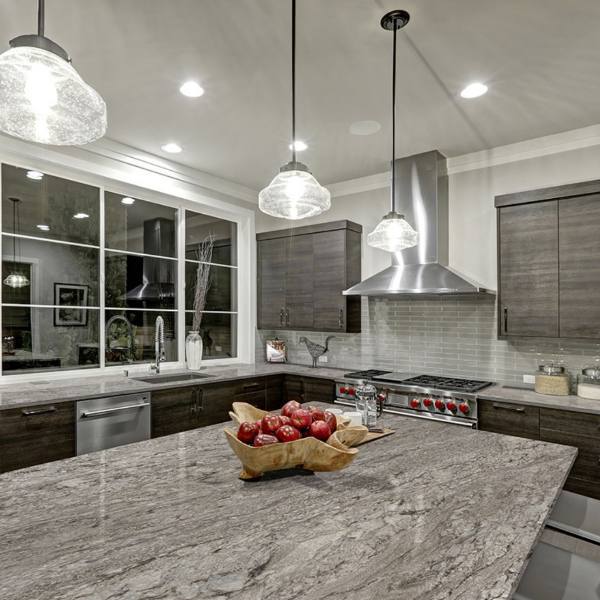 Look Variation
Since granite is a natural stone that is mined from the earth, it has an infinite variety of patterns and imperfections, making each slab truly unique. Imperfections, in this context, do not mean there's something wrong with the slab, but that it has a character that's hard to replicate in a man-made material. When you choose a granite countertop, you'll need to select the exact slab that will be installed in your home, because no two will look alike.
Today's quartz countertops, however, are often designed to mimic this variation rather than having an obvious repeating pattern. On the other hand, quartz can exemplify uniformity. Engineered quartz slabs are designed to echo the qualities that are most pleasing. Some homeowners prefer this predictability in appearance, because they know exactly what they're getting.
Look-Alikes
Engineered quartz countertops have come a long way, so if you expect quartz to look "fake," prepare to be surprised. Today's quartz countertop colors are remarkably similar to granite, limestone, marble, and even concrete. It's much less common to find a granite slab that resembles another material, or a surface of any natural stone that resembles another. So, if you see a luxury surface that has the look of marble or concrete, chances are that it is quartz, not granite. The words "granite look" are another giveaway.
Color
Although the most popular shades of granite tend to be black, brown, beige, and white, nature has created an incredible color palette. It's also available in exotic shades of green, yellow-gold, blue, and pink. These natural shades combined with its unique patterning, from subtle to bold, lend a depth and character that is difficult to replicate.
Quartz can be manufactured in any color desired, including brilliant, bright colors, most of the quartz countertops you'll see are in neutral shades.
Finish Options
Granite is one of the most customizable countertop materials, which is one reason it's been so popular and enduring. It has more surface finishing options available than quartz or most other luxury surfaces: honed, brushed, leathered, polished, and flamed. Although the most common choice is polished, the other options may better complement your style of décor, your personality, and the granite pattern itself.
Manufacturers are beginning to produce quartz countertops with custom finishes, but it's typically available in a glossy polished finish only. A few are available in matte.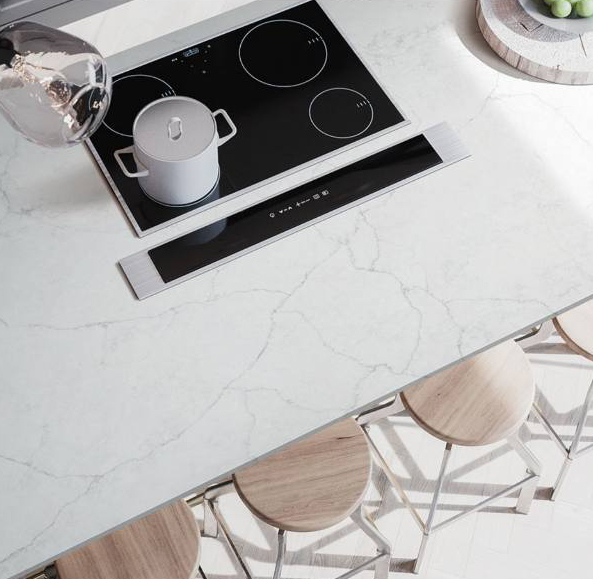 Other Clues
If you're still not sure whether the countertop you're admiring is granite or quartz, there are a few other clues that can help.
• Sealing requirements: Quartz never needs to be sealed, while granite needs a sealer to be applied regularly to protect it from absorbing liquids, staining, and other types of damage.
• Cleaning procedure: For daily cleaning, mild dish soap works fine for both quartz and granite countertops. For tougher jobs, granite has a longer list of cleansers you'll need to avoid and it's best to choose a cleanser specifically made for natural stone surfaces.
• The name of the product can be a giveaway as well.
Source: A granite countertop may have a label indicating the country where it was mined: India, Brazil, etc. Quartz countertops are not mined, but manufactured typically in either the U.S. or China.
Next time you see the countertop of your dreams, you'll be ready to tell whether it's granite or quartz – maybe without even reading the label. MSI has a huge selection of both granite and quartz countertops, so when you browse our website you can compare both and even see how it will look in your kitchen or bath alongside your choices of flooring, backsplash, and more.
More About Quartz Countertops
Discover Our Top 10 New Quartz Countertop Colors
Are Quartz Countertops Replacing Granite as The Best Choice For Your Home?
Our Top 10 Quartz Countertops That Look Like Marble
Limestone-Looks-With-Quartz
READ MORE ABOUT GRANITE COUNTERTOPS
Granite Countertops: A Great Investment For Home Improvement
Granite Countertops: An American Staple
Granite Countertops: the Workhorse Of the Kitchen
How Granite Countertops Took Over American Kitchens