Stacked Stone For Your Pool? Yes!
September 20, 2019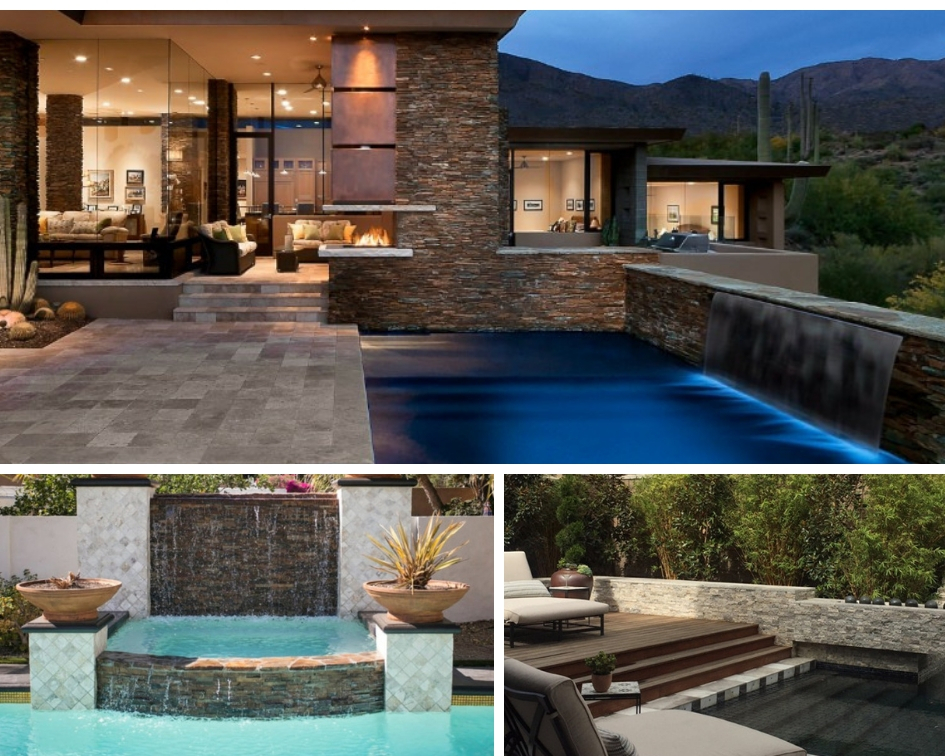 A swimming pool can be the star of your backyard retreat, and there are so many possibilities when it comes to its design and the landscaping that surrounds it. Natural stacked stone is a popular choice for the area surrounding the pool because it blends in with a natural environment, is durable, and is typically less slippery than many other choices. And, chances are, you're already familiar with hardscaping that involves stacked stone, such as retaining walls or raised garden beds.
Today's pool designs, however, have come a long way from the usual blue-painted concrete rectangle many of us grew up with. Contemporary swimming pools are crafted with graceful curves and alcoves, waterfalls, spillways, adjacent spas, and more. To create the luxurious, sensual backyard oasis many homeowners desire, designers are turning to stacked stone — not beside the pool, but integrated into the pool itself.
Stacked stone as part of a pool design is gorgeous, but is it practical? Natural stacked stone is resilient, but many homeowners worry that a poolside environment might be too harsh. It will be exposed to constant moisture, chlorine, and other pool chemicals. Saltwater pools are especially hard on these materials due to the mineral buildup that eventually occurs. With all this in mind, you might think that stacked stone is better left to the homeowners wealthy enough to replace it often.
These are valid concerns. However, there are ways to prevent damage. There are also practical ways to repair damage if it should happen. Consider these points when making that important decision.
Stone Types and Their Benefits
All stone types are not created alike, and the way they're produced makes a difference as well. Some types of natural stone are better suited for indoor uses or outdoor hardscaping away from harsh pool chemicals. Here are a few popular natural stone types frequently used in stacked stone, and what makes them right or wrong for your swimming pool.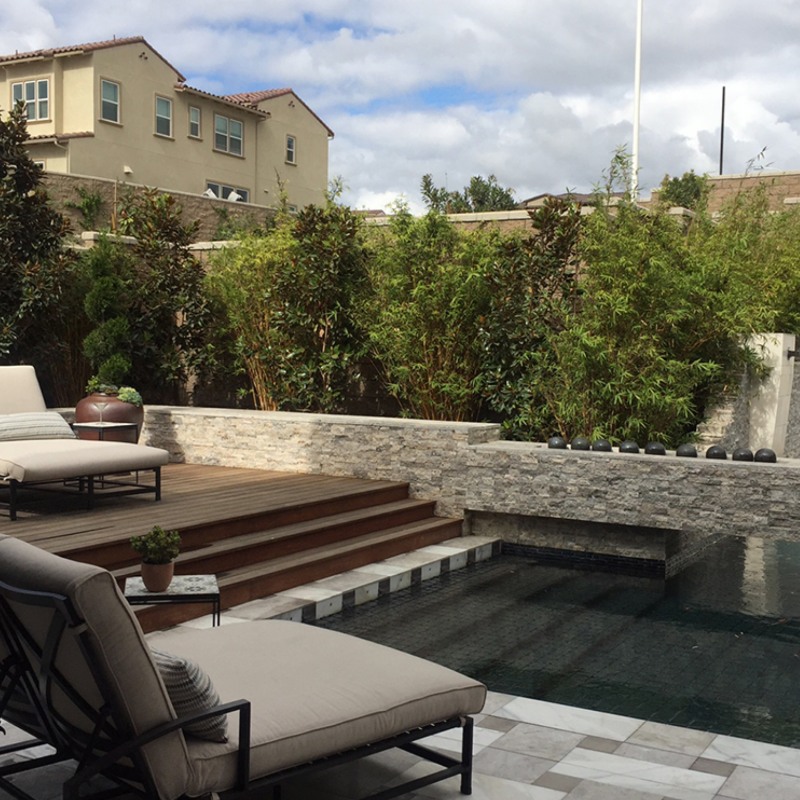 Featured: Silver Travertine
Travertine is popular for its rich earth tones of cream, gold, beige, and rusty orange. They blend well with most styles of landscaping, from posh and modern to rustic. It's a versatile material that is quite durable, and is especially recommended for pool decks for one important reason: It stays relatively cool despite the hot sun. Your bare feet will also appreciate its non-slip qualities. Travertine is a good choice for stacked stone pool features and waterlines. However, because it is porous, it should not be used in saltwater pools.
Sandstone is also beloved for its natural beige shades. Like travertine, it provides a non-slip surface for pool decks. However, it's a relatively soft stone — its tendency to "weather" and erode is part of its charm, but if it erodes into your pool it may not be so charming. Stacked stone made from sandstone is ideal for many other hardscaping uses.
Limestone typically features delicate shades of gray. It's durable and stands up well to the elements, including the elements of your swimming pool. Stacked stone crafted from natural limestone is a great addition to your pool's luxurious design.
Create a smiliar look with MSI's Rustic Gold (Photo Credit: Houzz)
Slate is available in shades of gray, black, blue, and brown. It is an extremely hard stone, with a unique texture and sheen that makes it popular for pavers, tiles, and stacked stone ledger panels. It is prone to chipping, though, sometimes flaking off in layers with sharp edges, making it unsuitable for some swimming pool hardscaping. However, in a stacked stone format, it's less likely to suffer such damage.
Marble creates a look of opulence wherever it is used, and stacked stone crafted from natural marble shows off its unique veining just like flat marble tiles. Since marble tiles can be slippery, stacked stone is an excellent way to integrate marble into your pool design.
Common Concerns With Stacked Stone in the Pool Some homeowners are hesitant to use stone wall tile in their pool designs because it's perceived to be a lot of work to maintain. It will be exposed to constant moisture and chemicals that could stain or damage the surface. However, many of the problems experienced with natural stone are the result of choosing the wrong stone for the wrong place. For example, slate would be lovely as part of a waterfall. Due to its tendency to flake, though, it would be a poor choice for pool coping or steps.
How to Care For Stacked Stone in the Pool
Most homeowners will encounter few problems with stone panels in their swimming pools. Preventing damage starts with proper installation. A waterproof barrier should be installed behind stacked stone veneer to prevent efflorescence, which is a powdery residue resulting from moisture passing through the stone and evaporating. Protect your stone by applying sealer upon installation, and once a year when the pool is opened for the season.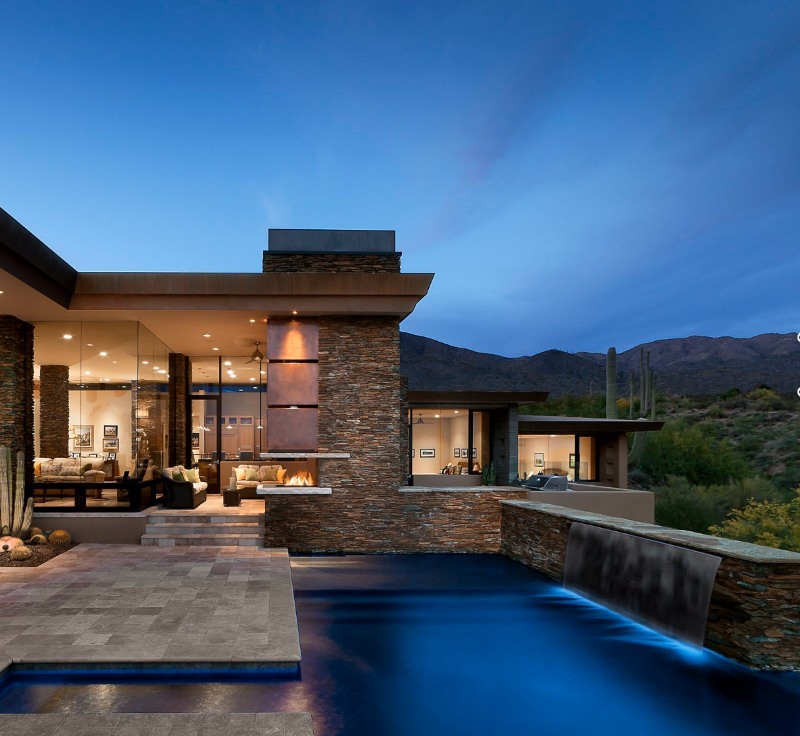 Recreate this look with MSI's California Gold (Photo Credit: Houzz)
Your water quality will also have an impact on the stacked stone's durability. Try to maintain the proper pH level for pool water (7.4 to 7.8); water that is too acidic can etch the stone's surface over time. Prevent the growth of algae in the pool water, which could cause staining on the stone veneer.
How to Fix Damaged Stone Veneer
Although significant damage may need to be repaired by a professional, there are many problems you can address yourself. For example:
· If the stacked stone is cracked, you can pry out the veneer panel and replace it with a new one.
· Stone that has been stained by algae or mold can be scrubbed clean with a soft bristle brush and diluted laundry detergent. Be sure to apply sealer afterward.
· A stacked stone panel that has come loose can be reattached by applying thinset mortar with a trowel. Be sure to read an installation guide before attempting this repair.
Natural stacked stone is extremely durable, and since any material used in a pool will eventually be vulnerable to damage, doesn't it make sense to choose the one you really want? Visit MSI's website to view the many options available to help you create the ultimate backyard haven.