Design A Stunning Accent Wall With Rockmount 3D Stacked Stone
April 27, 2022
Is there anything more elegant and stunning than stacked stone?
When it comes to stone wall tile the nuanced layering and texture makes a perfect addition to any room in your home. It can be a fantastic fit for a variety of design styles, whether it's as a kitchen backsplash, an indoor feature wall, a bathroom, or even around a fireplace. The possibilities are endless! And the stacked stone itself can be utilized to highlight exterior surface.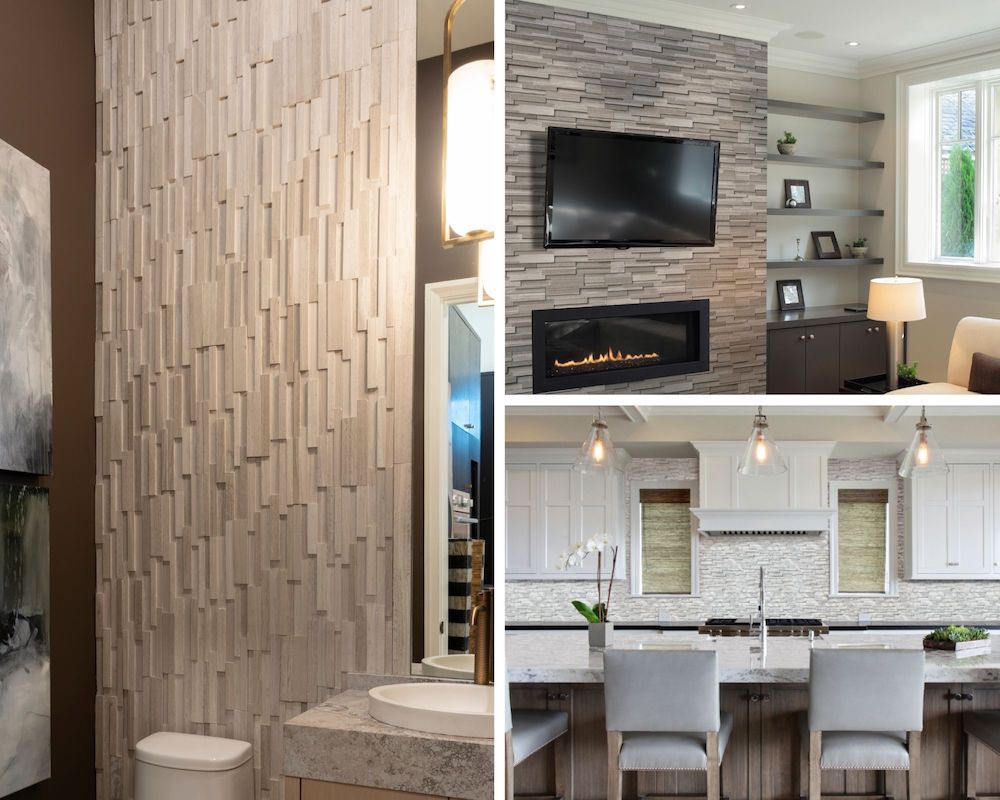 Stacked stone can offer an earthy feeling that resonates throughout your home as if the natural world is inviting you in for a long embrace. These and stone veneer varieties can be used indoors or outdoors, offering warmth and beauty for years to come. You can install in the front of a home or building to accentuate an entrance; it can also be used around a front door, column, or chimney. Clearly, the possibilities are vast.
Let's explore some top stacked stone designs and patterns to get ideas turning for transforming your home into a space that's warm, inviting, and irresistibly natural. The Rockmount Stacked Stone Collection reveals inspirational looks and finishes, including split-faced to 3D honed. In this article, we're going to explore 4 top stacked stone designs in particular: Arctic White, Calacatta Cressa 3D, Gray Oak 3D Honed, and White Oak 3D Honed.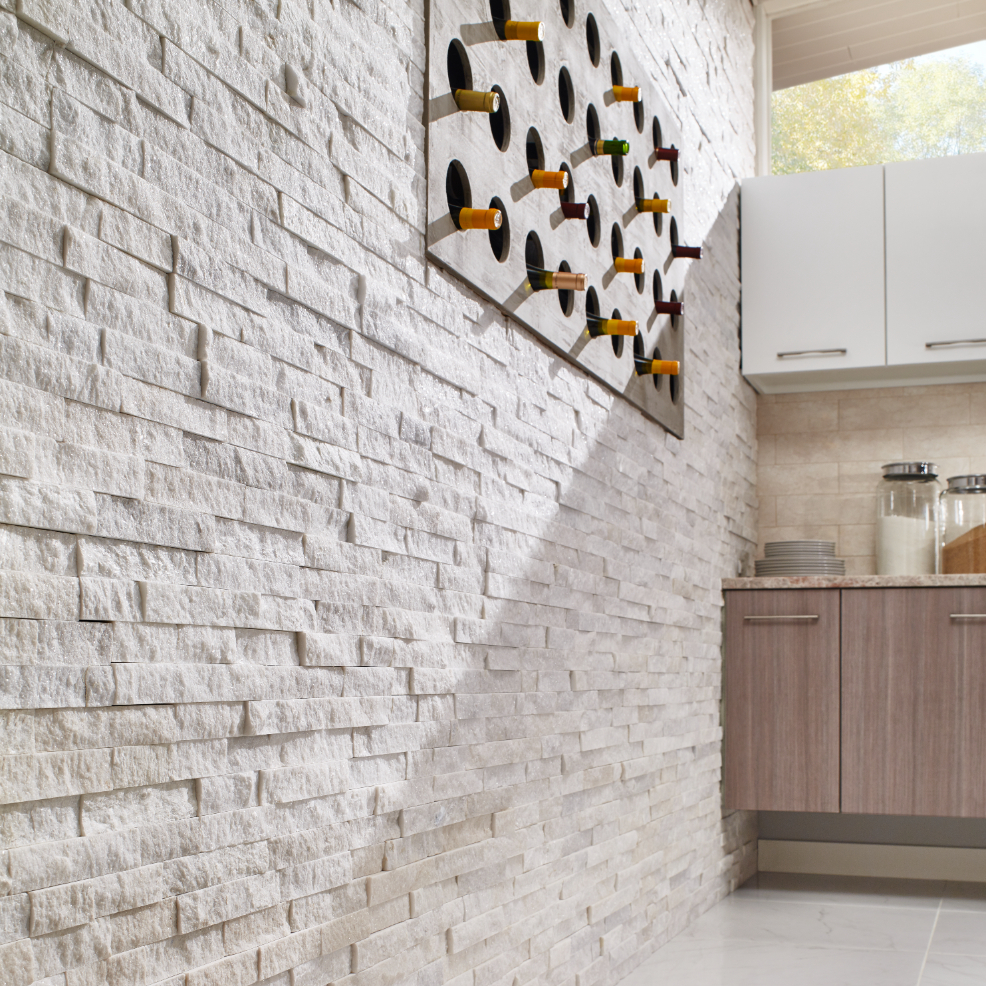 How serene and sophisticated is Arctic White? This dynamic and striking alabaster tone instantly cools and calms with its light aesthetic. Notice the split face finish, making it an ideal pick for both interior and exterior projects. Such stunning snowy white panels make excellent backsplashes or planter walls. And frosty hue even makes a room feel more expansive, pairing well with various countertops, cabinets, and other décor. Can't you just imagine this style in your living room, basement, or commercial venue? The contour combined with the light coloring is easy to get lost in and instantly comforting.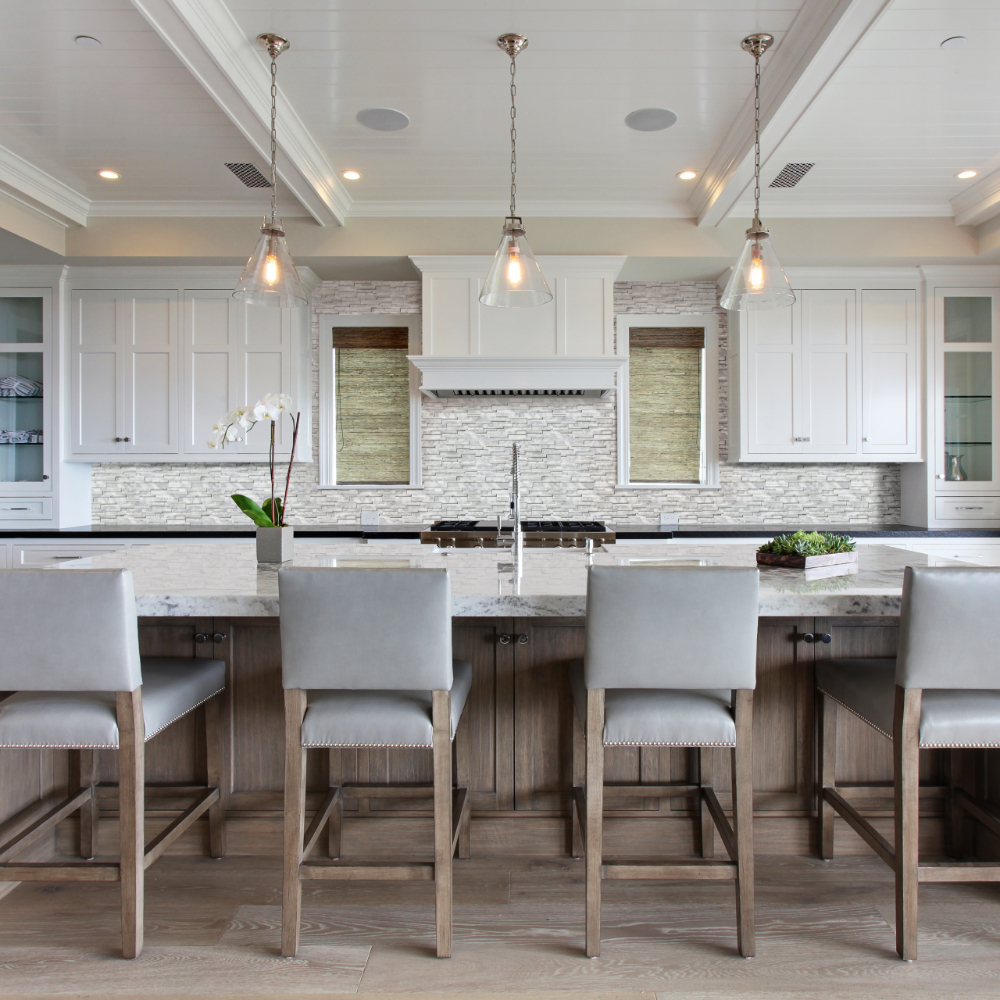 Okay, can we just talk about how gorgeous Calacatta Cressa 3D is? These stacked stone ledger panels come from beautiful white marble and have soft gray veins and smooth clean lines that entrance the eye. It's also incredible how these natural stone ledger panels can be both traditional and modern. This style would look incredible in a kitchen with soft, white lighting or equally as effective in a sophisticated home library or bathroom. Effusing elegance and fascinating with varied texture, this stacked stone option is seriously worth considering!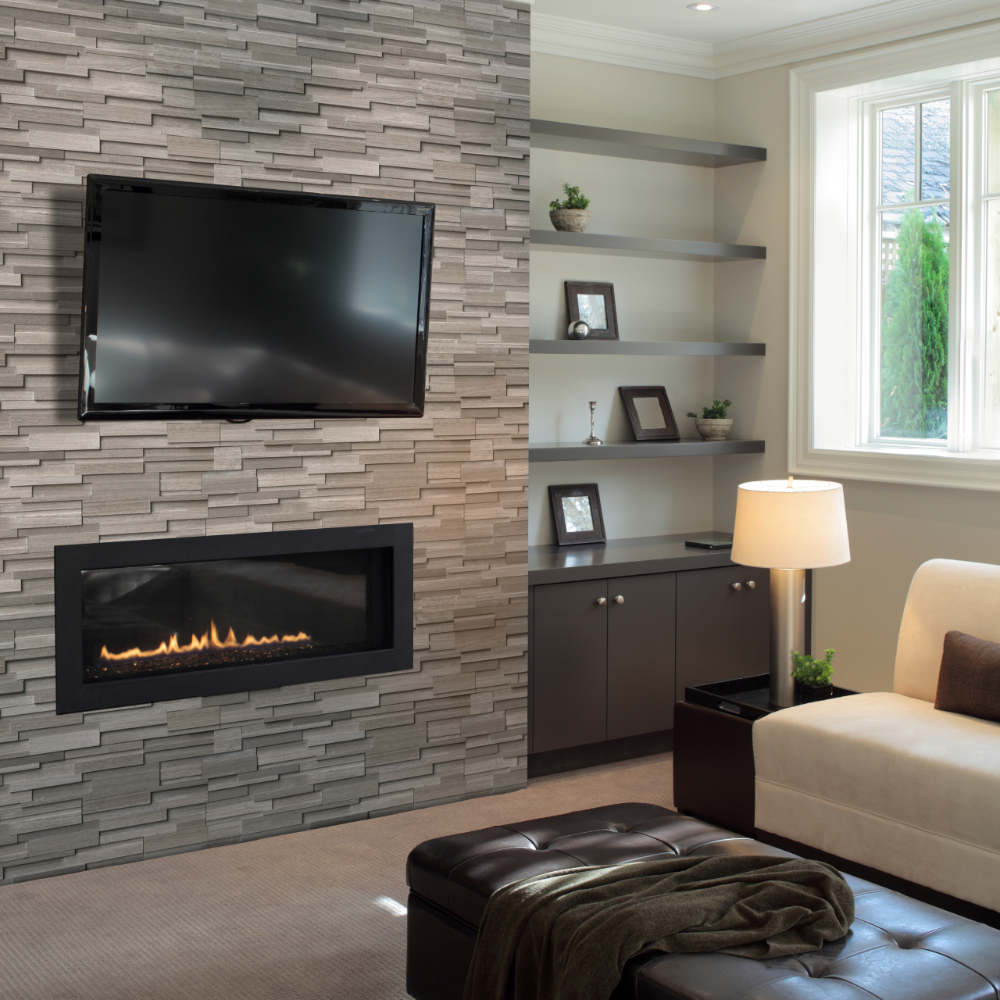 If you're seeking an equally elegant but darker hue, Gray Oak 3D Honed is a wonderful design to explore. These stacked stone ledger panels are in the mid-gray coloring spectrum and contribute a modern aesthetic to living rooms, backsplashes, living rooms, and exteriors. Doesn't this stone ledger design evoke warm nights sitting around the fire, binging your favorite TV show or catching up with good friends? This pattern allows any homeowner to surround your property or spice up an accent wall with grace style.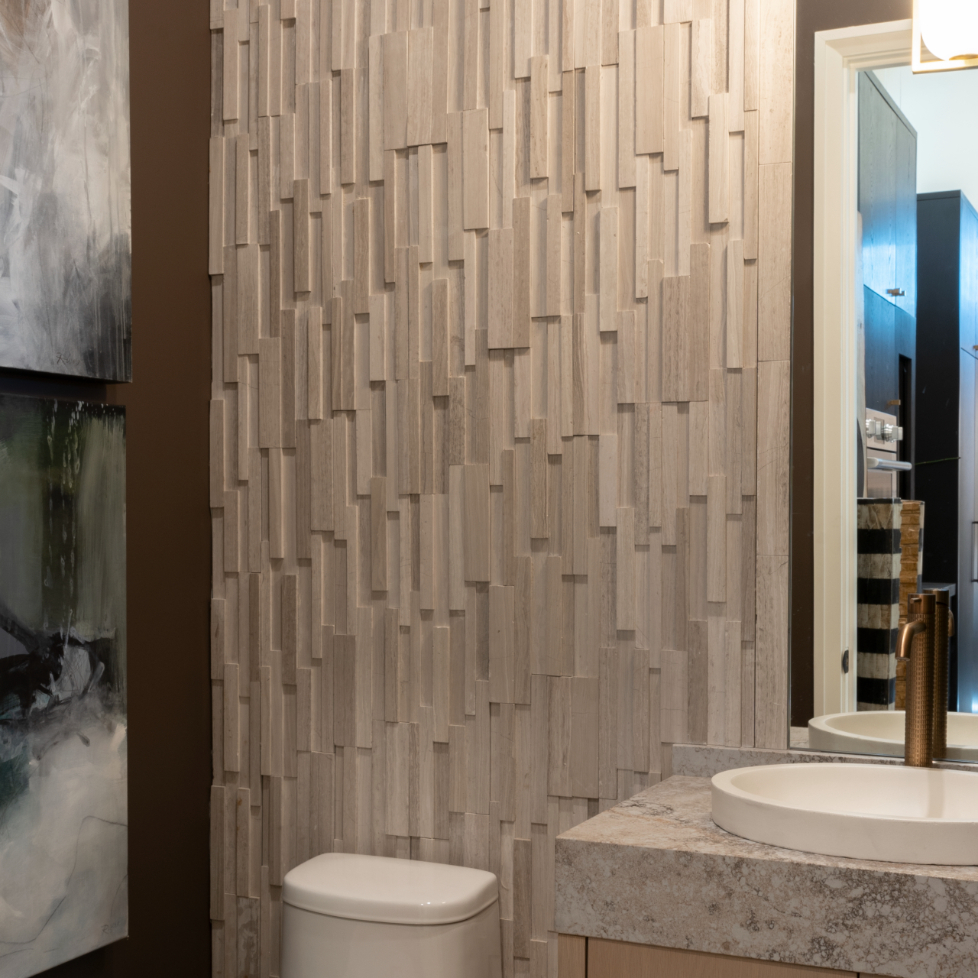 White Oak 3D Honed is a wonderful option if you're seeking an off white natural marble with depth and dimension. Matching corners are even available with this design to finish off projects, whether you're using to clad architectural features such as retaining walls and support beams. This pick is an excellent choice for exterior design projects as well as indoor surrounds and backsplashes. The wheels of stacked stone panel inspiration turn and turn when imagining what this would look like in restrooms, bedrooms, even parts of an expansive kitchen.
Maintaining and cleaning stacked stone ledger is important to avoid dust and debris. Scrubbing with warm water and cleaner specifically made for stone products is important so it retains its authentic look and feel.
The sky is the limit in terms of ledger stones to select. With any of these aforementioned designs, you can completely transform a room from contemporary chic to warm and rustic. Additionally, there's an enchanting element about them, a nearly storybook-like quality that invites friends, family, and loved ones into your home or surrounding its exterior. Can't you imagine warm nights by the fireplace, chilly autumn nights by your firepit, or lively dinner parties with these styles abound architecturally?
An additional perk of 3D veneer is that it is attached to a backing and installed like tiling, meaning the material uses no grout. These modular stone veneer panels' streamlined installation is part of their appeal, whether outdoor or indoor. Again, stacked stone is intended to be vertical and the point is to add texture and appeal. It enlivens walls and facilitates a stone finish that is timeless. Because it's vertical, these choices are not intended to be installed as countertops or flooring.
Many designers will say when you decide on your particular type of stacked stone, you should "design around it," meaning place this walling at the center of your process and decide on flooring, furniture, and other décor as a result. It's important to find stone ledger pick that will speak to your own aesthetic. Important questions to ask might be: Is a lighter or darker color valuable for this particular room? How does this stacked stone enhance the ambiance? What variation will work with the rest of my décor and how will lighting work around it?
In the end, you must decide the type of 3D stacked stone that works for you. But thankfully, with the Rockmount Collection, the possibilities are endless. Part of the magic of this process is adding vibrant, entrancing texture to your wall. And who says you have to have the same stone ledger décor inside as you do outside?
Stunning accent walls create stunning homes, warm friendly gatherings, and memories that last for years to come!
Learn More About Stacked Stone
5 Unique Ways To Use Stacked Stone
Build The Perfect Backyard Wall With Stacked Stone
Design A Stunning Accent Wall With Rockmount 3D Stacked Stone
10 Standout Projects Featuring Rockmount Stacked Stone
Wall Tile And Fireplace Facing Using Stacked Stone And Stacked Porcelain Panels