Current Obsessions: Perfect Quartz Countertop Pairings
May 06, 2016
Quartz countertops are easy to love, embodying a relaxed elegance that charms classic and contemporary decorators alike. Quartz is gorgeous on its own and even better with the right product pairings. With a variety of quartz countertop colors, patterns, and formats to choose from, the style options are infinite. The material is highly versatile and pairs exquisitely with stone, brick, wood, and porcelain. Put the finishing touches on your dream décor with flooring and wall tiles that bring out the natural beauty inherent in quartz. To help you envision your dream space, we've arranged a few of MSI's quartz countertops with pleasing floor and wall tile pairings. Here are a few of our favorite looks:
Rustically Urban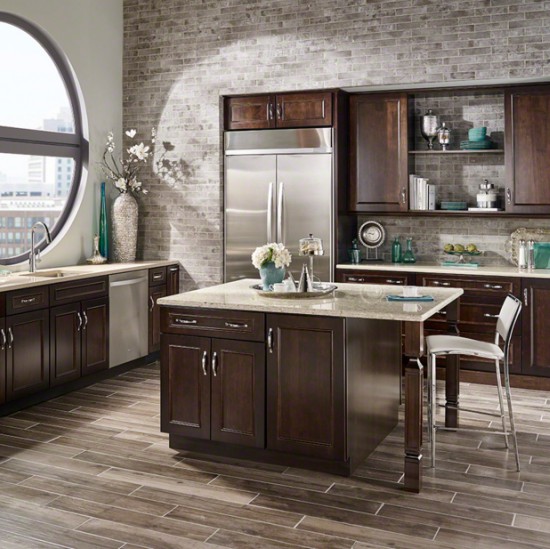 Featured: Chakra Beige Quartz, Palmetto Smoke Porcelain, and Capella Taupe Porcelain
This charming kitchen features Chakra Beige Quartz countertops, Palmetto Smoke Porcelain floor tiles, and Capella Taupe Porcelain wall tiles. The perfect place to sip lattes and watch the morning sun pour through the window, this warm kitchen's wood, brick, and quartz are made for each other. The natural beauty of wood pairs handsomely with the rustic charm of aged brick. In a unique mix of texture and tone, classic neutrals take on new depth and complexity. The warm-and-cool tones of Chakra Beige Quartz countertops look stunning alongside accents of brown and taupe while Palmetto Smoke Porcelain creates an alluring woodgrain look in easy-care porcelain flooring. The soft grays of brick-look Capella Taupe Porcelain complement quartz and wood embellishments beautifully.
Classically European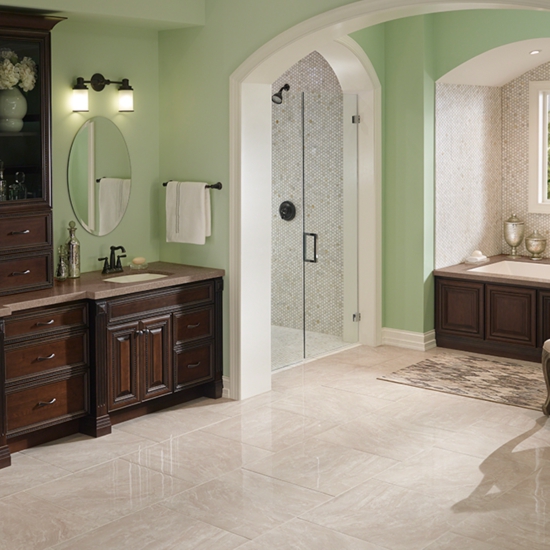 Featured: Lagos Azul Quartz, Pietra Pearl Porcelain, and Calacatta Gold Marble
This classically styled bathroom features Pietra Pearl Porcelain on floors, Lagos Azul Quartz countertops, and Calacatta Gold 1" Hexagon Polished Marble on the bath and shower surrounds. In this bathroom, the routine becomes ritual as you bathe yourself in a quiet luxury. Stately furniture, curved archways, and marble accent tiles echo old-world European stylings while rich wood cabinetry and mossy-green walls create an air of tranquility. The mid-tone browns of Lagos Azul Quartz pair beautifully with rich wood cabinetry and wrought-iron accents. Calacatta Gold Marble graces the shower and tub surrounds in an exquisite blend of soft neutrals. The whites, beiges, and grays of Pearl Porcelain echo the stunning beauty of genuine marble flooring.
Charmingly Modern
In this contemporary lavatory, Arctic White Quartz counters and Pietra Calacatta Porcelain floors exemplify all that's crisp and clean. This is the place where you soak away your troubles and escape from it all. Arctic White Quartz counters gleam in a solid bright white, their purity untarnished by veins or patterns. A touch of uniquely marbled porcelain tile adds visual variety to the shower surround and floors. The freestanding bathtub, 3D wall tiles, and unique light fixtures add an eclectic spin to modern design details. When matched with the right trimmings, quartz countertops sparkle in all their glory.
Whether you love the rustic look of brick or the classic beauty of marble, carefully chosen pairings bring your design vision to life. You'll find the perfect quartz complement in MSI's selection of beautiful wall tiles and flooring. Which of these looks draws you in?
more on quartz countertops
Are Quartz Countertops Better Than Marble?
Why Quartz Countertops Are the Most Popular Choice for Today's Kitchen
8 New Quartz Countertop Colors That Wow!
What is Quartz and How is It Made?