Popular
Your Guide To A Blissed Out Backyard
May 18, 2018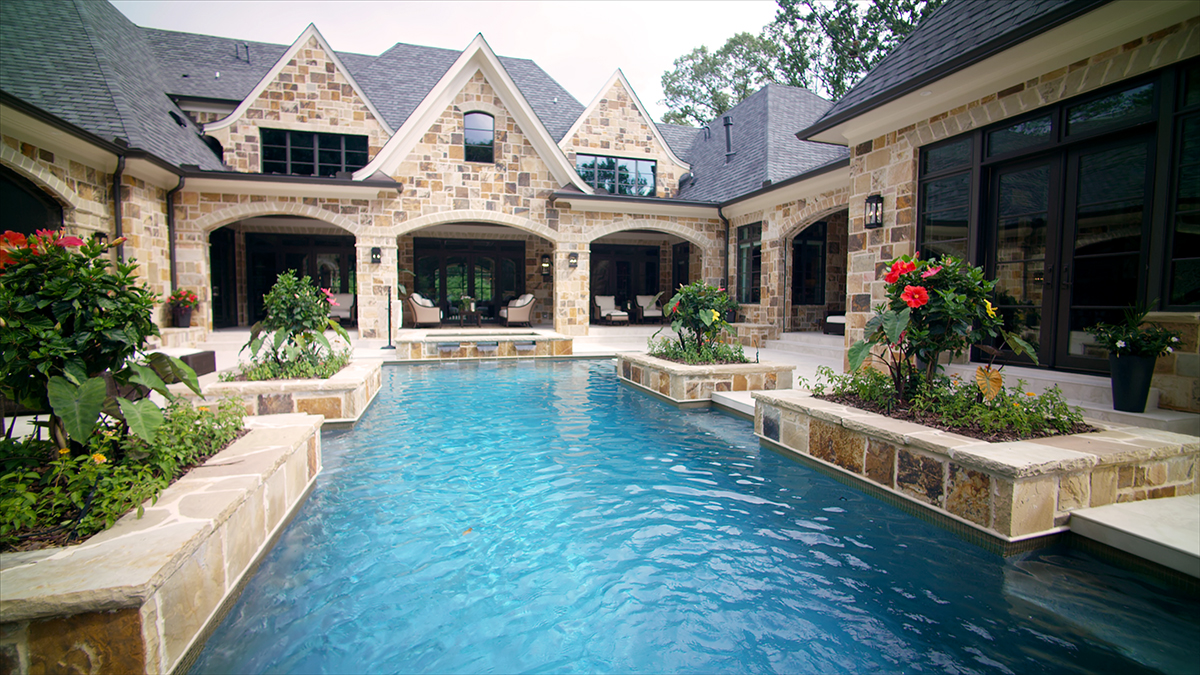 The backyard escape isn't just alive and well. It's booming. A record number of homeowners, 42 percent to be exact—are giving their outdoor spaces some love this year. Our growing fascination with outdoor living means we're busier than ever creating an extension of our homes with rooms that are as inviting and cozy as our interiors. Whether you're starting a backyard renovation or finishing a work-in-progress, it's all about the endgame: entertaining alfresco, adding value to your home, and blissing out after a job well done.
To make easy work of creating your haven, we gathered the hottest looks of the season to inspire you. From grill to garden to pool to patio—our tops picks are designed to turn your spring projects into storybook spaces. The difference between like and love? Versatility. Many of our collections are as dreamy outdoors as they are inside.
While our focus here is on backyard hideaways, the lineup punches up curb appeal with the same awe-inspired results. From the porcelain tiles designed to create a fabulous indoor/outdoor flow to the granite everyone's coveting for their open-air kitchen, here's to all those irresistible looks that make us want to spend every waking moment outside.
Let it Flow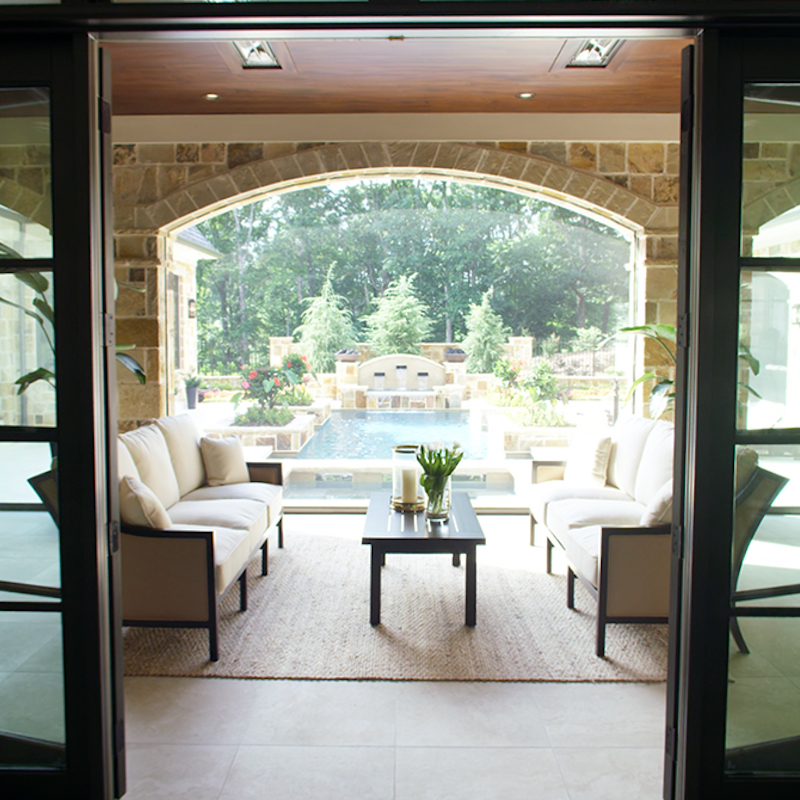 Bi-folding glass doors and all-weather furnishings combine with Arterra Porcelain Tierra Ivory Tile to create this vision of loveliness.
It's a fortunate thing trespassing's illegal. If we stumbled upon this space, we'd never want to leave. Who isn't obsessed with rooms that open to the outside? The more sliders and over-sized doors that extend from our dining rooms, living rooms, kitchens, and bedrooms - the better. Whether it's popping out of bed to the patio for a quick morning stretch, or carrying drinks from the kitchen to guests in the garden, an open-concept indoor/outdoor flow—and the products that support them—makes a breezy lifestyle possible.
For a flawless transition in and out, homeowners have come to rely on Livingstyle Porcelain Tile and Pavers from our Arterra collection. Best part? The low-maintenance, large-format lineup—featuring gorgeous stone and wood looks—is the very definition of affordable luxury.
Design tip: In warmer climates, you can install the porcelain tile throughout your interiors and exterior rooms. If freeze-thaw cycles are a concern, the lineup offers matching pavers.
Think Big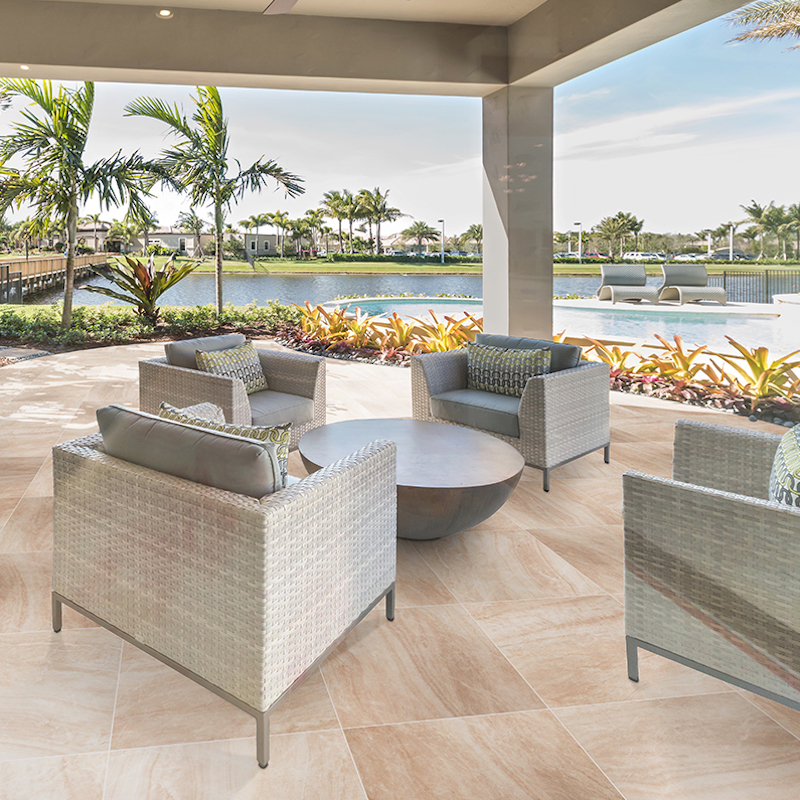 The place we plan to retire - decked out in 24" x 24" Arterra Porcelain Pavers Praia Crema.
Part of that magazine-worthy interior/exterior flow we dream about comes down to size. It's not just outdoor budgets that are growing (over a third of homeowners plan to spend over $50K this year, according to 2018 remodeler stats). Pavers and tiles are getting larger on the regular, too. With fewer grout lines to disrupt a room's flow, there's so much to love about this clean, sleek, and thoroughly modern aesthetic. And you don't need as much square footage as you think, the more dramatic the size (we're smitten with the 2' square), the more spacious the area looks.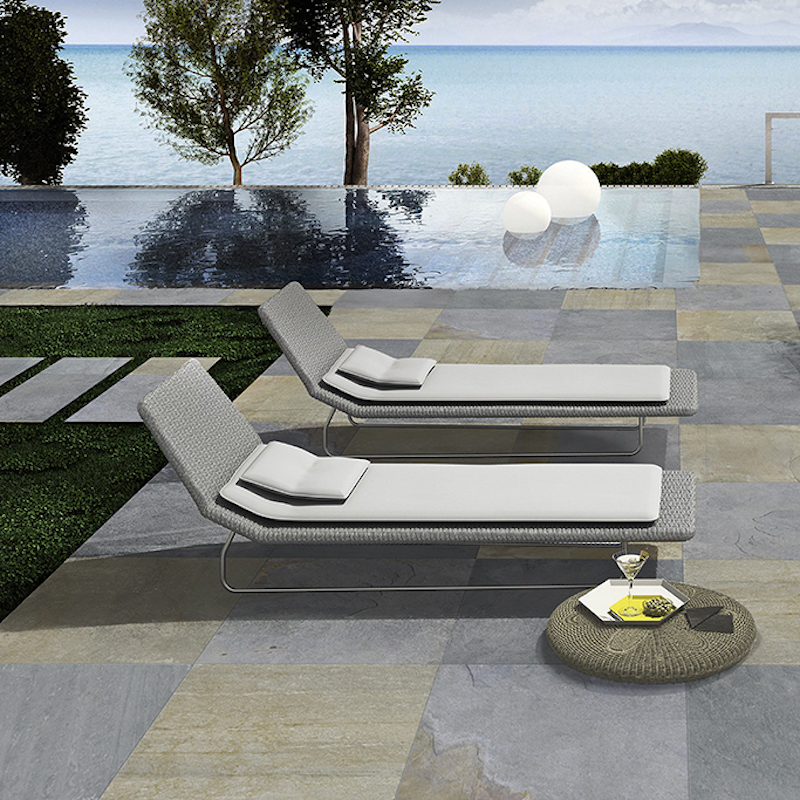 Looks like stone. Made for modern life. Large-format Arterra Golden White Pavers turn heads everywhere.
Why improve upon the wood and stone found in nature? Because life happens; and sometimes it's messy. Besides, today's print technology means you really can have the best of all worlds - including a large-format option like Arterra Porcelain. The collection delivers everything you love about the aesthetics of wood and stone but in a robust and unfussy package: stain resistant, frost resistant, scratch resistant, slip resistant, and low maintenance. Better than the real thing? Um, yes.
Design tip: If you're feeling creative, mix and match pavers of different sizes and colors, and arrange them in a pattern. Checkerboard or herringbone, anyone?
Blue Crush
Someone's dream came true – thanks to the always-illuminating Dark Blue Blend Glass Mosaic.
For sweltering days and balmy nights, a resort-like pool is a luxury on many a homeowner's wish list. And if you're hoping to find a tile that matches the vibrant turquoise and greenish blues (and grays) of the ocean, consider yourself in luck. The sea-inspired glass blend mosaics from our swimming pool tile collection is our favorite way to bring the ocean home. Underwater and points above, miniature glass mosaics shimmer and shine, setting the stage for a refreshing spa-like experience. And if your love of the ocean runs deep, why stop at the pool? The collection's patterns, sea glass tones, and luster brighten ups backsplashes, pool houses, water features, bathroom walls, bar areas – and yes, even between the steps of interior and exterior staircases.
Design Tip: Consider installing an underwater bench that runs the length of the pool – ideal for lounging, and helping little ones (and Fido) get in and out of the water.
Game-Changing Granite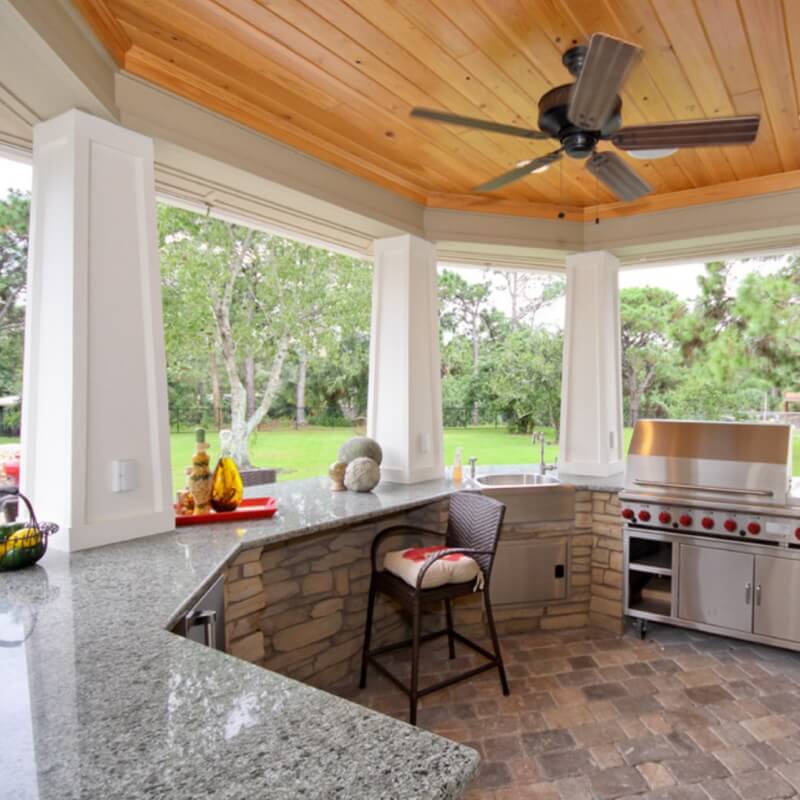 An entertainer's dream, Verde Fusion Granite steals the spotlight in this covered outdoor kitchen.
Hold on to your heart. Luxe outdoor kitchens like this beautifully appointed one make the alfresco lifestyle trend even more covetable – um, who wouldn't want a seat at this island? Dinner for two or a summer bash, we couldn't imagine bringing a multi-purpose space like this to life without granite countertops. Between the sunlight and fluctuating weather conditions, granite withstands the elements while maintaining its beauty and value through the years. The best news? Our granite collection has never been more accessible and budget-friendly.
Design tip: Overhead cover like umbrellas and pergolas keep granite countertops cool to the touch during the day.
Just Add Water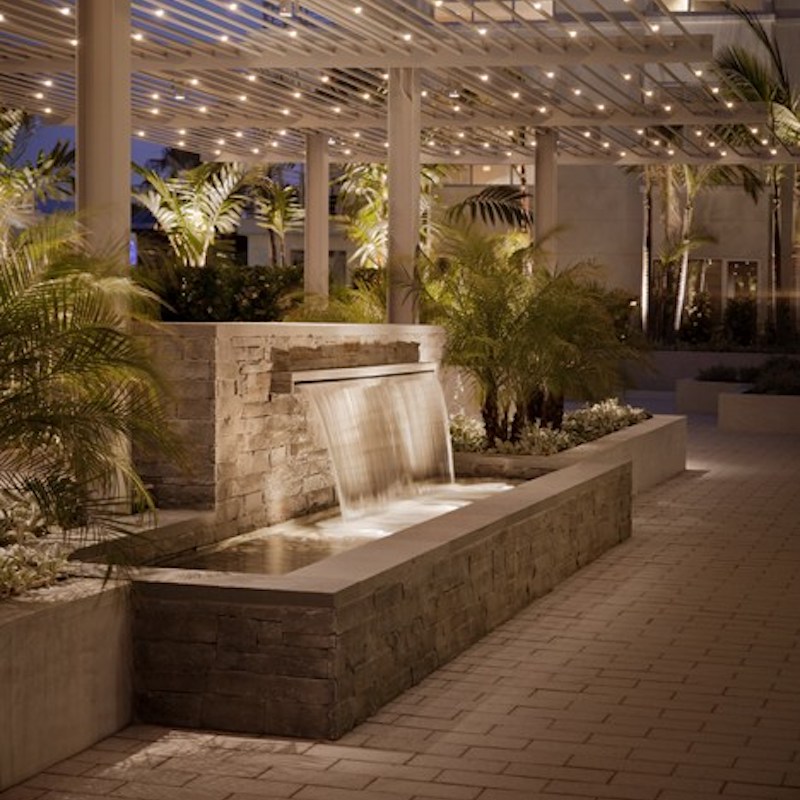 Photo courtesy of Pinterest: A stone waterfall feature and overhead lights converge with tropical greenery to give this yard its made-for-the-movies look.
Outdoor living is all about embracing nature and elevating the quality of your life. Sitting by a fountain under moonlight takes it up a notch. Small budget or large, over the top or understated, water fountains and water walls are favorite ways to get your Zen on while creating a dramatic focal point in the garden, entryway, or courtyard. The soothing sound of soft splashing water – particularly when it's muting out the neighbors or a nearby freeway—is a little bit of heaven.
Some traditions you just don't mess with, and using real stone in the yard is one of them. And in our mind, the more texture and dimension, the better. We curated Rockmount Stacked Stone Panels – featuring marble, travertine, quartzite, and slate—to help transform ho-hum yards into envy-inducing retreats. No room for a fountain like the one above? A rock wall (with or without water) is a great way to create a grand entrance, add privacy, and separate your yard into outdoor entertaining zones.
Design tip: Have a small space? You can turn urns and planters into beautiful fountains. Use them to flank an entrance or walkway.
Stepping Stones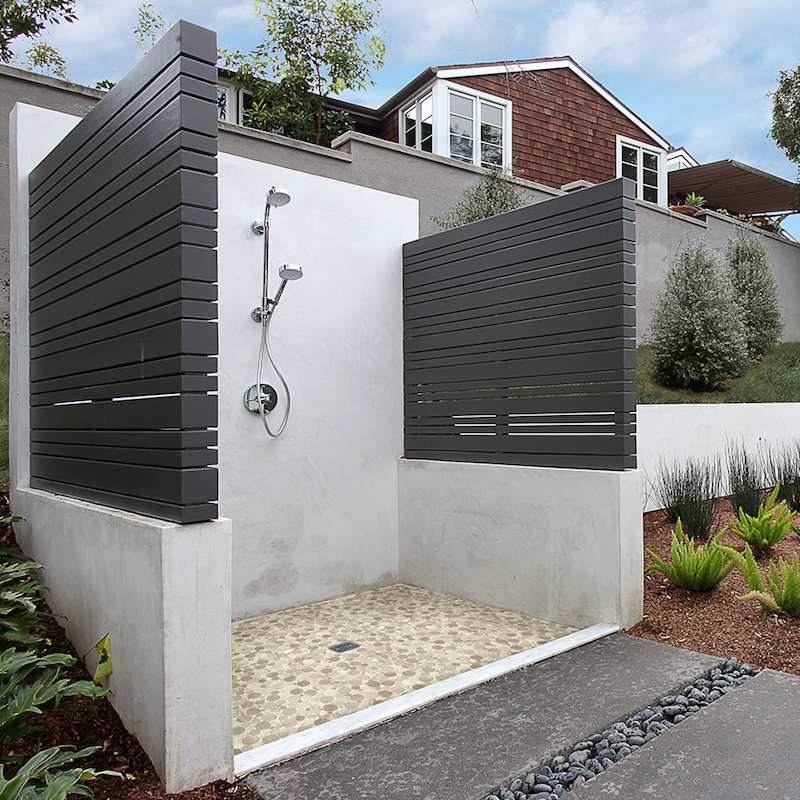 Rio Lago Serenity Stone underfoot softens the hard angles of this mod alfresco shower.
Bringing indoor creature comforts out into the elements is a refreshing way to connect with nature. But when it serves a purpose as outdoor showers do, we're grabbing the car keys and making it happen.
Too many showers? Never – especially with summer guests spilling about. Whether it's a gaggle of neighbors rinsing down poolside or a party of one in a post-garden wash-up, a few square feet of ground at your disposal is all you really need to increase your backyard's functionality.
If you're looking to add this much-loved convenience without busting the budget, worry not. Rio Lago, our latest pebble collection, is a design set darling with spa-like looks and staying power. From dark and dreamy to bright and summery, this highly-covetable marble, travertine, and limestone lineup—with textured patterns and premium finishes—makes brilliant rock bed floors and statement walls.
Design tip: To best determine the location of your outdoor shower, figure out when you'll use it most, and where the highest exposure to sunlight will be at that time.