Current Obsessions: Does Quartz Stand Up To All Hype?
February 03, 2017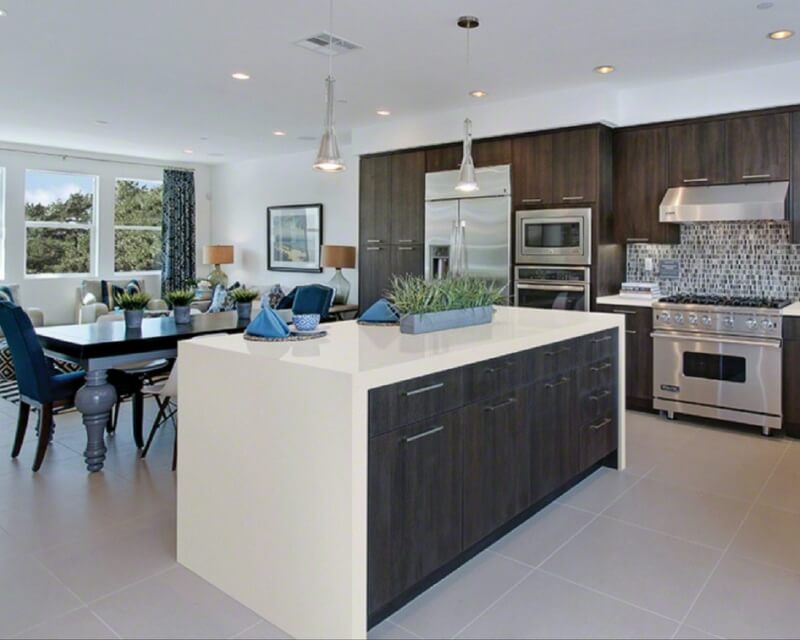 What do you first notice when you walk into a kitchen? Chances are it is the countertop, particularly if it's a statement waterfall island crafted from a beautiful premium surface.
For the last several decades, natural stone slabs of granite, marble, and soapstone have been popular, but now there is a new kid on the block—quartz—and it is poised to be competitive.
Television design and remodeling shows, interior designers, and trade magazines alike have been praising quartz highly in the last several years. As a result, quartz countertops, waterfall islands, and backsplashes are being chosen by discerning designers and homeowners more than ever before, and for good reason.
Quartz countertop colors and designs span the rainbow; plus, quartz is durable, easy to clean and maintain, and can be used in virtually every application natural stone slabs are suitable.
From traditional to modern, and every style in between, there is a quartz countertop color to fit your design. Traditional cabinetry pairs beautifully with Cascade White Quartz, with its milky white background and muted gray flecks and veins.
Just like natural stone slabs, quartz countertop edges can be finished in a wide array of profiles. Use our Countertop Edge Visualizer to explore the options available.
Busy, active kitchens benefit from quartz countertops, both around the perimeter and on the island. The subtle patterns and soft tones of Pelican White Quartz is the perfect countertop when an uncluttered, clean look is desired. Here, while the countertop is beautiful, the real star of the room is the view.
White kitchens are always in style, and selecting a timeless countertop material is vital for longevity. Here Arctic White Quartz complements the modern white and natural wood cabinetry effortlessly.
Prefab quartz and quartz slabs both resist chipping, etching, and scratching, making it the ideal surface for doing homework, arts and crafts, meal prep, and entertaining.
In addition to solid white quartz countertops, natural stone-look quartz slabs are also available. White and gray marble is timeless; however, it does require some ongoing maintenance.
On the other hand, quartz countertops never need sealing to maintain their luster, shine, and durability. Calacatta Classique Quartz is the perfect choice for countertops and waterfall islands when the look of natural stone is desired, but a maintenance free surface is preferred.
Because quartz doesn't have pores, it is considered one of the most hygienic surfaces you can have in your kitchen or bath, its smooth, fine finish resisting bacteria growth. Here, the Gray Lagoon Quartz island blends beautifully with the contemporary design of the space, unifying the kitchen, dining room, and living room effortlessly.
In this busy, high traffic space, easy cleaning is a must. Cleaning quartz is a breeze; all you need is a damp cloth for daily wipe-downs, and warm dish soap and a soft sponge for bigger spills.
So, to answer the original question, yes, quartz does live up to all the hype. It is durable, maintenance-free, easy to clean, and beautiful in any design. Use our Virtual Kitchen Designer to design your dream kitchen, exploring all the quartz options, floors, and backsplash choices available today.