Which Is Better: Quartzite Or Granite Countertops?
August 09, 2021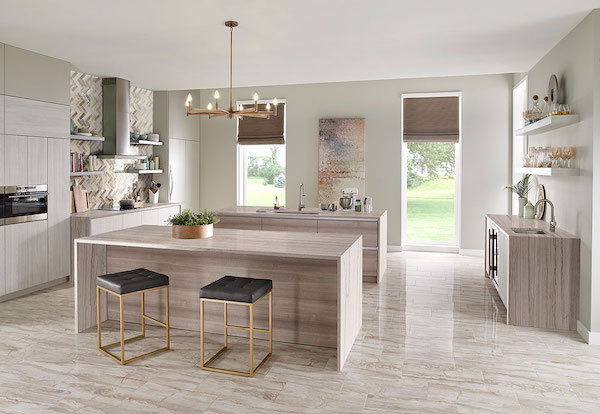 A natural stone kitchen or bathroom countertop adds character and beauty to your home. Quartzite countertops and granite countertops are two of the most durable natural stones for home surfaces — and since they're both gorgeous and luxurious, it can be difficult to choose between them.
Both types of natural stone have benefits and drawbacks, and there are many similarities as well. One way to choose between the two is simply to look at the many different colors and patterns available and choose which one you like the best, and it's just a matter of personal taste. Beyond that, when you learn about the two types of countertops, you can consider many more factors.
Which is Tougher?
If you simply want to choose the hardest countertop materials, it's pretty much a tie between granite and quartzite:
Granite is an igneous rock, which means it is formed when molten lava cools and solidifies. The result is a very hard surface, measuring around 6 to 6.5 on the Mohs scale of hardness. Its depth and sparkle come from the inclusion of quartz crystals.
Quartzite is a metamorphic rock, which is formed when sedimentary rock is exposed to intense pressure and heat. It is composed almost entirely of quartz, which is one of the hardest materials on Earth. It measures around 7 on the Mohs scale of hardness.
Quartzite is often confused with quartz countertops, which are engineered surfaces made with quartz crystals along with other crushed minerals that are bonded together with a strong resin. Quartz countertops are also durable luxury surfaces, but it's important for you to know the difference when comparing the materials.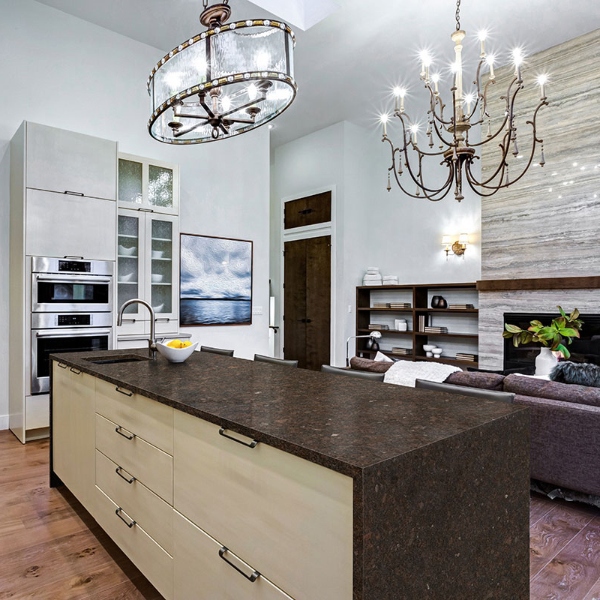 Available Colors
Quartzite is an elegant choice for bathroom and kitchen countertops. It has a smooth, silky surface, and some varieties resemble marble, although it's much more durable and low-maintenance than marble. It typically comes in shades of gray, white, and cream, though some more exotic colors may be available as well.
There are more choices of granite colors than quartzite, such as brown, gold, pink, and even shades of blue and green. Black granite is a popular choice, too. Different types of granite also have a variety of patterns, from subtle to bold, and the quartz crystals embedded in granite make it sparkle and shine.
Whichever you choose, it's important to note that no two slabs are exactly the same, so you may want to select the exact natural stone slab you want to be installed in your home.
Difference in Price
Quartzite is rarer than granite and may be quarried from a faraway location, so the cost of transport will be included in the price. It may also cost more than granite because its hardness makes it more difficult to fabricate. This is especially true when the homeowner requires specialty cutouts or edge treatments.
Granite is abundantly available and quarried from sites all around the world. For this reason, it tends to be less expensive than quartzite or other types of natural stone countertops. Of course, choosing more exotic, harder-to-find colors of granite for your kitchen remodeling project will cost more than the more common shades, such as beige and gray.
The price difference between the two can affect your decision about how much to include in your kitchen design — for example, you might choose matching granite backsplash tile or a matching kitchen island. If specialty fabrication for quartzite costs more, you might opt for a plain edge treatment or steer away from custom sink cutouts.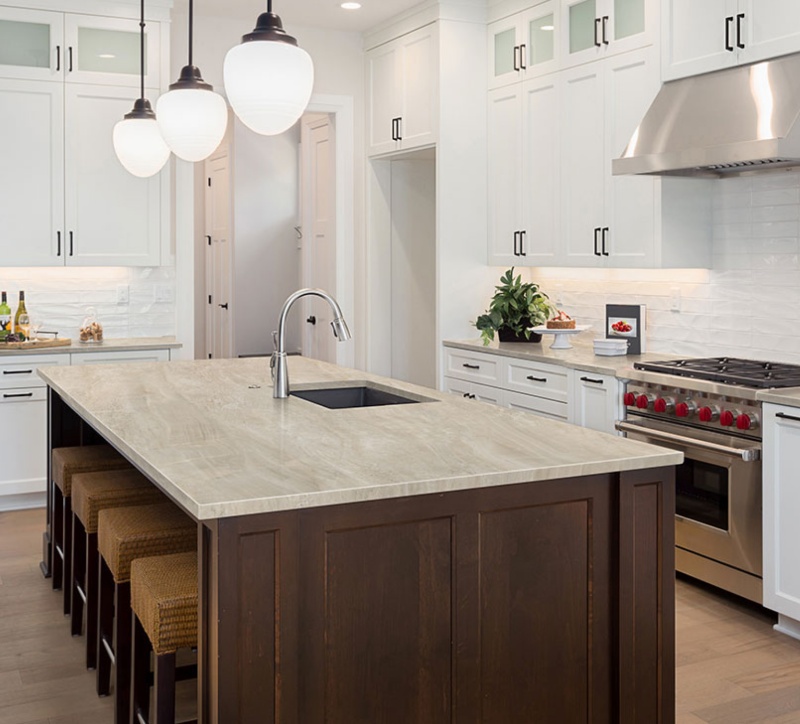 Maintenance
Both quartzite and granite are resistant to scratches, heat damage, and chemicals. Like all natural stones, both quartzite and granite need to be sealed to be nonporous, so they won't absorb water or other liquids. However, they are also both extremely low-maintenance, only needing sealer to be applied about once a year for further protection against stains and scratches.
Daily maintenance of both types of countertop is easy. All you need is a mild cleanser such as dish soap. Avoid using harsh chemicals, especially any types of cleanser that are acidic such as vinegar. Cleansers that are specially formulated for natural stone are available and are recommended when extra cleaning is necessary.
Home Resale Value
When making such a substantial investment in a home improvement project, you want to ensure you'll get the best return on your money if you intend to sell your home. It's a well-known fact that granite countertops increase a home's resale value and help it sell more quickly.
However, granite countertops have become such a common feature in today's homes that It has less effect on your home's value than it once may have had. Also, although it's available in a variety of gorgeous colors and bold patterns, choosing a more exotic color, as opposed to a more subtle, neutral shade, may negatively impact your home's resale value.
Quartzite is not used as frequently as granite in homes today. It tends to have an opulent, traditional feel and can even resemble high-end marble. This may give quartzite a slight edge, but all natural stone will improve the value of your home.
No matter which natural stone countertop you choose, as long as you purchase from a reputable dealer and hire an experienced fabricator, you can't go wrong. Both are sure to give your kitchen or bathroom decades of durable, beautiful service with minimum care requirements. Visit MSI's web gallery and kitchen or bathroom quartzite or granite visualizer , which will help you narrow down the multitude of choices available and let you see how your favorite natural stone countertops will look in your own home.
LEARN MORE ABOUT QUARTZITE COUNTERTOPS
Granite Vs. Quartz Vs. Quartzite — How To Choose The Right Countertop
Our Most Popular Natural Stone Countertop Choices: Marble, Quartzite, And Granite
Choosing Your Bathroom Countertop: Quartzite, Granite, Marble, And Quartz Countertops
Quartz Countertops In Durable Natural Quartzite Looks
READ MORE ABOUT GRANITE COUNTERTOPS
Viva Brazil! Sports, Festivals, And Granite
What Can Cause Granite Countertops to Etch?
What to Ask Your Contractor Before Buying Granite Countertop
When Is a Prefabricated Granite Countertop Is the Best Choice?