Mix And Match Porcelain And Ceramic Floor Tiles
December 09, 2021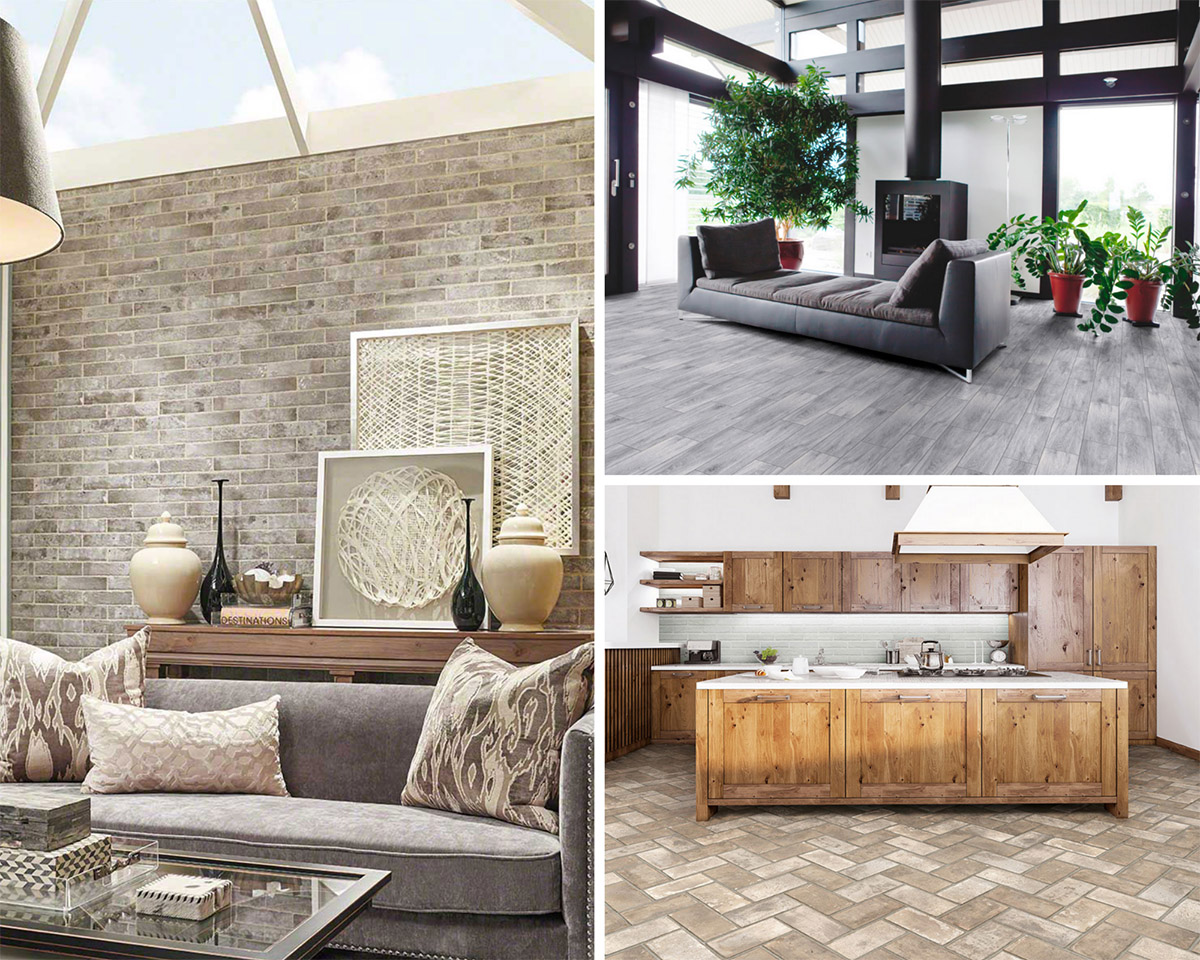 When searching for the ideal flooring for your home, there is much to consider. Studying up on durability, price, ease of care, and the amount of required annual maintenance are all essential. The benefits of going with porcelain and ceramic flooring are numerous. One significant advantage is using ceramic and porcelain tile together to achieve the desired look of your dream flooring.

In this guide, we'll take a deep dive into the benefits of porcelain vs. ceramic floor tiles, what makes them unique, and have a look at four collections you should explore while deciding which modern tile best meets your needs.
BALBOA CERAMIC TILE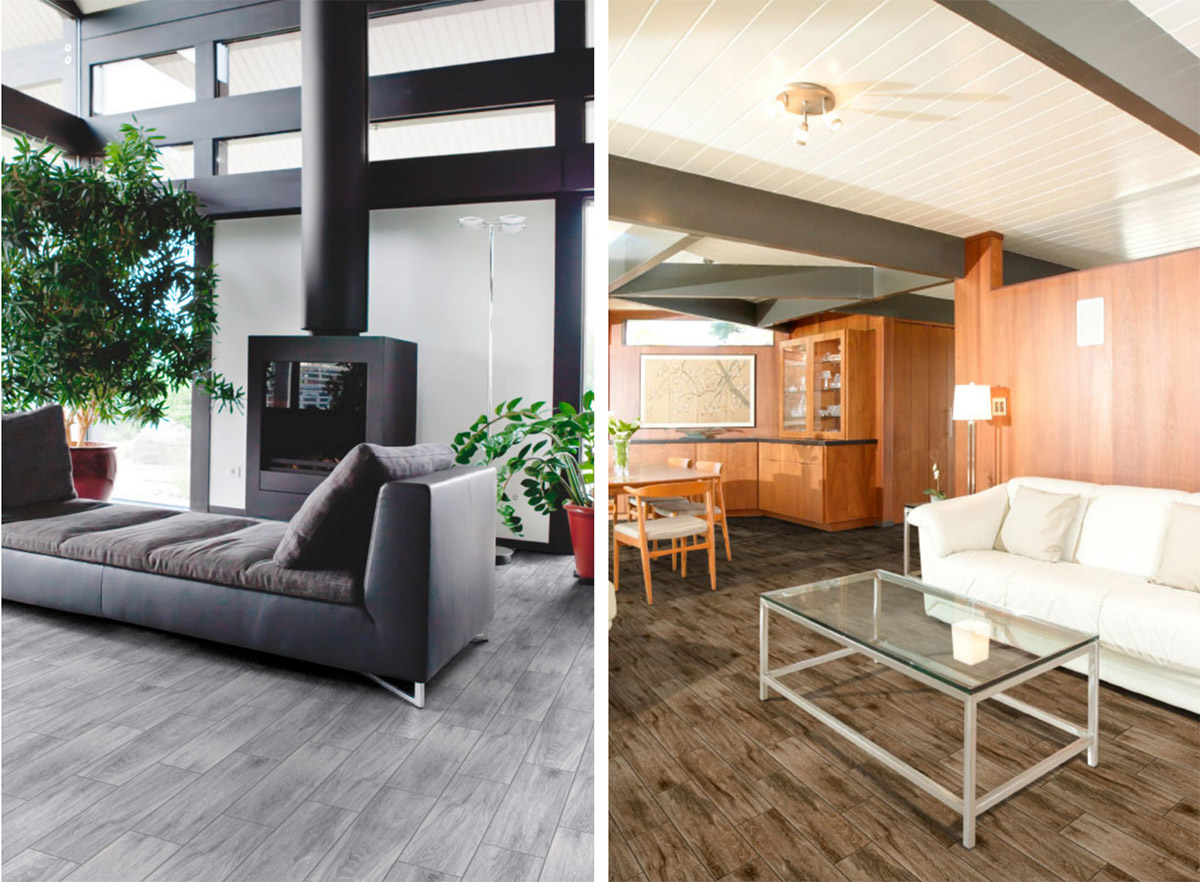 For an attractive wood look ceramic tile, it's hard to beat MSI's Balboa Ceramic Tile Collection. When you opt for a tile from this assortment, you achieve the look of natural hardwood flooring but with superior durability and none of the ongoing upkeep required of the real thing. Thanks to high-tech printing, ceramic tiles like those in the Balboa collection achieve the highly detailed look of solid hardwood in ceramic tiles or planks that are both scratch and water-resistant.

This makes these luxurious ceramic tiles perfect for busy families and homes with pets. They are also priced significantly lower than an authentic hardwood floor and are perfect for flooring, backsplash tile, accent walls, and countertops.
The Balboa Amber Ceramic Tile planks pictured here feature brown hues complemented by subtle knots and linear graining to create the look of classic oak hardwood flooring. The way this tile complements everything in this room is breathtaking. It makes the burnt orange walls and furniture pop and vice versa. You can say the same thing for the white couch, celling, and more.

On the other side of the frame, we have Balboa Ice Ceramic Tile planks resembling natural birch hardwood flooring. Shades of cool white and gray come together with subtle knots and fine graining to deliver a classic wood floor look that will delight your family and guests for years to come.
BRICKSTONE PORCELAIN TILE
The Brickstone Porcelain Tile Collection from MSI delivers the highly coveted reclaimed brick look in a durable porcelain tile. From the traditional look of red brick to fashionable white and more, achieve the look you're after for tile flooring, modish backsplashes, accent walls, and shower surrounds. This porcelain tile beats the real thing every time. You'll get that reclaimed brick look with easy installation (no mason or masonry skills required), an affordable price point, and minimal maintenance.

The Brickstone Ivory Porcelain Tile pictured on the left uses soft white and ivory tones to create an irresistible reclaimed brick look that works so well with this kitchen's wooden theme. These and all of the tiles in the Brickstone Collection flawlessly mimic the grouting rectangle that surrounds each brick. It would be difficult to blame anyone for thinking these porcelain tiles were real bricks, professionally installed one by one.
The right side of the photography displays Brickstone Taupe Porcelain Tile flooring. This porcelain tile uses warm beige and taupe tones in a worn brick pattern to create the popular look of reclaimed brick. Actual brick is soft, porous, and chips and stains easily. To avoid this fate, real brick requires regular resealing. That's not the case with porcelain tile. Once the easy installation is complete, all you need to do (besides some light cleaning) is sit back and enjoy your gorgeous brick look tile patterns.
TEMPEST CERAMIC TILE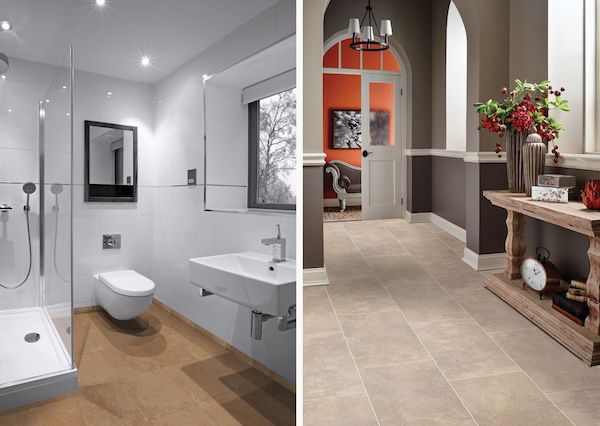 MSI's Tempest Ceramic Tile Collection is where elegance and durability meet. Always on-trend, this modern tile features a classic travertine look in three neutral hues—Natural, Grey, and Beige. Like all tiles listed in this guide, you can mix this ceramic tile with porcelain offerings to achieve the flooring look you seek. However, Tempest Ceramic Tile isn't reserved solely for floors. Use it to create stunning accent walls, enticing backsplashes, and beautiful countertops that tie the entire room together.

Use Beige Tempest Ceramic Tiles to add sophistication and warmth to an area as they do in this wide hallway. The use of warm beige tones in an understated yet distinguished tile pattern works so well with the gray walls and brown and gray furniture. As with the Balboa Amber tiles, Beige Tempest tiles truly make the burnt orange wall stand out while it returns the favor to this timeless flooring. With the Tempest Ceramic Tile collection, the possibilities are seemingly endless.

The Natural Tempest Ceramic Tile flooring in this all-white chic bathroom adds a nice cozy vibe. Since the tiles come in a larger format, there are fewer grout lines, adding to the bathroom's overall modern feel.
OXIDE PORCELAIN TILE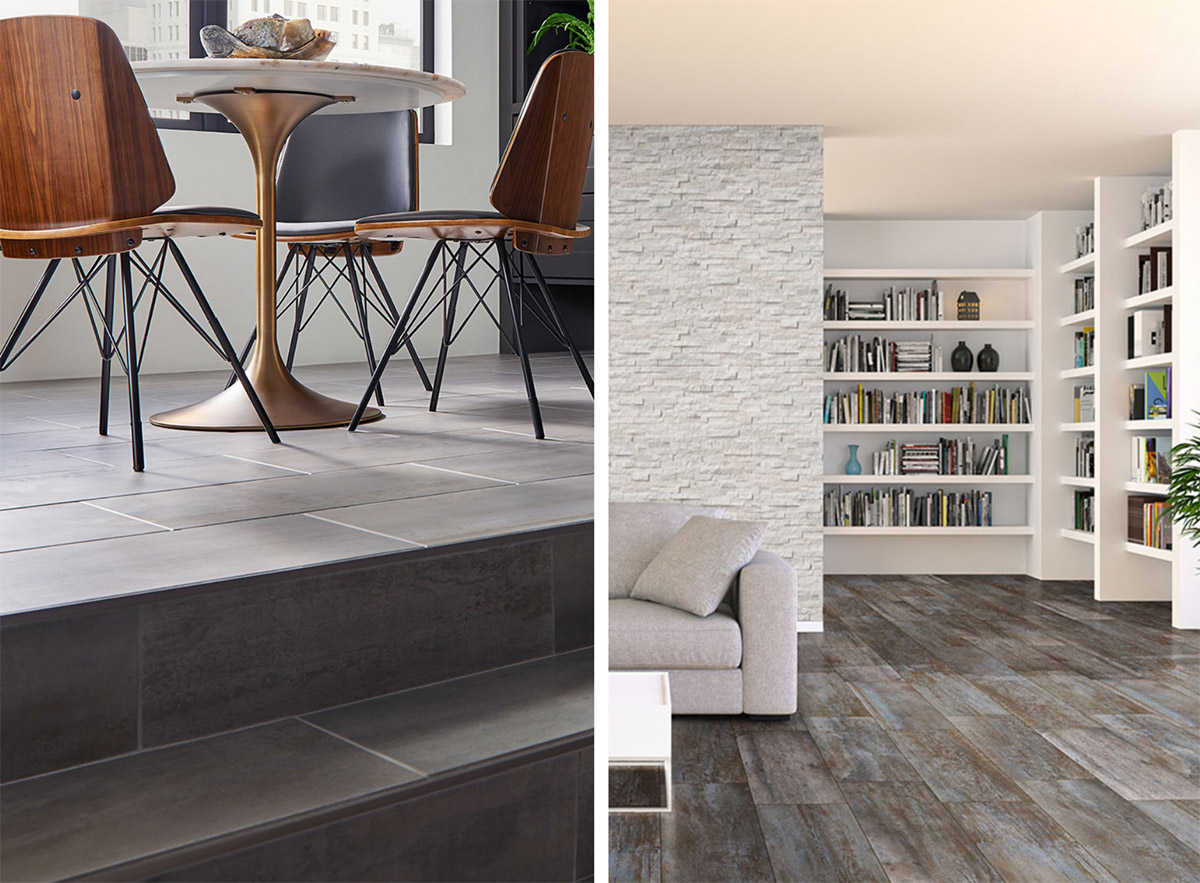 MSI's Oxide Porcelain Tile Collection comes in three striking colors—Magnetite, Iron, and Blanc. For long-lasting visual appeal, each tile features a distressed metallic-look finish. Perfect for standing up to high traffic areas, this porcelain tile works well indoors. Use it to create an industrial look or something more conventional.

The Oxide Magnetite Porcelain Tile on the left utilizes gray hues and a slight metallic-look finish to add mystery to a room. The neutral grays are wonderful for blending into any design scheme. With its understated elegance and strong personality, it's a durable tile versatile enough to be the talk of any office park or residential neighborhood. Use it for flooring, walls, bathroom tile, or countertops.

On the right is Oxide Iron Porcelain Tile, which features an unflinching combination of browns and dark grays. This combo adds a captivating industrial characteristic to any room. Use this tile to amplify an already modern space or in a more traditional space to serve as a bold counter agent to create a style like no other.

While the porcelain and ceramic tile this guide has covered vary in color and desired look, they all share the same durability, ease of care, and low price point. All are highly versatile in where and how you can use them. Please browse our wide selection of ceramic and porcelain tiles and contact us with any questions you may have.
READ MORE ABOUT THE BENEFITS OF PORCELAIN TILE
Mimic the Look Of Nature with Porcelain Tile
Modern Sophistication with Polished Porcelain Countertops
Old World Encaustic Tiles Take On A Modern Look with Porcelain Tile
Pet-Friendly Flooring Options: Luxury Vinyl Tile Vs. Stone And Porcelain Tile