Modern Sophistication With Polished Porcelain Countertops
February 03, 2020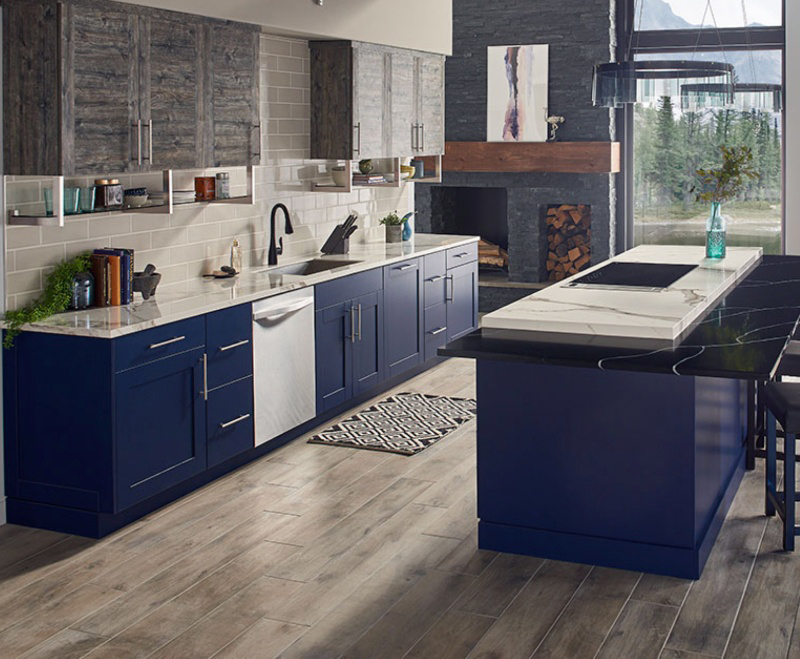 Have you been introduced to the new kid on the countertop block? No? Let us introduce you to Stile porcelain slabs from MSI. Unlike traditional porcelain tiles, Stile is exclusively available in large slabs. The dimensions of the tiles make them ideal for floors, accent walls, and to create seamless porcelain countertops and sweeping islands. In fact, many of our colors and patterns are available in slabs up to 5 feet by 10 feet!
If you long for the ease of care and durability of porcelain but hate grout lines on your countertops, it is time to get to know the new kid on the block—Stile gauged porcelain slabs.
What is Gauged Porcelain Tile?
Gauged porcelain tile is lightweight, affordable, and only 1/8" thick. It is nonporous, etch-resistant, heat-resistant, and stain-resistant, making it an ideal choice for kitchens and bathrooms. And design-wise—Stile is all about the style! Our product line includes realistic stone looks, including travertine, quartzite, marble, and granite. Move over granite countertops; there's a new premium surface in town—gauged porcelain tile.
Here are some of our favorite porcelain countertop looks.
High-Style and Low Maintenance
Marble countertops are timeless and beautiful. But that beauty comes at the cost of maintenance and some special care. Our porcelain slabs replicate the inherent characteristics of marble in a durable, low maintenance product. There's no need to worry about spills on your porcelain countertop—Stile's nonporous polished finished prevents staining. And, unlike natural stone, porcelain doesn't require periodic sealing. If you do install two pieces together and have a grout line, be sure to choose an epoxy grout that resists staining to make your install virtually maintenance-free.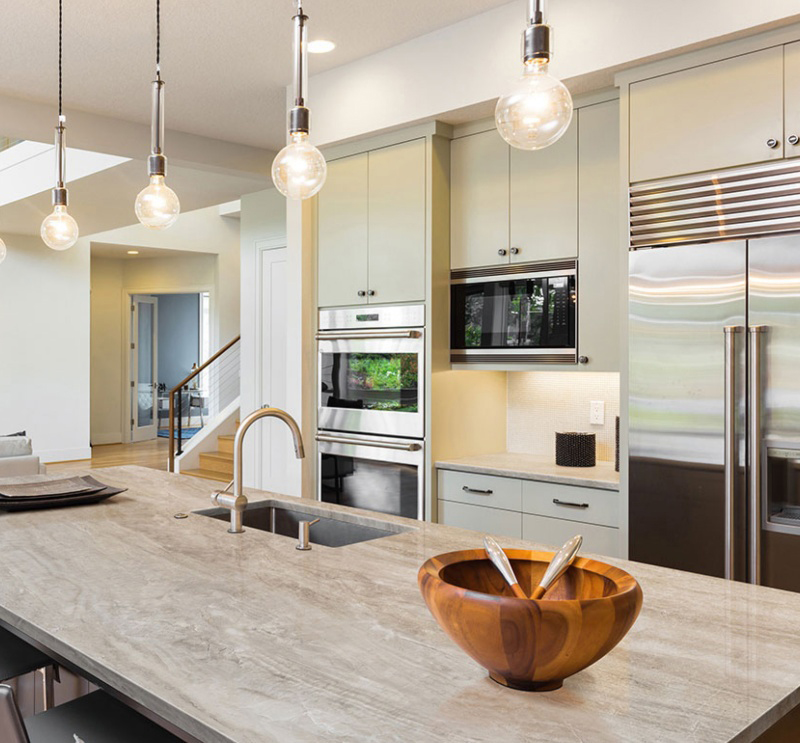 Taja Perla
IN this contemporary kitchen, our Taja Perla Polished porcelain takes center stage on the island. The designer pulled underlying tones from the Taja Perla for the custom-finished cabinetry creating a soothing and cohesive palette. The flat front cabinet panels generate a need for some texture and pattern. That's were Taja Perla shines. Subtle whispers of white and gray keep this kitchen from being one-note. The overall design is sophisticated and welcoming, thanks to the exquisite design and understated elegance of the countertop. This kitchen is an entertainer's dream. Don't worry about doing food prep or cleaning up after a meal, acidic foods that can harm natural stone won't bother gauged porcelain tiles.
Entertain with Confidence
Is your home the hub for holiday meals and celebrations? Porcelain countertops evoke luxury, and no guest will ever guess they are leaning against a surface that is porcelain instead of natural stone. Go ahead, set up a mimosa or Bloody Mary bar, and don't worry about stains or etching. Spend your time engaging with your guests, not worrying about spills and stains. One of the most sought-after natural stones is the Taj Mahal marble. The creamy background is highlighted by waves of white and hints of gray, adding a depth of character to any space.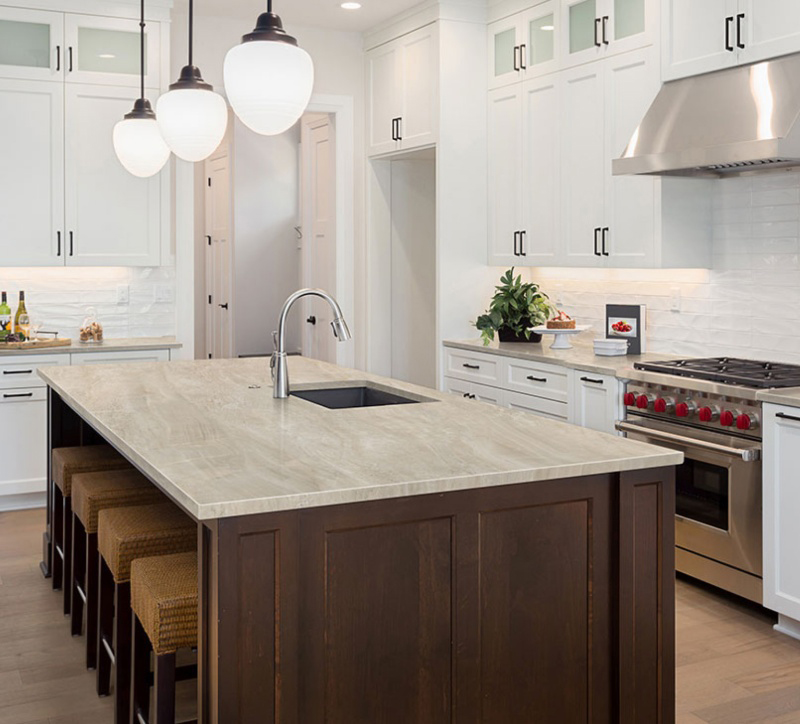 Taj Mahal
But as with most marbles, the surface is porous and needs routine sealing to protect the surface from stains. Our Taj Mahal polished porcelain slabs recreate the look of the marble marvelously. In this kitchen, the designer took a balanced approach to a white kitchen by choosing a contrasting hardwood island topped with our Taj Mahal porcelain and continued the look along the perimeter cabinets. The combination of white and dark cabinets, wood floors, and the porcelain countertops is inspired.
Streamlined Installation
As we mentioned above, Stile porcelain tiles are thin and lightweight—unlike thick natural stone slabs. Because porcelain weighs less and is easier to move than natural stone, installation can be much more straightforward. Thick slabs of stone require specialized tools for cutouts and finishing, while porcelain tiles can be installed much more quickly and easily. And, if you are postponing your kitchen renovation because of the cost of the demo—you can redo your space by installing porcelain slabs over existing surfaces! And, let's not forget about the dimensions of Stile— when designing, remember slabs are of similar size to natural stone, allowing for fewer joints and seams.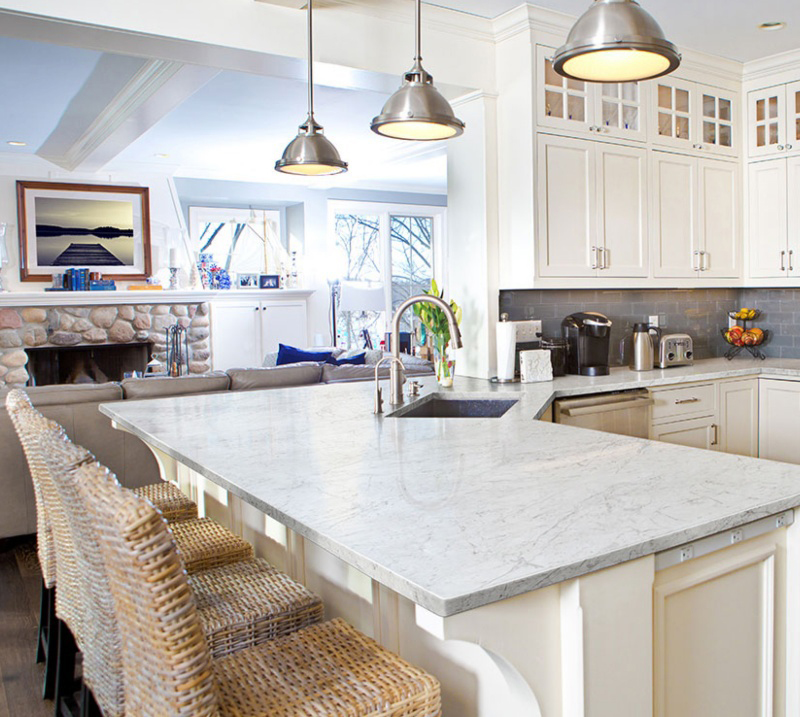 Carrara Polished
In kitchen design, peninsulas are making a comeback. The reason is simple - while an island may be the best choice for a large kitchen when space is tight, a peninsula can serve the same purpose in less space. In this charming kitchen, our Carrara Polished porcelain tile was used for all of the countertops creating harmony and making the AREA appear larger. Thin porcelain slabs are ideal for this sort of installation, as the seam at the corner with the cabinets is small and virtually unnoticeable. And let's not overlook the beautiful look of this iconic material—Carrara marble is one of the most popular stones of all time - and our design team has created this look TO mimic it perfectly.
Timeless Appeal
There are two reasons homeowners look for natural stone in kitchens and bathrooms. One is durability, and the other is a timeless design. Our Stile porcelain meets both of these demands effortlessly. White and gray go together like peanut butter and jelly—marriages made in heaven. Choosing iconic white and gray materials allows your style to morph through the years, changing up accessory colors and wall colors without having to change out your countertop.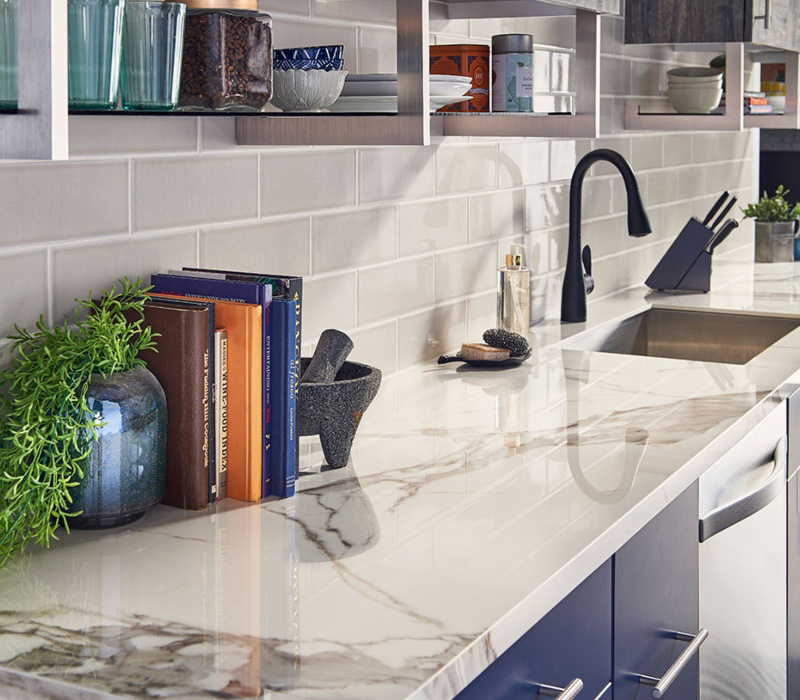 Statuario Bari
One of the big design trends of the last year is deep blue cabinets. We see blue cabinets in traditional design, modern design, and every style in between. IN this stunning kitchen with a contemporary vibe, the designer chose our Statuario Bari polished porcelain tile which, plays perfectly with the flat-front blue cabinets and the oversized subway tiles. Here, the Statuario Bari porcelain countertops definitely contribute to the wow factor of the cabinetry in a manner that blends traditional gray and white with an on-trend bold color.
Best Uses for Polished Porcelain Slabs
Because Stile slabs are lightweight and can be installed over existing surfaces, you can useour gauged porcelain slabs virtually anywhere. In addition to counters, Stile can be used as flooring, shower surrounds, accent walls, fireplace walls, and as backsplash tile. And, you don't have to limit your installations to just your home or business. Stile is so lightweight it is ideal for tiny homes on the go, RVs, boats, and airplanes.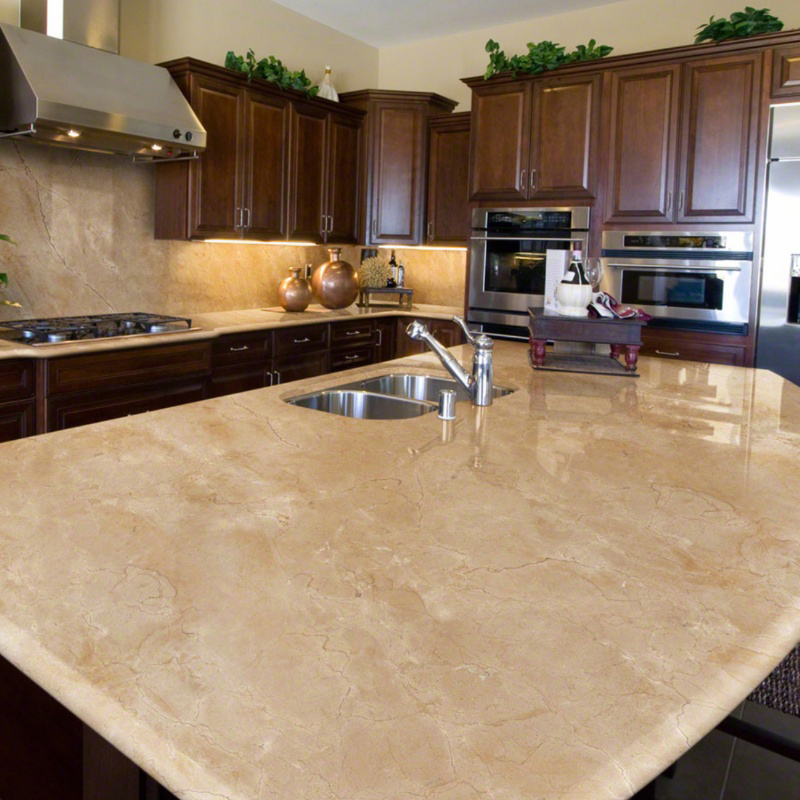 Crema Marfil
This warm and inviting kitchen highlights how using the same material on the countertop and on the backsplash works. Here, the designer selected our Crema Marfil polished porcelain tile because of its creamy beige and gold tones and subtle veining. The result is a luscious contrast between the dark cabinets and the creamy walls nd counters. This expansive kitchen island is ready for whatever is on your calendar—science projects, making cookies, or holiday buffets.
Gauged porcelain tiles are beautiful, durable, easy-to-clean, and engineered to look like natural stone. Before you choose a material for your next remodeling project, Check out Stile by MSI TO be inspired to use porcelain slabs on accent walls, as backsplash tile, on floors, and to create beautiful porcelain countertops in your kitchen, bar, and bathroom.
READ MORE ABOUT THE BENEFITS OF PORCELAIN TILE
Mimic the Look Of Nature with Porcelain Tile
Mix And Match Porcelain And Ceramic Floor Tiles
Old World Encaustic Tiles Take On A Modern Look with Porcelain Tile
Pet-Friendly Flooring Options: Luxury Vinyl Tile Vs. Stone And Porcelain Tile