Current Obsessions: Celebrate The Luxurious Side Of Quartz Countertops
November 23, 2017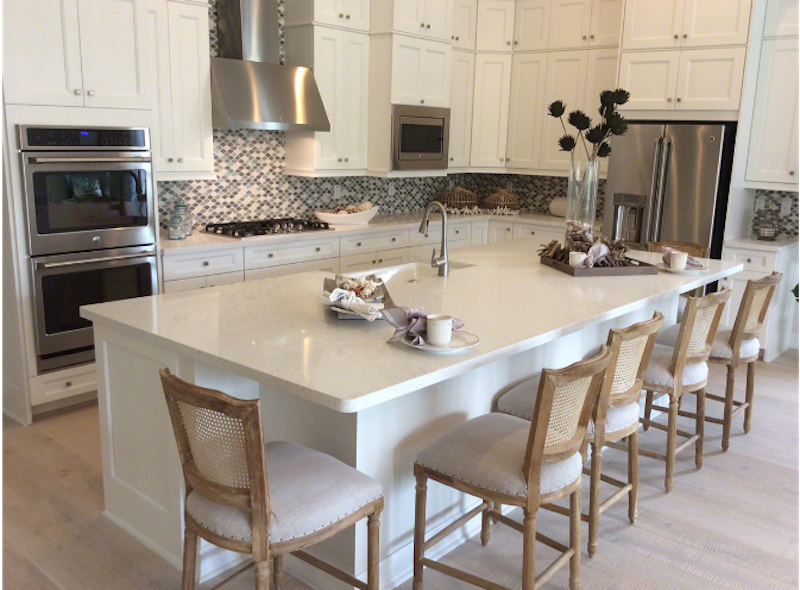 Quartz countertops are most often associated with modern, contemporary styles of décor. While they're perfect for that aesthetic, if you haven't considered quartz for creating a look of timeless luxury in traditional décor as well, you're missing out. Today's quartz countertops offer an uncanny resemblance to marble, limestone, granite, and other popular high-end stone countertops — but with less expense and maintenance. Underneath the gorgeousness, quartz countertops are all brawn. Now you can have the elegance you crave with the durability you need for your busy family.
Marbella White
First off, let's talk about white countertops, in a simple minimalistic design that has a luxurious feel of its own. White kitchen surfaces, after all, are notoriously hard to maintain, especially with heavy use — and who wants a kitchen countertop that can't stand up to the home chef's creations? White quartz countertops are super-tough and stain resistant, so it makes it easy to keep your kitchen clean and pristine.
Babylon Gray
An upscale, contemporary kitchen has three basic elements: gleaming appliances, stylish, bright lighting, and a practical kitchen island. This island goes one further by including a sink, in an extremely convenient location. Choosing a sink for your quartz countertop is easy, because it can be customized to fit any size opening with no hassle. Babylon Gray Quartz, with varying tones from dark to light, is an excellent accompaniment to stainless steel.
Sparkling Black
Black and white has always been a classic combo, and that's especially true in upscale kitchens. Large, open kitchens such as this one are ideal for dramatic dark countertops such as Sparkling Black Quartz. Its polished surface, along with random sparkly highlights, is an absolute show-stopper as the focal element of this room.
Stellar Gray
The industrial look has never been hotter in interior design, particularly in upmarket settings with airy, open floor plans. Stellar Gray Quartz countertops are mid-tone gray with subtle high- and low-lights, offering just enough pattern contrast to complement the raw concrete so prevalent in this style of décor.
Hazelwood
Farmhouse style, French rustic, or cottage — these traditional décor options are sometimes tough to pair with the ideal countertop. Hazelwood Quartz countertops offer a soft shade of taupe with very subtle patterning which is complementary to just about any type of décor. It offers something else that makes it the perfect fit for this style, though: timeless durability.
Carrara Caldia
There's no denying the appeal of classic Carrara marble to create a look of luxury. But are you brave enough to install the undisputed diva of décor on a hard-working kitchen island? You can be, when it's Carrara Caldia Quartz that looks like marble. Its soft white background with veins of gold will make any home cozy and opulent.
Calacatta Taj
Your kitchen is a space in which to show off your personality, and your artistic side — it's not just for cooking, but often also for entertaining. Display your favorite wall art, sculpture, and other treasures alongside artisan lighting. Calacatta Taj Quartz is a luxe quartz that looks like calacatta marble, appearing a lot more expensive and fussy than it really is.
Our point is clear — quartz countertops are incredibly versatile as well as tough; they truly can fit in anywhere. Also, even though it's easy on the budget, quartz delivers an upscale, chic element you'll be proud to incorporate into your home décor. Visit MSI's web gallery to view the immense variety of quartz patterns and colors available to choose from.
You May Also be Interested in these Quartz Countertop Topics:
Quartz Countertops: the Kid Friendly Surface That Looks Gorgeous!
Quartz Countertops That Are Kosher Certified
Comparing Granite and Quartz Countertops
Quartz Countertops Are the Professional Home Chef Must Have