Make A Bold Statement With New Q Premium Quartz Countertop Colors
March 04, 2021
Did you know that decorating your home and making it look aesthetically pleasing can boost your mental health? Installing new natural quartz countertops or backsplashes isn't just for show- it's for your well-being, too.
Like designers introducing new yet timeless fashion collections, these new quartz colors are the trendiest countertop surfaces of 2021. Modern quartz is an extremely versatile product on its own, but these new colors elevate the style possibilities even more.
Although simply made with ground-up quartz stone and bonding agents, these new quartz countertops feature both concrete and stone looks and are overflowing with personality.
Soapstone Metropolis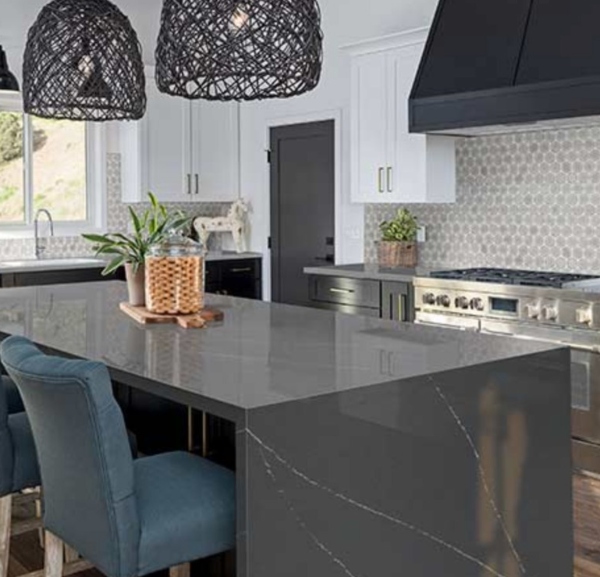 The first of our premium surfaces made from modern quartz that we're going to talk about is Soapstone Metropolis. This warm dark stone is primarily gray but features blue and green undertones. The sleek dark surface is emboldened by thin white veining that looks like what you would find on natural soapstone.
This design is perfect for those who like the appearance of soapstone but want a durable make for their kitchen. Because soapstone is so soft, it will dent and scratch under minimal pressure. Soapstone-look quartz is much more functional because you can chop vegetables and shuffle items across it without worrying about marring the sophisticated surface.
Soapstone Mist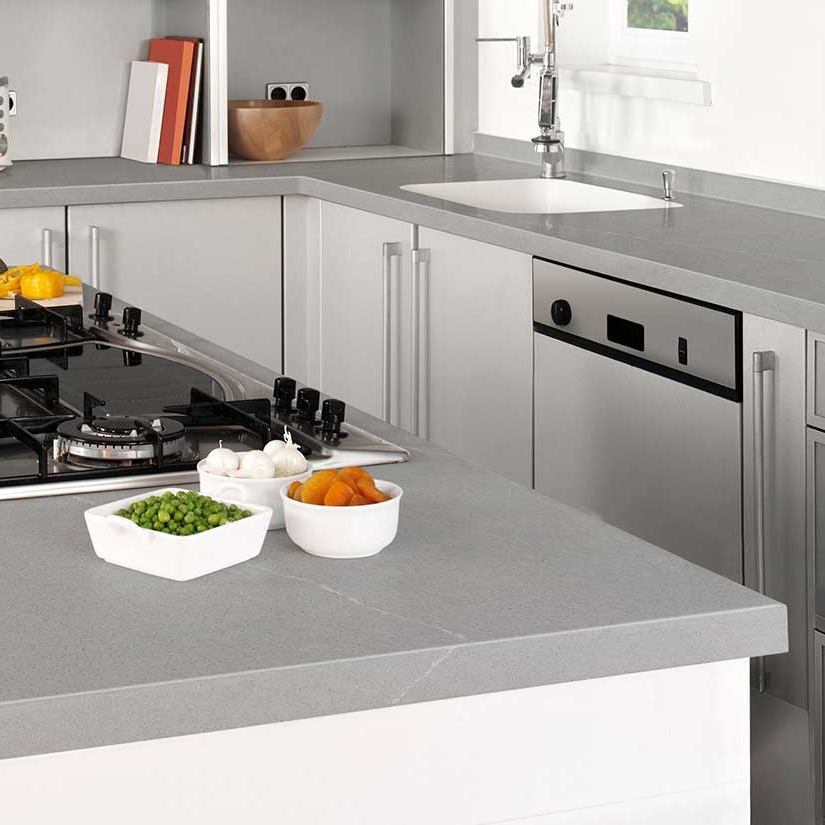 Another soapstone-inspired design, this quartz countertop is mostly set apart from Soapstone Metropolis due to its color. Soapstone Mist has the same warm undertones as the alternative but instead features speckled cream and light gray hues.
When you look closely at its surface, you can see the same thin white veins that appear on Soapstone Metropolis. These veins blend in with the backdrop quite well but are still prominent and engaging for those who look at the stone.
Our countertop edge visualizer is a kitchen design tool that will help you select the edge profile for your new surface. When you choose Soapstone Mist (or any other MSI design), you can use this tool to discover whether eased, beveled, triple pencil, bullnose, or another edge style is right for you.
Calacatta Miraggio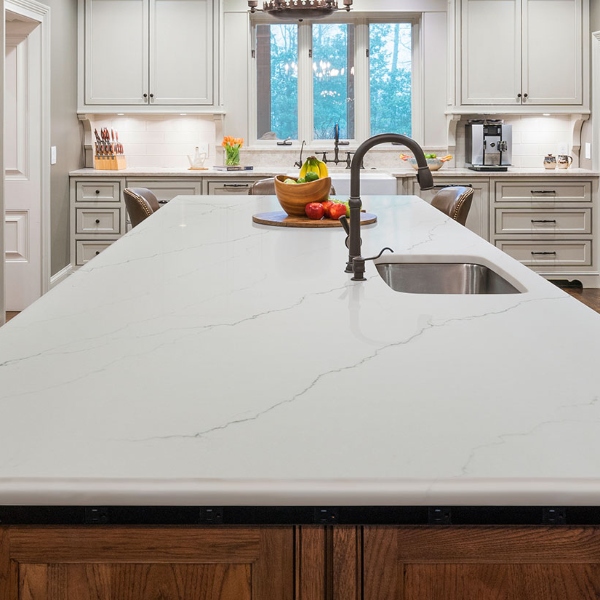 Unlike the soapstone-look options that we discussed above, Calacatta Miraggio is a quartz slab designed to look like marble. Its warm white base is nearly pure ivory, but it has elegant black veins scattered across its surface. In addition to the prominent dark lines, the white slab also has some small gray accents to give it an air of individuality.
Like all of MSI's quartz slabs, Calacatta Miraggio isn't only good for countertops but for other home decor options as well. You can use this style for kitchen backsplashes or accent walls in your living space. Additionally, because quartz is perfect for both commercial and residential spaces, there's no limit to what you can decorate.
Midnight Corvo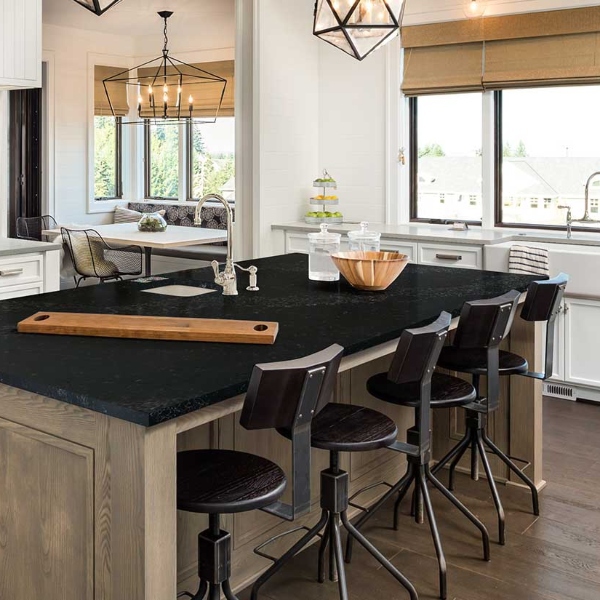 Midnight Corvo is the right choice if you want black marble-look quartz. This gorgeous slab is almost completely black with cool white veins lining its surface. The ultimate effect is that it looks like the night sky on a clear and cloudless night.
This is perfect for those who like designs that are gorgeous in their simplicity. You can use it in virtually any decor scheme without causing clashing, but it's especially good for contemporary spaces. Shine bright fluorescent lighting on your countertop to make it shine like stars and pair it with light blue accents that provide a complementary sky-toned touch.
Calacatta Sierra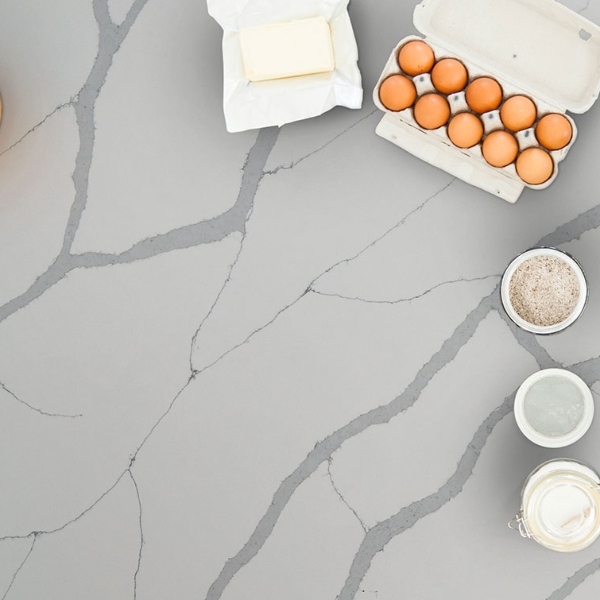 While thin and subtle veining is timeless, more prominent veins and patterns are beautiful in their own right. Calacatta Sierra makes a statement with its thick dark veins and large organic gray shapes. Paired with a cool white backdrop, these features are whimsical as well as sophisticated.
Like all of our designs, you can use our countertop visualizer to see how Calacatta Sierra will look in your space. It's perfect for kitchen islands as well as regular countertops because the intricacies of large veining will have more space to be showcased to visitors. This countertop is a conversation starter that's sure to catch the eye of anyone who gazes upon it.
It comes in multiple different slab sizes so that you can choose the one that best fits within your space, so check out the possibilities that MSI offers.
Galant Gray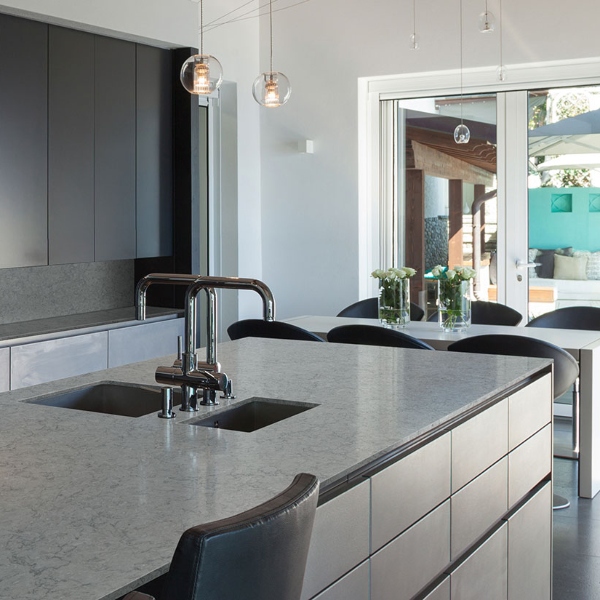 Curious about quartz that looks like concrete rather than soapstone or marble? Galant Gray quartz might be the perfect choice for your needs.
This slab is extremely intricate with its swirling organic pattern. It incorporates a variety of natural hues from ivory to brown to deep gray so that it maintains an ornate and detailed aesthetic. The veining is random and comes in a variety of shapes including near-circles, curling lines, and perpendicular zigzags.
Because of its striking appearance, Galant Gray is the ideal choice for those who have otherwise minimalistic accents in their space. It makes for a great statement piece in any kitchen or bathroom that can use a pop of style.
Choose Your Natural Quartz Countertops Today
While selecting the perfect material for your natural quartz countertops can be difficult, there are a wide array of styles that you can choose from. With a little research and expert assistance, this would-be daunting task can become a fun challenge.
Use our virtual kitchen designer to see what the styles you prefer will look like when installed in your space. If you still have any remaining questions, our experts are excited to answer them when you reach out to us. We look forward to helping you spruce up your space!
More On Quartz Countertops
5 Perfect Quartz Countertop and Backsplash Pairs
Quartz Countertops: The Perfect Minimalist Surface
Quartz vs. Granite for Countertops
Easy Quartz Countertop Care and Maintenance
Introducing The Lumaluxe Q Quartz Countertop Collection From Msi