Outdoor Oasis: Pavers Make Perfect Patios
November 24, 2016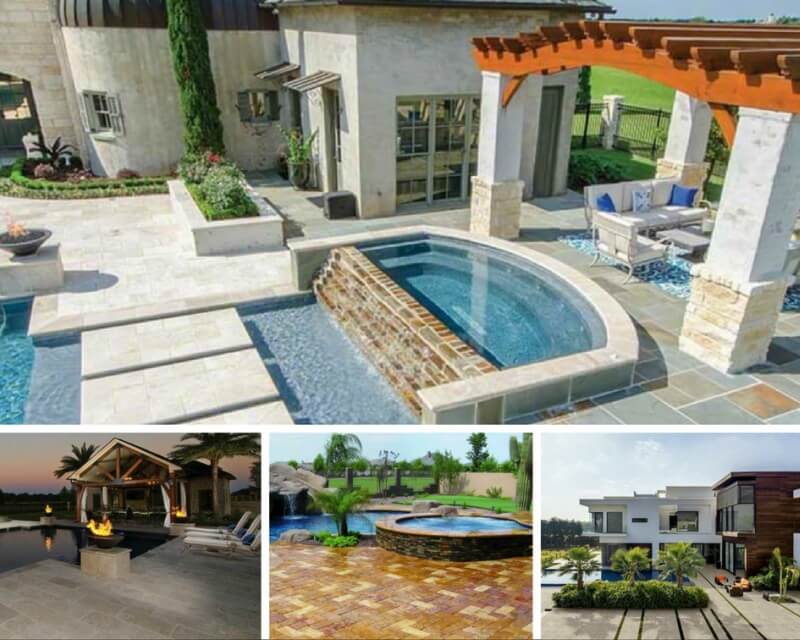 Whether you're dreaming of a mini-makeover or a complete redesign, natural stone or manufactured pavers add a perfectly elegant touch to any patio.
Travertine pavers are a popular choice among homeowners, because they are made from natural stone and blend well with other natural elements. They're also specifically made for outdoor use, including patio and pool areas.
A newer option for the patio design scene is porcelain pavers. This budget-friendly manufactured hardscape material is barely distinguishable from the natural stone it mimics, and is easy to maintain. Get ready to spend more time outdoors, because we've got five stunning patios that will have you wishing for a peaceful, spa-like retreat in your very own backyard.
A Unique Look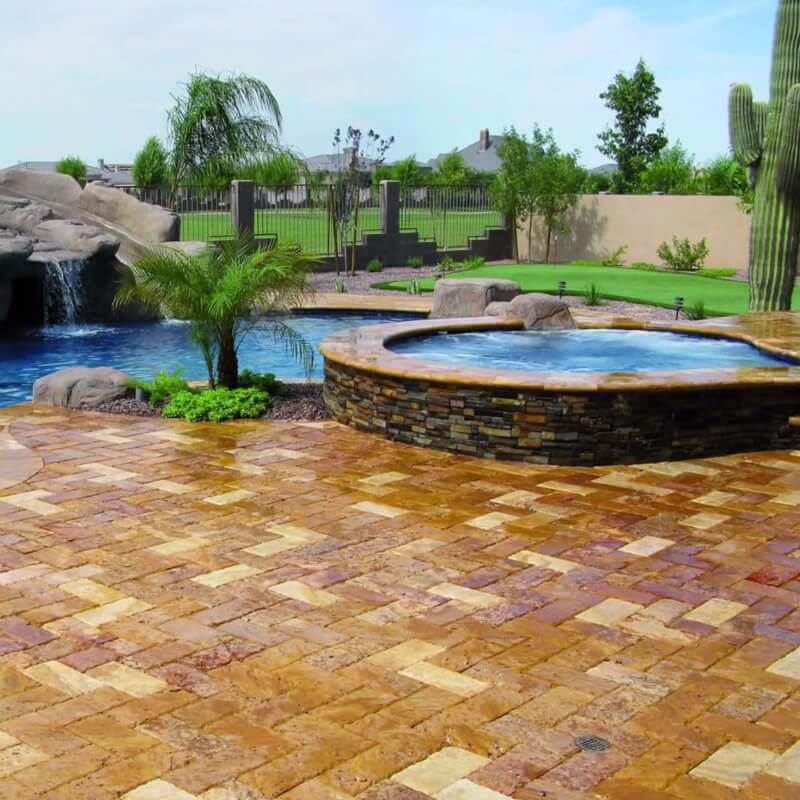 Featured: Tuscany Riviera Tumbled Travertine Pavers
If you don't want to pay a lot for a custom looking design, travertine pavers are a great option. This pure, natural stone offers a unique look for an affordable price. Here, the rich tones of the golds, browns, and creams featured in Tuscany Riviera Tumbled Travertine Pavers highlight the beautiful blue pool water and lush green landscaping.
To complement the pavers, the built-in spa is clad in California Gold Stacked Stone ledger panels. These rugged, natural slate stacked stone panels combine rustic colors of deep browns, rust tones, and grays. The result is a vibrant backyard that is ideal for playing or entertaining.
Low Maintenance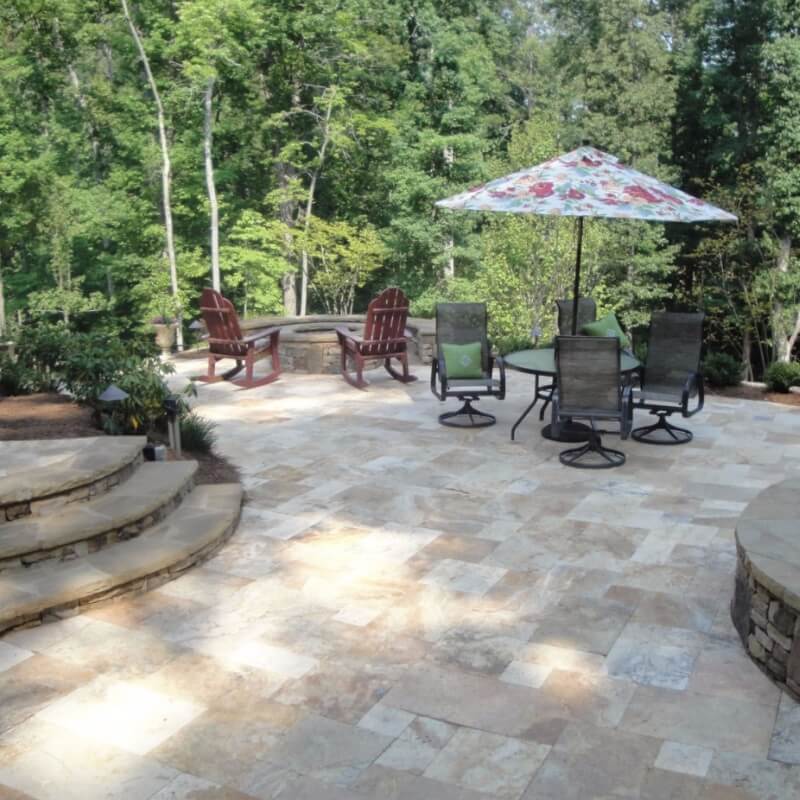 Featured: Tuscany Porcini Tumbled Travertine
Whether you're designing a patio space for your private home or a vacation property, select something low maintenance. Some of the benefits of travertine pavers are that they only take a few minutes to clean, and they don't easily gather debris.
This serene patio includes pavers in various sizes and shapes. The Tuscany Porcini Tumbled Travertine Tiles blend rich browns with whites and cool grays. The effect is a neutral backdrop that allows the beauty of nature to shine through.
A Durable Design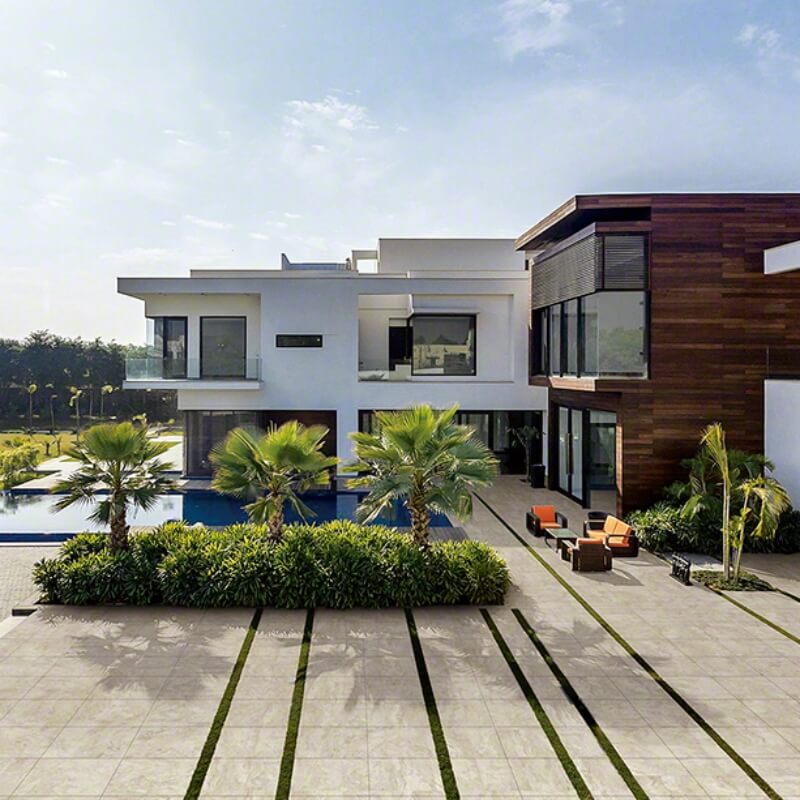 Featured: Tierra Ivory Porcelain Pavers
While somewhat less popular than travertine, there are a number of good reasons why homeowners opt for porcelain pavers. Porcelain's high durability, as well as its scratch-, fire- and slip-resistance are just a few of the benefits of this promising option. It's also a non-porous product, so your porcelain tile won't absorb water, become stained, or crack from freezing and thawing.
And if you have a large backyard like this one, it's also a plus that porcelain tile weighs less than natural stone or concrete. That makes it much easier for the DIY-er or landscape professional to transport a product like Tierra Ivory Porcelain Pavers. These large-format tiles come in soft ivory tones with complementary veins that add elegance to the backyard of this contemporary home.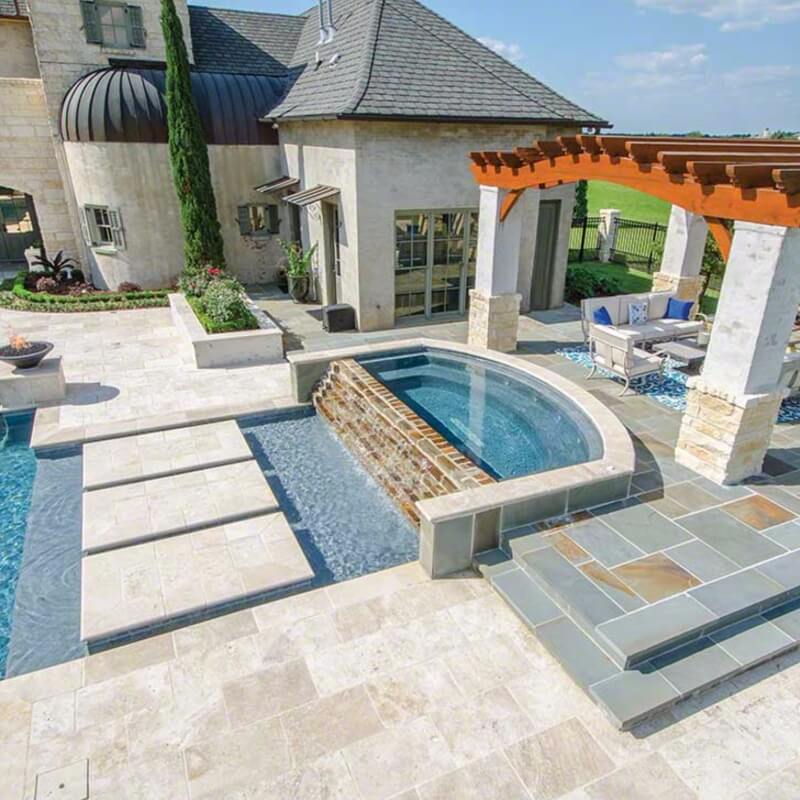 Featured: Tuscany Beige Tumbled Travertine Pavers
When planning the perfect patio area poolside, it's important to include materials that won't bring you down, literally. Slip-resistant tile like Tuscany Beige Tumbled Travertine Pavers are a safe choice for wet areas, since they're less slippery when wet.
With stepping stones reaching across the pool, it's definitely one of the more important factors for this stunning outdoor oasis. The warm cream and tan tones of the pavers contrast with splashes of blues and oranges, yet neutral colors tie in with the exterior of this sophisticated home.
Climate Friendly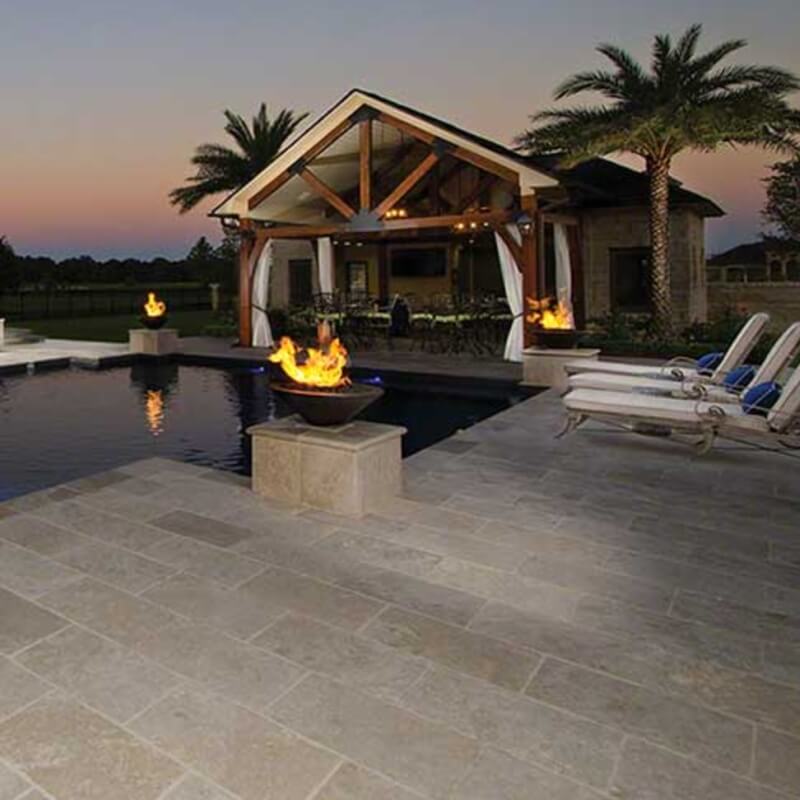 Featured: Paredon Crema Travertine Pavers
Whether you live in a tropical paradise or weather the chilly temperatures fireside, consider how your paving materials will survive in your climate. Travertine won't get discolored by the scorching sun, is freeze-thaw resistant, and is easily replaceable if damage does occur.
This spectacular poolside patio includes Paredon Crema Travertine Pavers, a luxurious travertine that embodies old-world charm. The gray undertones and earth tones of the large pavers work together to create a relaxed atmosphere.