5 Beautiful Bathrooms With Quartz Countertops
November 08, 2022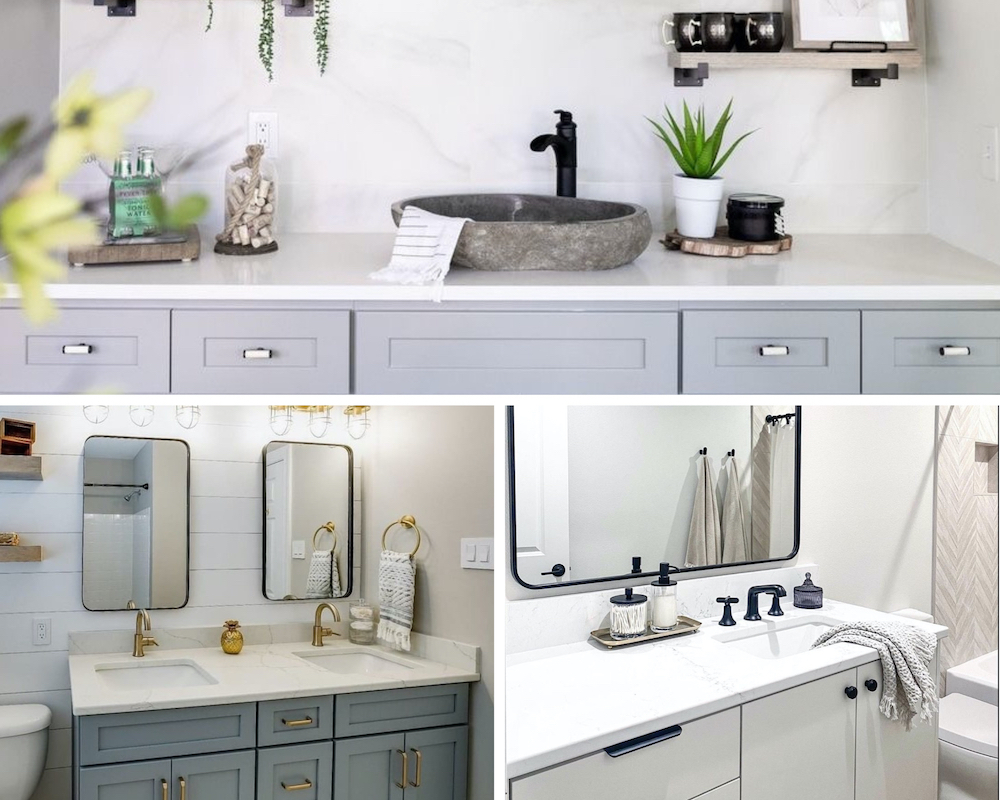 Before diving into some absolutely gorgeous bathroom inspiration examples, you may wonder what the benefits of quartz countertops are for your bathroom. Maybe you are wondering if another natural stone countertop, like granite, would be a better choice for your bathroom. There are several important differences to keep in mind when it comes to quartz vs. granite countertops.
One of the most significant differences between granite and quartz is that granite countertops are 100% natural. In contrast, quartz countertops are partially man-made, giving them an extra level of easy customization.
Another difference is that granite is a porous material, whereas quartz is not. This means that when it comes to sanitation, quartz countertops come out on top. Additionally, because quartz is partially man-made, it can be more environmentally friendly than granite because it can use local stones and fabricators. On the other hand, granite must be mined from the ground and transported over long distances, which can harm the environment.
Why Are Quartz Countertops Ideal for the Bathroom?
Ultimately, both quartz and granite make good countertop options, but if you are looking for the absolute best option, quartz is the better choice. Here are some of the many benefits of using quartz countertops in your bathroom.
Incredible Durability and Longevity
Durability is essential in a bathroom. These rooms tend to get more traffic than many other rooms in a house, and you want to ensure that you have a sturdy and durable countertop to prevent damage. Quartz is incredibly durable as well as stain- and scratch-resistant, making it an excellent choice for bathrooms.
With proper maintenance (don't let this scare you, maintaining quartz countertops is extremely easy), quartz countertops can last a lifetime. In addition, with quartz countertops, you will not need to worry about replacing or resealing your countertops.
Low-Maintenance
Unlike granite countertops, quartz countertops do not need to be sealed. Instead, the non-porous surface can simply be cleaned with mild soap and warm water. This is incredibly useful in a bathroom because you do not have to worry about bacteria or germs getting into and sticking to your countertops. Check out the video below to see how easy it is to maintain a quartz countertop!
Non-Porous
As mentioned above, quartz countertops are non-porous. This is perfect for a bathroom because these rooms are notorious for harboring bacteria. Bathrooms get a high level of steam and moisture in the air, making a porous countertop a breeding ground for bacteria or other harmful microorganisms that can lead to sickness.
Great Color and Design Options
Another benefit of quartz countertops is the variety of colors and design options available. Bathrooms are usually not very large and can be challenging to decorate because they serve a very practical purpose. But this does not mean that your bathroom cannot match the same design aesthetic as the rest of your home. You can choose from various quartz countertop colors and designs, such as marble or concrete finishes, to get the perfect counter designs for you.
Cost-Effective
In general, quartz countertops are priced similarly to granite ones, but they are much easier to care for over the years. Additionally, in the case of a chip, a quartz countertop can be much easier to mend because the material itself is so uniform.
Five Beautiful Bathrooms
Now, without further ado, here are five stunning bathrooms with gorgeous quartz countertops.
Alabaster White Quartz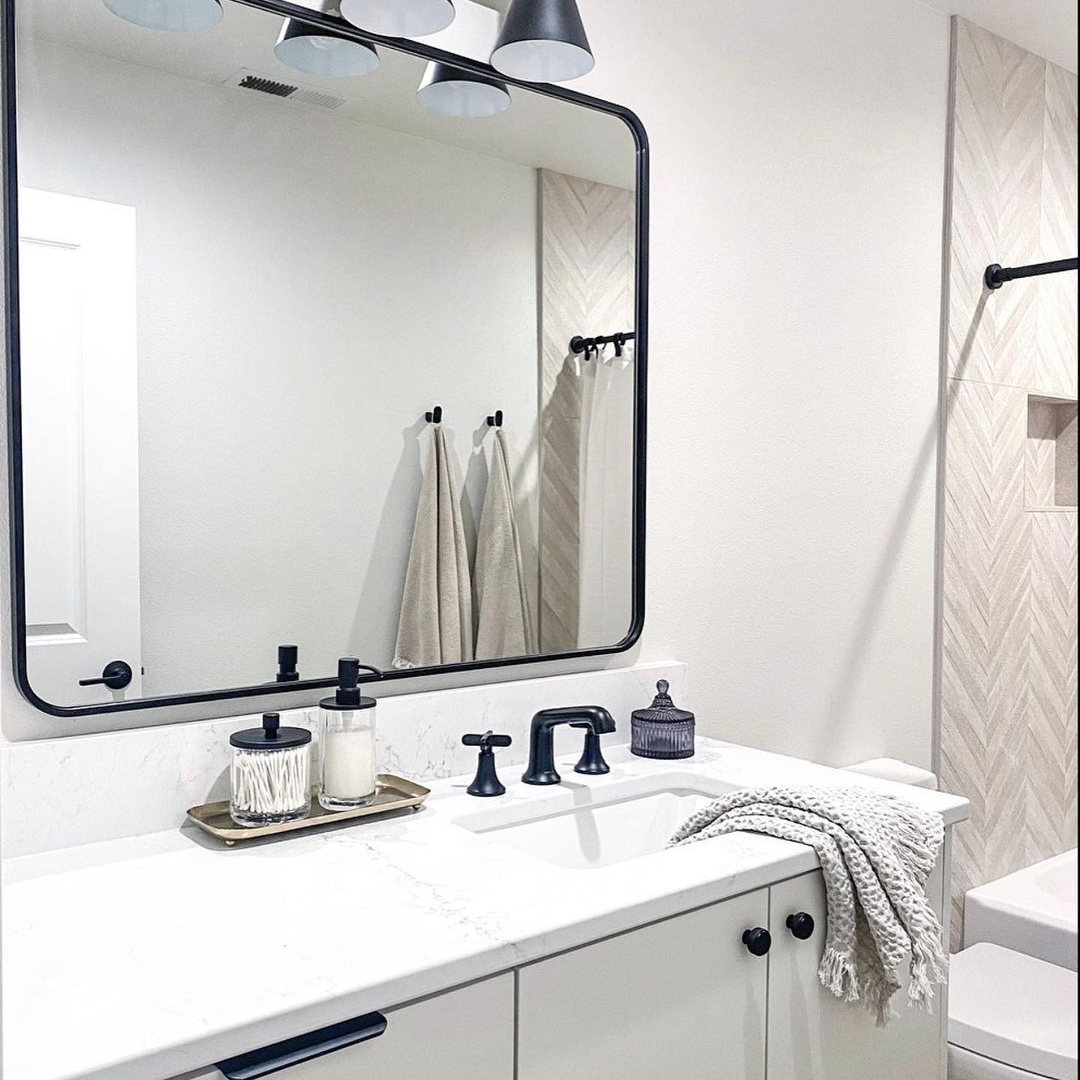 Photo Credit: @christina_matlock on Instagram
You can't do better than Alabaster White quartz countertops for the ultimate elegant look. This quartz features a marble-look finish with a soft white background and long gray veins. This sleek bathroom pairs this elegant countertop with simple black hardware for a minimalist bathroom. The contrast between the soft white of the countertop and the dark hardware creates an unmistakably pristine appearance.
Arctic White Quartz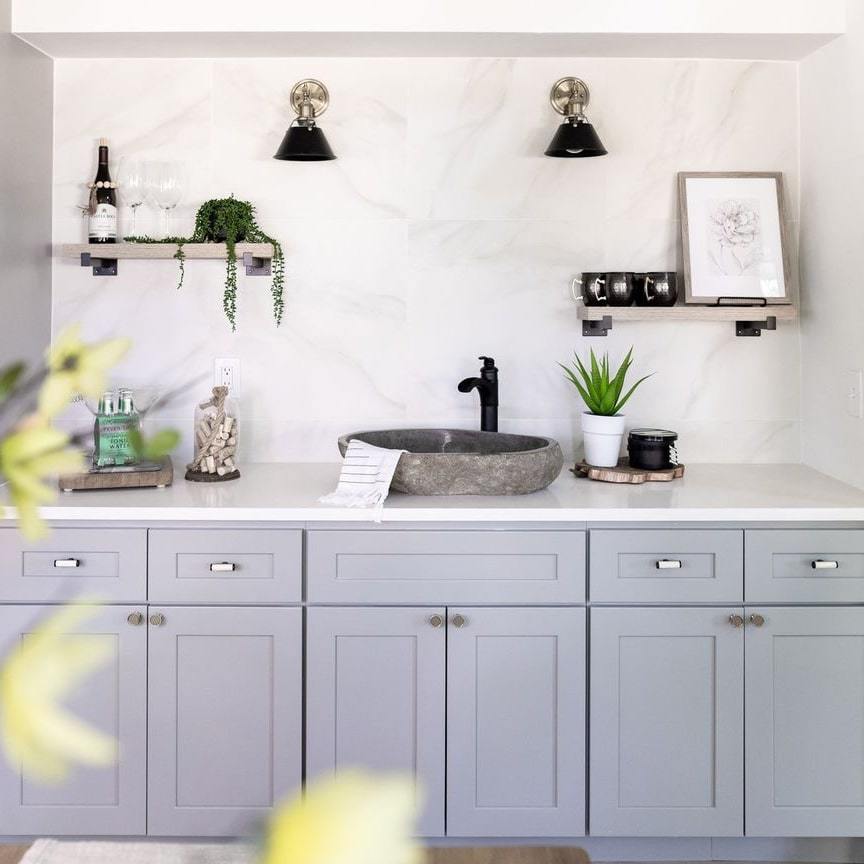 Photo Credit: @keystonesolidsurfaces on Instagram
Arctic White quartz is an excellent choice if you are looking for a polished and bright bathroom counter. This beautiful bathroom features Arctic White's sleek white countertop with no veins or patterns to create a clean and light bathroom. In addition, the neutral cabinets and natural textures of the sink and plant create a sophisticated appearance.
Calacatta Valentin Quartz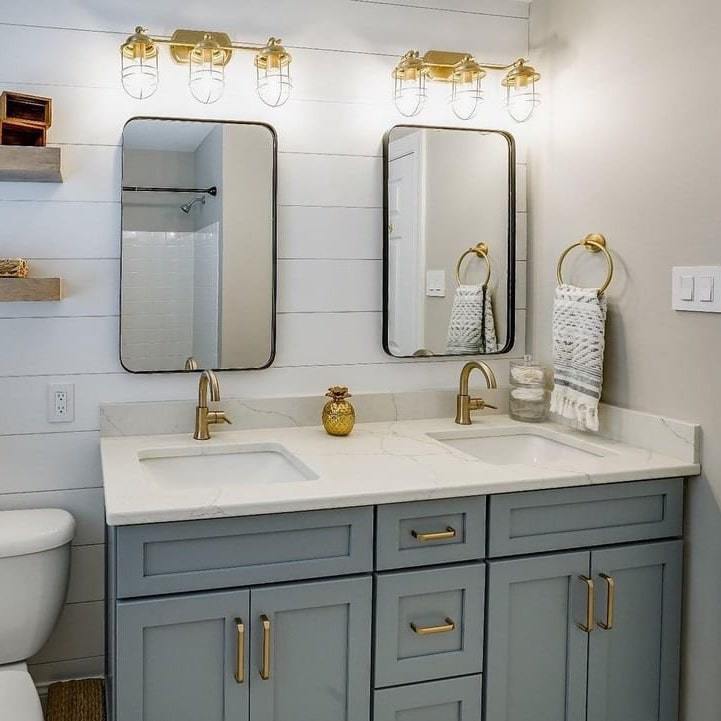 Photo Credit: @carr.home on Instagram
If you are looking for quartz that looks like marble, look no further than the Calacatta Valentin quartz. This eye-catching countertop can work with several different design aesthetics. For example, this sophisticated bathroom pairs the warm white two-tone marble of Calacatta Valentin with gold hardware that brings out the subtle gold veins of the countertop. Additionally, the polished finish of the countertop perfectly complements the matte gold hardware and muted blue-grey of the cabinetry featured in this bathroom.
Midnight Majesty Quartz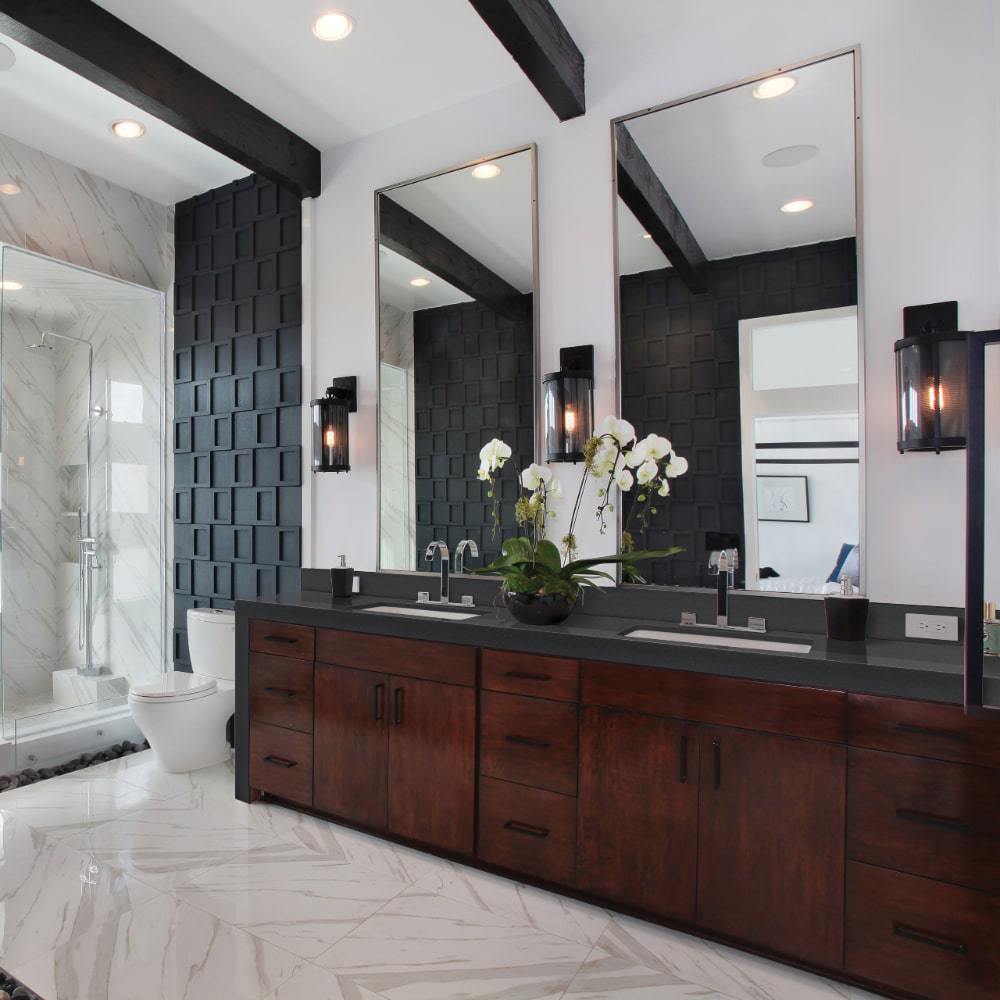 Lovers of a dark and dramatic look are bound to fall in love with the Midnight Majesty quartz countertop look highlighted in this bathroom. The rich, dark countertop features a polished finish and contrasting white and grey flecks to highlight the countertop's striking darkness. This bathroom design features the perfect balance of light and dark with light tile and deep red cabinets to perfectly complement the dark countertop and create a stunning modern appearance.
Vena Carbona Quartz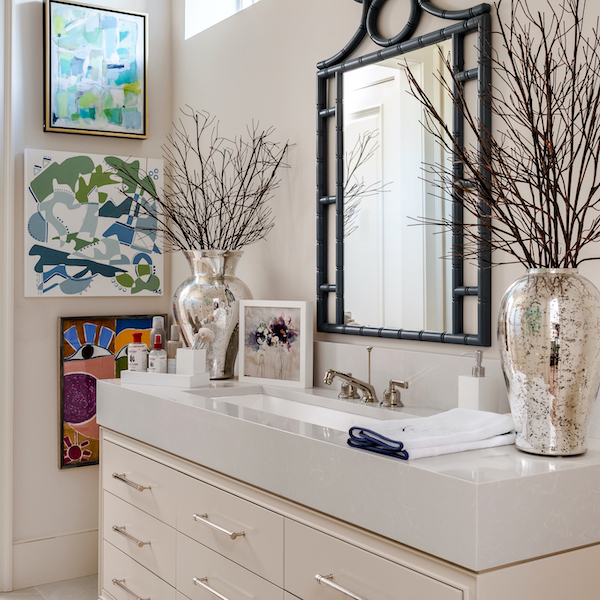 Vena Carbona quartz is an excellent option for anyone looking for a more neutral countertop. This quartz countertop features a lovely neutral base with subtle white veining to create dimension and interest. Like this example, you can use it in a more neutral, low-contrast bathroom design. Rather than creating a high contrast between the countertop and cabinets or walls, this elegant bathroom features dark branches, an intricate mirror, and colorful artwork to create dimension.
In summary, quartz countertops are an incredibly durable, low-maintenance, and customizable option for your bathroom counters. In addition, you can pick several different colors and designs to ensure that your bathroom matches your design aesthetic without sacrificing utility.
If you've fallen in love with these countertops, you might wonder how they would look in your bathroom. With MSI's countertop visualizer tool, you can find the perfect countertop for your room, and the tool can even show you different countertop edge options. Our experts are ready to help you decide what quartz countertop would be perfect for you, so contact us today!
Learn More About Quartz Countertops
Get Inspired With 10 Quartz Countertop Ideas
7 Kitchens With Glamorous Cabinetry & Quartz Countertop Pairings
6 Stunning New Quartz Countertop Colors To Satisfy Any Space
MSI's Top 10 Lumaluxe Quartz Countertop Colors
5 Beautiful Bathrooms With Quartz Countertops
The Do's And Don'ts Of Quartz Countertop Care
Learn More About Quartz Countertops
Quartz Countertops That Mimic Natural Stone: Granite, Limestone, And Marble Looks
Are Quartz And Quartzite The Same?
5 New Q™ Natural Quartz Colors Featuring A Mix Of Bold And Soft Veining