Stone Countertops And Flooring: Sealing The Deal
April 03, 2012
There is a vast spectrum of different characteristics that make up the beauty we observe in every piece of organic natural stone. Each variety has unique properties that determine its hardness, durability, chemical resistance, type of finish and even its translucency. Your stone is already equipped with moisture resistant properties and therefore, quickly wiping away spills is usually a sufficient way to keep the surface looking fantastic. Certain varieties, particularly granite, are more naturally immune to moisture and stains whereas more porous types like marble or travertine flooring can receive additional benefit from a quality sealer as an added line of defense. The type of stone along with its finish and function should all be considered when determining how to best protect your beautiful countertop and flooring investment.
In some cases it may make good sense to use a sealer. Here are a few simple questions to ask when determining if some added protection would be beneficial.
· Where is the stone located? Is it applied in a high use area such as the floor or behind a stove or is it purely for decorative purposes?
· How porous is the stone and how fast will it absorb a liquid (also referred to as the absorption coefficient)?
· What is the mapping of the surface? A polished one is usually more naturally resistant to staining than a honed finish.
Taking the time to consider the factors above is an essential first step in choosing the proper sealer and process of application that will most effectively bond with your surface and ensure the desired outcome.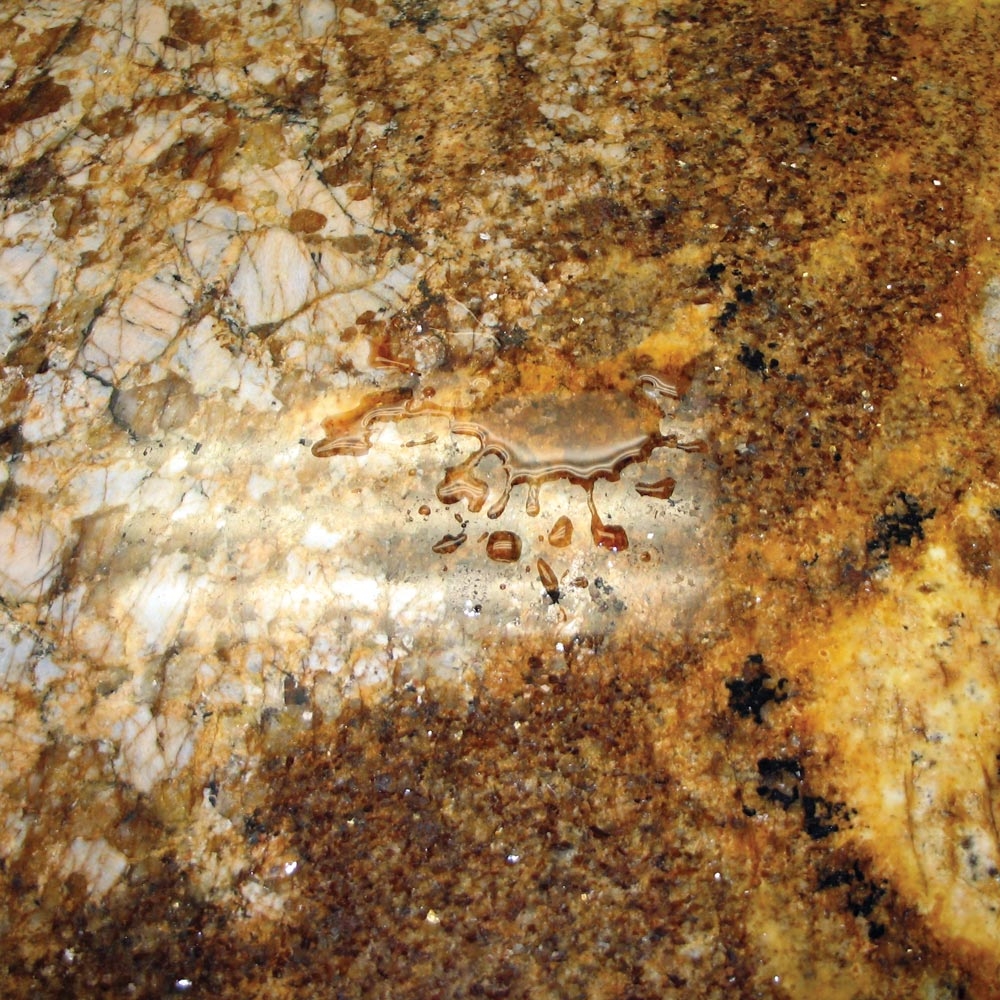 Types of Sealers
Products typically fall into two major categories: Topical Sealer/Coatings and Impregnators. The product should have a life of about ten to fifteen years before needing to be reapplied and be oliophobic, meaning resistant to water and oil based stains.
Topical: These protect the surface of stone against water, oil, and other contaminants. Coatings are formulated from natural wax, acrylic, and other plastic compounds and are classified into two general types. Strippable formulations are usually water-based and can be easily removed from the stone. Permanent coatings, once applied, are difficult to remove. They're made of solvent-based or water-based polymers and are not normally recommended for stone.
Impregnators: Water- or solvent-based formulas that go below the surface and act as repellents. They keep contaminants out, but do not stop the interior moisture from escaping. They are generally hydrophobic (water-repelling), may also be oliophobic (oil-repelling). Also, there is a marked difference between the words "resisting" and "repelling." Always read the label carefully or consult with the manufacturer prior to application to make sure that you are buying the appropriate product for your particular application.
A Clean Bill of Health
Once the natural stone is sealed, the maintenance program often shifts from a focus on the care of the stone to the maintenance of the sealer. It is important to use products that are pH neutral because using an acid- or alkaline-based cleaner could chemically interact with the surface and negatively impact the performance of the sealer. With this in mind, specially formulated products have been developed to remove spills and other messes from natural stone and provide gentle yet effective cleaning that will not compromise its protected surface.
By investing minimal amounts of time and resources into its protection and care, your natural stone surface will reward you with durability and a rich and enduring beauty that will be enjoyed for generations to come.
Read our updated post on this topic > Sealing Your Natural Stone Countertops