4 Questions To Ask When Choosing Landscape Rock For Your Home
December 19, 2021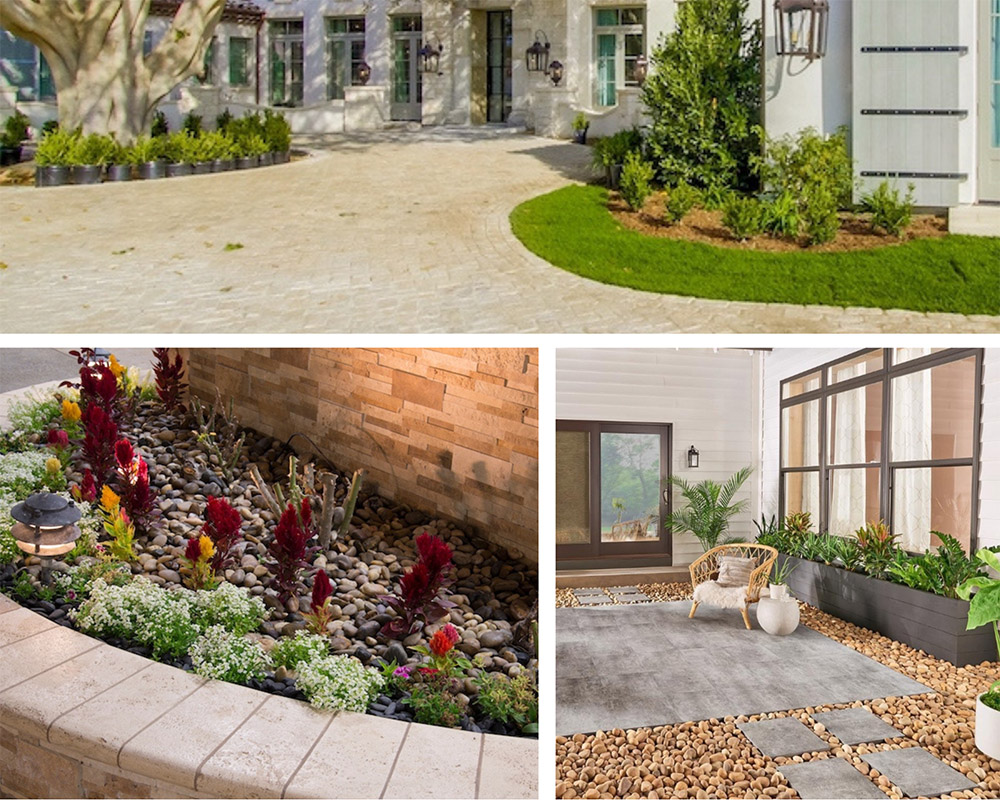 Landscape rock is a great way to upgrade the aesthetic of your outdoor living space, though the benefits stretch far beyond the decorative. These rocks can protect against certain types of erosion, create walkways and ground cover, protect against weed growth, and much more. With a wide variety of rock types, colors, and styles, it makes sense that homeowners have several questions while exploring this landscape option.
Perhaps you want to create a timeless look with a single rock type. Maybe you're looking to create a unique scene by mixing and matching different categories of rock. From pebbles to pavers, this article will cover four of the most asked questions about landscape rock to help you decide which choices best suit your outdoor design needs.
1. USED AS WALKWAY OR ONLY DECORATIVE?
Landscape rock serves multiple purposes. While certain types are more appropriate for walkways, they all function as great decorative additions to your outdoor spaces. When using landscape rock to create walkways, it is important to consider what makes the walkway vulnerable, such as ground shifts, temperature swings, and other variables like tree roots. For these reasons, hardscaping like flagstone, cobblestone, and pavers are ideal for walkways.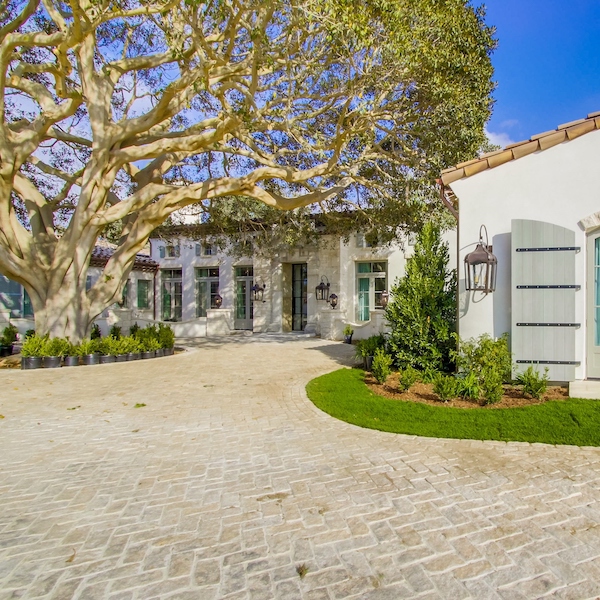 Opt for pavers over poured concrete since using multiple pavers creates a more durable surface as the pieces are independent. This independence makes them less susceptible to cracking. Additionally, pavers have minor spaces between each other. This creates space for rain and snow to drain where it could puddle and cause water damage on a concrete walkway.
Another option is cobblestone, comparable to pavers, though with a charming, rustic look. Either use them on their own or as captivating accent pieces mixed into your overall landscape design.
Using highly durable flagstone for walkways, seating areas, driveways, and more has numerous benefits. Like other hardscapes, flagstone is less susceptible to warping and cracking and, of course, pests like termites that pose a danger to wood surfaces. Flagstone is a widely available and easy to work with stone, so you can usually save a buck or two when taking this route. It's also versatile in the way it's laid. It works well over a sand layer or in a more permanent setting like concrete. Finally, it's composed of layers, making it an ideal choice for high-traffic environments such as walkways in busy backyards.

When used for decorative purposes only, landscape rock adds an element of sophistication to your outdoor space. It is a fantastic alternative to grass or mulch in environments that see little rain. A bed of river rock used to catch a small waterfall from a contemporary water feature is an easy way to add a splash of modern chic to your back or front yard.
Other garden rock such as pea gravel, chipped rock, and lava rock pair well with water features and numerous other areas. They add color, texture, and intrigue to any yard. In desert settings or other areas where water conservation is critical, garden rock lives up to its name as it fills the space between cacti and other drought-tolerant plants.
2. WHAT IS THE BUDGET?
Budgeting for a landscape rock project can vary depending on the size of the project and the type of landscape stones and colors that are chosen. Pea gravel and decomposed granite are generally considered to be the most cost-effective options, as they are readily available and inexpensive. However, there are many other options available, such as larger river rocks or pebbles, which can be more expensive.
The color of the stone also plays a role in the cost, with certain colors being more rare and therefore, more expensive. For example, black or red lava rock can be more expensive than other colors.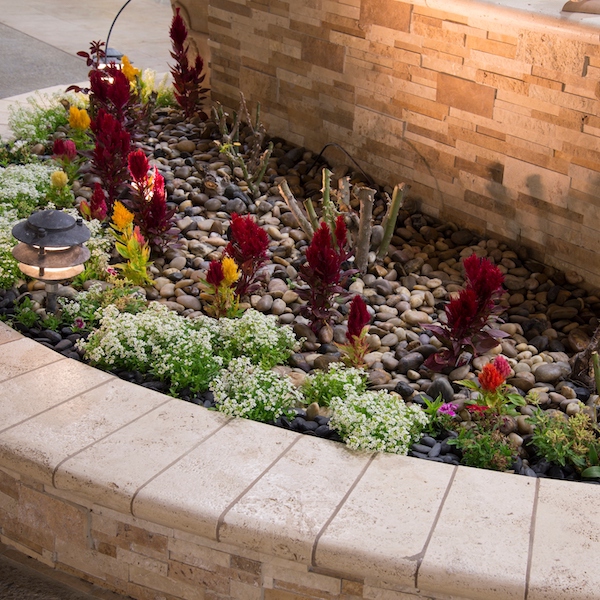 It's important to keep in mind that while a more expensive option may be more visually appealing, it may not always be the best choice for your budget. You will want to consider the cost of the different options and how they fit into your overall budget. As you can see, the budget range for landscape rock is wide and depends on several factors, including the size of your project and where you reside.
3. HOW MUCH ROCK WILL I NEED FOR MY PROJECT?
This is a great question and one of supreme importance. Depending on your project, you may need tons of rock, and the last thing you want is to order too much. The measurements required to make this determination deal with length, width, and depth in feet. While that doesn't sound so complicated, complexity tends to sneak up on a first-time landscape DIY job. The good news is when you hire a landscaper or landscaping company, they'll determine the amount for you based on your needs and their professional measurements.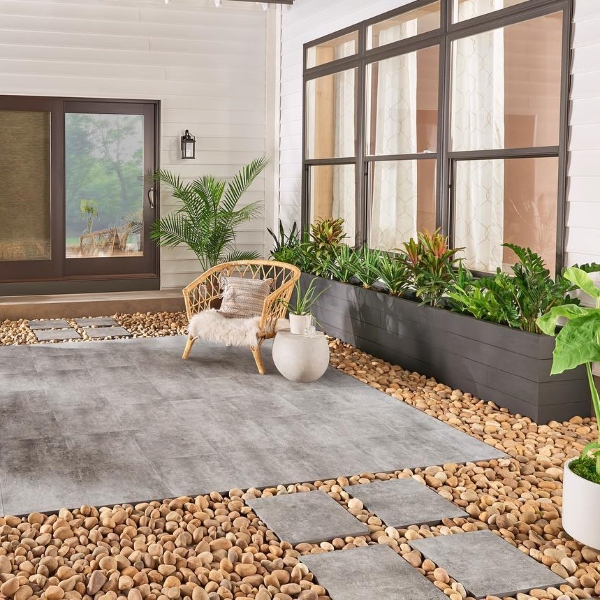 In the end, the amount of rock you require will depend on the type of rock you select and the size of the job. Landscaping professionals work with these materials daily. When you find the right trustworthy pro with your best interests in mind, you'll get not only a fair price but also an awe-inspiring outcome.
4. WHICH COLORS AND STYLES WILL COMPLIMENT MY HOME?
This will depend on the color and exterior of your home. It is vital to make sure the color of rock compliments these because the last you need is tons upon tons of rock delivered that clashes. It's a common occurrence. The reason here is each style of rock has various looks: dirty and dry, clean and dry, and clean and wet. Acquire samples of the rock or rocks you want, take them home, and weigh your decision on the clean and dry state. Compare the color and style to your home's exterior and make the best decision according to your taste.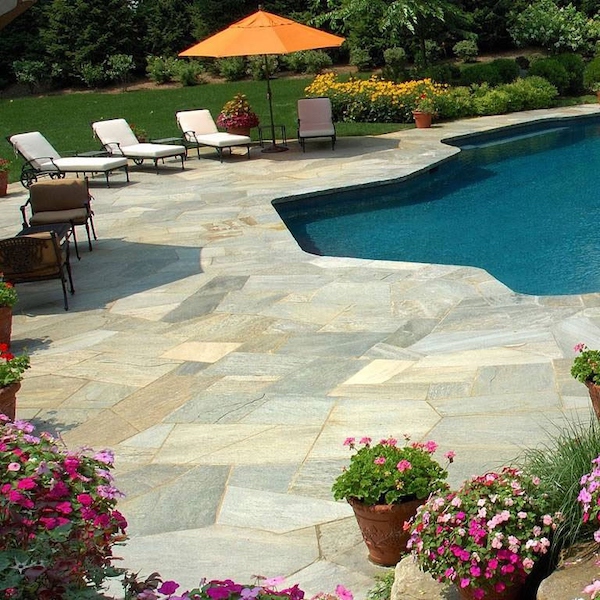 When taking on a task as big as choosing landscape rock for your home, asking these four questions is a great starting point. From there, find the right professional to help guide your decisions and create the outdoor space of your dreams. MSI offers several gorgeous landscape rock options. Please explore these and contact us with any further questions.
For more detailed information on vinyl flooring, including installation costs for Luxury Vinyl Flooring, visit our website for our entire line of luxury vinyl planks.
Are you ready to get your DIY project started? First, find the landscape rock by reviewing MSI's expansive Pebbles and Landscape Rock Collection, then find and visit an MSI Hardscaping Dealer in your area.