5 Unconventional And Distinctive Backsplash Tile Choices
July 24, 2017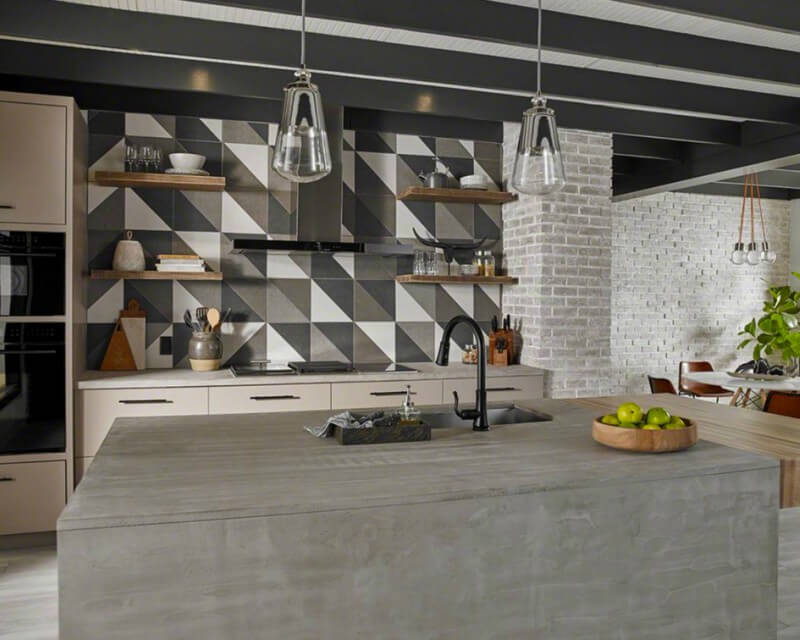 Who wants a boring backsplash? It is, after all, one of the most noticeable elements of the room, considering how often you'll stand in front of it prepping food or washing up.
The right backsplash tile can make or break the room's décor — and with these memorable, unique wall tile ideas from MSI, you'll find it's a breeze to add something truly special to the room.
Golden White Stacked Stone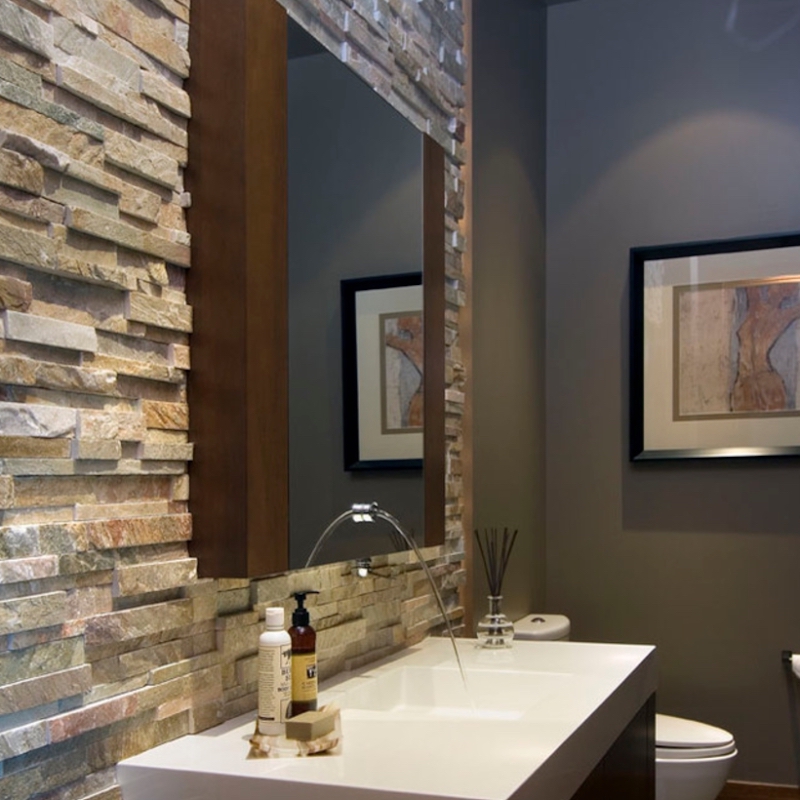 Featured: Golden White Stacked Stone
Ledger panels such as Golden White Stacked Stone are popular for fireplace surrounds and exterior hardscaping, but they are making their way into other design projects, such as this gorgeous backsplash/accent wall.
Bathroom vanities often have bright lighting fixtures, which makes the three-dimensional random depths of the split-face quartzite look even better.
Golden Honey Stacked Stone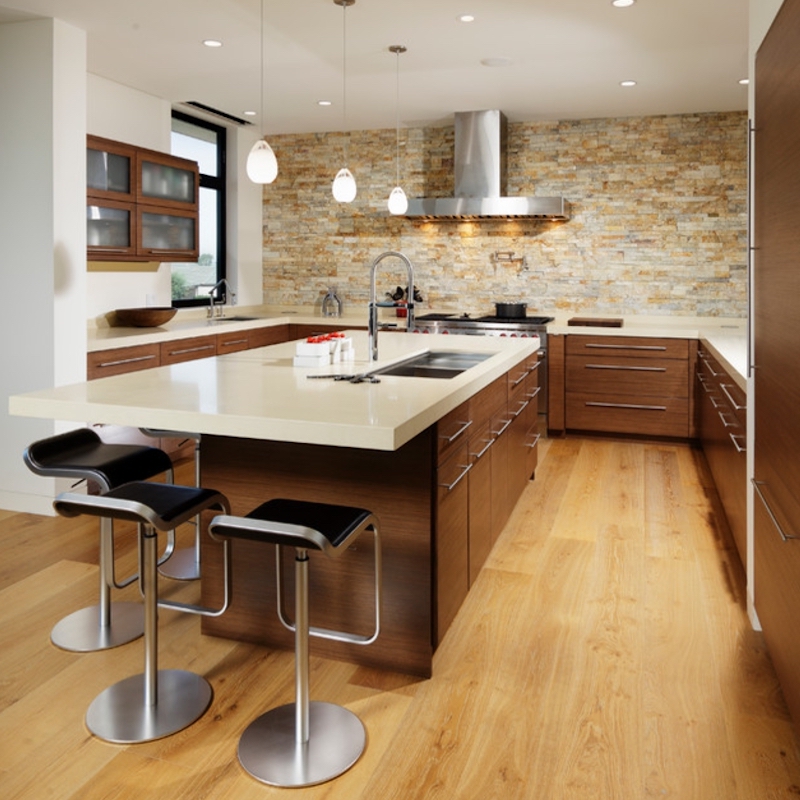 Featured: Golden Honey Stacked Stone
The rough texture of Golden Honey Stacked Stone adds beautiful dimension as a wall covering in a contemporary kitchen. Ledger stone can complement other design styles as well, from rustic to cottage and even industrial. This stone features tones of both cream and gray, tying together the wood cabinetry and gleaming stainless steel appliances.
Crema Marfil Polished Stile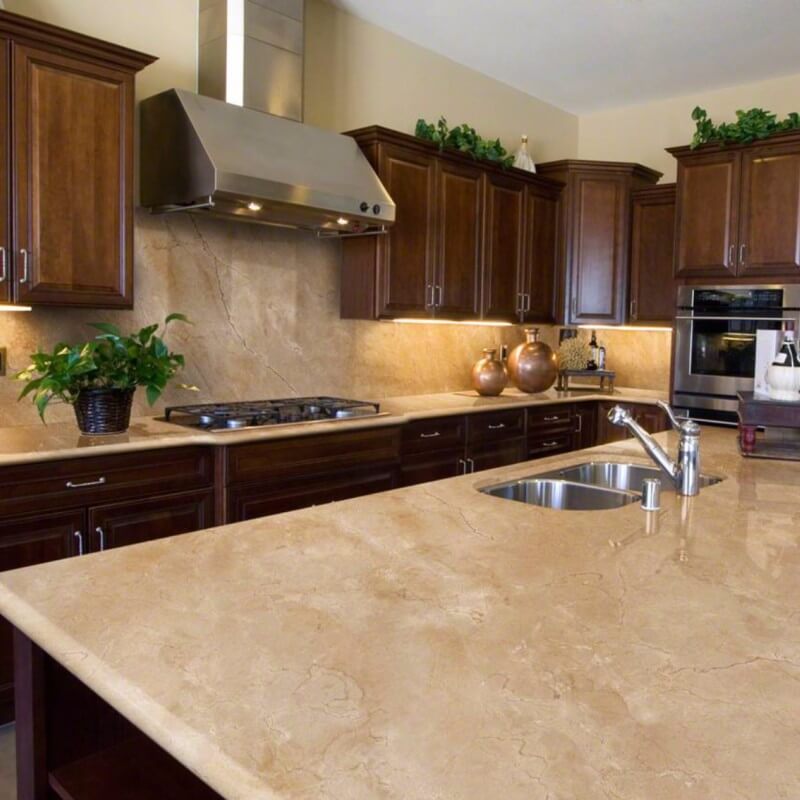 Featured: Crema Marfil Polished Stile Porcelain
One of our favorite, growing trends is matching a countertop with an identical slab backsplash. This creates a seamless look, and the Crema Marfil Polished Stile Porcelain shown here has a subtle pattern that won't overwhelm the space when used in such quantity.
As a tough glazed porcelain, you can be assured that it will be able to function as a backsplash in even the most literal, messiest sense of the word.
Graphite, Gris & Glacier Dimensions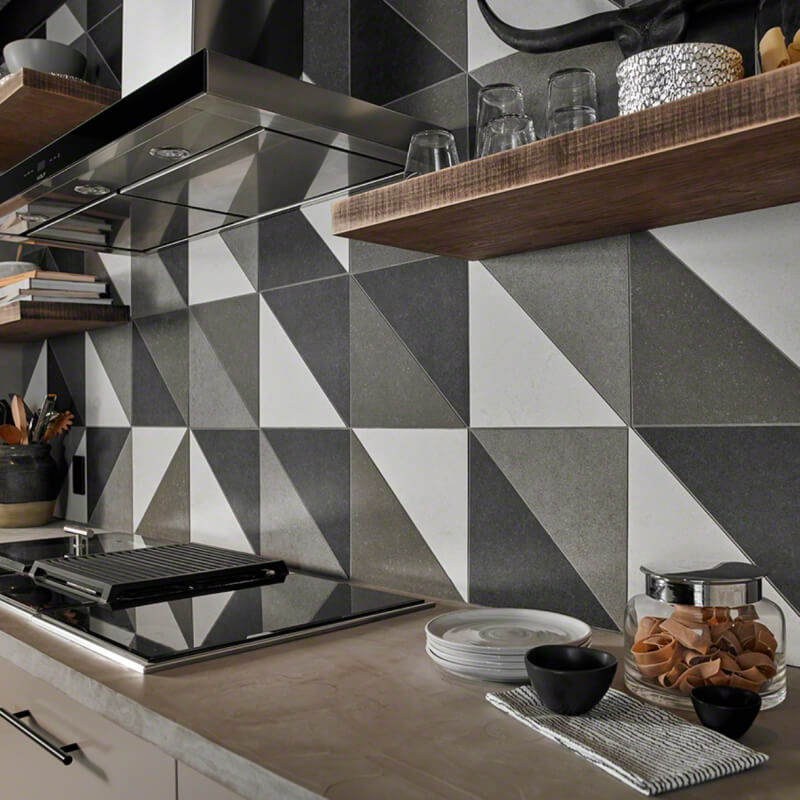 Featured: Graphite Porcelain, Gris Porcelain & Glacier Porcelain
The sky's the limit when it comes to your creativity with backsplash tile designs, and these versatile porcelain floor tiles from the Dimensions collection make it a breeze. This kitchen features just one possible variation with Graphite Porcelain, Gris Porcelain, and Glacier Porcelain tile.
The large format 24" x 24" tile makes it practical and reasonably simple to split tiles diagonally down the center, opening up all sorts of possibilities. Other sizes include 12" x 24", petite 2" x 2", and bull nose tiles to finish the edges.
Santorini Brick Pattern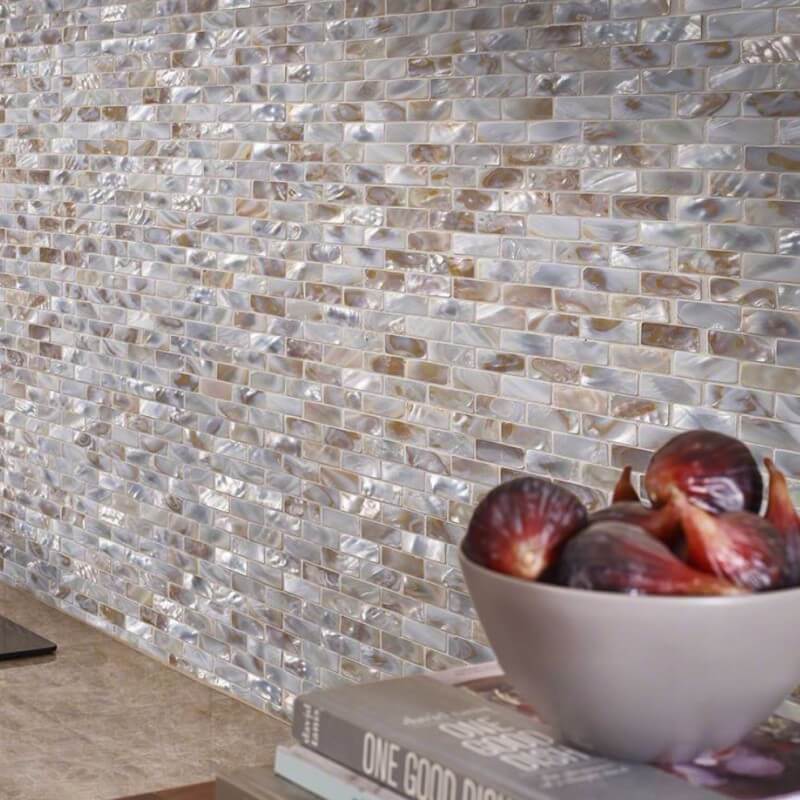 Featured: Santorini Brick Pattern Mosaic
Get ready to fall in love with Santorini Brick Pattern Mosaic. The beloved mother-of-pearl, iridescent tiles are shell glass, and will add a magical glow to any room. This wall tile is perfectly suited for a bathroom backsplash or accent wall, but why stop there?
The silvery gray and shimmery beige are a unique approach to a neutral color scheme, and easy to match with kitchen furnishings and appliances — and very easy on the eyes.
The backsplash tile in your kitchen or bath is a canvas for your own creativity, allowing you to express your own personal style in ways that can't be achieved with countertops and cabinetry.
Consider these kitchen backsplash and bathroom accent wall ideas for creating your own distinctive décor, and visit MSI's showroom or online gallery to see what other unique options are available for your home.
READ MORE ABOUT MSI BACKSPLASH TILE
5 Distinctive, One-Of-A-Kind Backsplash Tiles
5 Unique Backsplash Tile Patterns That Stand Out from The Crowd