Ultimate Guide To Luxury Vinyl Plank Flooring
August 02, 2023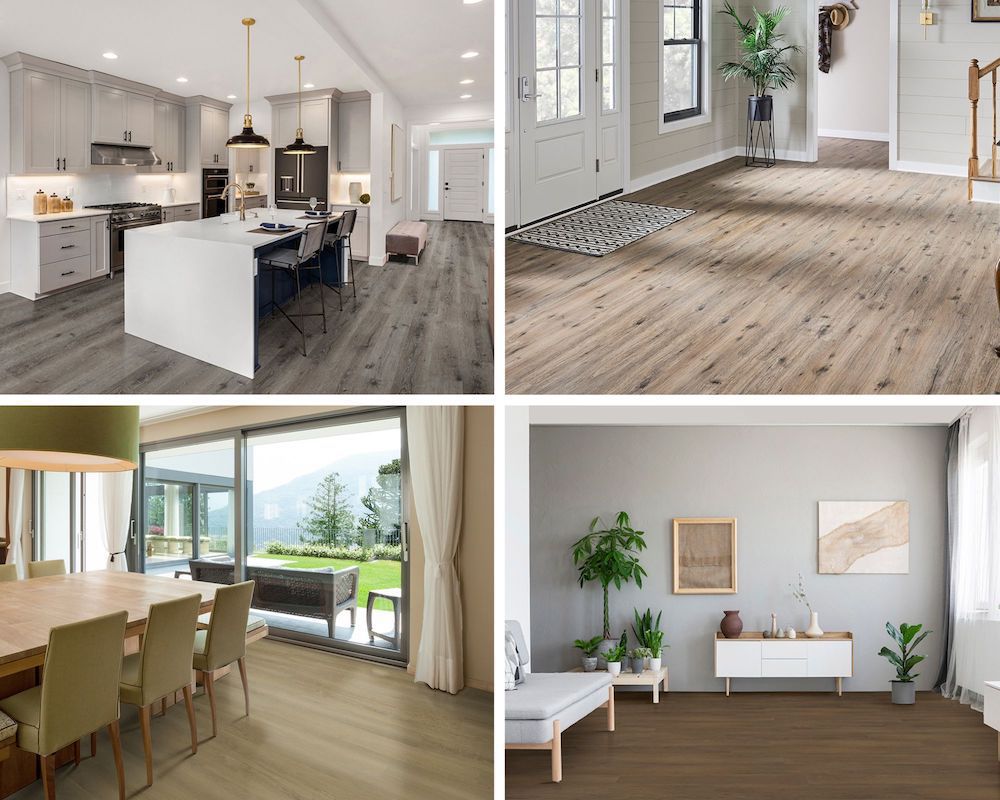 Luxury vinyl plank flooring (LVP) is an excellent choice for those seeking the perfect combination of durability and style. Its ability to mimic natural wood and withstand heavy use makes our luxury vinyl flooring the preferred option for many homeowners seeking gorgeous floors that can stand up to the rigors of daily life.
This comprehensive guide will delve into the key features of vinyl plank flooring, exploring its construction, installation methods, design, strength, and maintenance. By the end, you will have enough knowledge of this material to make an informed buying decision and create a stylish, long-lasting floor that will enhance the beauty of your home.
The Top Benefits of Luxury Vinyl Plank Flooring

Luxury vinyl planks offer many benefits, making it an excellent choice for your next project. From its remarkable durability and waterproof properties to its authentic wood look designs and easy maintenance, LVP provides a winning combination of style and practicality.
Authentic Wood Look Designs
One of the most appealing features of LVP flooring, as already mentioned, is its ability to mimic the natural beauty of hardwood floors. Advanced printing and embossing techniques create a variety of realistic wood grain patterns, textures, and colors, giving the flooring an authentic and visually pleasing appearance.
Whether you prefer the warm tones of oak, the rustic charm of reclaimed barn wood, or the sleek elegance of maple, LVP offers a wide range of design options to suit any aesthetic.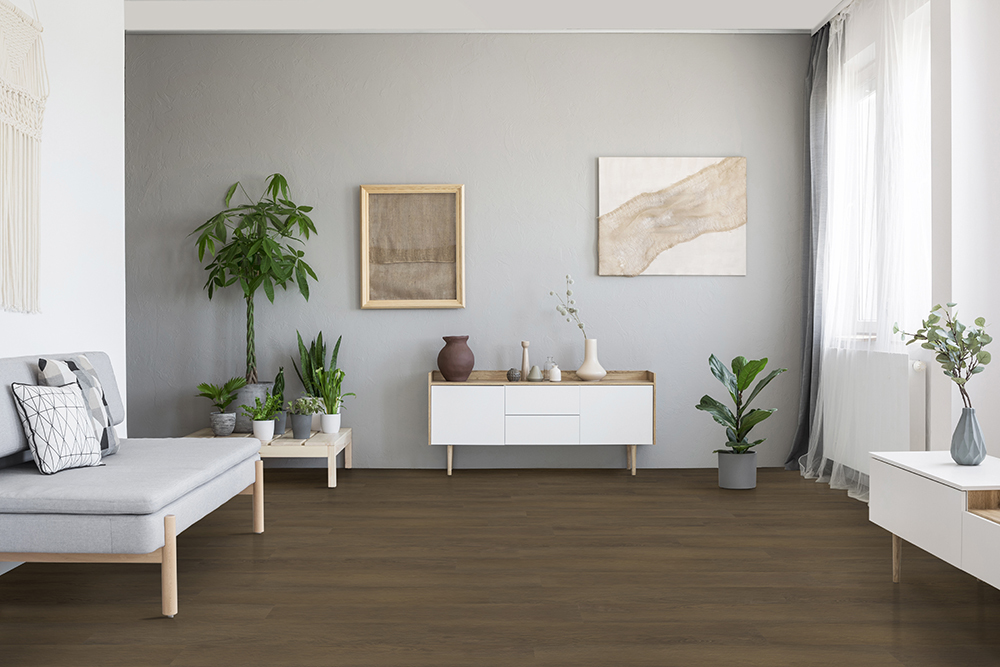 Ashton 2.0™ Beckley Bruno™ Luxury Vinyl Planks
Beckley Bruno™ planks feature medium and dark brown colors and exquisite knots and grains. Its intricate detailing enhances its remarkable resemblance to natural wood, bringing an element of charm and elegance to any room.
Our luxury vinyl planks boast a robust rigid core construction, setting them apart from older, more flexible vinyl alternatives. Unlike traditional vinyl, this flooring doesn't rely on glue or tape, as it effortlessly floats over the subfloor. Its advanced composition incorporates a blend of limestone and polymer, forming four essential layers that work in harmony to create an exceptionally durable core.
Rigid Core Construction
Our luxury vinyl planks boast a robust rigid core construction, setting them apart from older, more flexible vinyl alternatives. Unlike traditional vinyl, this flooring doesn't rely on glue or tape, as it effortlessly floats over the subfloor. Its advanced composition incorporates a blend of limestone and polymer, forming four essential layers that work in harmony to create an exceptionally durable core.
Remarkable Durability
Our durable luxury vinyl has a heavy-duty structure, ensuring your floors stay beautiful for years. This added strength makes vinyl plank flooring an excellent choice for high-traffic areas, such as hallways, living rooms, kitchens, and homes with children or pets.
To boost its durability, the top is coated with our exclusive CrystaLux Ultra™ protection layer technology, improving scratch resistance by 50% compared to standard commercial-grade vinyl. This helps it maintain a pristine appearance even in high-traffic areas.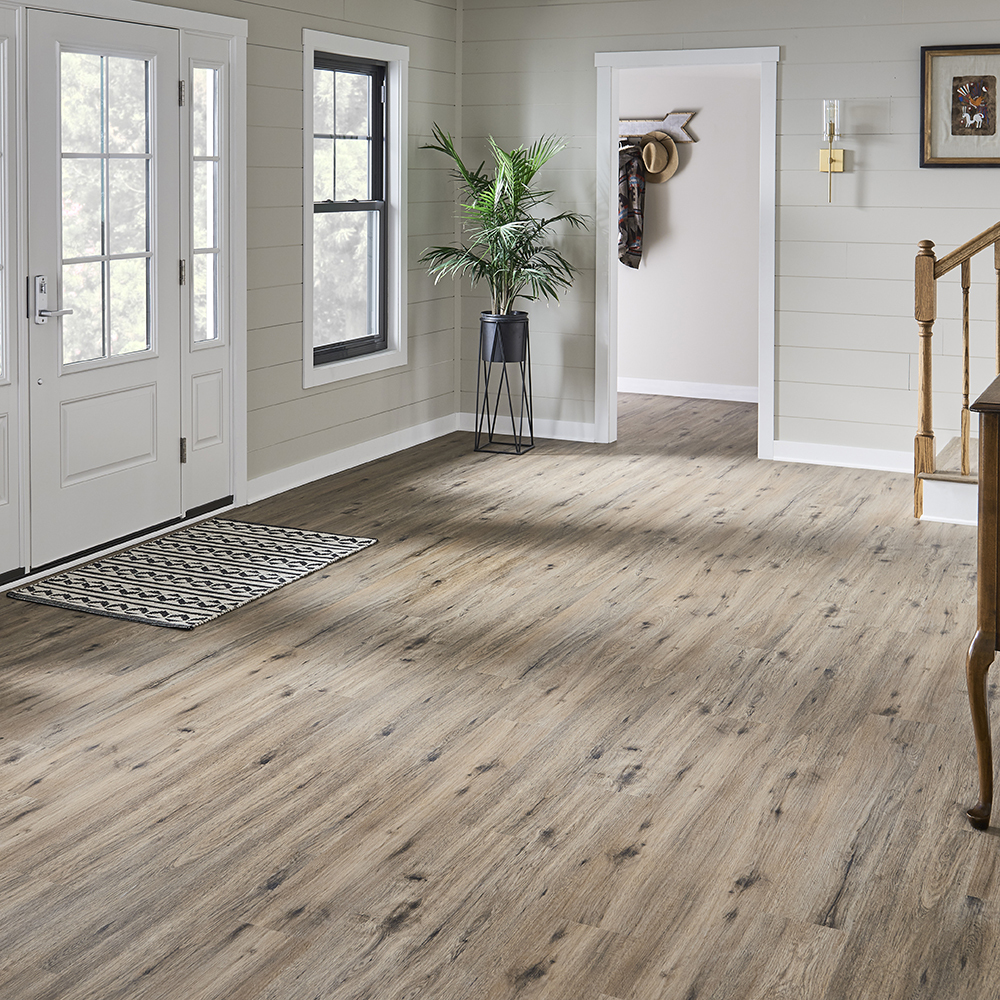 Cyrus 2.0™ Fauna Luxury Vinyl Planks
Beautiful brown hues with darker knots and grains are part of what makes our Fauna planks stand out above the rest. This LVP selection features our exclusive CrystaLux Ultra™ protection layer, making it durable enough to withstand the daily demands of busy home life. This guarantees a stress-free flooring solution that remains stunning even in high-traffic spaces.
Waterproof Properties
Luxury vinyl plank flooring is also waterproof. The rigid core construction of LVP, combined with other moisture-resistant materials and wear layers, creates a barrier that prevents water from penetrating the planks. Waterproof vinyl flooring is especially useful in moisture-prone areas, such as bathrooms, laundry rooms, and basements. Whether it's a spilled glass of water or high humidity, your luxury vinyl plank flooring will maintain its beauty and integrity for years to come.
Scratch-Resistant CrystaLux™ Wearlayer
Our luxury vinyl plank flooring products feature an exclusive engineered protection layer. This CrystaLux™ Ultra enhanced finish provides an extra level of protection against potential surface damage so your LVP flooring can retain its attractiveness, even in high-traffic areas.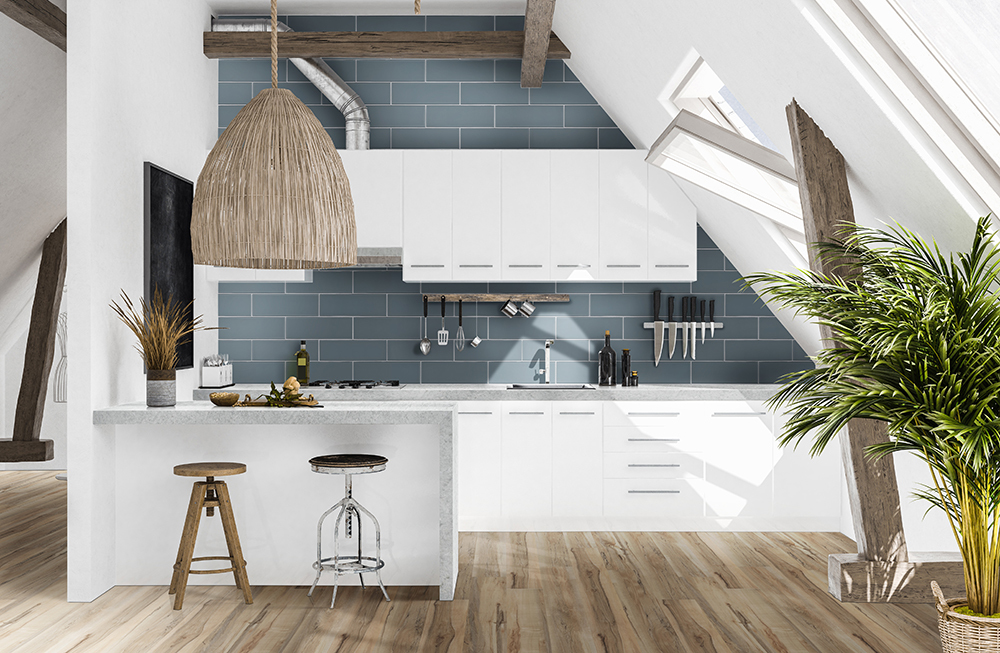 Cyrus 2.0™ Akadia Luxury Vinyl Planks
Offering an elegant and neutral aesthetic with creamy beige tones and subtle brown grains, Akadia provides a worry-free flooring solution that combines style and long-lasting performance.
Easy Installation
One of the primary advantages of LVP flooring is its easy installation. Two primary installation methods for luxury vinyl planks are Dryback and click-lock. This section will explore these and other technologies that make installing luxury vinyl plank flooring so convenient.
Dryback Installation for Seamlessly Bonded Flooring
Dryback installation is a popular method for installing LVP that involves adhering the planks directly to the subfloor using a special adhesive. This technique creates a seamless, bonded flooring surface that ensures maximum stability and prevents movement or shifting. Glue-down vinyl plank flooring provides a permanent solution that delivers a polished and authentic look.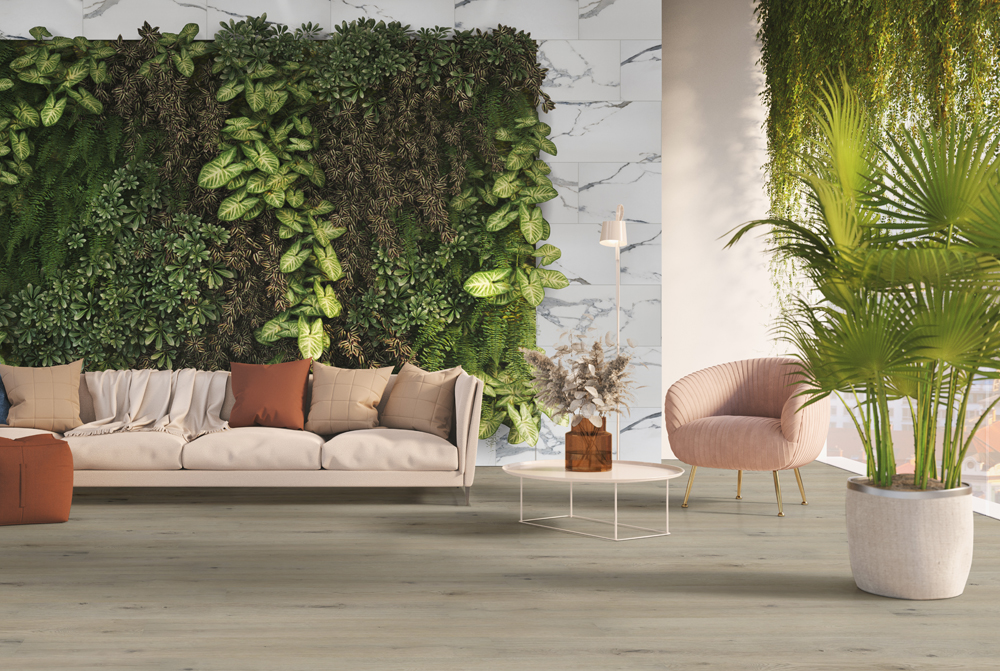 Acclima™ Runmill Isle® Luxury Vinyl Planks
Runmill Isle® gives the convenience of Dryback installation, providing a bonded, seamless flooring surface that adds sophistication to any room. With its water-resistant properties, 25-year limited residential warranty, and CrystaLux™ protection layer, this elegant vinyl plank flooring ensures satisfaction long after installation.
Easy Click-Lock Installation System
Other types of luxury vinyl plank flooring use an easy click-lock installation system. People often gravitate toward this LVP because it is simple to install and repair. With this method, the planks have specially designed interlocking edges that snap together, eliminating the need for adhesives. The click-lock system makes installation a breeze, even for novice DIY enthusiasts, saving time and effort while achieving professional-looking results.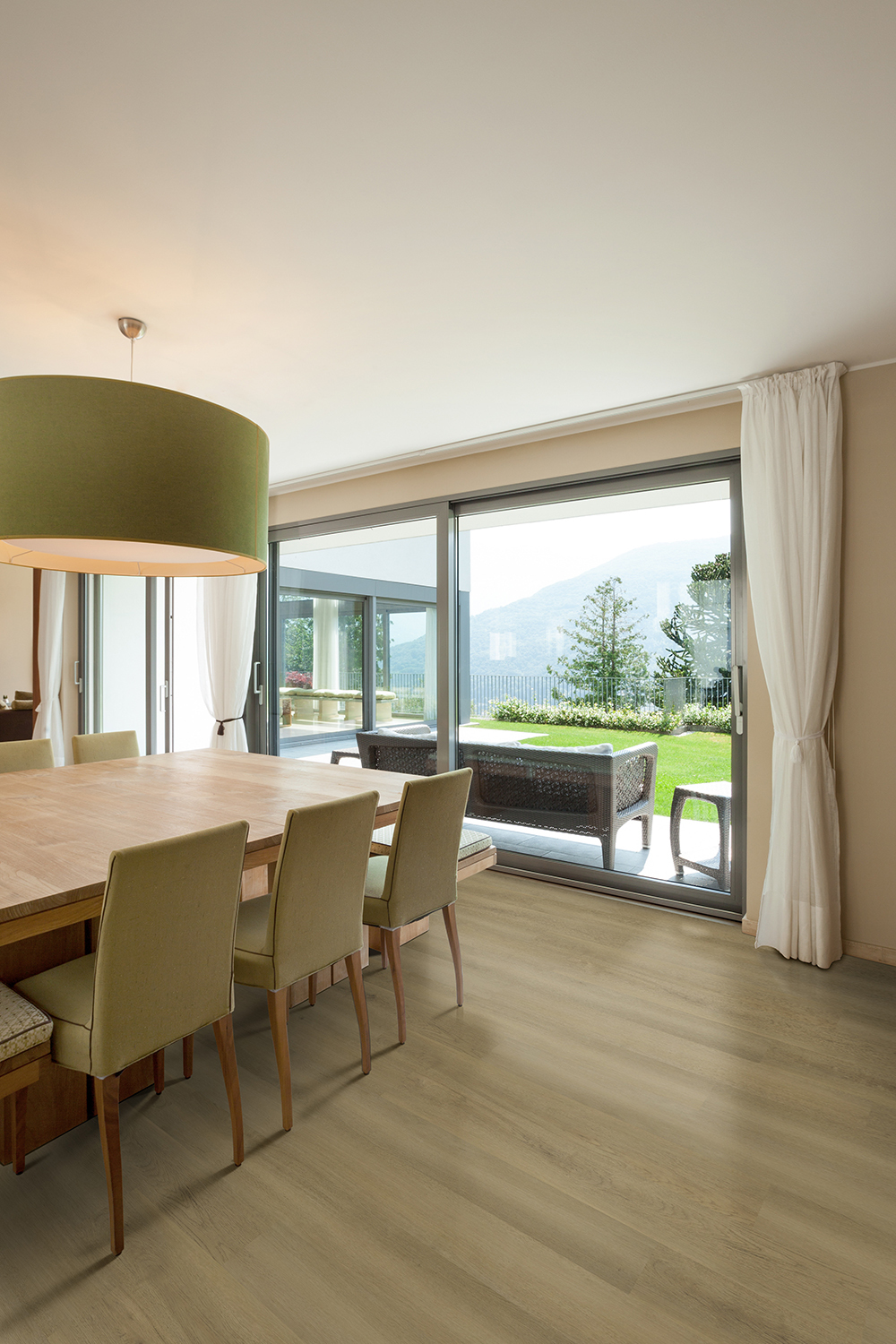 Ashton 2.0™ Benton Blonde™ Luxury Vinyl Planks
Featuring blonde shades with very delicate knots and grains and a click-locking system, Benton Blonde™ allows easy and hassle-free installation. With its 100% waterproof composition, Crystalux™ protection layer, and innovative pre-attached backing, this vinyl flooring provides a beautiful wood look, exceptional durability, and underfoot comfort.
"No Acclimation" Technology
Another significant benefit of installing luxury vinyl plank flooring is its "no acclimation" technology. This technology means you can install luxury vinyl planks immediately after delivery. This allows for faster project completion so homeowners can enjoy their new flooring sooner without the hassle of waiting for it to acclimate.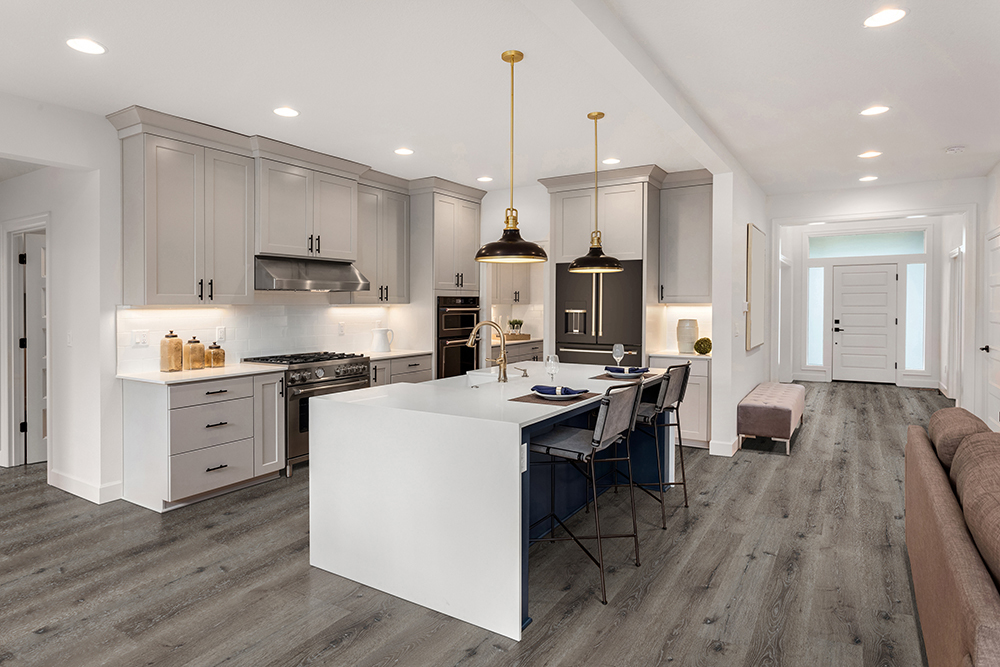 Acclima™ Ludlow® Luxury Vinyl Planks
Our Ludlow planks boast stunning browns and grays with charcoal-colored knots and grains. This LVP offers the best of both worlds, with quick installation and long-lasting results.
Additional Advantages of LVP Flooring
The benefits of installing luxury vinyl plank flooring are endless. Here are a few more reasons to consider this incredible flooring for your next project.
Stain Resistance
Luxury vinyl plank flooring is created to withstand staining, which makes it a great choice for homes with lots of activity. This stain-resistant feature lets you enjoy your floors without worry. Vinyl plank flooring provides peace of mind, knowing that spills can be easily wiped away, leaving your floors looking clean and flawless.
Slip Resistance
Safety is always a top priority in any home, so LVP flooring is designed to be slip-resistant. This is especially beneficial in areas where floors may be wet, such as bathrooms, kitchens, or entryways. You can help create a secure environment for your family and guests by choosing LVP with slip-resistant properties.
Sound Absorption
Luxury vinyl planks also have excellent sound absorption properties, with a multi-layered construction that helps reduce noise transmission. This feature is handy for multi-level homes or areas requiring noise reduction, such as bedrooms, home offices, or media rooms. With LVP flooring, you can enjoy a more tranquil environment, free from the clatter of footsteps or echoing sounds.
Pet Friendliness
If you have pets, LVP flooring is a fantastic choice. Its durable surface is resistant to scratches from pet claws, helping your floors remain free from unsightly marks. This waterproof flooring also makes cleaning up pet accidents and spills easy, allowing you to enjoy your furry friends without worrying about damage. Luxury vinyl plank flooring allows you to have both a pet-friendly home and elegant flooring that stands up to the daily activities of your four-legged family members.
Environmental Certifications
Eco-friendly homeowners will be glad to know that luxury vinyl plank flooring has a low environmental impact. GreenGuard Gold and USGBC LEED certifications show a dedication to sustainable manufacturing and green building standards. Our Everlife® luxury vinyl flooring is also FloorScore® certified, ensuring low volatile organic compound (VOC) emissions to promote better indoor air quality. With LVP, you can make an environmentally sustainable choice without sacrificing style or durability.
Simple and Hassle-Free Maintenance
Luxury vinyl plank flooring has an easy-to-clean design perfect for busy households. Whether you have recently installed LVP or are considering it for your home, it's important to know how to keep it looking its best. Here are some tips to help you maintain your LVP flooring.
Sweep or vacuum regularly using a soft-bristle broom or a vacuum with a gentle brush attachment. Avoid beater bars or hard brush attachments to prevent damage.
Occasionally mop with a damp cloth or mop using a neutral pH cleaner. Avoid detergent cleaners, wax, polish, and oil soap.
Clean up spills promptly with a clean, damp cloth or paper towel.
Place mats or rugs in high-traffic areas to trap dirt and absorb moisture. Use protectors under mats.
Use furniture pads or felt protectors under furniture legs to prevent scratches and indentations. Check and replace them as needed.
Avoid harsh cleaning chemicals and abrasive tools like steel wool or scouring pads. Stick to manufacturer-approved cleaners and gentle cleaning tools.
Minimize sun damage by using blinds, curtains, or UV-protective window films to block or filter sunlight.
Following these maintenance tips can keep your LVP flooring pristine for many years. Check out our online luxury vinyl care and cleaning guide for more easy-care instructions and recommendations for your new flooring product. With its minimal upkeep requirements, luxury vinyl flooring is an excellent choice for busy households seeking both style and practicality.
Luxury Vinyl Plank Flooring by MSI
Luxury vinyl flooring is a wonderful choice that combines hardwood's beauty with exceptional durability and ease of maintenance. By considering these key features, homeowners can confidently choose the right LVP flooring to create stylish and sustainable spaces that stand the test of time.
Want to elevate your home with new luxury vinyl planks? Start by chatting with us online, visiting an MSI showroom, or contacting an authorized MSI dealer near you.
LEARN MORE ABOUT LUXURY VINYL FLOORING
INTRODUCTION TO THE CYRUS 2.0™ LUXURY VINYL PLANK COLLECTION
7 REALISTIC WOOD LOOK PLANKS FROM THE EVERLIFE® LUXURY VINYL FLOORING COLLECTION
DURABLE AND AFFORDABLE DRYBACK GLUE DOWN LVP FLOORING